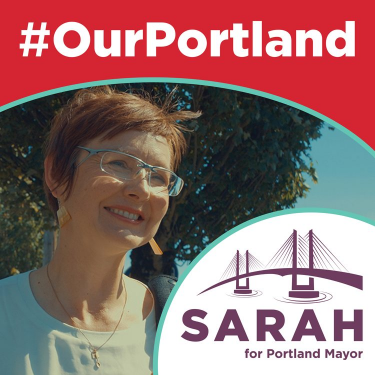 Black Resilience w/ Cameron Whitten
About this Episode
July 13, 2020
A conversation with Cameron Whitten, co-founder of Portland's Black Resilience Fund, some campaign updates, and Sarah's thoughts on the current moment in the Black Lives Matter movement, including the violence being perpetrated on protesters by Portland Police and now federal troops as well.
Have a question for Sarah? Email it to [email protected].
Transcript
Speaker 1
Welcome to our Portland with Sarah Iannarone, made possible by contributors to friends of Sarah for Portland, Portlanders have everything we need to make radical progress today on emergencies like climate chaos, housing affordability, and staggering inequality. Each episode, we'll hear how Sarah plans to be the mayor to lead the city of Portland to a more equitable and sustainable future. And now, here's Sarah.
Sarah Iannarone
My name is Sarah Iannarone. My pronouns are she/her/hers, and I am running for Portland mayor in November 3rd election.
Sarah Iannarone
Lloyd "Tony" Stevenson, Kendra James, Deontae Keller, Quanice Hayes, Patrick Kimmons, Keaton Otis, Tyrell Kareem Johnson, Andre Gladen, Aaron Campbell, James Jahar Akbar Perez, Christopher Kalonji, Jason Washington. That's an incomplete list of black people murdered by police in Portland. Worldwide protests sparked by the killings of George Floyd, Breonna Taylor, Ahmaud Arbery and too many others have brought the fight against police murder to every dinner table in the U.S. We are over 40 days into this uprising with no signs of slowing down. In this moment, a reckoning is underway as we collectively grapple with the fear, violence, and lack of opportunity that Black Americans and, in our case, Black Portlanders face daily and have faced for centuries. We are finally admitting as a society that white supremacy was present at the founding and has never been eliminated. Tens of thousands of Portlanders have taken to the streets in the last month in the fight against racism and white supremacy.
Sarah Iannarone
Our young people are on the frontlines of these protests mobilizing in innovative ways. But apart from protesting and long before this most recent uprising, Black Portlanders had been working hard across neighborhoods and sectors to disrupt racism and dismantle white supremacy. I've decided to use this podcast in the coming weeks to platform these important voices in Portland's conversation about grassroots racial justice. In today's episode, I speak with Cameron Whitten, co-founder of the Black Resilience Fund, a grassroots fundraiser providing direct aid to Black Portlanders, which has currently raised over $1.1 million. But first, a few updates. I am excited to announce a special online event we have coming up this weekend. On Saturday, July 18th at 5:00 PM, we will be kicking off my general election campaign with an event we're calling the State of #OurPortland. I know many of you have been reaching out, asking me what's happening with the campaign?
Sarah Iannarone
What are you thinking about these issues? Sarah, can you comment on this? Well, yes. This is our chance to come together and launch this effort toward our win in November. I hope you'll join me, my team, your fellow supporters, and a few special guests for a look at the work that's ahead of us in this general election campaign and as we win city hall. This event is going to be a lot of fun. Ian Karmel is going to be there. He's very good on the live stream. We did one in the primary and it was a blast. I'm looking forward to seeing all of you. Again, that's Saturday, July 18th, at 5:00 PM. ASL interpretation and live captioning will be provided. Please rsvp at sarah2020.com/stateofOurPortland. In other news: as you know, we narrowly made it into the runoff against the incumbent Ted Wheeler. In part that was due to COVID and the shelter in place orders under which we were operating. You know, grassroots campaigns work person-to-person and the lack of in-person capacity made it very challenging for us to meet our outreach goals.
Sarah Iannarone
Nevertheless, we persisted and we made it through. However, we've had to adapt the entire apparatus. So what we've done is moved out of office space in the Central Eastside in a business complex and into a garage in Ladd's Addition, where we can store folding tables and folding chairs and hammocks and other supplies so that when we are able to gather in person, we can easily deploy socially-distanced, COVID-safe, in- person gatherings at a nearby school where there are covered basketball courts and covered outdoor classrooms and wide open field areas where we can even gather for things like lectures and listening sessions and bike-in movies. We're excited to think about how the innovations forced on us by COVID can change campaigning for the better. It can be educational. It can be inclusive. And we know that adaptive leadership that can do the fast pivot in these dynamic times is exactly what this city needs. So, look forward to some emails from our field team about how you can pass by our campaign headquarters without having to come through and be patient with us as we finish the move from one campaign office to our campaign outpost, if you will call it, in the weeks ahead.
Sarah Iannarone
Now for our tweet of the week. This is such an exciting news piece. You know, we've been hearing a lot of discouraging, disappointing news, whether it's COVID or police violence against racial justice demonstrators. But in the heart of all of this is community. We see community support for COVID. We see community support for racial justice. And one of the things that's been on my radar since this primary campaign (and I endorsed wholeheartedly) was the UP Now 2020 campaign to work toward universal preschool for all Portlanders. And it was a heavy lift. Again, they were doing their work during COVID, but what they were able to accomplish was getting on the ballot in November. So I'll read this tweet and with them, a bit of congratulations, they said "We did it! With your help, we made history and collected over 30,000 signatures in five weeks to get truly universal preschool and fair wages on the ballot. Thank you for your support." Well, thank you for your hard work, UP Now. We look forward to a big win in November. It'll be nice to be beside you on the ballot.
Sarah Iannarone
No comment. That's what the City of Portland has gotten from its mayor after several days of federal occupation of our city. I'm deeply disturbed, like you are, at the police brutality against protestors of police brutality. But mostly I want to know where's the mayor? Saturday night, July 11th, we witnessed federal officers committing acts of violence against Portlanders in our streets. They shot and seriously injured a Black Lives Matter demonstrator named Donavan La Bella. He's 26 years old. He was bleeding from a head wound in graphic video that was posted on social media. There were many other injuries reported. He survived surgery, we're told. We don't know his prognosis. OPB is reporting on this and you can find out more about this on my Twitter @Sarah2020 on Twitter. As these dangerous events are unfolding, Ted Wheeler's police have been standing on the side of Trump's forces in assaulting nonviolent Portlanders exercising their constitutional rights. Friday night, they detained an activist and their service animal for using chalk on a sidewalk. Why are Wheeler and the PPB cooperating with Trump's armed forces, allowing them to deploy chemical weapons banned in war and banned in local courts against the people of our city? These weapons, we know that tear gas causes hormonal disruption, missed periods, miscarriage. Where are the anti-tyranny, pro-states' rights, pro-life folks right now? Tell me, where are they?
Sarah Iannarone
The federal officials in question are part of Border Patrol. Nightly they're assaulting Portlanders. What's Ted Wheeler doing to stop it? Camouflaged soldiers are running war drills in our downtown at Trump's command and Ted is MIA. Maybe he's too busy colluding with the PBA and blaming protesters for COVID shutdown costs accruing to downtown businesses, as the Oregonian reported earlier this week? Everton Bailey broke the story. Portland should be leading the nation right now in ending police violence and innovating nonviolent, supportive, community solutions to public safety. Many local Black led organizations and allies are calling for police abolition. We must listen to and learn from these calls. Black and Brown Portlanders have, for too long, been targets of profiling and violence under the guise of public safety. We must advance these communities' stated goals and innovate a pathway to defund police violence and invest in and protect vulnerable Portlanders.
Sarah Iannarone
Defunding police doesn't mean there's nobody who helps you when you call for help. Right now, the police are fully funded, overly funded, and you call 911, and nothing happens. 911 means nothing in this city right now. Defunding means stop investing in things that don't work and invest in alternative things that do work, that do help people when they are in need. And it also means disincentivizing things like racially motivated 911 calls. The police bureau right now sucks up the majority of Portland's public safety budget and still, many Portlanders, particularly Black and Brown Portlanders, don't feel safe and can't get help when they need it.
Sarah Iannarone
We have enough money to help everyone feel safe. But police wasting it on tear gassing and harassing innocent people, instead of housing, education, mental health and social services... It's just unacceptable. I understand why people are in the streets, because they have had enough of a broken system. And in fact, it's not broken. They remind us it's working exactly as it was supposed to because this is the system we have built. I am so proud that before this most recent uprising, my campaign for Portland mayor was deeply engaged in a citywide conversation around rethinking public safety. You can go back and revisit some of those podcasts. We've done multiple on our rethinking public safety plan. And what would it mean to transfer a lot of money from militarized policing to community services? Since then, we've only deepened our understanding of police waste and the important community led investments we could be making instead.
Sarah Iannarone
I have stood with you in the streets against outside agitators, the real outside agitators, the white nationalists, who come, year after year, to our city, trying to turn it into an ideological battleground. Because our commitment to equity, inclusion, to climate action, to climate justice, threatens their core understanding of their role in the world. It was not Portland police who came to the defense of our sanctuary city in recent years and of our BIPOC and LGBTQ neighbors. It was community. And community is what is going to be the answer to our public safety questions in the future. I'm going to bring my history. I'm going to bring this understanding. I'm going to bring the deep learning of this moment into city hall as your mayor. And we're not going to stop until we achieve public safety for all. But if you're with us, please get active on this campaign.
Sarah Iannarone
We need to show Wheeler and Trump the door in November. And the only way we're going to do that is through community power. You can sign on at sarah2020.com. And I just want to say thank you to everyone who has reached out and contacted the campaign to advise, to advocate, to educate me. Thank you. I have learned so much from the Black organizers and activists leading on demilitarizing our society, leading on anti-racist policymaking, leading on crafting a more sustainable, more inclusive, more equitable future. I promise to be a mayor who listens and who takes action to improve Black futures because Black lives matter.
Speaker 1
Join team Sarah this Saturday, July 18th, for the State of OurPortland. This online event will feature many special guests, including comedian Ian Karmel, updates from the campaign team, and, of course, Sarah's State of OurPortland address. RSVP at sarah2020.com/stateofOurPortland to reserve your spot today. ASL interpretation and live captioning will be provided. So reserve your spot at sarah2020.com/stateofOurPortland. Now, back to Sarah and her interview with Cameron Whitten with the Black Resilience Fund.
Sarah Iannarone
Good morning. It's so good to be back. Our last live stream was the day of the May 19th primary. So, we've been rebuilding and getting things ready for the general election. That was a bit of a roller coaster for us. And for those of you watching on the live stream, I just say welcome back. And thanks for Cameron Whitten for being here today from the Black Resilience Fund as my guest. I want to give a shout out to Cyma Space for helping us with captions this morning. Cyma Space is an innovative Portland-based nonprofit with a mission of making arts and cultural events accessible and inclusive to the deaf and hard of hearing. And I'm very happy to support them and very happy for your help making this live stream accessible. Thank you, Cyma Space, and thank you to our capture this morning.
Sarah Iannarone
And, speaking of inclusion, I want to make sure that viewers are included in the conversation. If you're watching live, please feel free to join the conversation this morning by commenting on this video. Your comments will come straight to my team and I'd be happy to incorporate your questions into this conversation or possibly follow up afterwards. If you're watching later or listening to this on the podcast, you know, you can always email us at [email protected]. And with that out of the way, I'm so honored to have Cameron Whitten with the Black Resilience Fund as my guest. They're an inspiring young leader in our statewide movement for social justice and very active here in our Portland. The Black Resilience Fund is an emergency fund dedicated to fostering healing and resilience in our community by providing immediate responses to Black Portlanders. Cameron...
Sarah Iannarone
Oh, I have to give the full disclosure; BRF is a project of Brown Hope, a local nonprofit on whose board our campaign director, Greg McKelvey serves. Just wanted to get that out of the way so we're legit. And also to let folks know that they're working as a 501c3. So this is in no way an endorsement of my campaign. This is just a conversation. And in fact, you may disagree with me and vote for my opponent if you want, but I still want to hear about what you're working on. Tell us a little bit about yourself and what brought you to this project.
Cameron Whitten
Thank you, Sarah. And good morning, everyone. The Black Resilience Fund was created during a difficult time, during a time of crisis and emergency. And, you know, I remember when I first saw the headlines of George Floyd's murder. I braced myself. I've been a Black Lives Matter activist since Black lives matter. This is not the first time that we have heard "I can't
Cameron Whitten
breathe." It was not the first time that we saw a Black man's life being taken over agonizing minutes, being recorded and broadcast across the world. We had Ahmaud Arbery murdered weeks before. Breonna Taylor murdered just days before. So when I saw the headline about George Floyd, I braced myself. I knew there'd be, you know, public outroar. I knew there'd be hashtags and lawn signs. But I expected that after some time the uproar would die, the headlines would fade away, and nothing would change. And while I was there, bracing myself, I could tell there was something different. I started getting, like, we saw the outrage and the uproar and the number of people speaking up, who hadn't spoken up before. I was getting a deluge of white allies reaching out to me personally, asking if I was okay, if my needs were taken care of. I had never seen that happen before
Cameron Whitten
during any moment. Breonna Taylor, Ahmaud Arbery, and for years now, no one showing up the way that they did. I almost turned my phone off. And so I could tell we were in the middle of an awakening, of a reckoning, of a paradigm shift. And I went to Facebook that Sunday, just four days after George Floyd's murder. And I posted, you know, we've all been a part of a long painful week that is an extension of a year that's challenged all of us to our core. As we are, and as we should, advocate for real systemic change, we also can make an immediate impact on the lives of our neighbors. So I said, for my Black siblings out there, do you need a warm meal? Do you need a bill paid? Do you need groceries? Reach out to me. We'll get you taken care of. And for my non-Black allies, if you can help us provide real support to our community, please message me.
Cameron Whitten
I'll send you my cash app, my Venmo, my PayPal, and we'll get that money where it needs to go. Honestly, when I did that, I thought we would raise $5,000 in two days time. We ended up raising over $11,000 that first day, $55,000 the next day. And then the third day I went to Facebook live and I dared Portland to raise a $100,000 in a single day. And I got my butt whooped. They didn't, you know, Portland did not raise $100,000. They raised more than $155,000. And here we are, 30 days later, having raised over a million dollars. A hundred percent of that million dollars is going directly into the hands of Black Portlanders to help pay for their daily life expenses, to help them address emergency financial situations, giving them immediate financial relief so that they have breathing room to focus on living their best lives.
Sarah Iannarone
Cameron, that's so inspiring. And it actually leads me to something that we get called a lot in national press, which is the whitest city in America, right? And you look at this. And to me, that says that the whitest city in America by demographics (and that's largely changing, too. We know that over half of the youth in Portland public schools are nonwhite, right?) But that shows me that being the necessarily demographically whitest city in America doesn't mean you have to be the most racist city in America. So what is the response to BRF telling you, not just about what Portland is, but what Portland can be. Like, what lessons are you learning about this city?
Cameron Whitten
Yeah. Portland can be at the epicenter of crafting a new narrative of what a racially justice future can look like. You know, the Black Resilience Fund is not shy, and saying that our system is messed up and we need real systemic changes. And we are showing that with real, tangible impact in our community. And so, for Portlanders to come together and say, you know, we are fighting to ensure that we no longer have killer cops. That is not racial justice. Racial justice is thriving. It's not just not being killed. It is about actually investing in the lives of our Black Portlanders so that their lives matter, but also their needs. So that they can be fully embraced and celebrated and loved in this community. And so it is fascinating to sit here in the whitest major city in the United States, that has a long track record of being a part of a city and a state that has extremely discriminatory practices that have jeopardized and caused violence to Black, Brown, Indigenous communities in Oregon. To hear from folks that we've helped say things like, "Holding that check in my hand was when I finally felt I could come up for air." I found that to be powerful. And in the middle of the I can't breathe era to hear that... That's Portland. That's not New York. That's not LA. That is Portland. We're creating a powerful message that people across this country should pay attention to, that here we are in Portland, Oregon, showing that we can foster healing and build towards a future that we all want to be a part of.
Sarah Iannarone
That's so powerful because when we think about the work that we have ahead, in terms of remediating disparities, we know that we are not going to be a sustainable city, a livable city until we are an equal city. Equality and economic justice are at the core of climate justice. They're at the core of so much of what we need to be accomplishing. And so the fact that this really is about fund raising and that we're getting resources to people in need, there's gotta be lessons there for policy makers for local government. What are you learning from your all volunteer led organization? How can the community effort like this pave the way for a future city where we are actually a leader in remediating inequality as the basis of our urban framework, really?
Cameron Whitten
Yeah. I... It's a great question. And the Black Resilience Fund is so committed to sharing our lessons learned because there's a lot of lessons to be learned. Part of my story is that when I came to Portland, I survived child abuse as a kid. And I was 18 years old when I came to Portland and I was homeless. And you know, for two months I spent every single night worrying whether I'd be turned away from a shelter bed and have nowhere to go. Thankfully I had access to nonprofit resources to get on my feet and to be where I am today. But I still have trauma scars of what I saw within our current structuring of community aid and our current structuring of helping our neighbors. Our systems are not working. You know, despite all of the different programs that we've had, affirmative action, scholarships, job training programs, all of these things that we currently have been using to address our racial disparities, the wealth gap in this country, between now and the 1960s is the exact same. That's failure.
Cameron Whitten
And that's not to sit there and blame fingers. It's there to say that we can do better. And so, the idea of the Black Resilience Fund is that we are looking at ways to help an entire, you know, we are not looking at how do we target that one individual and have a story of individual transformation. We've had that story of the Disney story rags to riches. We are here saying that an entire community needs needs to be assessed and we need to support that community universally. And so our goal with the Black Resilience Fund is to provide real, tangible support, to as many Black Portlanders as possible. And one of the things that we are seeing happen from that is that we are seeing Black Portlanders help other Black Portlanders. Every person who is doing an intake interview is a Black Portlander. Every person who's dropping off a check to someone who's applied is a black Portlander.
Cameron Whitten
We've heard from people born and raised in Portland saying "I have met so many born and raised Black Portlanders that I never knew existed before." We've experienced years of gentrification and years of displacement. We have lost connection. And we do know that when people have someone they can turn to, they can get support. That's what we saw with the GoFundMe. GoFundMes are traditionally very inequitable because it is whose got connections to money that can raise money. And we've done it differently, where we are saying, this is a GoFundUs. We're saying that this is a collective need and our goal is to connect more Portlanders together so that we are not deciding who gets funded or not. We're deciding that everyone who needs it, everyone who has experienced the trauma of anti-Blackness is going to get real support. And we want the grassroots community. We want community members supporting community members. And it's with developing those real longterm relationships that we will be resilient in the form of any crisis.
Sarah Iannarone
I love that. You know, you and I shared this particular understanding that community power squares all other power. I mean, it's infinitely more powerful than anything we're able to accomplish alone. You've raised over a million dollars. Where do you go from here? In the last few; we have just a few minutes, I know you have to run off to Alberta main street. Where do you go from here? And where can our viewers and listeners find out more about you, get involved, volunteer, donate? Tell us a little bit as we wrap up.
Cameron Whitten
Yeah. So the Black Resilience Fund has been a magical experience. And from what I have seen, we have evolved. And every day we continue to grow and transform and be responsive to the community's needs. We have built a mutual aid network of over 300 active volunteers. Just yesterday we delivered 300 food boxes across the tri-county region to Black Portlanders, our neighbors. We have begun supporting advocacy efforts. We have organized small business owners who've been denied PPE, writing letters of support to the Oregon legislature to help pass the historic Oregon Cares Fund, which would be a targeted $62 million for Black Portlanders. Something for y'all to know is that currently the Black Resilience Fund is the largest dedicated fund to help Black Portlanders in the entire state of Oregon. We did that in five weeks time with just a million dollars. So, we know that there are public resources that can be directed to addressing real racial inequalities and we need help to make that happen. And then, finally, we have intense need. We have over 7,000 people who have applied and having only raised a million dollars, we do not have enough resources to provide real, tangible relief to everyone who needs it. And so our goal for July is to raise an additional $400,000 that will allow us to help an additional thousand Black Portlanders and also provide the Black Resilience Fund and Brown Hope the support that it needs to continue this work for the longterm.
Sarah Iannarone
And you want to give a pitch, your website, your contact info, so people can find you? And we'll also put it in the podcast notes and we'll post this on our, um, whatever, uh, you know, graphics that we do, uh, for, for broadcasting and marketing. This, I sound like an old person.
All
[laughter].
Cameron Whitten
Black Resilience Fund and Brown Hope. We are on Instagram. We're on Facebook. We're on Twitter. Our websites are blackresiliencefund.com and brownhope.org.
Sarah Iannarone
All right, Cameron, thank you so much. I hope you're taking good care of yourself. I know in these busy times you have a lot of work, so take good care of you. And thanks for taking a moment to check in with our listeners and viewers. We appreciate you.
Sarah Iannarone
Portland is lucky to have you, and I hope you have a wonderful day.
Cameron Whitten
Thank you, Sarah. Y'all have a great day. Be resilient.
Sarah Iannarone
Okay. Bye bye. Well, that's our show. Thank you, Cameron. For joining me to talk about your work at the Black Resilience Fund. I continue to be blown away by how well it's doing. Congratulations to Cameron and Salome and good job Portland for stepping up. Please remember to RSVP for this weekend State of OurPortland event at sarah2020.com/stateofOurPortland and have a great week. It's great to be back. Talk to you soon.
Speaker 5
This has been a production of friends of Sarah for Portland, with matching funds from Portland's open and accountable elections.