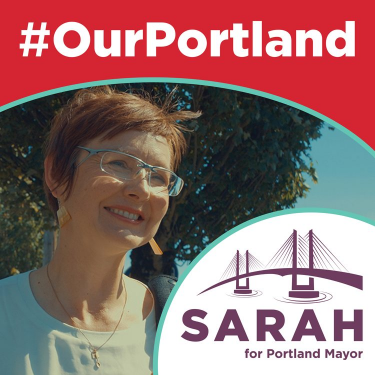 Craft Cannabis w/ Emma Chasen
About this Episode
May 14, 2020
Sarah joined Emma Chasen / @emmachasen on Instagram Live to discuss Portland's craft cannabis industry.
Here's how you can help get Sarah elected Portland's next mayor on May 19th:
Have a question for Sarah? Email it to [email protected].
Transcript
Announcer
Welcome to Our Portland with Sarah Iannarone made possible by contributors to Friends of Sarah for Portland. Portlanders have everything we need to make radical progress today on emergencies like climate chaos, housing affordability, and staggering inequality. Each episode we'll hear how Sarah plans to be the Mayor to lead the City of Portland to a more equitable and sustainable future. And now here's Sarah.
Sarah
Hi, Portland. Sarah Iannarone here and I'm running for mayor. My pronouns are she and her. Our election date is next week, Tuesday, May 19th. But the last day you can safely mail in your ballot is this Thursday, May 14th. Now, postage on those envelopes is prepaid, which is new this year. So not having a stamp is not an excuse for not turning in your ballots. Please, whatever you do, vote. This is a very important election. We know the incumbent is going to be in office through the end of this year, but who takes office on January 1st, 2021 could make a huge difference for future generations of Portlanders. Now, this is a special episode with a conversation that I had on Instagram live with Emma Chasen. She's on a mission to educate people on the science behind cannabis, so that they can take charge of their own healing. We talked about that industry, how the city of Portland can help and what do people who are working in the industry or business owners need, especially in this recovery. It was a great conversation, very engaging. If you're interested in the topic of cannabis or cannabis policy, I hope you'll check it out. I hope you enjoy it and don't forget to look at my campaign, Sarah2020.com if you want more information on this or other policies I proposed for Portland's future.
Emma
Hello!
Sarah
Good morning. Can you hear me okay?
Emma
I can hear you just fine. Can you hear me?
Sarah
I can. Forgive me. My team is much better with this social media Instagram than I am, so I sometimes struggle a little bit and they laugh at me. [Laughs]
Emma
No worries. That's, that's why you have a team, right?
Sarah
That is why I have a team.
Emma
I love your frames. Your glasses are amazing.
Sarah
Oh, I was going to say the same thing. Anyone with funky frames is a friend of mine.
Emma
Completely, completely agree. Well, thank you so much for joining me here today. I'm really excited to chat with you about Portland's cannabis industry, what that has looked like, and where we can take it in the future. For everybody joining my live, "Hello." Thank you for being here. We have Portland Mayoral Candidate, Sarah Iannarone which... Very, very excited again to have you. I think to just kind of start the conversation, to warm it up... What historically have you thought about Portland's cannabis program, and where it has been, and where it can go in the future?
Sarah
You know, when you think about the Oregon way, largely, there are some parts of it that have not always been ideal. But there are some parts of it that are pretty amazing. And the iconoclasty here, and the renegade spirit in terms of, say, things like, legalizing gay marriage before it was recognized nationally, right? Or you think about the role of agriculture here and organics and the fact that growing things here has always been at the heart of our economy.
Emma
Yep.
Sarah
It seems so fitting how this has emerged, whether you're looking at micro brews or the wine industry and especially the notion of craft. You know, I've worked a lot internationally and when I've hosted visitors from China or Japan or these markets where we're looking, potentially, once we even get more robust locally with our industries like cannabis... They look to us for things that are niche. No one's ever looking to us for these huge quantities like they see out of California. What they want is that quality, that fine attention to detail. The fact that these are family businesses often and that we need to actually resist the Ernest and Julio Gallo, if you will, of the California wine industry for our cannabis industry here. And so what does it mean for us to really make sure that that brand "Oregon" and even more specifically here in Portland is part of how we're thinking about it from the get go. I also think in terms of when you talk about connection to place and connection to the land and the way that cannabis has been used as medicine for so long, and the fact that we're finally acknowledging that, too, as a society is so healthy for us when we're trying to resist the multinational corporations. And you think about big pharma and the impact they've had on health and wellbeing and we've seen so much positive results, from cannabis for people with all sorts of ailments. And so I love the fact that it's more robust here than in so many States. I know we compete with Colorado probably, and a few others, but yeah, I'm really proud of our cannabis industry in Portland. I think it makes us unique.
Emma
Yes, I completely agree. And I love that you bring up craft and the preservation of craft because Portland is so uniquely craft in so many other avenues. I mean, we look to beer, we look to wine, even food. And so it makes so much sense to have Portland be the leader in craft cannabis. How do you think that we as a community can continue to best support that preservation of craft, especially in the face of this kind of corporate acquisition, corporate takeover that we're seeing? Just because it's a real strain on capital to participate in the industry because of the federal prohibition and other barriers to entry. So how do you feel that we as a community can continue to support and preserve craft in Portland?
Sarah
You know, having a small business mayor is going to be really helpful. And I hope folks take a minute to look at my Green New Deal because I've proposed a municipal bank. Now this is something that doesn't get talked about a lot. But the fact that this has to operate as cash business, the fact that these small business owners don't have access to capital because they're not coming out, right?...
Emma
Yep.
Sarah
...of these integrated organizations, these multinational organizations that have access to largely unlimited capital resources... Making sure that our small business owners, our small farmers, right?... We have a whole supply chain that we have to look at here, including the laboratories and the packaging and the designers, and the marketing and all of it. We want all of those companies to have access to capital and we especially want them for minority and women owned business owners. So they can actually, the people, especially communities of color and black Portlanders who've been disproportionately negatively affected by cannabis criminalization and the fact that we actually need to prioritize them in pathways to opportunity moving forward if they don't have access to capital, which historically they don't, right?... Most of those folks don't come from intergenerational wealth. They don't have good, you know, I can pick up the phone and call my banker because I need an infusion. We're seeing that with small businesses all over town. So imagine what a municipal bank would mean, if you could do banking at the Portland Bank?
Emma
Yeah, I mean, that would be incredible!
Sarah
It would be huge!
Emma
Huge, huge. Especially because, I mean, right now we have very few places in Oregon where cannabis companies can bank. And those places, I mean, have waiting lists just like down, down the line and, and you have to travel. And so that's just another barrier to entry. Let's talk a little bit about the social equity piece 'cause it's really, really important. I mean, the war on drugs has disparaged communities of color and, especially in Portland, which we do have a racist history here in Oregon and there is a displacement happening of communities of color. It is really important to me and I know a lot of people participating in the cannabis industry, to make sure that it's [not just] white people profiting off of this business that again has so disrupted communities of color here especially. And so what can we do? What policy can be put in place that ensures the access to participate in this industry and that also helps to expunge past criminal convictions associated with cannabis?
Sarah
Yes, and I will direct folks toward my Rethinking Public Safety Plan before we talk about the economics of it because they do go hand in hand, right? But we, through this campaign have charted what is probably the most progressive, complete rethinking of public safety that you're going to find in a municipal election in the U S right now. And it's really based on best practices. This isn't pie in the sky thinking about, "Oh my goodness, isn't she a lefty?" This is about looking at the fact that 60% of our public safety budget... 60% of our city's budget goes to public safety. And so if we're going to spend that disproportionately criminalizing certain people in our population then we are going to pay the costs as a society and we need to rethink that from the criminal justice perspective. We need to look at expungement. We need to think about policing and public safety as an economic issue in addition to civil rights and human rights issue.
Sarah
So I encourage folks to go take a look at that because it's part of this ecosystem of equity that we need to be talking about. You look at it on the economic side and some of the programs that are coming out of the City of Portland, it really is going to come down to making sure that we have accountability for what we're claiming we value. You look right now and the things like the Portland tech pledge, we have a net loss of black workers in that field. Even after that program is in place. Why are we making investments in something we're saying to build equity when in fact it's not doing that? Who is watching that? How do we know? So what I've actually decided to do is take a position out of Prosper Portland, which is the city's economic development agency, really our real estate development agency with a lot of other things now, and look at the fact that we need to have someone who's tracking small business and entrepreneur real investments as an ecosystem.
Sarah
And I'm going to pull that up into the Mayor's Office, so that we can track how that money's being spent, but also put the systems in place to look at the data. Who's getting the money? What are the outcomes? Where are the wealth creation? Where are the jobs creation? We need to track it because it's not good enough to take a bunch of pictures of minority business owners and put them on a website. Right?
Emma
Yep. Yep. That's tokenizing.
Sarah
Yeah. It doesn't... It doesn't necessarily move the ball forward in terms of what we're trying to accomplish, which is the shared prosperity. In fact. So that the wealth creation and the good jobs with incomes that can support families in the market of rents and housing here and cost of living here are accruing to the right people in our city.
Emma
Yup.
Sarah
That's the approach that I'm going to take. And it, and it's for the cannabis industry certainly because of the criminal justice aspect of it. But that goes for small businesses across the board. Restaurant owners, like when you look at who had access to PPP loans in this first round in Oregon, abysmal for minority business owners. Absolutely abysmal.
Emma
Yep. And I think that bringing up the data collection, the tracking and looking at the drive for economic wealth will really help to incentivize the programs that you talk about. I know that in a recent audit of Portland's Cannabis Program that comes out of the Office of Community and Civic Life, that's something that the auditors kind of dinged the Portland office for was that they weren't really tracking the program and the analytics with sufficient systems. So thank you for putting those kinds of those data collection and statistical analytics in place because it is so important for the advancement of the program.
Sarah
Yeah, and even, I'll take that one step further. Because when you think about communications in this city and you look at that city budget and everyone complains that the commission form of budget, the commission form of government is dysfunctional and not representative, and there are silos of bureaucracy all over the city. Whether you're trying to get a business permit or a building permit or help from the city. Communications and information and data is one place where we can improve and that actually shouldn't be left to Civic Life. That should be a citywide function that's coordinated across bureaus and we need to make investments in that, too. The Good Government Plan that I've put forward talks about the commission form of government, but it also talks about bringing City of Portland government into the 21st century in terms of data, right, and communications. Look at this during COVID. Where's our, where's our single point of contact in terms of..?, It's actually been Multnomah County who's been doing a fantastic job. But each of the bureaus is kind of like, here's a notice from the Transportation Bureau and here's a notice from Civic Life and here's a notice from Prosper Portland. Like there's not a single portal where Portlanders can go and say, "Oh, here are my resources. Here's how I know what's going on. Here are the dashboards where we're tracking."
Emma
Yup.
Sarah
And so I think that actually thinking about Portland as a functional city government just from a 21st century technology perspective is something that's about 20 years overdue. [Laughs]
Emma
Yes. Oh, agree completely. So glad that you mentioned that. I mean, the holistic kind of ecosystem of communication is so important and the COVID19 Pandemic really highlights that I think. And so let's get into it a little bit. I'm interested to hear your thoughts about cannabis deemed an essential business. Do you think that that was the right move? Do you support that? And if not, what would you have changed about that designation?
Sarah
I don't want to second guess how the governor is doing this because I know she's listening to a lot of people. And I actually heard personally for many people who rely on cannabis, as I mentioned before, for medicine who would require that being open as if it were a pharmacy. And so I want to recognize that and respect that. At the same time, we have to look at workers' rights. And if we're deeming a worker essential then that worker should be receiving hazard pay. We need to be sure that those workers are protected. We need to be making sure that those businesses are protected if they can't protect their workers. I mean the small business that I founded back in 2006 actually closed its doors permanently yesterday. They made an announcement because their business model doesn't support the type of social distancing and/or take out that it mandates.
Sarah
So where are the supports for small businesses, especially women and minority owned, if they're not able to adapt to that business model? Are we helping them collectivize? Are we helping them do things by mail or by delivery? And what are going to be the mechanisms so that we're not having a net loss of these businesses, too. Because I don't think our current leadership pays close attention to the fact that every single small business is a gem. And there's a family and there are dreams behind that. And once you let those die, it's not like you can just resuscitate them. They're dead.
Emma
Yeah.
Sarah
And so you need [Dog Barks!] to either tend them... Sorry about my dog. [Laughs].
Emma
Oh no, I love it!
Sarah
...you need to tend them [Dog Barks!] and make sure that they're preserved and protected or make sure that people are, you know, having something they can rebuild from after the fact.
Emma
Completely, completely. And looking at cannabis workers especially and their rights during this time, I recently conducted a survey of specifically bud tenders or cannabis retail employees who are working during the time of COVID19. And they just felt so left out of the conversations around protecting essential workers because they don't have any protections under the federal government. There's no real support even as a business owner in cannabis from the small business association and the loans that are coming out federally. And then you kind of go down the line of the workers on the frontline who are continuing to make only $12.50, $13 an hour with no mention of hazard pay. I mean they're told or asked to leave, not laid off so they don't claim unemployment. And meanwhile in cannabis specifically, the ownership is making a lot of money from increased commerce due to people staying at home and using cannabis as medicine for therapeutic, which makes sense. But those profits need to be shared on the front lines. And so what can we do to make sure that these workers have protections, that they do receive hazard pay and benefits and paid time off, and all of the necessary things in order for our community members to just be able to survive?
Sarah
Well, you know that when it comes to vice, things that are perceived as vice, we often throw those workers under the bus. I talk a lot with sex workers as well, who are completely left out of this conversation in terms of being able to access even unemployment insurance, right?
Emma
Yep.
Sarah
And so when you think about, as Portlanders, what we value, we need to value workers. And we need to say that we value workers. We value small businesses and employers of every size. But we also value workers because we know that businesses don't thrive without workers. And that profits are created by workers and not capital owners. Some things that I've proposed in our Recovery Plan are: making sure that people who aren't organized, who aren't covered by formal labor unions or traditional labor unions are empowered to organize, because when workers organize, we have more power, right?
Emma
Completely.
Sarah
And so do we need to start thinking about making sure that there are different labor representation supports in place? And in the meantime, what is that going to look like for us as Portlanders in terms of emergency funding? Who are we prioritizing? Are unionized workers, maybe needing to look toward their union organizations for that help. So people who aren't represented by unions then have a different portal through the City as we enable them to build power, as workers. It's going to be a completely different vibe from what you have in City Hall right now, which is much more oriented to institutional power and existing networks of power. What I want to do through my administration is build access to power for people who've been left out.
Emma
Yes! Yes, thank you. Thank you. It's so important. I mean there is a union that is now accepting cannabis workers. But again, institutional governments have not been in support of this union. It's specifically the UFCW Union. And so it's a hard push because workers on the frontline are really scared of losing their jobs. They're scared of not being supported by their City, by their State when they do look to organize. And so thank you for being in support of organized workers. I think it only again strengthens the whole ecosystem of the community.
Sarah
I mean, think about this too. When we're offering business support or business assistance, maybe we should be talking about things like if your employees are not unionized or represented, what are the minimum thresholds in terms of employee treatment are you doing in terms of not just wages but benefits? One of the things that I talked about as a small restaurant owner even years ago was the fact that, you know, for small business owners, especially providing things like access to health insurance has been so... It would put many small business owners out of business, frankly because the premiums are too high. Especially when you can't have bulk purchasing power, like the large institutions. It's not looking like we're going to get universal health care at the federal level anytime soon, unfortunately. And so should we be facilitating the building of co-ops so cannabis owners can collectively purchase that for their employees? Like what are the ways we can use our city power? Not for the finer grain things where we lack the expertise, but can we bring that up a level? So things like helping build a health insurance co-ops and employ... Do you see, do you follow me? It's about making those investments in the capacity of the industry to serve a bunch of different functions in our city will be essential.
Emma
Well, yes. I mean it is, it's like looking at the issue from a more nuanced perspective where a lot of businesses in cannabis, if we do want to value craft, if we want to value mom and pop, I mean they can't support a union contract. They can't support health insurance for their, for all of their employees. And so how can we make those benefits that are basic rights to their employees available to their employees without breaking their bank, without allowing them to go out of business. And so I think that looking at the city power that the office does have in terms of creating cooperative opportunities so that people can engage in that way. I think that that's an incredibly important conversation, especially for cannabis as it does kind of range quite a diverse supply chain where we're looking at farmers, we're looking at retail employees, we're looking at chemists and manufacturers and delivery drivers. And all of those people need to be involved in the conversation. All of those people need to have access to those, again, basic rights, without breaking the bank.
Sarah
The whole maker economy. I mean cannabis isn't unique here. Look at the food cart owners that are... Everything that has made Portland beloved is because it is small and artisinal and close to nature and close to earth. I mean, if we're going to be actually committed to sustaining that and making that the basis of our economy, which I truly believe it should be, we close that loop. We're able to export those goods around the world because they're highly valued. We need to actually make that investment in that and we can't just be scraping the value off our workers. We can't just be scraping the value off community or that's not sustainable. That's just greenwashing.
Emma
Exactly, exactly. Yeah. It won't, it won't last.
Sarah
It won't last.
Emma
And the magic of Portland craft will then fizzle in that. I mean, the magic lies in the people, the people on the frontlines, who are contributing to the maker's economy because they love it, because they're passionate about it and they found an avenue to be able to join that here. And so providing support is so, so crucial and important. I want to end on a topic that is very near and dear and close to my heart as I do a lot of education work in cannabis. And a recent national report from Ganjapreneur came out noting that over 90% of consumers do not understand what they're consuming. There is no kind of educational efforts. We saw this with the vape crisis that came out in 2019 where consumers just had such little access to cannabis science to reputable information around cannabis and its purported effects. So what can we do on the City level to make sure that public education around cannabis is being delivered to people, all people who need it?
Sarah
I might actually pull a fast one here and throw that back on you as the expert about what we should do. Because in some ways it's up to me to listen to you as the expert on that. Where do you think we need to start as Portlanders? Cause I don't see actually much of that happening.
Emma
No and that's a big problem. I sometimes feel like I am just like yelling out to the abyss of... I mean we need one standardized education and training at the dispensary level. And we've seen other States and other Cities implement this that do have public access programs to cannabis, whether they be medical or adult use. And I think that it is just such a liability from a business standpoint, from a healthcare standpoint to put people in this industry without any kind of training on the fundamentals of cannabis science, on smart dosing strategies, on taking tolerance breaks, on investigating the product and the source material that you will be consuming and putting those people without that training in front of patients and consumers who can't get their questions answered by doctors.
Emma
And yet they're looking to these people who don't have any training whatsoever and asking the same questions. And unfortunately there are many anecdotes of them getting responses that are dangerous per se. I mean, suggesting that people consume a high amount of THC, or suggesting that people just consume this one particular vape cartridge because it's that person's favorite. I mean, that, I think is going to prevent the ethical evolution of the industry itself. And so one I would implement, I mean standardize education and training where every single dispensary in Portland has to at least have some kind of education plan. It can be internal, it can be in house, promote an employee to research and to come up with a program. It doesn't have to cost business owners a lot of money per se. And we saw this as a kind of test model in the dispensary that I started working at almost five years ago, Pharma in Portland where we just empowered employees to take on educational roles, to research it themselves, to deliver information, to invite vendors in.
Emma
And it worked. It really worked. And so that's where I try to create as much educational resources as possible now to get out to the community at large because it is important when looking at helping patients and consumers. I think that we also need public health education that does come from the City. I mean we need to be putting billboards up that encourage consumers to look beyond just THC percentage, just potency. We know that that isolate being one of the most researched isolates in the history of scientific research, we know that there are problems associated with that, especially with overexposure and high use. And so how can we encourage people to look beyond THC to assess quality of cannabis in a different way, instead to ask about who grew this variety? Was it grown in organic methodology? What kind of person are you looking to support with your dollar?
Emma
Purchasing power is huge. I mean, encouraging microdosing, encouraging the idea that you can take a little bit and then come back and purchase more if you need to. I think that coming out of prohibition, we're still in a bit of a scarcity mentality where it is kind of like, okay, I need to stock up as much as possible. I need to get the highest THC, the best bang for my buck, because that may go away. Right? It activates that primal point. And so by providing that education around safety and security where this won't go away. This is good for Portland. This will stay. And so try to engage with the products and the people in a different way. Look beyond that THC number. Let's talk about terpenes. Let's talk about resources: healthcare professionals who are on board with this, who would be willing to have more conversations.
Emma
I mean, let's talk about the medical program that has virtually been erased by adult use. Where are there resources for medical patients that continue to exist here in Portland? And so I think that the two pronged approach really of the standardized education and training in dispensary models for cannabis workers across the board as well as public health education efforts from the City itself, and campaigns that can allow people to engage with cannabis science or at least to question their own understanding of it and to have access to resources that would allow them to make smarter purchasing decisions for themselves.
Sarah
Yeah, that's really good feedback. And it's along the lines of what you're saying is what we already know how to do and sometimes we forget that we've learned these lessons before. Right? Food innovation, beverage innovation. We have the existing capacity and we know that it means bringing the education centers together.
Sarah
Think about PCC and if we were empowering them to actually have these intro classes, right?... for bud tenders to go through. Maybe even get a certification, how that would be mutually beneficial for everyone in that ecosystem. The industry investments when we're thinking about in terms of supporting an industry and the strength of your industry or guild and how making sure that the folks who are working in all aspects of your industry are on the same page about advocating, because they have partners in government who understand that, and that messaging is clear and unified. And also working with the County on the public health aspect, because really when you think about the City of Portland, our job is to invest in those bricks and sticks and I want to get those, you know, that framework and that infrastructure and then partner with the County on the public health front, in making sure that we are hitting every lever that we possibly can to maximize this. But it's about intention. None of this happens if you take it for granted that this is something that's good for our economy. If we believe in it, if we value it, and if we want to make sure that it's equitable and administered in a way that's going to make it sustainable for the longterm, then we have to make these investments over a generation. And then what we'll have will be very robust and resilient and I'm sure it will be, continue to be fantastic. But we can't take it for granted. We need to make sure that we're thinking about it carefully. So are you going to, are you going to be on the Cannabis Advisory Council?
Emma
Oh, I will. I will be there. Yes, please!
Sarah
It sounds like I need your brain behind me to make some of these decisions.
Emma
I would be absolutely honored. Honored. Sarah, thank you so much for joining us today.
Sarah
Thanks for having me.
Emma
Seriously, this has been an amazing conversation. Thank you for supporting workers' rights for the ethical evolution of the cannabis industry. I think that you would be incredible for Portland. Where can people find you to read about your plans and how can we support you?
Sarah
I am the local Portlander with all the plans. My website is Sarah2020.com and that Rethinking Public Safety Plan is there. The Green New Deal is there. Housing, thinking about affordable housing so our workers can afford to live here in Portland. We can not take that for granted. We can not have our employees having to commute in by transit from the region's edge, especially when we have these wonderful boutiques that are attractive to tourists and visitors. We need to make sure that we're thinking about those data systems and the good government models. So have folks check me out at Sarah2020.com . Don't forget you have to mail your ballot by May 14th or drop it off by May 19th which is Election Day. And every vote counts. We need all of the people power to unseat the incumbent who's really more interested I think in those folks who might be more interested in the larger buyouts. [Laughs]
Emma
Mmm hmm. Definitely. So let's please support Sarah. And please, no matter what, vote.
Sarah
Vote.
Emma
Mail in your ballots. Drop off your ballots. This is incredibly important. And check out her plans at Sarah2020.com . Follow her @SarahForPDX . And just make some noise about it. If we want to see the change, we have to show up for it and vote. Thank you again Sarah for joining me here. I'm going to try to save this video so we can share it. And watch it. So please "Like," "Share." Tell your friends to vote.
Announcer
This has been a production of Friends of Sarah for Portland.