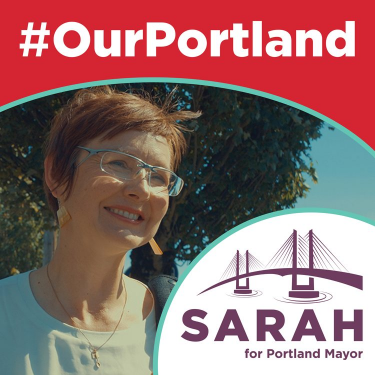 Turning Challenge into Opportunity w/ Simon Tam
About this Episode
May 19, 2020
Sarah joins her friend Simon Tam / @SimonTheTam on Twitter to talk about how we can nourish Portland's arts and culture during the coming COVID-19 recovery.
Find your nearest ballot drop box at sarah2020.com/dropboxes.
Have a question for Sarah? Email it to [email protected].
Transcript
This transcript was generated automatically and has not been reviewed for accuracy by our transcription team yet. Please email

[email protected]

if you would like to help!
Speaker 1
Welcome to our Portland with Sarah [inaudible] made possible by contributors to friends of Sarah for Portland. Portlanders have everything we need to make radical progress today on emergencies like climate chaos, housing affordability, and staggering inequality. Each episode we'll hear how Sarah plans to be the mayor to lead the city of Portland to a more equitable and sustainable future. And now here's Sarah
Speaker 2
Portland. It's election day, May 19th, 2020 have you voted? If not, you better do so. You only have until 8:00 PM tonight to get that ballot in. If you're not sure where to drop it, look at the Mount Noma County elections website for the official list of Dropboxes. You can also take it to a public library. That's how I did mine. Now this is a really fun conversation. A good friend of mine and former namer Simon Tam, who's now residing in Nashville, his partners and artists, he's an author, public speaker, musician. We had a good talk about what's going well in Portland and what's not. Some things that may be happening well in Nashville that Portland's not focused on and how we can make sure that Portland stays affordable, inclusive, and that our funding for the arts is sustainable and equitable. I hope you enjoy our conversation. Here's a talk, Sarah and Simon
Speaker 3
[inaudible].
Speaker 4
All right, so, Hey everyone, I'm speaking with friends, Sarah and her own. Now. She's running for Portland mayor and a while I moved away from Portland about two and a half years ago. I'm still very, very passionate about the issues of Portlanders. Of course, my band is based there. Um, a lot of the organizations I'm involved with are based in Portland. Uh, I have family there, so it matters a great deal to me of what happens to the Portland, um, not only in the immediate sense because of what's happening there, but also in the greater picture because I know that what happens with Portland is oftentimes, um, an opportunity to influence legislation and policies in other cities, Nashville, Tennessee included, which of course is where I am now. So, uh, Sarah, like, thank you for speaking with me and for all that you do and continue to do. Um, you know, I think we first met a number of years ago because we wanted to talk about about equity, about access and what was happening with Portland. So it seemed appropriate that that's kinda what's bringing us back together. It's just these kind of continual conversations about justice, about, about policymaking, about what's happening to like us.
Speaker 2
Yeah. The equity salons. That was when we sat down. You had just won I think an award and yeah, your name came across my desk as someone who was a really innovative thinker on some of this stuff. And so I was like, let's convene these equity salons and debrief this and have some great bright minds. And there, those were great. And then we ended up being neighbors for a little bit there in Southeast. Did you hear the library cafe close to Tacoma and permanently? Yeah, I saw the, I saw the article, um, just like last week I think. And it was just such a bummer because I was loved walking over there from the house. And it was my favorite breakfast spot. But yeah, not an easy time. And you know, I'm kind of wondering like what, what all, like how, how have you been doing in the midst of this?
Speaker 2
Can't possibly be easy, like trying to like campaign at the same time while speaking to these issues. Like what, how do you see things go on and in Portland, it's interesting Simon, you knew I've been working on the edges of policy at the street level for some time now. So to have the conditions and issues that so many people for instance, um, experiencing homelessness have been trying to get our policymakers to listen to for so long be at the foreground of the policy conversation, whether that's fear of evictions or maybe why we might need to have policies in place to prevent people from being evicted. Uh, understanding that sweeps are very inefficient and ineffective response to people experiencing homelessness. I'm looking at things like hunger and lack of, um, income as barriers to people even being able to travel around the city as we've looked at TriMet and the continued fair enforcement on things like TriMet.
Speaker 2
And so some people are saying, Oh, it's laying bare the inequities in society, but the people that I've been talking to have been experiencing these inequities for some time. And so that's not really laying much bare for them. But it might be shedding light for people who haven't been experiencing that. And the policies that we designed in this campaign were really about the folks who are already in those positions. So they've been rather durable through coven. And so far as we have been thinking about making sure that the needs of Portlanders who are most vulnerable are met first. And that's been a real joy for the people on our campaign actually, because we can come to this with a sense of purpose and a sense of meaning and understanding that what we're talking about isn't theoretical. This is grounded in what people who are really feeling the worst support that need us to be able to accomplish. Yeah. You know, it's, it's interesting that, um, it kinda
Speaker 4
reminded me of something when you're, when you're mentioning like, like people are kind of in a way unfortunately kind of used to these things. Like, for example, we're, we're seeing these record levels of unemployment, but for people of color, like double digit unemployment is the norm. It's, it's not like it's some extreme situation and we've had to learn how to navigate that particular space or are not having needs adequately met. Whether it's like, um, access to education, which is a real thing right now or, or medicine or anything else. Um, of course the, the situation is, is impacting these communities even even greater now. But, but it's kind of interesting that people are only thinking about systems like in how those systems fail. Certain people when it's impacting the dominant group at a certain level, it was never a forefront of the conversation and tell them, even even this year, homelessness wasn't really kind of a big issue in Portland until it started impeding on, you know, certain people's and their, their sense of comfort and how they can navigate the city. I mean, I remember that, uh, like back in 2016 when you were running that you're like the, the only candidate that, that actually spent the night in, uh, with homeless people. And to say like this is to understand the experience, to actually have that conversation, um, without, you know, city hall chambers or any kind of distance. It was like how to, how to get up and close and actually learn like what it's like in terms of the day to day experience.
Speaker 2
Yeah. Jesse spawn Berg. We got to give him credit. He spent the night up there too, I think. But yeah, this notion that really the people who should be shaping our policies are the ones who are, whose lives are most affected by them. It's really been transformative in the city race because even though we've had to start campaigning during coven, our team has taken the values of our campaign and put them into action while we've been campaigning. So you can imagine we have good neighbor outreach and we're doing elder check-ins via our phone banks and we're just making sure that people stay connected and you know, that's what I'm all about anyway. So being able to put the campaign power behind connecting Portlanders has made us joyful even when things are dark.
Speaker 4
Yeah. I mean, one of the things that I really appreciate is that, um, while there are certainly a lot to talk about in terms of opportunities for improvement, uh, at the city and, and multiple levels of government that, um, one of the things I appreciate about you is that it's been done with a sense of optimism and a sense of possibility. It's not just like things are, are difficult and the graven and there's injustice. It's like this is an opportunity for people to step up and even as you're speaking with the people most affected by policies for, for them it's a, it's an opportunity to step up into terms of like having their voices heard and to step into positions of leadership for the first time.
Speaker 2
Yeah. We have some really amazing anecdotes too. You know, we're running as the first publicly financed mayoral candidate in this new open and accountable elections program. So I'm running publicly financed, which means that I'm actually the front runner in fundraising and I have worried about to set a city record for the most donors in any election in city of Portland history. Think about that. It's amazing because what we have people who've never donated to a campaign, I'm donating people who don't usually vote, even anti-statist who are voting because they see an inflection point for if you have someone with my values and networks and focus with access to power in the mayor's office that we might be able to actually make some transformative change. And so we've heard a feedback, even when we are trying to qualify for public financing, we had to get 500 donors just to qualify in each one of them had to be certified and that was a really hard number for us to reach. And so I would even say to a street roots vendor or someone without income, if you give me $5 it really matters. Not only is it matched six to one, so it becomes $35 but your certification helps us qualify for that public financing. And you could see their eyes light up when like they knew that $5 which was all they could afford, would actually make a difference in an election. It's been transformative.
Speaker 4
Yeah. I, that's one of the things that I wish more people would see is that
Speaker 5
Mmm,
Speaker 4
it's sometimes difficult to have faith in the system. This is sometimes difficult to think like that. Our votes, our dollars can truly make an impact, especially when you hear numbers of like how large some of the gifts that some people are getting. And there's no doubt that, um, you know, mayor Wheeler has received very large checks over the years in addition to his own personal wealth. It like when you hear those numbers, you're just like thinking all I have is $5 or $10 a gift. What difference does it make you feel kind of like loss and all of that. And I think, I think sometimes that people don't realize that, um, how that can be a disincentive to, to voting or like engagement in any kind of way. So that, that's something I definitely appreciate is that like that, that real big push for the kind of the smaller gifts, limiting the gifts, um, calling for accountability in that. How's that? How's the rest of that kind of campaign been going? Yeah.
Speaker 2
Amazing. You saw the Supreme court, I would have mentioned. So we had our own when, I know you're our own little agitator at the, at the U S Supreme court here, but we, you know, build this campaign on a couple of things back our last year when we were putting it together, the public financing was one and the other was this program called honest elections, which uh, was measured 26 200 that was passed by 87.4% of Portland voters in 2018 to cap all campaign contributions at $500 in city elections. And so obviously the incumbent and the people with whom he keeps company, the Portland business Alliance, the big business lobbies, the realtors association, et cetera, took that to the Supreme court largely along the lines of citizens United. This is an infringement on our freedom of speech if we kept campaign contributions. So we've been waiting and waiting for the Oregon Supreme court decision to come down on that. Then covert hit and obviously the court systems were also thrown into chaos. And so we just found out, I think about three weeks ago now, that the side that favors our position, which is that law should be upheld, was actually supported by the Oregon Supreme court. So as far as we knew since that was voted in by voters, it's still legal and we're suing the mayor's campaign because we think he shouldn't be able to keep those illegal contributions.
Speaker 4
Yeah. So, um, something else that I know that, uh, has been happening, and I mean at least that's one of the positive outcomes so far things have happening. I know there's been a lot of conversations, um, about funding and like where, where money is going. Uh, for me, I had a lot of friends in the film industry out that way who have been really concerned because of the opp article that has been circulating, talking about, um, the mayor's pitch to basically kind of, uh, take actions to defund, um, the, the film industry there and by moving the office of film. Um, so I'm kind of curious to hear, hear your thoughts on that. And what do you think about like, you know, funding in the arts? It seems like to me like a no brainer that it's such a critical part of the culture of Portland, but, um, I'm kinda curious like what you've been saying and then what, what you would hope to see like we would forward.
Speaker 2
Yeah, I mean that news that they were going to cut that 148,000 and some odd dollars for the, uh, Portland film office just didn't sit right with me. And you and I've actually engaged quite a bit internationally. And so we have a pretty good sense of Portland's, um, just reputation but role in the global marketplace for ideas and culture. And we do play an outsized role for a city of our size. We're what the 25th largest city in the U S but what if you go to Japan or you go, uh, to Korea or Thailand? You know, a lot of people have heard of Portland, even maybe who haven't heard of Oregon. Right? And so when you think about what a small office like the Portland film office can do in attracting investment and people who want to film things here to be a part of that, the all of the services that go with that, you know, you're a musician, so the sound technicians and the lighting people and the people who set up the sets and the stages and the commissary, all of these things are good jobs for Portlanders.
Speaker 2
When these productions move, they tap into local talent. So I'm a huge supporter of this kind of effort. And I also think that that's a pretty modest expense for a small office that can help streamline that for Portlanders. But largely, you know, you look at all the money that goes into some of the police budget items that I don't even think are good, hundreds of thousands of dollars in police overtime for protests and things like that. So I don't, I think that this whole notion of austerity that we have to talk about is a bit of a, it's not something that I'm going to accept and I don't really like that they're doing it. There are things that we can look at in our budget to streamline things without cutting programs like that, but more largely arts and culture is so central to our economy.
Speaker 2
I made a big kerfluffle last year because there were these 30 food cards by the Galleria downtown, which was a beloved food cart pod. It was like two blocks big right there at like 10th and older and they were displaced with no succession plan for a Ritz Carlton that's owned by Marriott corporation in an opportunity zone, so they're getting all these tax breaks and having opened a small business that probably has the same overhead of a food cart, largely knowing that that fed a whole family and feeds workers and I saw 30 of them at least be displaced with like no care to me. No one ever came to Portland to go to the Ritz Carlton, but many people come to Portland to go to food cards like where's the disconnect? Right about why is Portland popular to begin with? Why would anyone come and stay in a hotel here? It's access to nature. It's access to arts and culture. The music scene, going to live shows, eating at amazing restaurants and we take it all for granted and hope that these small businesses and these small entrepreneurs can thrive. And then when the crisis hits look library cafe gone, it will never come back. Maybe something else good will be there, but that wasn't worth preserving. That wasn't worth making sure they could stay. It's disappointing the lack of care to me about what makes Portland special right now.
Speaker 4
Yeah, I think that um, you know, what are the things I noticed that it seems to be small picture thinking, short term thinking as opposed to thinking about long term. Like what is it that we would like to see in the city, what is the three actually appreciate and where do we invest in that? Because as you mentioned, like the film industry is a great example of that. Um, I mean 140 can cause a drop in the bucket compared to the millions of dollars that it brings in. Not only in the actual sets and all the jobs there because it's certainly feeds and provides for a lot of people. But it also raises the profile of the city so that it boosts tourism dollars and other kinds of investments. I, it kind of reminds me how a lot of times people see that as perhaps like a line item to something that could just be knocked out quite easily as opposed to thinking of it like what does it actually represent?
Speaker 4
What or who are all of those families that it represents and unless you have a an actual connection with that or a good understanding of that, it's hard to understand like how that is a big picture investment. The other part of it is as my guess is that when someone sees that as like a line item expense, they probably think like we, this was an act of generosity. It was out of the generosity of the office that they even had the money to begin with. But generosity should not be a substitute for justice. Like generosity is, yes, throwing money at an arts organization, but justice is creating a culture in which we appreciate the arts for what their work, their contributions and how it should be integrated in every aspect of life. And thinking about the appreciation of small businesses, like, like the food carts and the, our little libraries.
Speaker 4
I mean, there's just so much out there that, um, you know, w w when you see who gets treated as that line item expense, it tends to be people who don't have status and in the city in terms of policymakers and that sort of thing. And that's why you get the big Ritz Carlton's and the big chains. But, but yeah, I mean that's, that's not the spirit of Portland is, is like, Hey, how many like massive chains can we get into this place? How many like chain stores and hotels and restaurants and everything else. That's not the innovation that we hear about when it comes to the arts or food or anything like that.
Speaker 2
Yeah. And when you look at what global capital flows do in terms of homogenizing cities so that you can go into a neighborhood in London or a neighborhood in New York or a neighborhood in Austin and they all look the same. No one wants that anyway. So we should actively resist that as Portlanders. One thing I'll, I'll throw past you and see what you think about, you know, our artists and creatives are really struggling in Portland. They were again, just like people who were already vulnerable, uh, prior to COBIT, their, their vulnerabilities have been, uh, starkly exposed in the wake of covert in terms of being able to make ends meet in terms of being able to make rent in terms of being able to earn a living without having to functioning two, three, four gigs in the gig economy on top of what it is they're trying to create.
Speaker 2
And so I've taken a bit of a look at some of the challenges, the fiscal challenges that, uh, Portland faces. And while RAC has done a bit of a better job in recent years in terms of um, funding, uh, culturally specific arts organizations and trying to get that money directed, um, in more diverse ways. I think the arts tax is really broken and I think we need to start thinking more in terms of funding the arts as you said, as this mechanism of generosity and is central to our economic development capacity. That things like tech programming, digital arts, digital media, people who designed the comic books, people who design the games, people who write the music and songs and produce them and design the album art. And that's all part of an economy that's robust and actually pretty low carbon. When you think about those jobs, those are fossil fuel based jobs.
Speaker 2
We can, people can telecommute doing a lot of those things. People can work together in teams doing those things. We can train up young people straight from high schools like tech high schools like Benson or community colleges and partnerships and get them into pathways where they're having skills where they make things and create things and design and innovate things. So I just don't understand why we wouldn't want to invest more strategically than just the arts tax and think about makerspaces and arts hubs and creative spaces all over Portland. Do you have any thoughts, having been in Nashville now where my understanding is they're doing a little better on that front, having left here. What are other places doing that seem to be helping the arts thrive more in ways that Portland might not be doing?
Speaker 4
Well, one of the things I noticed here about Nashville and, and while in some ways it's still in well like they, they do invest quite a bit into, you know, the, you know, prior to this they were investing a lot in the live music and the industry as a whole. Um, well one of the things I think is, is, is that word culture, like it's not an outlier. It's an expectation that the leadership that comes in will have, that will have that deep appreciation, not just as a thing that people consume, but that you, which you invest in because you realize the potential for, to, to impact all these other areas. For me, I think that begins with leadership. Having a leader that is creative, having a leader that is willing to see the innovation is that, that, that the arts drives, you know, obviously like who, who wants to live in a place that doesn't have a thriving art scene, that that would seem incredibly boring to, to not have live music and theater and film and everything else.
Speaker 4
But on top of that, if you want to have a thriving work force that can actually develop solutions like innovation across many, many different sectors, you're going to need artists like I, you know, I do a lot of consulting work for, for marketing communications for organizations and I'm like, if you want to like really do well, you should hire a musician. You should, you should hire someone who understands art because it's just a different way of thinking that the value system of like not being bound by possibilities or by, by the past, but by looking at what it is you hope to accomplish and then working it out that that's a different kind of skill set. It's, it's a, um, sometimes it's a scrappier kind of mindset. Uh, but one I think ultimately that is far more creative and then one that can actually explore all these different possibilities.
Speaker 4
And in a level of that like, um, a traditional, you know, perhaps career politician kind of mindset doesn't quite get there. And, and if, if a person will have that ability, then that's okay. Like surround yourself with people who get that and empower them to do so. And that was one of the things that, uh, that I personally had been frustrated with Cortland for some time is uh, you know, he keep hearing people talk about diversity, equity, inclusion. That's like the new sexy, it's the new sustainability. But seldom we have the P those offices really been empowered to make decisions to actually impact. And so them have you actually seen, um, you know, people in those positions of power actually live up to those values that they've been kind of swinging around. Like, it's great, you can take an $80,000 equity class once a year, but it's another thing to take that money and invest it in organizations or to, to hire people who truly, truly understand, uh, the, the experiences that the people are actually having
Speaker 2
and measure impacts. I mean this is some of the feedback I'm getting on the ground is that it's one thing to like make an upfront investment in splash once of, you know, minority owned businesses on the city website. And it's another to like make strategic investments that were growing wealth across communities, across community organizations, across opportunity pipelines. So there's not just like little tiny crumbs of cake all the time. Like y'all are get the whole cake. Like you have to make the cake, bake the cake, it's your cake. That's just something we need to really double down on. I think. Um, and the only way you're gonna get there is if you measure it for this input, like we're going to demand real outputs on the other end.
Speaker 4
I agree. And, and that's one of the things that people don't realize is that inclusion, equity, those things have very tangible numbers and things that can be attached to those things. I mean, um, we talk about like the, the city auditor could be empowered to, to say like, Hey, how are we going to judge how, how things are getting funded? How are we going to hold people accountable? And what happens when you miss those targets? You know, what are we, what are we going to do to actually hold all these things that, you know, there's a lot of money flowing in and out. What happens when they're not meeting the values that we say as a city, this is what we want to live up to. This is what we're going to hold ourselves up to. Oh, all the citizens I'm up to.
Speaker 2
Yeah. One of my first 90 days commitments in addition to convening, um, the housing strategic plan to end the state of emergency and thinking about issuing the climate emergency declaration is to hire, um, a small business and entrepreneurship lead that's probably not going to be in prosper Portland but will be in my office. Who's going to set up those data information systems. So that's going to help us I think on the, the covert recovery cause you'll have a single point of contact for SBA assistance and things like that out of the city. But also then we can start tracking I think a little bit the inputs across the ecosystem. Who are our strategic partners, how are we leveraging those strategic partnerships? Where's the city money going? Can we get the most bang for our buck through some foundation partnerships? I know you're working on that side in terms of, um, the foundation side for, uh, funding artists and creatives. Any lessons from what you're doing there and your, do you wanna give a plug for your effort and tell folks about it? Cause I would love to hear more of what you're doing too.
Speaker 4
Sure. So, um, well with the, my organization, the slants foundation, what I wanted to do is, um, figure out how to solve the problems that I see that the gaps that traditional foundations, uh, struggle with. So, um, as an artist I can't tell you how frustrating it is trying to get an arts grant. It is like the, it's so difficult sometimes and you have all these organizations that say like, Oh, we want to provide more money to minorities. We want, we want to like fund arts. But the thing is the, the application process is structured in a way that favors systems and people who are familiar with the systems. So dominant cultures and identities, unless you speak that language, you're not going to get funding. Um, and if you do get funding, you're going to spend more of your time reporting on metrics that they're trying to give to their funders, then you are actually working on your craft itself.
Speaker 4
So for us, we decided why don't we just kind of serve as that middle road? We'll, we'll secure funding and then we'll give it out to artists and let them do what they do best, which is make art and make art that's driven by a spirit of activism. Now we also want to, um, get people to try and solve problems in an unconventional manner. So like during the whole pandemic, there has been this huge rise in racism towards Asian Americans. And I understand there's a lot of people who, who have all kinds of feelings about it. And I thought, well, what is an unconventional approach in doing this? And that would be using art to address hate. How do change the culture that'd be sharing our own cultures and experiences? Like what if you could have a conversation with that person and not necessarily out of anger, although that might be part of it, but like what can you do to elicit compassion and empathy?
Speaker 4
So we're looking at, we weave in funding pieces of art that actually build those connections. Um, so things kinda like that. I'm like, well, it seems like a no brainer to me, but how come no one's funding those kinds of things? Uh, I in fact, you know, I've been approaching arts organizations that try and solve another issue, which is like as a touring musician, um, I know a lot of musicians like myself who, who don't buy a hotel room when you're touring because it's, it's just not affordable. Um, and so you just drive overnight. And I unfortunately have known many musicians who've been hurt or killed in the process of doing this. It's particularly dangerous for women and folks of color who traveling, especially if they're touring alone as well. And I thought, why doesn't someone just solve this problem? So we, we've started this program to basically go and buy hotel rooms for musicians.
Speaker 4
You, it, while using this as an opportunity to talk about like how other people move. So immigrants and refugees are trying to navigate this world and they also don't feel safe traveling. So we thought if you can spend an hour of your time working for an organization, volunteering, um, using your platform to talk about issues that pertain to the movement of people, then we'll take care of your hotel room. Of course that that's kind of like on hold at the moment since we don't have live events, but it's just like how do we inject creativity in the process and what's what I found frustrating was like no arts organization wanted to fund that pro at that project. They said, well we don't pay for hotel. That's not what we do. We can pay for overhead or and pay for performance fees, but we can't do this. And I'm like, that's kind of the, I think we're feels the problem when I imagined that, um, you know, is is something that you're trying to solve yourself. It's like how do we stop looking at these boxes as if they were fixed? What can we do to just subvert that and, and get at the problem in a more creative, innovative kind of way? Right.
Speaker 2
Well, it's also based on needs, right? Like it's not about me, the arts organization telling you what you, the artists need. You're saying I need lodging. Lodging is a need that I have to do my art. So are you going to fund it or not? Right. It's
Speaker 4
well and also like, and it's kind of this top down approach in terms of like arts organizations thinking they know better and when they to give to the city of Portland, you know, for the longest time when I was working in projects than the Jade district in Southeast Portland like, Hey, we need sidewalks, we need a slower road. People are getting killed out here. And the city is like oftentimes responding with, well we know what you need. And it's like, you don't live here, you don't work here, you've never walked on the street other than to take a PR photo. Like what are you telling me? Like, you know what we need. So like, you know, I, it's, I, I appreciate that you bring in this kind of mindset. We were willing to like experience like what's happening with the people. Like, you know, I know you don't live in like Eastwood, like Morlin and, and so, and I know you, you like, you have the experiences that that majority Portlanders have and you are in touch with people about their experiences. So I definitely appreciate that.
Speaker 2
Well here we go. I mean, Tuesdays around the corner, we've built this amazing campaign. We've done everything we can to build a grassroots movement so that there's a bunch of people have power behind us. You know, sometimes the powers that be look at this campaign and say, well how will you lead the city? And I say, you know, look it, there's the power of the people behind me and it's something that's sorely needed in this transformation is all of the artists and all of the workers and all of the moms and all of the, you know, transit riders, everybody who's advocating on whatever front, they are just bringing their power to transform Portland. We don't have a lot of time, you know, climate change is bearing down on us. Inequality is making us increasingly vulnerable to threats. So unless we focus on resiliency and connected communities and making sure people are educated to be change agents, uh, we're not going to have a lot to be hopeful for. But right now I still have a lot of hope. I think Portlanders are pretty innovative and connected and creative and I think we can do it
Speaker 4
well. I have a lot of hope, especially with folks like you running for stirring up a bit of trouble. So I really hope for all my friends and family out in Portland that they, they start filling out those ballots and, and like if I, if I could be there and cast my own vote, I would for you.
Speaker 2
All right? You get those, you get that Nashville politics to go blue and get everybody a here in Portland. Make sure you vote no later than 8:00 PM on Tuesday night is election day. It's too late to mail your ballot, but you can still drop it at one of the official drop sites or at any Maluma County library. And we'll just hope for really good results. We'll send you a link to election night. You can come remotely. It's one of the joys of coven.
Speaker 4
I would, I would love to do that. So thank you.
Speaker 2
Thanks Simon for hosting me. It was so good to see you. Portland misses you.
Speaker 4
Okay. This has been a production of friends of Sarah for Portland.