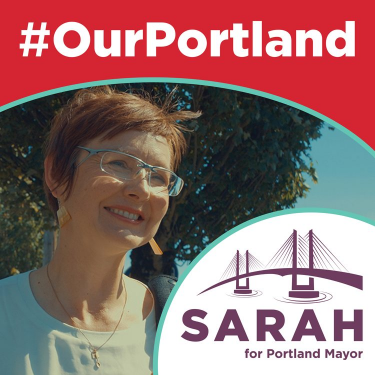 Comedy and Contribution Caps w/ Andie Main
About this Episode
May 15, 2020
Sarah joined Andie Main / @andiemain on Instagram Live to discuss how the incumbent's rhetoric matches his record.
Find your nearest ballot drop box at sarah2020.com/dropboxes.
Here's how you can help get Sarah elected Portland's next mayor on May 19th:
Have a question for Sarah? Email it to [email protected].
Transcript
Intro
Welcome to our Portland with Sarah Iannarone made possible by contributors to friends of Sarah for Portland. Portlanders have everything we need to make radical progress today on emergencies like climate chaos, housing affordability, and staggering inequality. Each episode we'll hear how Sarah plans to be the mayor to lead the city of Portland to a more equitable and sustainable future. And now here's Sarah.
Sarah
Hi, Portland. Sarah Iannarone here. I'm running for Portland mayor. My pronouns are she. Her election day is right around the corner, Tuesday, May 19th. The last day to safely mail your ballot has come and gone. So you can't use the postage paid envelopes anymore. You need to go to your nearest drop box and turn in your ballot before 8:00 PM on election day. Again, that's Tuesday, May 19th this is such an important election. I can't stress enough. We're going to have the same incumbent mayor through the end of 2020 but who do we want making decisions about our recovery starting on January 1st, 2021 it's a choice that we're making, not just for the next four years, but for future generations. So now to take it up a notch, we're headed into a special conversation with comic Andie Main. Portlander born and raised living in Colorado. Now we live streamed. While she was pulling her lasagna out of the oven, I was pulling out some enchiladas. It was fun. What a blast. I hope you enjoy it. And again, don't forget to vote.
Andie
Sarah. Hi.
Sarah
Hi. How are you?
Andie
I'm good. It's a beautiful day in Colorado. Beautiful day to stay inside.
Sarah
What time is it there? Nine.
Andie
It's eight o'clock.
Sarah
Okay. What are you guys on? What is that mountain time?
Andie
Mountain time baby.
Sarah
How are you fairing?
Andie
Um, I'm miss comedy. Super bad. Like it's the whole reason I moved out here. I still have a job, so I've got that going for me. Um, it's hard to, uh, to not feel grateful for what I do have going on rather than lament on what I'm missing. So I'm just doing my best with being grateful. You know, like most of my friends are comedians. A lot of them are comics in the service industry and so they are ridiculously screwed. Um, and filing for unemployment's really hard. Um, no. You know, there's some people that are still two months later trying to reach unemployment. So, you know, I'm doing fine. Um, I'm just sad that I don't have comedy anymore. I got my podcast, but that's not the same.
Sarah
Yeah. I know. And I, I miss community and like being with real humans, like I can do my podcast all day long, but it's you just kind of talking to yourself or just one other person. So it can be hard to miss if you're a person who gets energy off the crowd, it's hard to,
Andie
yeah.
Sarah
Your crowd.
Andie
Yeah. I'm totally an extrovert. I do get high off of that. And uh, with podcasts, doing it through zoom, you're not getting the same kind of, um, feeling. So, you know, at least, I mean, I'm just grateful that I have a podcast and it's rad and you've been on it.
Sarah
It's a good podcast. I listened to it. It's really fun. Somebody saying you get high off a lot of things. That's not this kind of podcast.
Andie
Nope. We're going to get Sarah elected for mayor. Yeah, I had you on people enjoying terrible accidents back in January. And we told the story that inspired Moby Dick.
Sarah
Yeah, it was good. It's good. Oh no, she's out. No, no. Stay with us. Chris. Um, tell me what's going on in Colorado. How is it comparing to what's going on in Oregon? I mean, you've got your feet in both places, kind of. So what's happening?
Andie
Well, um, like I, I read the news a lot, you know, still and like we're doing structured openings, I think like technically speaking, misuses and hair salons and tattoo parlors are open right now, but I'm not going to go to one. Um, and then like, maybe in a month we'll have like structured restaurant reopenings um, which means bars would be open, which means that comedy could happen, but you'd have to like have a certain amount of people in the room. And I was joking with a friend recently that like, you know, let's say that the comedy club, the Helium equivalent here is called, um, Comedy Works. If they reopened, it'd be a 300 person room and they'd only let like, you know, so 75 people in, which would be a huge difference in the amount of the crowd and the response you get at a comedy club. But it wouldn't make any difference when you're doing those shitty empty bar shows where no one's there anyway. So I'm used to doing those.
Sarah
Yeah, I hear you. I keep thinking about outside, like for summer at least. Can't we be doing more stuff outside? Cause it's so much easier to have distance like that, like concerts in the park type vibes where people know to stay far apart or does anybody talking about that?
Andie
Um, not yet. But when you become the mayor, you can tell Kate Brown about that. Really.
Sarah
I don't know. When I become the mayor, I'm not sure how many people in the establishment are going to be too happy about that. Um, a lot of things like I know that they pay attention to what I'm saying, but they pretend like they're not.
Andie
Oh, is that what it's like being a woman?
Sarah
Is that what happens to you at well, Kate's a woman. I mean there's, so, I think it's more this notion when you have insurgencies like our campaign, which we, I don't know if you heard, but we're on track to break city elections history by having the most donors in an election.
Andie
Oh wow. I did see that. And so small dollar donations too. It's a lot like how Bernie Sanders ran his 2016 campaign.
Sarah
Right? And so that really offends how a lot of these people in Oregon run their campaigns, right? It's kind of the wild West of campaign finance out here. But the Supreme court just passed a, um, uh, uh, ruling that campaign contribution caps are legal now. So headed into the general election here, it's going to be a lot easier for someone like me who's used to relying on small donors than someone like my opponent who's used to rake it in the big money.
Andie
Who does tech get us donations from? Like who are as big as donors?
Sarah
Uh, the electricians union, the realtors association like business lobbyists, Berkshire Hathaway's a nice one. You know, the folks who've got a real vested interest in making sure the little guy's taken care of.
Andie
Yeah. Yeah. What's Berkshire Hathaway?
Sarah
Real estate investment, I think.
Andie
Oh boy. Those ethical real estate investors. Um, yeah. So, um, like my questions for you today are, um, like how do your policies differ from Ted's and why should people care about your policies instead of Ted's like as far as, um, like I know that you're big on transportation and I know that you're really big about housing and Ted has ignored the homeless and gutted TriMet. Right?
Sarah
Well, let's pull it out 30,000 feet because you know, one of the things with this guy that I think folks have a bit of a problem with his feet. He says really good stuff, a lot. Like he ran in 2016. He, um, sounded like a progressive and sold himself as a progressive, but I use the term even in an op ed piece, so I'm happy to say it out loud. He's faux-gressive When it comes to really putting the power of the mayor's office behind those progressive policies, which when you talk about progressive, it's a reformer, right? It means that you're a person who's looking at the status quo saying that's not working for most people, so we need to do reforms. You know in the last century was the tenement house movement. It was thinking about things like public health and sanitation. It was labor rights, right?
Sarah
Like 40 hour work week, weekends. These are all progressive reforms and you tell those things...
Andie
Like back in the twenties back in the twenties to back in the twenties the idea of a 40 hour work week. They were like, "What are you crazy?" Is that the point you were about to make?
Sarah
Well, the point being that like it's one thing to talk a good game, but it's another to actually put the good fight behind those transformations. And I think the biggest difference between me and someone like Ted Wheeler is like, I'm in that fight on behalf of working class people working poor people experiencing poverty, people experiencing homelessness. When I talk about stopping sweeps, people are like, Oh, you just want to leave everyone camping in the streets. No, I want to say that this is a system that's broken. We're not going to keep displacing people.
Sarah
And so if we're not going to displace people, then we need to come up with radically new solutions so that we can actually find them housing. And that's the difference is that if you're going to, you know, die on that progressive hill, then you need to really double down on finding the solutions that come after that. And that's some big difference between me and him, I think.
Andie
Yeah. I'm like, okay, so I mean I'm not saying that sweeps are good, but what would you do instead of sweeps like tiny houses in like certain types of like, you know, structured areas for the homeless.
Sarah
Here's what I'm doing is listening to people who are experiencing that so that they can say what they need and then getting them the resources that they need and want. A lot of what I hear is that while we are experiencing homelessness for whatever reason, that we need to come up with smaller community based solutions that help people transition out of being into permanent housing.
Sarah
They've had a lot of success that I understand what the village model in which my phone is slipping. Oh my gosh, sorry about that. I'm using this weird gorilla thing right now. But I just keep slipping down and down.
Andie
You're taping with a gorilla?
Sarah
That w w what we're doing is putting together maybe villages where you have 10 encampments or 20, you know, tiny houses, but the people have a shared background, perhaps a women with children, uh, escaping intimate partner violence, for instance. You have these people in community. What they can do is they can share resources, they can share experiences, they can share peer support networks in terms of the type of assistance that they need for the job market. Childcare. It's a very community based and community oriented model.
Andie
Yeah. And I'll make a comment that might sound ignorant. Um, but I'll do it cause what do I have to lose? Um, uh, I was in San Francisco like in January, a week before I hung out with you. And, um, I was so shocked because I was like at a comedy festival, so it was walking through neighborhoods to get from one show to another. And it was the most like the most profound amount of class, um, alienation, um, you know, like the ultra rich and the super poor. And I found myself going from a rich neighborhood through a slum. And the thing that was remarkable to me is that in the rich neighborhoods, um, there was no one on the streets talking to each other. There's no communication clearly, you know, they're going to be separated in their houses. But the community that I saw amongst the poorest people I've ever seen in my entire life was really, really interesting because like, they all had each other's backs. They were like helping each other hook up with whatever each other needed. And I think that that's kind of inherent when you're like at the, you know, at the bottom of society. And you know, I just gotta see it anecdotally at one point. And I think that that's something that could help drive that sort of vision that you have, is that people at the bottom, you know, are more supportive of each other. They're not tearing each other down, they're just trying to help each other get by.
Sarah
Well also though, here's like an ideological understanding in terms of I see community as the strongest power, probably one of the strongest powers on the planet. Right? And so if you're a person who's been in a situation where relying on others meant surviving versus not surviving, why would you not just want to tap into that day to day? Right? Like community is a powerful force.
Andie
Yeah. Yeah, totally. Um, God, I, I think your chances are good. Like I really do. I think, I mean, maybe it's because I pay attention to your Twitter and not Ted Wheeler's, but, um, all of my friends are voting for you. Like everyone in Portland is that, I know, um, most people who voted already, like people have to mail their ballot tomorrow, right?
Sarah
Yeah. People have to mail their ballots by tomorrow. And it's this notion though, I think, you know, we are trying to take back the power that small donor campaign, even things like talking to you, this, this bringing the politics into popular culture and bringing the politics into community. There's so many young people in my campaign, high schoolers, middle schoolers volunteering on my campaign.
Andie
Oh Adorable.
Sarah
They really love it. Not just because of climate too. I mean, I have a little crew from Lincoln high school that come because of my position on sex workers' rights.
Andie
I went to Lincoln. That's rad.
Sarah
My daughter went to Cleveland, so I'm an East sider, but you know, I think Portland's got a lot of potential and the incumbent's a smart guy, but he's just not dialed in to Portland's communities and he doesn't understand the power and how to tap into it and deploy it.
Andie
Well, he's so dismissive too. Like he's been caught on the mic just being like, I don't want this shit. Like what did you do this for Ted?
Sarah
Entitlement is a hell of a drug, right?
Andie
Yeah.
Sarah
Like, it's just kind of wild how I, in 2016 when I ran and only came in third, I said, are we just going to let people in position like an entitlement, like just sweep into positions of power, like uncontested? Like do you just get to occupy that space or,
Andie
well, Jared Kushner would say yes.
Sarah
Yeah, I know, right? It's like a huge, it's a huge part of the equation. It's just recognizing. I love, Hey ADX, love you. Miss you too. It's been a while. I haven't been in there.
Andie
I do have, I do have a controversial question for you, Sarah. I love it. Bring it. Okay. Um, when you did our podcast, um, people enjoying terrible accidents, vegetarians in front of people who were murdered by animals, I asked you what the equivalent of an Nantucket sleigh ride and a Nantucket sleigh ride ride for those who didn't hear the podcast. Um, Sarah was on the episode. It's when you harpoon a whale and then the whale drags you through the ocean. That's a Nantucket sleigh ride. And I asked you what the Portland equivalent was and you said that it would be with a dude on a skateboard, has a dog snap and you called it the Portland asshole. And I want to know, um, and specifically what am I cohost Mike Broken, who's in the chat wants to know, what do you have against men on skateboards with dogs, especially if they're going 20 miles an hour, which is your safety limit for Portland streets.
Sarah
I have to issue a formal apology for that one. Also, I have not been able to, to, you know, there's an awful lot of dudes on skateboards with dogs in my hood and now that they've always occupied the center of the road, they're perfectly positioned to make room for everybody out during social distances. So in some ways they have become the heroes of the [unclear].
Andie
Someone who is transportation minded. I retract that statement. We can come up with a better name for it. It could be, you know, if that's the biggest gap of your campaign, it's a campaign well run.
Sarah
Yeah, I know, right? And in fact, you know, the fact that it brought us so much international attention from skateboarders around the world, they say all media is good media on.
Andie
Tony Hawk was so pissed.
Sarah
Yes, I realized there were women on skateboards with dogs too. But they are always delightful. They are completely delightful and I've never had a negative interaction. But you know, the other thing I think we have to think about is this notion of Portland and going back to not taking itself too seriously. Like this is a town that's convivial. We have the world's largest naked bike ride, right? Not that we should be defined by these things, but in some way tapping into conviviality and community is part of our brand. And having an uptight mayor I don't think is good for that either.
Andie
Not at all. Like when I was a kid, Bud Clark was mayor and that was just normal for me. You know, like the guy, he was a bar owner, right? And he had a Guinea pig and he said, whoop whoop. And that was his deal. And I'm like, hell yeah, that's the mayor. Like I'm in fifth grade. This all makes sense.
Sarah
Yeah. And, you know, I realized that some people want Portland to grow up and join the global marketplace and be a contender and put on our big boy pants or whatever. But it's just not our vibe. And I've hosted so many visiting leaders from around the world who come here, not because we have some like not because of the PBA they come because they're like, how did you teach all your neighbors to plant trees? Like why do you have cores of people out planting trees on the weekend for fun? How did you manage to do that? And that's the kind of thing that people want to take away from Portland. They don't want to take away our vibes and our big boy pants.
Andie
Yeah. Well like, I mean, the thing I missed about Portland the most, and this is kind of um, bragging, but like, I mean, I was, I was Portland famous, you know, and like if I went to a bar, I would know that like people would know who I was and I'd get a beer and like I haven't broken through like that in Denver yet. That's going to take time. Um, but Portland is just like, I mean I grew up there, I grew up on Hawthorne, so everywhere I went people would know who I was just by having, um, just by having 38 years of history, you know, in that town. Um, so I just really miss that small town aspect and like the community involved with it. Like, um,
Sarah
but that's not an accident. Like this is something I've had to teach other cities around the world, how to build that. And so in deconstructing that that is not something that you have to lose as you grow. And that is a huge fallacy that Portland growing means that we lose what makes us special because part of what makes us special is the neighborhood vibe and the fact that you can come from a place and we make places in each one of those places has special things. They have gathering spots. Oh you go girl, they have gathering spots [laughing/inaudible].
Andie
It helps prevent covid. I read that study in France.
Sarah
It reduces stress. So you can have public gathering spot so you can have the parks and green spaces. It's the cafes, it's that neighborhood bar and everybody has access to one and that you can replicate that as big as you get. It's about, you know, keeping things at a scale within the city and just replicating what works and yes, civic engagement and making sure that everybody has a say in shaping their place.
Andie
But as mayor, would you propose to limit the sale price of PBRs to $4 to keep them affordable for all Portlanders.
Sarah
I do not have a PBR position. I have been, I am not taking corporate money and know I am here on behalf of small local businesses. I know a lot of my followers, especially on Twitter, into the local microbrew scene. And so I don't know how they would feel about me showing for the PBR lobby. That would be a tough swallow for them, I think.
Andie
Okay. That's very ethical. That was a test and you passed it.
Sarah
I would like to see us come up with a local alternative of LaCroix. I do think that we are being swept away, swept away by sparkling water markets, these global sparkling water markets. Really.
Andie
You know, I think, I mean that's an inclusive drink. That's for everybody.
Sarah
Seriously though the point is this whole notion of buying local is so important. It's another part of who we are. It's another part of our competitive advantage if you will, as what makes Portland special is us making sure. Local white claw. That's it. Uh, yeah and Kevin Kavanaugh is great. Um, the point being that we have to keep innovating around that stuff though. Like the more that we can keep that local, the better off we're going to be. So many people, my coffee roaster down the block is actually delivering coffee all to the neighborhood while the coffee shop is closed. Right. Like Starbucks, are you going to do that for me? Starbucks isn't going to take care of you like that.
Andie
With local businesses and the way that they treat employees. This is something interesting that I've read about the other day is that like one of my friends was saying just anecdotally that like the most labor violations he's ever experienced. Haven't been when he's worked for like whole foods, but rather when he's worked for mom and pop stores. So is there a part of being a mayor that can help people with their, um, rights as far as getting paid overtime fairly, getting paid to file paperwork rather than real work, you know, like, is that something that the mayor has responsibility to, to help enforce?
Sarah
I think what, you know, and I've heard this a lot and I think part of it is scale, right? And so I propose things like a freelancer's union. So if you're not in a place that's a unionized workplace, what does it mean for you to organize in other, with other workers who may not share your workplace, that you can send you to bargain and try to protect your rights in the marketplace? Um, I'd like to see things like, as a former small restaurant owner, I think it would be good for us to be able to baby buy into healthcare co-ops, right? Especially since it's not likely that we're getting, uh, a Medicare for all. But what would it mean? So that some of the things that the larger employers, that protections that they can buy in bulk or that they can afford, uh, like ADX is weighing in, making sure that small businesses are the ones getting the tax breaks.
Sarah
Having someone who's focused on workers and small businesses to make sure that whole ecosystem is healthy. So it's not a race to the bottom, isn't everyone prospers. Right.
Andie
Man, I'm really glad I asked that question. You answered it perfectly. Um,
Sarah
But it's very important. I mean, that's not an incidental question in a city where you're saying that small business is going to be the basis of your future prosperity. Because when you talk about economies of scale, that's where they start to extract the larger profits. Right? And so if we are going to prosper, we have to find a way to get that prosperity to workers. We have to make sure that the employers have what they need. It really is about saying we value small business so that way we're going to make sure we're investing in that ecosystem and they can survive. Yeah. Right. Nike does not pay their fair share.
Andie
Who's in charge of making Nike pay taxes?
Sarah
Oh, they stay in unincorporated Washington County for a reason out there. Let me tell you, their argument is that their employees are playing, are paying income taxes. Right. So, um, but.
Andie
Does Amazon still have a presence in Portland? They're just Seattle now, right?
Sarah
They do. They have a small presence here. I mean we have about, I want to say something like 3 million square feet of Amazon warehouse in the region, but it's another one of those things. I was just at a transportation meeting last night when we're talking about, you know, our transportation Bureau is going in the hole between seven and $9 million a month because of lost a gas tax revenue and lost parking revenue. We all know this system is broken at the same time, whose delivery trucks are running in our city all day long, basically on streets for free. I mean, why should Amazon get to use all of our public infrastructure without paying in on that?
Andie
Yeah. How do we change that one?
Sarah
I think we, I think again it's about how do we always come up with local options, especially in terms of when you think of the Airbnbs of the world or the Amazons of the world. These are basically apps and their employees sit supra spatially, right? They can function from anywhere and they're making their profits on municipalities and taxpayers that invest in good places and so what does that exchange looks like in terms of community benefits, in terms of regulation? The same with the Uber's and Lyfts of the world. Like those things have to pencil so that especially if Portlanders are doing that, it's not like Uber and Lyft did much more beyond the app except for take the workers' rights that taxi cab drivers had fought for so long to put in place right and try to get around workers' rights, get around labor rights. They're having contractors instead of employees. I love that idea. Bicycle delivery in the city. This notion that we have a say in how the future is going to pencil out is so important too. We don't just look at what Amazon wants from our city. We look at what we want for our city and then tell Amazon how it's going to go down and not the other way around.
Andie
That's exciting. That's a really, really exciting.
Sarah
waiting for the Amazons of the world. They're not going to be happy about a mayor like me and I, you know, some Portlanders might get mad about it too, but I actually think it's the future and we'll be going back to being on a pathway of innovation like we were 50 years ago when we put up the urban growth boundary and other stuff. I mean that was groundbreaking at the time. No other city was doing it.
Andie
So, um, where do you see like, okay, I know that the, I, I, I still follow the Portland mercury and like read them and everything and they're like super against widening I-5 and I don't understand that issue. And I guess my entire question is, um, considering how Portland has grown beyond its means, transportationly speaking like what as someone who so big on transportation, like what are your ideas to help Portland grow efficiently?
Sarah
So I think that we have to look at a couple of things. We are landlocked and our population is growing, but because of the principle of induced demand, expanding highways is not going to ease congestion. So what you will do is you will put money into that project and demand will go up to fill it. I'll turn off one of my lights so that we can keep up with this
Andie
I gotta pull my lasagna out of the oven.
Sarah
So as we think about the principle of induced demand, but we have to talk about is, you know, what are the alternatives to ease pressure on the transportation system at peak times? When you look at an I-5 right now and it's empty. So it suggests to me that the size of I-5 isn't the issue. It's how many people are trying to get on it. We can look at trying to get as many trips into other modes besides driving alone mode as possible. Even things like I proposed municipal broadband, so that by the way,
Andie
I'm still here by the way.
Sarah
I can see you. It's cute. Okay. Um, I propose things like municipal broadband so that every household has this high speed internet connection, which would promote telecommuting, which is actually one of the fast transportation, the fastest growing transportation options. How's their, um, things like investments in active transportation and transit is going to be important about all of the things that we can pay for that we know work. Accurately pricing, parking accurately pricing road use are all things that we need to talk about in terms of affecting supply and demand. But road widening isn't one of the proven effective models.
Andie
Okay. Yeah. And like as far as Covid's impact on, you know, the global structure of worklife now like so many more people are gonna be working for him anyway. Cause I think businesses are finding that to be just as efficient. Um, do you want us to say.
Sarah
the non commercial space and rents, right? Like, so businesses don't do, people favors like they're going to save money too.
Andie
Do you want to see my lasagna?
Sarah
Yeah. Let me see this.
Andie
My first ever lasagna.
Sarah
No way.
Andie
Yeah.
Sarah
Wow. That's really good for your first time.
Andie
I mean, we'll see how it tastes.
Sarah
Happy May 13. Who knew?
Andie
Yeah. Um, what's your life like now in quarantine as far as, how is, how is that affecting your campaigning?
Sarah
Well, this is what I'm doing is things like you, I'm live streaming with you to have a conversation that we would be having out in the world potentially with 20 people, but because we're sheltered in place, we're finding new ways of engaging folks through the internet. Through the phone has been amazing. Like once upon a time you would have knocked on a lot of doors and out were ringing on the phones. Mail, we use a lot of mail, um, word of mouth. Like people are just really communicating about this campaign and excited about it. Getting folks juiced and building a campaign that was based on hope and optimism has been incredibly motivating. Using the existing capacity to tap into caring for each other. So if we're going to build a network of people that use that to check on an elders, we did these good neighbor cards so that we could actually have people like campaigning while they were checking on neighbors. I mean we have to do both so by just won't do both.
Andie
Yeah. Wow. Well man, it's been really good talking to you today. Um, I was told to keep this to 30 minutes and that's pretty much where we're at now.
Sarah
And lasagna you to go eat that. Andie it been so fun talking to you. You cheer me right up. I'm so happy to see your face and hear your voice.
Andie
Me too, man. Like the thing like the, the, the, um, cliche about a president is always like, Oh, you could sit down and have a beer with him, but like with you, I can have an Apple cider and eat some snacks.
Sarah
Yes and smoke without judgment.
Andie
Um, I don't know, man. As soon as Covid hit and I heard that you should smoke cigarettes, I was like, I'll do that again, I'll do that.
Sarah
Take one for the team Andie. All right. Enjoy your lasagna and thanks for hosting me on your live stream.
Andie
Yeah, thanks for coming out everybody. You guys are great, right?
Outro
This has been a production of friends of Sarah for Portland.