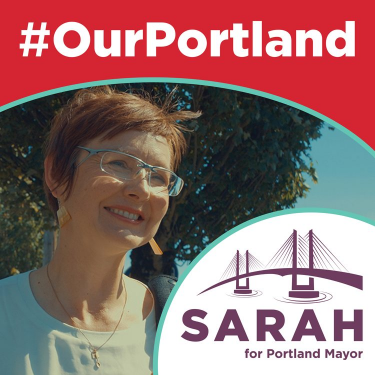 Combating Traffic Violence with Urgency w/ Michelle DuBarry
About this Episode
May 16, 2020
Sarah joined Michelle DuBarry / @DuBarryPie on Twitter to discuss Portland's epidemic of traffic violence and how to combat it with urgency.
Find your nearest ballot drop box at sarah2020.com/dropboxes.
Here's how you can help get Sarah elected Portland's next mayor on May 19th:
Have a question for Sarah? Email it to [email protected].
Transcript
This transcript was generated automatically and has not been reviewed for accuracy by our transcription team yet. Please email

[email protected]

if you would like to help!
Speaker 1
Welcome to our Portland with Sarah Ayana Roan made possible by contributors to friends of Sarah for Portland. Portlanders have everything we need to make radical progress today on emergencies like climate chaos, housing affordability, and staggering inequality. Each episode we'll hear how Sarah plans to be the mayor to lead the city of Portland to a more equitable and sustainable future. And now here's Sarah.
Speaker 2
Hi Portland, Sarah. And around here I'm running for mayor. My pronouns are she and her. Can you believe it? Election day is coming right up. It's Tuesday, May 19th make sure you drop off your ballot and one of the drop boxes. You can find that on the Multnomah County elections site. They have a map and you can find the one closest to you. Whatever you do, please vote. This is a very important election and although we all have the same incumbent through the end of 2020 who takes office on the first day of 2021 could potentially shape outcomes for future generations of Portlanders. So don't sit this one out. Now this is a special episode of a conversation I had with Michelle Dewberry. She's a transportation safety advocate. She's a mom. She lost her son nine years ago in traffic violence. And we've had so many thoughtful conversations about what it would mean for Portland to have someone who brought the same consciousness and understanding empathy and compassion for Portlanders that she and I share. So I hope you dig in and enjoy this conversation. Look forward to hearing your feedback wherever you're listening to this podcast.
Speaker 3
Hi everybody. Um, thanks for joining us. And hi Sarah.
Speaker 2
Hi Michelle. How are you?
Speaker 3
Hey, how are you?
Speaker 2
Good, good. I'm blessed. I'm living a life with my daughter here in Southeast Portland. We're sheltered in place.
Speaker 3
Yup. Same. Um, I'm here with my two kids. Um, they're upstairs on their tablets right now and um, just fingers crossed for no interruptions. Um,
Speaker 2
well I've got a dog at my feet who will bark when the mail carrier comes and some kids outside. But kudos to you on giving me some of your purchase screen time to have this conversation. I know for those of you who are parenting hardcore at home right now, it's a challenge.
Speaker 3
Yeah, it is a, it is a challenge. Um, but you know, we're making the best of it. Um, so I, uh, thank you again for taking the time to talk with me. Um, I have been thinking about this conversation, um, as an opportunity for you and me to sort of talk, um, as two moms about issue that I care very deeply about, which is, um, transportation and, um, specifically, um, street safety. Um, and we can talk about other things too, but those are the questions that I have sort of prepared and, and we'll see where it takes us and if folks who are watching want to ask questions, feel free. Um, Sarah and I both have a, a screen with your where we can see your questions and so, um, feel free. Um, so Sarah, I am, as you know, I'm somebody who has lost a child in a crash in Portland, um, nine years ago.
Speaker 3
And I know that you are someone who was first foray into city government, was um, trying to get across, walk installed in your neighborhood. And so, um, I think, um, these conversations, this, uh, the advocacy spaces in my experience are, are kind of dominated by men and they're kind of dominated by, um, men who ride bikes, which is great. I mean, I love my husband is a bike guy. Um, but I do feel like, um, there are voices missing from the conversation frequently. And so I was hoping you could just talk a little bit about how, how being a parent has shaped your views on, um, transportation and maybe how your thinking has evolved, um, since you made that call to get the crosswalk those many years ago.
Speaker 2
Yeah. Well then, thanks for remembering that story. And again, thank you for your commitment. I've been reading your op ed pieces and you're writing about how Portland can be more responsive to these issues. I, as it was being a parent that got me involved in always, I think when people are activated it's because something has affected them directly. Often we care. But moving beyond care and concern to activation takes that having it affect you directly. And that's not necessarily a bad thing because once you've been affected, you have this capacity for deep understanding, empathy, connection that strengthens our engagement. So these aren't necessarily bad things, but I did want a crosswalk from the place where I lived in my more residential part of the neighborhood across a major collector street, 72nd Avenue between foster road and Woodstock to the community center where so many children in our neighborhood would go to play in the swimming pool or take their basketball lessons or even play on the playground.
Speaker 2
And when I called PEBA and they said, you can't have a crosswalk from your neighborhood to your park because the street is too dangerous. And if someone were hit there in a crosswalk, we'd be liable. I started to understand how backwards our decision making is in of how do we assess risk for whom? Liable for what? Uh, you know, why would we not be wanting to spend our public dollars making sure that no children were hit going to that park? Where's the trade off and who are, whose will are we bending to when we're saying we're not going to put a crosswalk here because we would rather you didn't cross then risk getting hit. That to me as a mom, we're new nonsense people. We are charged with keeping our loved ones safe. We do it instinctively. We do it relentlessly. And when I see this type of thoughtlessness driving policy-making on so many fronts when we're talking about people experiencing homelessness and the sweeps that are so pervasive in their day to day life, and we know what it feels like even just to have to wake your child when they fall asleep in the car and move them into the house and you understand the disruption that that brings to them.
Speaker 2
And so we do everything when our children are young to not disrupt them on their sleeping. How can we up end people's lives day after day when all they're trying to do is arrest for just a moment and they're already feeling unsafe? Um, what does it mean for us when we're trying? We know there are people who are trying to take TriMet and they may not have money and TriMet is their last mobility option as opposed to walking potentially hours to get somewhere. And so we're criminalizing not having transit fare. And then we know that when these behaviors, uh, like being poverty impoverished or being without enough money for fair, that the consequences are born disproportionately. If you're a Portlander of color, if you're a black Portlander or a native American Portlander that you are out of luck when it comes to keeping yourself safe, that the systems in which we live don't even protect you, they harm you. And so again, you talk about being a mom, I want harming them and so we're spending more money, in my estimation, sometimes harming people actively then spending money keeping people safe, which is my main goal in all of this.
Speaker 3
Yeah. Well, I, I think that's, I think that's really interesting. Um, I, I know that, um, when, when my son was killed, um, one of the things that was so shocking, I think to the community is that it was, um, you know, uh, uh, you know, a middle class family, um, that was impacted by traffic violence. And as the years have gone by, I have watched the, you know, the numbers of people killed on our streets go up and up and up. And, um, they're disproportionately people who are not like me. Um, who, you know, they're, they're people, they're houseless people. They're, um, people of color. They're senior citizens, um, and, and children who are being impacted disproportionately by, um, safety issues on our streets. And so, um, I think it's really important, um, you know, for, you know, when we have a little bit of a platform to speak up, especially if we have personal experience with the thing that's, that's harming other people.
Speaker 3
So, um, and I, I also just appreciate, um, the urgency that you approach this issue with too because, um, I have, I've made a similar phone call or I guess I did an online submission to Peabody asking about an intersection in my neighborhood. And, um, it took months to get a response at all. And when they responded, they said, we'll have someone look at it. And I said, when, and, um, they said six to 12 months and someone had just died on that street, you know, a few months prior. And so I really, I just, I wonder if you have thoughts on how we can, um, how we can meet the challenges with that sense of urgency, um, rather than sort of like the slow bureaucracy.
Speaker 4
Okay.
Speaker 2
You know, maybe it's the crisis of climate change. Maybe it's the fact that we had 51 deaths on Portland streets last year. Maybe it's the fact that we're barely making a dent in homelessness that I've given up
Speaker 2
being moderate in my speech when it comes to acting with urgency because we have this whole bureaucracy, we have a five point $5 billion budget this cycle for what? What do cities function to do? We have many levels of government. There's our federal government and we know how they're dealing with spending our tax dollars on police, global police militarization, right? As opposed to funding health care and education in this country. We look at the state level, we look at how education is going there. We look at the region and the County and you think, what does a city do for me? That city functions. The minute you step out your front door and you enter a sidewalk onto a street interior mobility option and you're moving around, this is where we live. This is where our lives intersect with each other's lives in this city, and if our five point $5 million isn't poised to keep every Portlander as safe and prosperous as they can be, what's the point?
Speaker 2
What is the point? What is the point of, over half of our city's budget goes to public safety every year in our general. And yet we see traffic deaths at a 20 year high police shootings, tenure, high homelessness, rising. We're not spending the money, right? So I really look at that budget and I say, where do those dollars need to go instead? And how can we make choices based on that data? If we're going to have something that says vision zero, we're trying to get to zero serious traffic crashes and fatalities and we have 51, why would you not direct so much resources to staunching that bloodshed in our streets? I mean, to me it's hypocrisy and I just don't like hip hop.
Speaker 3
I appreciate that so much. Um, yeah, I wanted to like stand up and applaud when you are talking. So thank you. Um, so refreshing to have someone who's running for office just see the emergency and, and name it, um, on all of those fronts. Um, so, um, I, so I live in inner North Portland, um, which I'm, you know, I'm, I have pretty good access to transit. Um, it's pretty bike-able and walkable. It's, it's relatively safe. Um, and I know that different parts of the city, um, it's totally different. Um, like my mom lives off of 120 second, and which is basically just a highway going through a neighborhood. Um, my sister lives in the Cooley neighborhood, um, and she's got two little kids and no sidewalks. Um, so like if she wants to walk her kids over to the park, she has to walk in the street. Um, and there are other, I mean, there's so much inequity, um, in, in terms of just like where you live, determining your access to transportation and your access to transportation, um, determines so much about your life, um, from your job to your, you know, to, to how you, um, you know, your hobbies and how you can, um, be with your family and your, and your community. So I'm just curious if you have thoughts about, um, how we address some of those inequities and just in terms of like infrastructure, um, and transit.
Speaker 2
Yeah. I've been thinking about this a lot, obviously since I'm running for mayor. But you know, this is where my background in cities as an area of study is so important because I understand, again, the function that cities play in the global marketplace of global capital flows. And we understand that once upon a time, a hundred, 150 years ago with the industrial revolution, cities were a settlement pattern where workforces hunkered down and people went to work in their factories. And those factories were close to transportation routes like rivers or railroads. And that's why people were in those places. They were sites of commerce. And Portland fortunately has resisted, you know, losing all of its manufacturing capacity. But that doesn't mean that the use of urban space here hasn't transformed in the last century. And when you think about what the business of Portland is, it's the business of real estate.
Speaker 2
We have spent the last half century building out this place. And what we're getting for it in large part is certain people benefiting from that transformation of Portland and others being left behind these Portland renters. Um, people who decide not to use an automobile or can't afford to use an automobile, so they're going by transit bicycle or walking, um, caregivers and women predominantly who are left out of these economic benefits, right? And so when you allow these global forces, these capital forces to shape your city, you're going to get what you get. If we don't resist actively as Portlanders and say, this place belongs to our people, we're going to shape it. We're going to make sure we can't do anything about capital flows moving through here. But if we're going to say we want to have a say in how these flows shape our city, then we need to have a healthy democracy.
Speaker 2
We need to make sure that we're engaged in, coordinated around our shared goals, which in my opinion should be threefold. Climate action, right? Making sure it's affordable and people are not displaced from here. And making sure that we're ameliorating the legacy of racism and inequality that has shaped us. So if we keep our eye on those three things, when we have a decision to be made, the beauty of my campaign and the public financing in this grassroots movement behind it is that these large donors, I don't have them in my ear saying, Oh, but Sarah, this will be good for Portland because it's good for me. Right? If I do, well, then Portland will do well. I can look at that objectively and saying, you're really getting the good deal in Portlanders are getting the short end of the stick. Like what's in it for us? And that's when you start to have good conversations about community benefits, things like why are there not minority contractor requirements in all of the new housing we're building? What are we doing about people even being evicted from public housing? Like looking at the fine grain of who's winning, who's losing important. And it has to be the priority of a mayor like me, but because I'm backed by so many average Portlanders, I wouldn't have a choice. So it's going to be really great actually.
Speaker 3
Yeah. I keep hearing that Portland is, has a weak mayor system. Um, and I don't, um, I don't totally understand what that means, but I am curious, um, you know, what the role of the mayor is, how much power the position has relative to city council and Metro and TriMet and whatever other agencies or individuals might have some say over these issues. How, how do you, how do you envision that influence?
Speaker 2
I actually have a flow chart and one of my PowerPoints for all the lectures I've given around the world. This isn't important. Government looks, I'll have to pull it out, but you know, there are governments and our intergovernmental relations here are complex. You're right. We have the only elected regional government in the U S we have a County, we have this weak mayor commission form of government, which is essentially one mayor executive who has two functions of the Bureau assignments and the budget. And then you've got four baby mayors alongside that person, right? They're all making their own legislative and executive decisions. And really, I see a few things happening. One, the mayor of Portland is the de facto urban leader of the state of Oregon. We only really have one major metropolitan area. And so the mayor of Portland actually functions in a global network of city leaders who are shaping policy for urban dwellers.
Speaker 2
So whether or not you live inside the city of Portland boundary per se, or could vote for me or not, this election cycle, if you're a Portlander, I represent you and I am the person who is there to hold up your values and your priorities, right? Not just here, but at the state level and around the world. So that's one thing that I don't see happening effectively right now for our leadership is saying, we're Portland and this is what we care about. Climate change, affordability and inclusion, right? And equality. So then beyond that, you think about, well, you have these Bureau assignments in the budget that you control. And so when people ask me, how are you going to deal with that police Bureau, which seems vaccine and beyond a reform, I look right at that budget. And I say, well, you know, there are these line items that as the mayor, I will control less money to combat training, more money to anti-biased training, right?
Speaker 2
Less money to militarization and armored vehicles, more money to a deescalation training and education and communities about things like anti fascism and white supremacy. So there's some things there in the budget we can control, but then there's also just this street knowledge of how does Cortland get things done, right? If you're importantly or you know that we could have death by committee on every single thing we tried to do and that convening a public process is important here. But leaders know when to say enough, let's go. And in some ways I don't think we've had a strong mayor in that weak mayor position. Who knows when to convene the public process. How do you use it effectively to get the best ideas on the table, how to make sure voices from the margins are centered and then how to move that quickly into action. We're seeing right now with the incumbent, he's been in office three and a half years and he just said, I'm postponing the climate emergency declaration because of coven. And I sent out a snarky tweet, but it's like you only had three and a half years before this emergency declaration. Like it's Portland, Oregon. We shouldn't be had it 10 years ago. Right. So this is where that sends, it gives them urgency, clarity, and just bold vision is going to push us through whatever bureaucratic silos we have as part of our governance model.
Speaker 3
Yeah, I do. It's always striking the difference between Portland's reputation as this leader. Um, and you know, environmentalism and transportation and, uh, and then the view from the ground tells a very different story sometimes. Um, so you mentioned, um, the global community and um, I know you've, um, you've traveled all over the world and you've, uh, you've, you already have relationships with leaders from other countries and, and around the country in the U S so I wonder if you could share with us, um, uh, any insight you have about cities that are moving in the direction that you would like to see Portland move in or, um, or leaders, um, mayors that you, whose, whose leadership style you admire and would maybe want to emulate?
Speaker 2
Well, first of all, let's talk about the amazing women mayors of the world. We've got socialists and Hidalgo in Paris who has been getting beaten up by the business community for being pro cycling, but she's really a climate champion and she's looking at cycling, not as this, again, like you and I talk about, you know, this male wearing spandex oriented activity, but a transportation mode that can be inclusive and low carbon and affordable and safe as she starts reallocating the right of way. Also thinking about housing affordability. You've got mayor, ADA Colao of Barcelona who brought her municipal list movement there as she was worried about a short term rentals and Airbnb and tourism Barcelona. And the fact that local people in her city were being displaced by global tourism. And the fact that many places where people used to live were now becoming, you know, de facto hostels and hotels.
Speaker 2
Then you've got a environmental scientist who's the mayor of Mexico city who's working on things like a stormwater management through bio swales and green building and things like that. Um, in a, in a country where green building and sustainability may not be at the top of the agenda. I can't disparage any other countries right now. The U S is being a Bismal right now. Um, you've got leaders, I was just in South Korea last year and you've got them focused on a social economy and a healthy democracy, uh, as the pathway to their sustainable future. And thinking about how again, that healthy civil society that I've mentioned and so all over the uh, area around Seoul, you have these smaller town mayors and I say smaller town, which there are millions of people cause there's 25 people around there. But thinking about these things, even the role of arts and crafts and culture like we have in Portland now, the one place where I actually think Portland can gain a foot hold for leadership again is in civic innovation.
Speaker 2
You know, a lot of the policies that we were sharing with the world 20 and 30 years ago, cycling infrastructure, eco roofs, increasing your tree canopy, green building, um, those have disseminated either through technical conferences or professional training. But what we're not really seeing, even as you start to reduce their dependence on carbon and reduce and dismantle fossil fuel infrastructure and start to make that jest transition is what does it mean for that to be equitable? What would it mean for a city like Portland with a legacy of white supremacy? And that undergirds everything we do here in Oregon to grapple with that head on and say, we're going to look at that, we're going to tackle it, we're going to put public policy to actively dismantle it, and then start to have real outcomes in terms of all of our infrastructure investments, our education investments, our community engagement is going to be around every Portlander coming together to dismantle the systems of oppression.
Speaker 2
That means some neighborhoods really are almost this urban utopia. While you've also got neighborhoods out where your mom lives. I was just out at 140 eighth in division 160 second and division earlier today where that might as well be a different state. It doesn't even look like Portland, but that shows up in Portland, India. So for me, I think that is the goal of the next decade or even two is making sure that that Portland story, the one where we've done a really good job of livability count, every single Portlander is included in that imagination.
Speaker 3
That's really good. Um, I do, I wonder if, um, you know, as much as we all are living with like this high level of anxiety right now with the pandemic and um, being sheltered at home and um, you know, the economic crisis unfolding. Um, if you see any possibility for um, maybe using this as an opportunity to um, make some changes that maybe pre pandemic wouldn't have been possible. Um, it's like I guess like the shock doctrine, but um, in a good way if we could, um, if you, if you see ways that Portland could, um, uses, uh, and I, and I hate to even say opportunity because so many people are suffering right now, but are there, is there a silver lining here?
Speaker 2
I think we can hear, there's the word I've been trying to, to, to think around this moment and I think that's what we can talk about is this moment we can't talk about an opportunity because too many people are suffering. Right? And I think that's probably where some of your hesitation to use the word is coming from. We recognize that for me to even be able to in place is a huge privilege right now. And so the most privileged of us are still struggling, struggling with anxiety and deaths of people that we know and losses of jobs and losses in business. And so as that filters through what that's doing is not changing really the situation on the ground for the people who've been struggling most what it's doing is bringing to light, for those of us who've been resting in our privilege, potentially to see that this is what life has been like for people who are experiencing homelessness.
Speaker 2
For some time when the CDC says, Oh, you should stop the sweeps because these are unhealthy. The people who have been experiencing homelessness for some time in Portland say, we told you to stop the sweeps because they weren't healthy. The same when we start setting up new kinds of, um, shelters where they're socially distanced and have privacy and they're saying, we've been asking for this for a very long time because we knew that this is this buffer between us and other people would keep us safe and that we knew this is what we needed. So I think that, um, what we're seeing is a moment of clarity for how we can start to listen to people who are experiencing things, um, the most deeply or with the most urgency and help them meet their needs on terms that work for them. I also think that what we can do is leave behind a normal that wasn't working for so many courtrooms.
Speaker 2
There's anyway, why would we go back and try to rebuild things that we already were broken? Like, let's look at this moment and say, we can try to focus on air quality. We've seen the air quality improve in Portland as people have been either telecommuting or not commuting at all. And is there a way for us to fight to keep that air quality even as people return to work? Should that be a goal? Maintaining air quality, um, should, having different modes of public safety and communication where we've had to learn to come together and patch the gaps through a more community based response? Well, I would like to see us keep that, enhance it, refine it, and really make sure that every church parking lot is organized to host tiny houses are making sure that every organization that has signed up to help, that we never shut down.
Speaker 2
That help that we keep that help mobilized and we keep that community capacity mobilized. Um, and I think even, uh, things like the, the election, what we've learned through this election cycle is that sure we had to adapt by not knocking on doors and connecting with people in traditional ways. But because our campaign was so committed to reaching out that we've innovated so many new systems, we've, um, podcasts and live streams and phone calls and people who haven't been able to engage maybe because they have a disability or they work off hours or they're home caring for children. Like so many us are there now included and before they weren't. And so what can we learn about inclusion at a time where we've had to do all new ways of engaging people? So I think that what we should talk about really is how do we continue to make progress through the pandemic, but also even things like the money coming from the feds right now and the fact that they'll pick up municipal bonds.
Speaker 2
Like why are we taking a steady mindset and cutting city budgets and cutting workers and cutting jobs where we could be making investments in green jobs and green infrastructure and getting people back to work in more sustainable, resilient ways. I think that that should be our response to the crisis. And so I see someone not being too nice here saying using pandemic opportunity. That's what what we're saying. What we're saying is there's a moment of crisis here and we can either be swept up by crisis capitalism where the only thing left in town is amazon.com or we can fight to actually carve out a future that when these things happen in the future, because this is not the last crisis we would face. We may face new pandemics, we may face, uh, climate crises, we may face economic and political crises. November could be very difficult depending on what happens as Portlanders the community capacity, the resiliency that we invest in now will help sustain us and keep us healthier for the long term.
Speaker 3
Yeah, I think that's, I think that's the right way of thinking about it. And you, yeah, you said it so eloquently. It's not, it's not an opportunity. It's a moment. Um, and there is, there is terrible clarity right now. We see, we see all of the vulnerabilities just laid bare in our community. So, um, anyway, it is four 30. And um, I just wanted to thank you again for, um, talking to me and so many other people. I've been watching your live streams with the various folks, um, around Portland. And I just think it's so neat that, um, you're, that people like me get to, um, talk to you in a public way and I get to watch other, you know, people who are in the community asking you questions that are rooted in their experience. It's really been a cool thing to watch, so thank you.
Speaker 2
Well, and thanks for hosting me, Michelle. These live streams give me a chance to connect to I exist in community and being sheltered in place away from my community has been hard. Uh, being able to talk to you helps me clarify my thinking and stay connected to Portland. So I'm grateful to you. Thanks for your advocacy and let's look forward to a win next Tuesday.
Speaker 3
Yes. That's so exciting. Hang in there for the next week. Okay.
Speaker 2
Right soon. Bye bye. Thanks everybody.
Speaker 3
This has been a production of friends of Sarah for Portland.