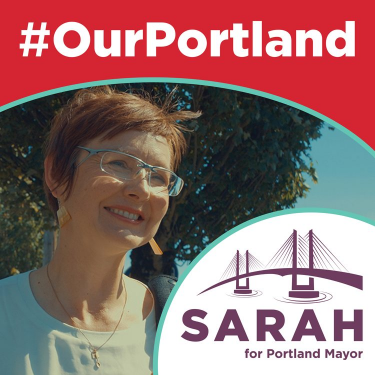 Coming Together in an Era of Social Distancing
About this Episode
April 4, 2020
Sarah talks about how the campaign is conducting voter outreach during this era of social distancing to prevent the spread of COVID-19. You can get involved by signing up for a phonebank at sarah2020.com/events or by becoming a Distributed Organizer. Send us an email at [email protected] to find out more.
This is an audio-cast of Sarah's live stream from earlier this afternoon. To view this and other live streams, visit sarah2020.com/live.
Have a question for Sarah? Email it to [email protected].
Transcript
Announcer (00:03): Welcome to the Our Portland podcast. This episode is an audio cast of an earlier live stream to view the live stream and to be notified of future live streams. Like our facebook page at facebook.com/sarahforPDX. That's facebook.com/sarahforPDX. And now here's Sarah.
Sarah (00:31): It's so exciting to see you here and be a part of everything that we've got going on. I'm trying to live stream to you across platforms now. So welcome to April. It was a pretty interesting week. I'm not going go through and give everyone the news recap because well we know that it's coming at us fast and a days recap feels like what used to take a week or a month. And so it's a lot to take in. I'm going to try and keep this moving forward. I am going to try and give you some reminders about things that are coming up today. I'll just give you a couple of things that are on my mind and a couple of requests for help and ways that you can get involved. And not just in my campaign but in the community. And we'll talk a little bit about that.
Sarah (01:25): So how's everybody doing? It's been pretty wild. I got out and about on my cargo bike the other day. It was important for me. We had run out of fresh vegetables and I needed some and some thankful to Ruben at Produce who encouraged me to bike over and pick up a salad box, which is amazing. You don't have to go in a store. It's really nice because you can maintain the social distancing, which is so important to us. Flattening the curve. It was filled with amazing vegetables and I encourage you to check that out. How wonderful was that to just be able to bike up and have them bring my veggies up to me and be on my way with minimal contact or exposure for anyone. As some of you may have noticed, I was able to deliver some lawn signs by bike whenever I'm out and about.
Sarah (02:16): I am trying to drop off lawn signs. We know that we're supposed to be staying close to home. And so it's important for us if we are able to bundle our tasks or help our neighbors while we're out we want to be doing that so that we're all minimizing the amount of time that we have to spend really off our block or our general neighborhood. Why is that so important? It's important because we need to minimize risk. We need to make sure that we're having crashes, that we don't have the hospital space to be dealing with. We want to make sure that we're not encountering too many people that are in our network. We just really want to keep things close and tight. And I know it feels maybe like it's a little bit of overkill, but by all accounts, what I've been told is that social distancing, if it's working, you'll feel like it's overkill and so really need to keep that up.
Sarah (03:06): You know, when it feels unnecessary. I know the weather's going to be getting nice in the coming week. It was a little bit easier to hunker down and then read a book or work on some projects or even just focus on your work the last week. But in the coming weeks it's going to be I think a little harder for those of us with privilege for whom going outside and recreating is something that we like to do in our free time. Making sure that you're keeping it close to your neighborhood, into your residence is going to be very important. A few announcements from the campaign trail. We are in phonebanking season, so we need you to sign up at sarah2020.com/events and help us fill up those phone banking sessions. We had planned to knock on just shy of 30,000 doors in the next six weeks, but because of the shelter in place order, we're not going to be doing that.
Sarah (04:03): I hope no campaigns are out knocking on doors while that shelter in place order is in effect. If they are, I think that's probably a, some pretty antisocial behavior. But what I do want us to do is think about in the absence of being able to knock on doors and check with voters, how can we do that? Virtually. These phone banks are very, very important to that and so please sign up again at sarah2020.com/events they're having one almost every day or every other day at this point. There's a lot of new people in there you get to meet, so I encourage you to do that. I heard from one person who's a pretty strong Sarah supportive who said that he didn't really like talking to strangers and he wanted to maybe find another way to engage through the campaign and I wanted to encourage people to visit sarah2020.com/volunteer to learn how did they can be a part of our distributed canvassing network where you can do outreach through texting.
Sarah (05:02): We have an app that you install on your phone. It's the same one the AOC used when she was canvassing high density neighborhoods cause it was really hard to get inside locked apartment complexes. And so how could you reach a lot of voters without having to be right at their front door? Well, the same thing works when you were sheltered in place. So we've got this distributed canvassing network that's app based. You can host a virtual house party with people you already know where your friends or family, you could do a virtual happy hour, morning coffee, however you want to do it. I pop in via teleconference. My team sets it all up and we have a quick hour in and out. So those have been really fun. I'm enjoying them. The conversation is really great. We're building community even as we engage because each time 10, 15, 20 people tend to come together to have a conversation.
Sarah (05:52): We're now all connected and this is exactly the type of community that we need to be building for the other side of the crisis. You can order a lawn sign. They're looking great, they're popping up all over town. I saw them or you can even become part of our bike delivery team so that you can drop a few off in your network and in your neighborhood right where you're at. So that way we don't have to have people crisscrossing town to minimize our impact, again on public space and safety. So all of that's available sarah2020.com/volunteer and please be a part of this. It's really important. It takes over a hundred thousand votes is what we need to get to be able to unseat the incumbent or at least get through the general election. So we have a chance of doing that. He's a pretty powerful person and it's going to take all of us to upend that quote, unquote, apple cart that he's so reticent to tip.
Sarah (06:51): So let's please come together and work on this. I want to give a shout out to our podcast listeners. We're finally getting back in the habit of making sure that all of the live streams that I've been doing via video are transferring over to podcast. So for those of you who've been patient, um, and waiting for a new episode, we're going to get these over onto the podcast channel too. So welcome back to all our podcast listeners. I know there are many of you and I'm grateful for you and I didn't want you to think that I had forgotten you, but it can be hard to do a whole multimedia campaign. We had to pivot pretty fast for that. So thanks for your patience and we'll be back on the podcast this week. You can find that at sarah2020.com/podcast also, there's going to be chance for us to continue to do community care through this.
Sarah (07:41): Many of you may have seen the good neighbor cards. I'm told there are few still available. I might have some here at my desk. The good neighbor cards are still available in case you want to get some. You can order those. Just go to [email protected] and we'll make sure that you have some of those. I don't know that we have a ton left, so make sure you get them while you can. But the point of those is if you can write your name and phone number on there, it's a way for you to make sure that people who are vulnerable in your neighborhood have someone they can reach out to if they're in need. I actually went and gave them out to people who were sleeping in cars in my neighborhood, tuck them under the windshield wipers so they would know that if they ran out of water or are having an emergency, they could call me.
Sarah (08:31): We're going to talk a little bit more in the broadcast about how you can get involved and help too. I'm going to ask for your help on a couple of things, but for now, that's one thing that we've got. And also don't forget to donate. I know many of you are struggling with money. This isn't about you. But if you do have a few dollars on hand, don't forget that our publicly campaign gets a six to one match from a fund that was created by city council a few years ago. And so we would love to be able to maximize that and make sure that we can do as much outreach as we can by mail, by digital media. Again, since we can't count all the way on volunteers to get us over the finish line, this May primary. So if you do have cash on hand and you can contribute, please give us five or ten dolllars at sarah2020.com/donate.
Sarah (09:25): So I think that's it for the campaign announcements. I'm sure my team will bring me up to speed if I miss something. But yeah, we've been busy here at my house. The campaign is really very busy and we released a lot of things. There'll be some recaps of last week's debate coming out so that you can check in on those and see what the talking points were and how you think we did. Our interview with Jefferson Smith on x-ray FM came out in two parts. You can download those as a podcast. You can find those on all of our social media. We had a pretty good media push in calling out the incumbent mayor, Ted Wheeler for taking this was [mindblowing noise]. He reported on March 31st so the day before rent and mortgage was due for everybody who's been laid off and unemployed all over our city.
Sarah (10:21): He reported that he took a $10,000 contribution from PMAR (Portland Metropolitan Association of Realtors). Now if you've been working in the housing access sphere or tenant protections or affordable housing sphere, you'll know that there are some good guys and some not so good guys. And then there are kind of the bad guys and I would definitely put PMAR in the bad guys category when it comes to making sure that vulnerable Portlanders like tenants have legislation in place that they need to keep them safe and protected. They actively lobby against things like caps so that you can't raise the rent too fast, which we know has a horrible impact on people on fixed incomes. And so the fact that the mayor would accept a $10,000 contribution from this lobby, the realtors - which I didn't realize was actually like a copyrighted that word realtor - but this, this real estate lobby giving the mayor a check when all of us were calling for very robust renter protections and wondering why is this city dragging its feet on things like a commercial eviction moratorium or rent forgiveness and rent amnesty and talking about more stringent renter protections.
Sarah (11:45): Well, this is what happens when you pick up the phone for certain groups of people and don't pick it up for other groups of people. It seems pretty clear to me that the incumbent is listening a lot more to people who have an interest in profiteering from housing as opposed to people who are interested in security and housing as a human. Right. And that's a huge distinction between us and I want you to be clear. He can take money from whoever he wants, but what he's doing is he's taking it in amounts that are far in excess of what 87.4% of Portland voters agreed that we should cap campaign contributions at $500 back in 2018 via ballot measure measure 26-200. And so him accepting a $10,000 contribution from a pro real estate lobby organization while this, measure works its way through the courts, whether or not that's constitutional or not is not just, um, arguably it's not illegal, right? Because it is upheld in the courts, but it's certainly not, um, the most moral choice because obviously if 87.4% of voters support that, if you're a leading a city, you probably want to listen to well over majority of your constituents, which to me, 87.4% isn't, that's a overwhelming majority. It's like what the a A-minus. So that's a pretty strong grade on that. Anyway, we called them out on that and that was pretty popular because I don't think people like the idea of our elected officials in a crisis having their attention focused more on people who make profit from housing than people who are focused on protecting housing security, anti-displacement renter protections, and making sure that people are secured and cared for in crisis. So there's that.
Sarah (13:50): On that front. We did have some good news this week. Governor Kate Brown on April 1st did issue a commercial eviction moratorium that was sorely needed. We were worried, especially in the restaurant side and the hospitality side for small businesses, some of who have been closed since the second and third week of March when rents were coming due. And not that many people have multiple weeks of lost revenue that they can make up just from their savings when it comes to making sure that their employees are all paid and that all their purveyors are paid and their landlords are paid. And while we figure this out from the federal government with that rent amnesty or rent forgiveness is going to look like as it works its way up the financing chain to the big banks and those big networks, it was a reprieve.
Sarah (14:43): Some people said, Oh, it's not nearly enough, but in many ways it was a necessary, if not sufficient is how I would talk that. So we're thankful to governor Kate Brown for that. And we're thankful my mom called me this morning from back East and she said, well thank you so much Oregon, and I said, what's in Oregon do? I don't know what we've done. Many of you know that I grew up in upstate New York outside of Syracuse. And so I have very strong ties to that state. And I spent a lot of time in my youth in New York city. So I feel very close to that place. And she said, well, your governor sent the governor of New York, 140 respirators to help them with their crisis, you know, I think over 650 people died in New York city yesterday alone to the coronavirus. So to think about the fact that 140 of these machines that could help save lives are there helping New Yorkers survive this epidemic was a point of pride to me.
Sarah (15:52): I've been really hard on the governor lately. Last week something pretty unfavorable in my estimation. The fact that the state of Oregon Transportation Commission is going to try to move forward on a freeway expansion with very little acknowledgement of the fact that it's a bad investment and unpopular undertaking with a large swath of Portlanders and not really the right thing to be doing right now was a, I think a blight on not just this week's news, but a blight on the history of our state in the long range context of us as sustainability leaders. I think it's a huge black spot in that history. So I was pretty upset with Kate Brown and I had been upset prior for things like the lack of commercial eviction moratorium previously.
Sarah (16:45): So this week leveled out a little bit for me in terms of my willingness to at least give credit where due for things that are going well, but for things that aren't going so well, it's still going to hold our electeds feet to the fire. In that vein, our city council did write a letter asking the state and federal government to help on things like rent forgiveness and rent amnesty. I'm not sure what that letter will actually do. Sometimes lately I've been struggling with this idea that it's not always clear to me who's focusing on what and to what end across the levels of government. I know that we love to collaborate here and they know that we love to do things by committee, but sometimes in a crisis you just want someone to step up and lead. And as much as I'm not a fan of Andrew Cuomo's policymaking - he's just been absolutely abysmal on many things - he does a really good press conference in terms of just seeming like he's being a strong leader who's acting with clarity and vision in terms of what the situation mandates. So maybe that's all marketing. Maybe that's all PR. Maybe I'm just, you know, I'm consuming that uncritically. But what I would like to think is that we could have that kind of bold visionary leadership that was both moral and ethical across the spectrum of activity. And I think what that needs...
Sarah (18:21): Forgive me one second, I have to let my dog in. My dog Bacon has taken to accompanying us in our teleconferencing, so he gets a little frustrated when he's locked out of that. My daughter is at full time back at school full time at Portland state university. So he's spending an awful lot of time while people are sitting, staring, looking at computers and trying to talk about other things.
Sarah (18:53): So anyways, back to the conversation at hand about what city council is doing and what we should and could be doing. One thing that I think we could be doing better is dealing with our streets. Maxine Bernstein at the Oregonian, she's a police reporter, public safety reporter at the Oregonian said that Portland's deputy police chief, Chris Davis pulled over and driver, he saw speeding on I-5 near Barbur Boulevard at 91 miles per hour. That was 36 miles per hour over the speed limit. And this is one example of what Portland police say has been an uptick in drivers speeding during the governor's stay whole order amid the the pandemic, I will tell you, I have seen this. I have not been out of my house much and I have not been out of my neighborhood very much at all. But the few times I have had to venture a field for a necessary trip, I could not believe how fast traffic was going. Unbelievable. So this seems like something that the city can do pretty quickly in terms of putting in a 20th plenty policy that basically while there's a state of emergency for this 20 miles per hour is the speed limit all over the city.
Sarah (20:18): I think that we should be calling for some sort of citation surcharge and make it very clear that if you get pulled over like speeding, you know, when they say speeding and work zones, fines are doubled. Well if you get caught speeding during a state of emergency fines are double or triple or quadruple whatever it's going to take to get people to slow down. We need to shut the Greenways down to automobile traffic, non-local automobile traffic. Because I actually stopped on a Greenway the other day when I was on my bike and my friend lived there. So I phoned her to come out to the porch and wave to me because I hadn't seen her. And while I was there, there was so much traffic right on the Greenway I couldn't believe the pedestrians, the runners, the cyclists, people on skateboards, and if they're going to give each other the six feet of distance or now we're hearing that perhaps it's not six feet is it is the very, very, very minimum that really we should be thinking more in terms of 20 feet between us.
Sarah (21:26): We can't spread out out of doors if we're, we're having to compete with a fast moving motor vehicles in those spaces. So we're going to need places carved out in our city where people can move about safely if they're not in a car. And I'd also thought that we need to do some, what I call down and dirty or tactical, excuse me, tactical interventions along the arterials in East Portland because when you think about the fact that we've concentrated so much multifamily housing on those arterials, but then we allow them to function as defacto urban highways. Those are two mutually exclusive uses. The folks, if you have 20, 30, 40 people in apartments in a single complex on that block, and there are multiple complexes, you could have hundreds, potentially more, residents on a single block on an arterial, well that's not a highway then, then that's a neighborhood street.
Sarah (22:37): And so we need to make sure that those folks are safe because we know that the safety infrastructure in East Portland is already subpar. So what I'm hoping that our city can do is come together and think about this again in terms of triage. Slow all the cars down makes a consequence of very high if anyone's caught speeding. And I want that on the news. I want that advertised in local media. I want that everywhere that if you're caught speeding during the state of emergency, wow, that's really going to cost you because right now there's no congestion to keep people in check. And I think those folks who reside on Greenways probably have a higher level of capacity for doing their street treatments and intersection repairs with creative, you know, barricades or entryways in terms of ways that they can help keep those streets more constrained to active transportation users and saying no non-local automobile traffic.
Sarah (23:37): You just need to find another path at this point. And then also ultimately we always have to be thinking about where we're putting down infrastructure, whether that's permanent infrastructure or temporary infrastructure our vulnerable neighbors in the high crash corridors and intersections of East Portland really are the where we're going to need to put those bigger interventions to keep people safe and make sure that they have fresh air so that people can come out of their apartments and walk around and have a little bit of space to breathe while maintaining social distancing themselves. So that's been some, something that I've been thinking about.
Sarah (24:13): I want to give you an update. We do have some needs in terms of what we're, what we're looking at on the front. I'm trying to check in on the comments here. We have some needs in terms of people who are experiencing homelessness.
Sarah (24:32): I have been trying to keep up on the sweeps. From what I can tell, it looks pretty good as if Portland police are not sweeping the homeless. What I can discern - and again it's very hard because there's not clear accountability data or reporting from the city - and I do get a lot of feedback from our city counselors that, Oh, sweeps aren't happening. But then I get feedback from the streets that sweeps are happening. To the best I'm able to discern is that the majority of sweeps that are happening right now are being conducted by ODOT perhaps. Either that or that there's a disconnect in communications between what's happening in the street and in official offices. Clarity on this is going to be very important because as I reported back to you last time I was on the live feed is that there are many people for her sleeping out of doors is their best option for whatever reason going into a standard mass shelter isn't ideal for them and they don't have hotel rooms available at this time. And so for those folks, they're accustomed to putting their tents in pods so that they can have, you know, circling the wagons, if you will, to protect them both from brutality, from official and from non-official entities. And so trying to communicate to them that actually you need to run counter to your instincts and separate your tents has been a bit of a lift and I'm grateful for people who have been out doing service provision, who I'm starting to hear reports of people in tents who are putting little fences around them and saying this is my socially distanced space. And so we, you keep your distance from me and start to respect that. So it sounds like some of the communication is working on that front. Excuse me. It sounds like some of the communication is working on that front. I did see that it looks like Multnomah County has some of the illustrated COVID activity guides that I had been requested to bring out there. So hopefully I can try and find some of those from Multnomah County to get out there. There is a need for water for people who are out of doors. So if you do have water to share that. And also what I'm hearing is that food security is already ramping up and this has to do with people not having income and getting reports from around town that the lines at the soup kitchens, places like Blanchet House, Catholic charities that they're already doubling week by week that you're seeing people who aren't used to lining up for food running up. And this suggests to me that we have quite a heavy list in terms of what we're going to do at the municipal level, at the government level, what we're going to do at the institutional level, and also what we're going to do at the community level.
Sarah (27:39): So I wanted to talk through some of my thinking with you on this and also get your feedback because I know that Portland public schools has their grab and go lunches. Can we make sure that we are communicating to all of our neighbors with children, especially people for whom English is not their first language. People who may not yet have internet access to let them know that they're youth in their families, in their communities can [coughs] excuse me. Can pick up the food, the grab-n-go the lunches there at that public school. Also though, there are people who aren't PPS students who are going to be hungry.
Sarah (28:33): And I think it's going to be important for us to come up with both some larger scale solutions. Can we work with the grocery industry? Can we work with all of the closed kitchens, the kitchens at places like Oregon convention center, the closed kitchens in the community centers, closed kitchens at places like the Arlita library bakery cafe. Where are there places where we can do food preparation that at a larger scale so that there can be a wider distribution of food to people. But I also think that as a community we need to come together, even block by block and work on this.
Sarah (29:20): So I'm trying to forward a community resource hub model. Many of you who've read my rethinking public safety plan have seen that I have already suggested that we rethink how we spend money on public safety away from an armed militarized police force to things that actually keep Portlanders safe. We're seeing now when you think about all of the things that I hammer away at all the time, vision zero and traffic deaths, well we need to keep traffic safe when we're in this epidemic.
Sarah (29:53): I'm thinking about things like people who are out of doors and making sure they have their basic needs met. Well that's a huge issue when you're thinking about racism and the disparities and who's being most negatively affected as all of these crisis come cascading down. We're seeing that institutional racism and systemic racism play out here. So we really need to be putting our resources toward mitigating and mediating those things and not just investing in an armed, you know, oftentimes, especially in protests are under way they look like a paramilitary force. So I'm thinking that we need to make investments in community resource hubs that are DIY. And I'm hoping that we can map these out. But what these would entail would be everybody at their household doing what they can. So we need to start talking about food insecurity in terms of food production.
Sarah (30:51): Do you have good soil at your house? Do you have seeds? Is it time for us to start planting our recovery gardens? Because I think it is. So I've started cultivating seeds. I've got a lot of high protein seeds that I'm getting ready. Do we need to be planning a lot of beans, a lot of good strong cruciferous vegetables and things like that so we can have food coming right out of our yards. Does this seem really retro? Yes. Does it seem really World War II-ish? Yes. Does it seem very cliched? Portland? Yes, but there's a reason, you know, the notion of food, not lawns is a good one and it's one that we should double down on. And if the, at this time distribution and food networks are hard and food insecurity can be alleviated by us doing household food production. So be it.
Sarah (31:40): If you want to go do guerilla gardening on empty plots of land, I say go for it. And we'll figure it out later. And that's just the kind of mindset I believe that we need to have right now. Like throw your seeds and get them planted and then get them cultivated because we need to get food in the ground for our people. That notion of food preparation that I talked about before and thinking about where we can prepare food, but maybe that's even in our own homes. What do food distribution networks look like? I'm thinking that we almost need to do something. I've been tapping into my old city repair. I would for many years I was the board secretary at the City Repair Project and I'm thinking back to those intersection repair models of like the T-corner in Sellwood and Sunnyside Piatsa and these places where just even the street corner became a community hub, right?
Sarah (32:30): But we can't come in our bodies into these hubs because we need to be physically distant from each other. But do we need to, does someone with a cabinet need to take that cabinet from the garage and go paint that and write food on the front of it? And then if other people on that whole block have extra food from that week or extra meals from that day, if they're placing it in that cabinet, does that mean that there are people who are hungry in that neighborhood who can go by and get that food? Um, what does it mean if we have this need for both drinking water and hand washing water? Well, if you have a five gallon bucket at your house can you create a hand washing station and put it out in front of your house and daily you just make sure that that hand washing station has the water it needs.
Sarah (33:16): I seen reports from some of you I'm setting up drinking water stations. I think that's another good one. I know that some of the parents are going bananas having to get work done and try to care for their children even while they're at home all day with them or homeschooling. Is there a way for us to create networks almost as if next door was, it was in meet space and say, you know, here's the list of who I have a few hours this week that if your kids came out into their yard, I could sit on my front porch and make sure they were okay. Even while you, you know, you have to take a few minutes to take a shower, it takes some time away. Can we do caregiving at a distance? How about peer counseling and peer support?
Sarah (34:02): Suicide calls to Portland police are up by 41% over this time last year and so making sure that we're caring for the mental health of each other is so critical. It may be there's someone on our block who is pretty good at that and having their phone number up at the end of the block on a, you know, some kind of board would be very helpful in ways that, you know, I can reach out to them if something comes up. I also think there's something to be said for things like resource hubs. My daughter and I, I'm really pleased that we've been sewing masks today. I taught her how to, so it was a really sweet moment for me. The fact that we're using scrap fabric, [noise] sorry, that really adds to a teleconference if a dog is a little agitated at this point. But you know, if you're making masks and you're following protocol and you're making enough to share and they're not medical grade, but your neighbors could use them.
Sarah (35:03): Can we put masks out? Fresh socks we always know are helpful for people who are experiencing homelessness or dry blankets or dry clothes. It's hard for them to get to the shower and laundry facilities right now. So do we need to be putting out fresh clothes and then putting out bins for waste clothes? And if we can later we can sort those or compost or, you know, figure out how to dispose of the dirty clothes or maybe wash them. Tools. Do we need to have resource garages in our community resource hubs that there's one neighbor who has, um, is your tool neighbor? And if something breaks, you know that that's the neighbor who can fix that or you know, I think that we need to take this moment and everything bad that's going on and start thinking about what is the future that we want to live on the other side of this curve.
Sarah (36:01): We have a huge recovery after us and we need to think carefully about what is the Portland that we're going to have. What is it going to mean for us to craft a truly resilient community on the other side of this? Whole systems are going to come, you know, just crumbling down like a house of cards that so many of us for so long have been saying they are. And we have to say to ourselves: we have the community capacity, we have the political and institutional memory. We remember things like creating Metro so that we can create an Urban Gowth Boundary but now we need to focus on inclusive and equitable and resilient communities. And the way that we're going to do that is by making sure that there aren't people in poverty, by making sure that there aren't people who are hungry, by making sure that there aren't people who are going without shelter, that people have their basic human needs met.
Sarah (37:13): And I believe as Portlanders, those are our core values and when we focus on those things, we are going to be sustainable and prosperous. This is where this is not counter to our economic prosperity. This is the basis of our economic prosperity. And so I just want to encourage you, if you do have ideas for this community resource hub or if you do have plans for hand washing stations or drinking water stations or food sharing stations or models, please send me an email. It's [email protected] And I would encourage you to send those my way. If you want to volunteer, we can pull you into our volunteer Slack. I've got a small group working on this. I think that we can start mapping this out on Google maps so that if you have a water handwashing station, we can start mapping that out. If you're a member of your, uh, your neighborhood emergency team and you already have this in the can, please educate me and I will do my best to use my platform to educate others and also just stay in touch with each other.
Sarah (38:21): I know day to day that people's moods they swing. And on our team we're working really hard to try to keep people supported through the ups and downs. I know that my poor dog probably gets a little tired of having to sit through teleconferences and keep everybody company, but this is the world that we're living in now. And so just every day I encourage you to reach out to each other, tap into the things that bring you joy, even the small things express gratitude for the things that you have at your fingertips, the things that bring you joy every day and help us shape a better future. Portland moving forward. I'm looking forward to working with you on a lot of this and having that green new deal in place starting in 2021 is going to be really cool, so I am thankful for you taking a few minutes to listen to me. Go on. Don't hesitate to reach out or comment via social media, stay in touch, sign up, get involved, tell your friends and neighbors and we'll talk to you soon. Take care and have a good day. Everybody.
Announcer (39:38): Thanks for listening to Our Portland. If you appreciate a campaign with straight talk on issues that matter, consider signing up to be a monthly supporter of $5, $10 or even $35 between now and election day in May, 2020. Find out more at Sarah2020.com. This has been a production of Friends of Sarah for Portland.