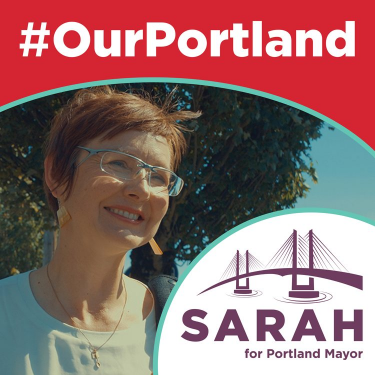 Voices from the Climate Debate
About this Episode
March 9, 2020
Special episode! Sarah recaps this weekend's climate debate and features a few voices from the crowd.
Check your voter registration at sarah2020.com/check. Register to vote at sarah2020.com/register.
Have a question for Sarah? Email it to [email protected].
Transcript
Announcer (00:02): Welcome to Our Portland with Sarah Iannarone. Made possible by contributors to Friends of Sarah for Portland. Portlanders have everything we need to make radical progress today on emergencies like climate chaos, housing affordability, and staggering inequality. Each episode we'll hear how Sarah plans to be the mayor to lead the city of Portland to a more equitable and sustainable future. And now, here's Sarah...
Sarah (00:31): Hi, Portland! Welcome to the Our Portland podcast. I'm Sarah Iannarone and I am running for mayor in the May 19th, 2020 primary election. I use the pronouns she and her. If you're not yet registered to vote, please visit our website: sarah2020.com/check. First of all, to see if you're registered to vote; and then, if you do need to register to vote, you can do so at sarah2020.com/register. Don't worry, we're not doing anything sneaky. Those are just URLs we created to get you over to the Oregon Secretary of State website a little more quickly and efficiently.
Sarah (01:06): So, this is a special episode which is actually going to have very little of my voice for a change. Instead, I wanted to amplify some of the voices from the crowd that my team talked to at the wonderful climate debate we were so fortunate to participate in this past weekend.
Sarah (01:24): It was hosted by Sunrise PDX, 350 PDX, Harriet Tubman Middle School Environmental Justice class, X-ray FM, and the Oregonian. What a lively event that was. I am never under joyed when I am hanging out with youth climate activists. They bring such an energy, a vibrance, and an attention to detail that is sorely lacking when we have these important conversations about our future together. Always present is a respect for our precious planet, but also care and respect for each other and for our community. Many expressions of gratitude there, even singing of songs, right? So this is something where we forget that this work must be joyful if we're going to be able to sustain our engagement over time and that we must be taking care of each other and that we must be having conversations that help move us forward, and constructive dialogues, and really deconstruct some of the colonization and imperialism and racist thinking that's infiltrated our behavior for so long.
Sarah (02:31): I was so grateful to be a part of it. It was powerful in so far as it's been a long time I've been in this movement, I've been doing this work and I've tried to function as a support, in many ways, for organizations who are operating in so many realms and understanding that we're all going to have to come together in this work, that those of us with privilege and influence are going to have to use that in service of others, that we're going to need to continue again to deconstruct systems that aren't working and rebuild systems that we've never seen before, let alone some of us even imagined, that it's almost futuristic when we talk about what 2040 is going to be like. But I don't want us to get to that day and have to look back at the choices we made today and be embarrassed or ashamed that we didn't do more, better, faster.
Sarah (03:24): And that really was the focus of what I brought to that conversation. I tried to bring my best self. The mom in me always pops out a little bit when I'm surrounded by youth because my daughter is 20. And I know that she's at a critical point in her life where she's trying to make plans for a future that she doesn't even know that she'll get to experience in any meaningful or vibrant way if she doesn't have a planet to inhabit. And I know that creates a lot of stress and trauma for our young people. And I tried to really be present in that as I engaged in a conversation with my peers through this. Parts of it were a little challenging. You'll probably read some press that attacks were made and responses also levied. And I think the most important thing is that we have to continue to speak truth to power.
Sarah (04:11): I don't want us punching down. I want us punching up. And when we're talking about these critical conversations, we really need to keep that in mind. We really need to focus on these people in positions of power who have hoarded their privilege and power for so long, and how we're going to be able to distribute that more equitably across our society. So I hope you enjoy these voices and what they have to say in their experience. I was on stage so I haven't heard them. So I'll be listening along with you for this next part.
Supporter (04:43): I am voting for supporting Sarah because, of the candidates, I think she is the best. I trust her more when it comes to living environmental values and listening to the people and pro-democracy. Unlike Ted Wheeler, she's not afraid of conflict and the common folks or protestors. She's out there on the protest lines.
Supporter (05:12): I saw her at the first candidates', or the first one I went to, candidates' forum a month or two ago and she just really impressed me. I really liked her performance in that and have since... I'm so on the bus that I'm actually volunteering for her.
Supporter (05:28): I'm a really involved climate activist. I work with the climate team with the Multnomah Dems and the Extinction Rebellion. And this seemed like a pretty logical extension. We need a Green New Deal, even a local one. And we need to, like, actually take care of our homeless problem by taking care of the homeless and houseless and nobody else has a platform that even comes close to addressing the problem.
Supporter (05:57): I came out to see Sarah speak here. I support Sarah because she's really smart. I've worked on committees with her. She knows everything about what goes on at the city and who makes what happen and I think she'll do a great job.
Supporter (06:09): I'm so happy Sarah is running again. I voted for her in 2016 and I really appreciate her perspective on climate, especially as a user of multiple modes of transit in our city. I'm a bus rider and I'm proud of it and so it's good to know that our mayor has that perspective in mind. Future mayor: Sarah.
Supporter (06:28): I'm supporting Sarah because I feel like she has a really great, like, true vision, but also very practical plans for how to achieve that vision. She's very inspirational. So I've followed her for a long time and I'm super excited to support her for mayor.
Supporter (06:44): I'm supporting Sarah because she cares about the climate, she cares about our city, and she's brilliant and also fun to hang out with. So I can't wait for her to be our mayor.
Supporter (06:52): So my number one reason to support Sarah is because we need to stop the sweeps of encampments of people experiencing houselessness in our city. It's dangerous, it's reckless and it's a total waste of money and it's not helping anybody. And Sarah has made a commitment to end the sweeps. So that's why I'm here tonight.
Supporter (07:09): Yeah, I'm really excited to be here tonight. Sarah has been a climate champion for a long time and I'm really eager to watch her perform. Her Green New Deal platform is amazing and I think she's got the energy to really get it done.
Supporter (07:20): I'm supporting Sarah for a variety of reasons. Primarily because I see a really big vision there, but also the ability to get it done. I moved here four years ago and I love Portland, but the promise that I see, I don't see being fulfilled, particularly for me with the homeless situation, housing, mental health, that combination. Her vision absolutely inspires me, so that's why I support her.
Supporter (07:51): Sarah has been an unapologetic leader who has been paying attention to the fact that 40% of Oregon's carbon emissions come from transportation and municipal governments have to lead on that. Her advocacy in opposing the $800 million freeway expansion is bold. And all of the other candidates for all these different offices are following her lead because she was smart enough to understand that in times of climate crisis, we need to be fundamentally retiring the freeway industrial complex. And I'm very excited to hear what Sarah and some of the other candidates have to say about that tonight.
Supporter (08:23): Yes, so I'm here because I really prioritize climate. I'm with the Sunrise movement and I think Sarah is one of the only candidates that's really looking at the intersections of not only, like, urban growth and, like, how to have an equitable city, but, like, how do we mitigate our emissions and address some of the issues of the climate crisis with all that. And I've spoken to Sarah's class and I've known her for a little while and I think she's just a really capable leader and I hope she kicks a lot of butt.
Supporter (08:47): I'm supporting Sarah and here tonight at the debate because she's the clear leader on, well, all things climate, climate justice, environment. And I think these events are really important to see where everybody stands so that we can really measure the, you know, the plans against each other. And I think that Sarah's will be clearly the most informed and impactful because well, that's how she does everything.
Supporter (09:14): I'm here supporting Sarah because she's funded by small donors and public funding and I think she takes climate change the most seriously out of anyone.
Supporter (09:21): So, I came out tonight because I think this is a hugely important issue and some issues are so big, you can't deal with them at the local level. But there's a lot that you can do at the level of a city like Portland around climate change. And it just doesn't just make a difference in Portland because Portland is so visible that what we do here gets magnified way beyond the small size of Portland. And I do, and I've listened to the other candidates. I think Sarah Iannarone is serious, informed, realistic, idealistic, and realizes the size of the challenge and is willing to take it on. And I think there's a lot of like, people that just started just saying things because they want to sound green and I don't get that from Sarah. She wants to make a difference in this whole area and that's why I'm supporting her.
Supporter (10:07): Right. She did great. She has a sense of what it takes to be a great mayor and I think she'll continue to catch on with people and her message of competence and understanding what's needed is exactly what has to happen in Portland if we're going to move forward. And so it's great to have her running, it's great to be supporting her.
Supporter (10:41): I've seen Sarah do public testimony at so many hearings. I don't make it to all of them, but I know that she does and she kills it every single time, just like she did tonight. She obviously won the debate.
Supporter (10:54): I am supporting Sarah because she is a dedicated policy advocate who also puts in the time to be on the front lines and be involved in the communities that matter. I thought she held Ted's feet to the fire very well and also made time to advocate for her own policies and provide thoughtful feedback to thoughtful questions. I came in here having not seen any of the candidates previously, recently, and I was extremely impressed with Sarah. She had, by far, the most concrete actions to deal with what is a crisis of anyone on that stage and really felt like the one who could come in and on day one do the most to deal with the climate crisis in a way that could hopefully do some good.
Supporter (11:35): Are you excited to vote for Sarah on May 19th?
Supporter (11:38): Yeah, I'm really excited to vote for Sarah on May 19th!
Announcer (12:09): Thanks for listening to Our Portland. If you have a question for Sarah, record a voice memo on your phone and email it to [email protected] or use the #OurPortland hashtag and send us a message on social media. If you appreciate a campaign with straight talk on issues that matter, consider signing up to be a monthly supporter of $5, $10 or even $35 between now and election day in May, 2020. Find out more at sarah2020.com
Supporter (12:49): This has been a production of Friends of Sarah for Portland.