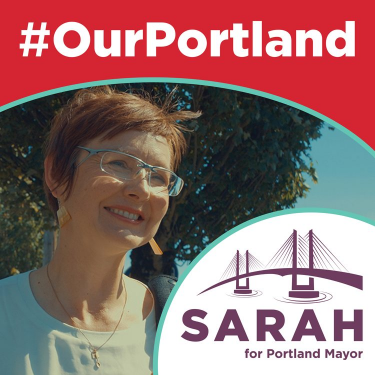 Guaranteed Basic Income w/ Scott Santens
About this Episode
October 21, 2020
Sarah discusses her proposed Guaranteed Basic Income pilot and is later joined by Scott Santens, full-time advocate for Unconditional Basic Income.
Episode Links
Campaign Resources
Have a question for Sarah? Email it to [email protected].
Transcript
This transcript was generated automatically and has not been reviewed for accuracy by our transcription team yet. Please email

[email protected]

if you would like to help!
Speaker 1
[inaudible]
Speaker 2
Welcome to our Portland with Sarah Ayana Roan made possible by contributors to friends of Sarah. For Portland, Portlanders have everything we need to make radical progress today on emergencies like climate chaos, housing affordability, and staggering inequality. Each episode we'll hear how Sarah plans to be the mayor to lead the city of Portland to a more equitable and sustainable future. And now here's Sarah.
Speaker 1
Welcome to the hour Portland podcast. I am Sarah [inaudible] and my pronouns are she her hers, and I am two weeks away from election day in which we, the voters of Portland, Oregon will be deciding who they want to be their next mayor, me or Ted Wheeler. Listen, if you're a Sara 2020 supporter, you already know there's a lot of nonsense going on out there right now. Our incumbent has not been acting particularly ethically throughout this campaign. I think suffice to say, but you know, I'm a mom. And as a mother, I often see my role as resolving fights between people that I care about. And right now, Ted Wheeler's in the fight of his life. He's in the fight of his career with the people of Portland, he's deeply unpopular with the public and for very good reason, and he thinks he can go it alone.
Speaker 1
He sees leaders as individuals not embedded in community. He talks about this being calling, um, as if it's some sort of entitlement to which a special class of people, uh, should be endowed with the privilege, but he's wrong. And because I care about Ted, as much as I care about other Portlanders, it's really my place to intervene and help him realize what he's doing is wrong. Listen, Ted lying about my record in TV and mailers is wrong. I unequivocally stand against violence no matter who does it. And I've said it time. And again, I'm anti-fascist because I stand with marginalized people against right wing threats and violence. Lying about your own record is wrong, Ted. You've not built the new units of housing with the money we gave you to do so. Um, and anybody with vision can see that in our streets, breaking the laws wrong.
Speaker 1
Ted, come on your campaign has been cited 26 times and find $13,000 for campaign finance violations. And now you're suing the city for enforcing the law that 87.4% of us passed. Come on, gassing families and sleeping children in their homes is bad behavior. It's just wrong. Dark money attack ads that take my words out of context, spin them to hurt me. When it's clear. I'm an advocate for peaceful solutions to our biggest problems, community organizing and advocating for the rights of the most vulnerable in our city. It's just wrong. And frankly, I think that Ted Wheeler's the wrong person to be. Portland's next mayor and the people of Portland. I hope on November 3rd are going to hold him accountable for his very wrong behavior. I'm not even going to talk about the skirt. You can go on my Twitter at Sarah for PDX. I got a pinned, a pin post there that explains that I'm a progressive mom, a small business founder, and I'm qualified to lead Portland right now as an expert in planning, sustainable cities.
Speaker 1
I want to make long overdue changes in public safety. I want to build more affordable housing that the incumbent has failed to deliver and act a green new deal, uh, that we would be further along on, frankly, if we had a mayor who was working in coalition rather than doing things like a porn opposing the Portland clean energy fund, along with the PBA, this attack campaign on me right now is a distraction. And frankly, it's below the voters of Portland in the office of the mayor. Anybody who's willing to use right wing dog whistles. When we're under attack from Trump, who's going to comment on my clothes and my tweets. It's misogyny full stop. I'm a straight shooter and I don't pull punches when people empower, make mistakes. And when I'm your mayor, I'm going to expect the same from you. And I'm going to expect you to hold me accountable.
Speaker 1
That's it. I just needed to get that off my chest. We have a great podcast for you today. We are talking with Scott Santens, he's a writer he's published in books about inequality and the future of work. He describes himself as a full time advocate of unconditional basic income. And we're going to talk about that, but before we get into it, what I want to do is take you through our [email protected] slash GBI. That's guaranteed basic income G B I. So here's what I'm proposing. Portland should join cities on the leading edge of an idea whose time has come following the successful leadership of countless cities around the world who have proven through pilots that basic income programs can alleviate poverty and its worst symptoms. I'm proposing a pilot program. And here's what we're going to do. We're going to provide 125. Portlanders guaranteed unconditional, no strings attached $1,000 per month.
Speaker 1
For one year, this is going to cost approximately $1.8 million. Now just for context, we spent $4 million on police overtime for black lives matter protest just for the month of June this year. So relatively speaking, that's not a lot of money, but even so I'm looking at how other cities are doing it through partnerships in terms of private investors, uh, partnerships with the philanthropic sector and reallocation of existing budget resources, uh, you know, less tear gas, more GBI. We can talk about when we're, when we're talking about this, but here here's the thing. If this is successful, the pilot could make the case for reconsideration of how we're allocating our public dollars toward improving outcomes in the future. And it would also help us be part of a global learning community where we have cities calling for GPS BI. It could help us inform national policy, which could really help pull our country out of the worst recession in nearly a century.
Speaker 1
So here's what we're going to do. We're going to select a group of people who are going to get this no strings attached cash every month for 12 months. And during this time program, managers are going to follow up with each recipient to make sure that they're having access to the funds, but also tracking how is this working for you? What did you find yourself spending the money on? Is it, is it improving your quality of life? And the program managers will also monitor a much larger control group. And this pilot is going to be modeled after the successful Stockton economic empowerment demonstration. And we've actually been talking with folks down in Stockton about how the lessons they've learned and what's going on there can help Portland be more successful. So listen, we know why this is important right now, despite early claims of we're all in this together, as COVID-19 hit, we know that this pandemic has revealed how deeply unfair the distribution of wealth is important through no fault of their own.
Speaker 1
There are thousands of us who are facing job losses and evictions at a time when supporting community health and wellbeing is more critical than it has been in generations even before COVID. Our grotesque inequality was on display in 2015 Multnomah County reported that there were 3,800 Portlanders who are unhoused. And while we don't know how high the number was in 2019, and we don't know how much higher it might climb do the recession Portlanders know that the status quo wasn't really working and that we're going to need new solutions. If we're going to deal with any quality, which as I always say, it's a hidden tax on the people. It makes it nearly for us to achieve our larger goals. And so frankly, like so many things with the pandemic basic income programs are gaining support in a majority of people favor government provided income, especially younger voters between the ages of 18 and 34 who support it at a staggering 69%.
Speaker 1
So with widespread political support deepening need and with programs underway being tested across the country and around the world, this is a no brainer for me as Portland's next mayor. It's time for us to catch up to other cities, address the problem of inequality with a solution that's popular, immediate, just and practical. And I think it's going to benefit more than just the recipients. I mean, let's be Frank, we're all struggling with the staggering inequality in our city. We know that families are having a hard time putting food on the table. We know that families are stressed out month to month trying to make. And me, we know the impacts of housing insecurity, not just on families, on schools, but on communities. We know that when we are spending our dollars locally, it creates jobs locally. So I see this as a pathway to recovering from the recession, but also it's about envisioning the type of future economy that we want to see.
Speaker 1
What does it mean for us to make investments in a pilot program, from which we can learn a lot, help people prevent the worst outcomes for some of our most vulnerable community members and actually start figuring out how we're going to build a sustainable economy for the future. I know I've talked about this being guaranteed basic income. And the reason that we have to limit this to a subset of the population is frankly, we just don't have the capacity right now to administer it across the entire population. But what it means is it's still unconditional. It's not means tested. There's no performance criteria. You have to meet to get this money. It's going to be conditionally administered to the subset of people who end up participating in the program. And so we're gonna lean into some ongoing equity indicators in the city to help us target people who we believe will benefit most from this.
Speaker 1
You know, one of the fastest growing populations of unhoused people in Portland are African American adults, women, and people over the age of 55. We know that we have a lot of children tipping in to houselessness. And so we cannot say that we support racial justice and a desire to end our housing crisis without directly addressing the grim reality of what's going on on the ground. And so for the subset in this group, that's facing marginalization in this city, we're going to give $1,000 a month for one year to around 125 black mothers here in Portland. And the total cost is going to be approximately $1.8 million. Now people are going to have a lot of questions about this. It's hard when there are new concepts, especially policy innovations, uh, and especially when, um, the marginalization stigmatization and even criminalization of poverty has been the prevailing world order, especially in the U S for so long.
Speaker 1
But here's what we're thinking. It's not permanent. A 12 month pilot program is going to provide us with an opportunity to see if it works. Does it actually change the lives of recipients living in our city, but then how does that affect and ripple out to the rest of the community? When you put in place a policy pilot with a plan to study it, then you have a better sense of whether it's working or not. And this will likely be, we hope a cost effective way to target investments for future social services. But if it doesn't work, then we don't have to keep doing it. Really. What we need to see is will this be successful? And if it is do more of it and if it's not stop and it's really how we should be doing more public policy, frankly, because what we do now is an awful lot of, because something's always been done. That's how we do it, but it's really not how we should be operating in the future. So the money's not going to come with strings attached. There's no shame or humiliation for the recipient and we're gonna implement it. Very straightforwardly. We have thrown an awful lot of good money after bad. Uh, we can invest money in programs that actually work. We spent so much money this year, policing black lives matter protests and sweeping on housed people providing 125 recipients, a thousand dollars a month would cost less
Speaker 3
Then half a month
Speaker 1
Protests over time at the peak of these protests this summer. So maybe instead of using force and oppression to push the symptoms of systematic injustice out of the public eye, we actually just need to give low income people what they need most. There are some folks who believe that funding for GBI pilots should come from the budgets of other social services and welfare programs. But what we've seen in Finland in particular demonstrates that this is probably not a good idea. Um, in order to fairly measure the impacts, we really need to ensure that we are not negatively affecting people who are already receiving subsidized income or who might lose access to other essential services by having their incomes raised so we can bring together interesting partnerships, too. We're talking increasingly about what does it mean for us to bring everyone together facing in the same direction until address our greatest challenges that the philanthropic sector and the private sector, they can contribute seed money to these programs because the valuable data alone is worth the investment.
Speaker 1
And so building partnerships across sectors to invest in a program like this, it's going to be critical during a recession when budgets are tight and the city's trying to fulfill our commitment to provide essential services to our residents. So I believe that while ambitious, this is completely practical and we can partner with nonprofit organizations who receive resources from things like the children's levy, as well as university, private donors for support. And this is where tracking the data is going to be key, but we must deploy the caseworkers track, the pilot. Um, it's going to actually create jobs on all sides. And ultimately we hope that we'll see successful outcomes. I know that no city initiatives going to be enough to overcome the crushing inequality. That's redefining our country a day over day. I mean, at some point the federal government is going to have to step up, uh, expand the safety net and provide some form of basic income to all Americans for the benefit of all Americans and, you know, voting this November is important ballot and down, but such a program could take the form of a us Senator Kamala Harris has lift, uh, the middle class act or something even better.
Speaker 1
And while Portland's pilot program is just a start and it may only improve the lives of a few recipients, it could ultimately provide further evidence that statewide or national UBI is both practical and promising. So we're doing our civic duty, uh, being a good neighbor in the global marketplace of ideas.
Speaker 1
There's a lot of talk about reparations to right now. And I want to address that because ultimately as Portland's next mayor, I'm pushing for the pilot to be a direct benefit to black mothers with low incomes because they are among the community members hit hardest by the pandemic and the recession. But this is not a reparations program, which we know, um, offers payment to black and indigenous Portlanders for intergenerational traumas and Trini, including colonization and slavery. And the rightful originator of such a program is the U S government, which should resource a truth and reconciliation process to determine appropriate reparations. This is separate from that with the GBI pilot, I'm demonstrating that it's possible to lift Portlanders out of poverty through direct cash payment and due to the outside effect that the pandemic has having on people's lives. It's clear that black mothers with low incomes should make up the first recipients.
Speaker 1
So here's where we're at. Portland has fallen behind on reducing poverty. And we have a chance now to look at something innovative, something unique, and really try to put our best foot forward in addressing inequality in our city. I can't guarantee it's going to work, but what I can guarantee is this. We are carving out a new path for rethinking how we allocate public dollars, who they serve and how pulling our city out of the recession and protecting the most vulnerable people in Portland is the highest priority of my administration. Should I be elected Portland mayor? This GBI pilot represents a clear model of how we can actually try new things to support vulnerable populations and meet people's immediate needs. I think it's going to be amazing. Um, and I actually am looking forward to all of you supporting me as we forward this in the first 100 days of my administration that said, where do we go from here?
Speaker 1
There are two weeks to go between now and election day. We've hit the fundraising cap through the open-end accountable elections program. So I can't take any more money. The fundraising button is off. We need you to volun tier I can't stress this enough. We need you to volunteer. We need you to go to Sarah 20, twenty.com/volunteer and sign up for a phone baking shift. Is it easy? No. Is it fun? Kind of, is it inside your comfort zone? Probably not. But let me tell you this. You're talking to your neighbors, you're sharing with them. Why you think it's important to elect someone like me, who would promote an idea like this, as opposed to someone who would partner with a big business in smear campaigns who would write himself a check for $150,000 of his own money to sidestep grassroots fundraising activity, to sidestep a need to talk with the people who are really, really mad at him.
Speaker 1
He would rather write himself a check than actually engage with the public meaningfully around solutions for the city. We need you to talk to your neighbors, your undecided namers, and let them know why you're supporting me for mayor. There is no time to sit this one out. We have a very limited amount of time to talk to a lot of undecided voters, and we need you on board Sarah 20 twenty.com/volunteer. Do not wait. They are working the phones every single day, and they can find a way to plug you in. Alright, with that, I'm going to point you toward a very selfish tweet of the week. It's the pinned tweet on the campaign account. And now for a very selfish tweeted the week I say selfish, because I usually point you toward someone else's tweet. And I'm going to point you toward my own tweet. It's at Sarah 2020. That's my official campaign account. And it's the pinned tweet there. I want you to go look at it and watch that one minute and 41 seconds in which I explain why this campaign is so important. And then I want you to share that video with your networks,
Speaker 2
If you're not yet sure who to vote for in the Cortland mayor's race, let's talk, call or text the Sara 2020 undecided voters hotline at (503) 483-6797. That's (503) 483-6797. To connect directly with a member of our field team. The undecided voters hotline is open from 11:00 AM to 7:00 PM, seven days a week. For more information, visit Sarah 20 twenty.com/hotline. Again, the Sarah 2020 undecided voters hotline is (503) 483-6797.
Speaker 1
All right, welcome back, Scott Santens is a writer published in the books. What do we do about inequality and surviving the machine age? He describes himself as a full time advocate of unconditional basic income, or you be a citizen of earth and new Orleans. He holds a bachelor of science in psychology and is the editor of basic income today. Scott was also a major backer of Andrew Yang's bid for the democratic nomination for president. And I'm hoping we get to talk more about his involvement with that and what he learned from being involved with that campaign. Today, we're going to talk about how the city of Portland under new leadership can follow the successful leadership of countless cities around the world who have proven through pilots that basic income programs can alleviate poverty and its worst symptoms. I'm proposing a pilot program that we were talking about elsewhere in this podcast. We'll dig into that there, but in a nutshell, in case you're just listening to this second half hour guaranteed basic income pilot program proposed, I would cost about approximately
Speaker 4
$1.8 million. And what it would help us do is improve outcomes for 125 Portlanders by guaranteeing them $1,000 per month or one year. All right, Scott. Well, welcome to the art Portland podcast. It's nice to have you.
Speaker 5
Thanks for having me, Sarah. It's nice to chat with you here. So,
Speaker 4
So you live in new Orleans before we get started just to get friendly. What neighborhood do you live in there?
Speaker 5
Um, I live in the warehouse district, so that's, uh, you know, right in the downtown area and um, yeah, it's um, it's, it's great location here. I actually just moved here like last year. I've been in new Orleans since 2009, but the warehouse district is new. Okay.
Speaker 4
Hey, you know, I used to live in new Orleans, so I lived in Algiers point. I lived in the garden district. Uh, I had some fun times there for a few years. It was a very good town to be a chef in.
Speaker 5
Yeah, that's great. Yeah. I love the, yeah, that you've got some, some experience here.
Speaker 4
Well, tell me what brought you to the conversation about guaranteeing people a basic income? What inspired you to start looking down that?
Speaker 5
Yeah, it was back in 2013 and it was inspired by a conversation that hit the front page of Reddit. That was about how quickly technology is advancing and how like no one's talking about it and what it is going to mean for the future. And I was just fascinated to see how quickly technology was advancing and to think about technological unemployment, what that was going to mean. And it was just nowhere in the conversation. It was before the Oxford report came out before people were talking about how, you know, half of our jobs could be automated within 20 years. And, uh, I came across the idea of basic income and I started learning about the history and looking into the existing evidence, both from, from the seventies when we, you know, almost passed a version of an under Nixon. And, um, most recently this century with experiments, like in Namibia in India, that I knew nothing about and just learning more about the history and the philosophy behind it, and even learning more about how the existing safety net works, I'm using conditionality and it means testing. Um, all of that together. I just realized that that this is an important idea, potentially the most important, and it's something that it's not going to solve everything, but it could really alleviate a lot of things immediately and also enable us to solve so many problems that without economic security seem pretty much unsolvable.
Speaker 4
So we're really talking a bit about the future of work and right livelihoods here. It's not a conversation that comes up a lot when we're thinking about poverty reduction or income inequality, how are you framing this for people to make it accessible? Because what they have in their minds, I think oftentimes is this notion that I'm a wrongful one, but that these handouts actually disincentivize people from working. How do you, how do you deal with that conversation in a larger social framework?
Speaker 5
Yeah, I like to point out that basic income is not paying people to do nothing. It's paying people to do anything. And when people understand that there's an understanding there that the existing system only helps you, if you maintain the need for help, based on let's say your income, but, and then because of that, we separate people into like the deserving and the undeserving. And so you create the stigma where people blame people who are in poverty for their poverty and because they're not getting anything or they don't see themselves as getting an income from government. And then the people who were in poverty receiving additional benefits, they're given the choice of take a job and be not better off or barely a better off or to continue receiving the benefits. And so when you create a fully unconditional floor, then you are freeing people from any disincentive that they can actually take any job and be better off taking it versus the present system of potentially being worse off or barely better off by taking a job.
Speaker 5
So for those who care about that, it's important to understand that, uh, but also in the context we are in today, I think it's really important and new that we're seeing the need for a basic income through the problems within an existing conditional system. So, you know, when all of a sudden there was mass unemployment because of the pandemic, you had people having to go into the unemployment systems for the first time and having to, you know, apply for snap benefits for the fruits first time, um, to even go through, you know, food banks for the first time. And all of this shows that, you know, we don't really have a safety net. Like you can, it is full of holes that you can fall through that people. Um, you know, even it's interesting that when we first started the, um, pandemic assistance, like the, the it's like right off the bat, they thought, okay, there's all these gig workers.
Speaker 5
There's all these freelancers and they're not being helped through existing unemployment insurance. So let's create something new called pandemic employment assistance. And these people can be helped through that system. So it was like, it was acknowledgement that our existing system didn't help them. And so I think the existence of that now shows that we do actually need this floor underneath everybody because so many people end up falling into the system. And even right now the system is actually, you know, leaving people, especially, um, you know, people of color are disproportionately losing their jobs and it's also, you know, that much harder to actually get assistance. So it's just, this unconditionality is extremely important, especially right now.
Speaker 4
Yeah. This is something where COVID is worsening conditions in some ways, but also it's just illuminating them for so many people. You know, if you've been working in the poverty amelioration space, that these folks were suffering pre COVID and there'll be suffering. And what it's really allowed us to do is have a different conversation when that, uh, adversity reaches into the middle class, if you will. And they start to get a taste of what people who are struggling are like, I think about that line from the wire. I don't know if you've ever seen that show, but about bubbles, where he's they talk about him being the hardest working guy in town. We know that low income people, even when they're on assistance, that just the condition of being impoverished is its own full time job in many ways as they go about trying to meet their needs. Uh, and so what are you thinking about in terms of productivity? I mean, you've talked about this in terms of life, Liberty, and the pursuit of happiness. How does making an investment like this, not just in a individual wellbeing, how does it serve the whole,
Speaker 5
Yeah, it's used an important word there too. That whenever anyone asks me to define what basic income is, it's an investment it's, it's really important to see that, that you are investing in people. And that is the best investment you can make is actually in humanity. When you trust people with access to resources, then I mean, we save so much money by doing that, uh, the increased health. So then there's less people, uh, in need of healthcare. So we can save money there that there's, uh, less people who are entering the criminal justice system. So, you know, there's less crime. And then through that too, you have, because you have fewer people going into the criminal justice system, you have fewer people leaving it as, say, you know, felons who are then have find it that much more difficult to get employment. And then, so then that increases recidivism.
Speaker 5
So then they go back in and so it's just extremely expensive to, you know, spend $60,000 a year on someone in prison and to spend hundreds of thousands of dollars on someone's medical care that could have been entirely avoided had they just had the money upfront to have a healthy, secure diet and to avoid all of that stuff. And also through that, you have increased productivity. So if you actually, if you can create a situation where people are better matched to jobs, so right now, if you are unemployed, you're just going to try to find that first job you can find and cause you just need anything, but if you can actually have the power to say no to jobs that aren't for you, they aren't, they don't pay enough. They don't utilize your skills. You're not interested in them. Then you can find those jobs that do pay more, that do suit you better.
Speaker 5
And you're going to be much more engaged in that job and that's good for overall productivity. And so I think that we really are destroying our productivity right now, um, through that and all sort of through this, you know, essentially people needing to have any job whatsoever and by actually having, uh, more engagement in our jobs and also by having people actually be able to spend as consumers, you know, into the economy, um, that we can create more jobs through that spending and just better utilize our resources and our capacity as human beings and just create an economy that's actually more focused around, you know, human flourishing and human thriving instead of essentially, um, you know, forcing people into the labor market, um, just to survive.
Speaker 4
Yeah. And it's really about how you're going to make a sustainable economy for the future as well. When I think about the difference between me and the person that I'm running for office against, he's really at a global financial markets kind of guy. And when you look at the instability there and how certain cities will just be dragged along by those global capital flows, having a city where your people are making things, creating things where arching culture flourishing, that's good for the economy. We take that for granted, but that's something I think new Orleans and Portland have a lot in common, even though it doesn't express itself as the same way. We're both cities where artists and creatives are part of our economic, you know, comparative advantage in the global marketplace. Right. And so we don't hear a lot of leaders talking about investing in these people who create and make our cities as a really important part of the economy.
Speaker 5
Yeah, absolutely. There's um, you know, here in new Orleans and of course it's different right now because of this new world that we're in, but, you know, pre March, um, you know, this was a city of music where you just walked down the street and there's just all sorts of artists, just playing music in the streets and you take that for granted. And you know, sometimes some people would, you know, throw some dollars in the hat or something. Uh, but for the most part, you're just walking around the French quarter, you're hearing music and you're just thinking, this is amazing. I love this city. I want to come back here. And that artist is not being paid. I mean, they're, they're playing it for free and they're hopefully getting some money from, from people just deciding to toss some money in. But they're what providing that service to the city is actually good for the entire city.
Speaker 5
It's good for the entire economy. And it actually creates, um, helps create this, this tourist economy where people want to go there and go to all the other stores. So it's like, it's a really interesting example of the value of unpaid work. And that too is another reason for basic income is not only the unpaid work of, you know, the arts and everything, but also the unpaid work of those at home, doing the work that is especially seen now, um, thanks to the, um, you know, closing of schools and, uh, all of the new additional care work that that parents are doing. And they're also unable to go to work, um, to the offices where they would usually go because now they have to focus on doing that work. And so, you know, what does that mean for, for the economy and everything else when, when we're not recognizing the work that's going on and how important it is. And, and we have to make sure that we do recognize that
Speaker 4
Yeah, this really, I mean, when I think about, I lived in new Orleans pre-Katrina and my rent at certain times, it was always between three and $500, no matter, even the fanciest part of town. And you think about after that, how many people were struggling too with housing costs after that as different real estate speculators came through that city and really upended, not just the homeownership market, but the rental market. And when we would talk about this, you're talking about it in terms of ameliorating hunger, alleviating high housing costs, like what other things, apart from income, what other social problems do you see, um, this approach helping us address from the, from the broader social perspective?
Speaker 5
Yeah. So basic income operates along, say three pathways. And so the one that gets talked about the most is really just the money pathway. So yeah, making sure people have enough food housing, these, um, you know, what resources provides, but another thing is security and stability. And so you can have enough money for food and housing, but at the same time, you're constantly living in fear of losing that. And so through that, you're talking about chronic stress and you're making decisions that you wouldn't usually make because of that fear. And so that kind of omnipresent fear has its own effects. I mean, you're more likely if you're constantly stressed out, you're going to have higher instances of diabetes of heart disease even have cancer. Um, there's a lot of other effects to that. And also you're gonna see be more likely to, um, be abusive to others, to engage in some kind of violence with either your partner or, you know, other people.
Speaker 5
Um, those are, those are constant effects from this chronic stress. So that's the other thing that the, the unconditionality of basic income really relieves that element of this instability, um, that is omnipresent in, in this life. Uh, you know, this world of ours where we're income isn't guaranteed. And then the third thing too, is, is inequality. So, you know, you can have enough food and housing and you can not be concerned about losing, you know, that access to what you need, but at the same time, if there's giant differences between you and other people, uh, and it's a very visible, then that's going to reduce social cohesion. And that's also what leads to, um, things like gun violence and, and, you know, crimes. Um, there's just too much inequality in general is bad. And by introducing this, um, you know, a fully unconditional floor and utilizing appropriate progressive taxation, hopefully then you can really reduce inequality as well. And that too is really good for society.
Speaker 4
So pivoting a bit because my background is in best practices exchange. And one of the things that I'm known for is talking with other cities, not just in the U S but around the world to say, Hey, what's working where you are. And what's not one of the things that you've mentioned is that the approach that I'm proposing Portland take is similar to, what's been done in Jackson. Can you talk with us just a little bit about what you've been observing maybe there and in other places where you've seen this, uh, going very well?
Speaker 5
Yeah, so, uh, for those who aren't familiar in, uh, Jackson, Mississippi is, um, called the mother's trust program. And what they started doing was providing a thousand dollars a month to single black mothers. And, you know, this was without conditions for a full year and it really made a difference in their lives. And in fact, it was so successful, successful that they're expanding the pilot to even be larger, um, to be able to help more mothers. And, you know, you saw what, what, what did they spend it on? Well, what they spent it on, what anyone would spend it on. They spend it on their kids, they spend it on their educations, they spend it on, you know, even, um, buying homes for the first time. It just was transformative for them. And I think that it's important how, you know, people will look at that and say, Oh, well, that's not universal basic income.
Speaker 5
You know, they just, that's a very specific, um, you know, aspect and saying, well, you have to be a single black mother in order to receive basic income. And instead of saying, well, no, this is unconditional cash. And this is for a specific demographic to show that when you do have a full universal, basic income, that these in particular will be helped in this way. So it's the same thing where there's a program that has started recently in Santa Clara County in California, which is a foster youth basic income. So you have people exiting the foster care system, and they're going to be receiving a thousand dollars a month, um, for a year to, um, you know, help basically embed them in society in a way where it was extremely difficult before. Cause we know that that too was a demographic that is disproportionally hurt, um, under this existing system that we have, it's much harder for them to get employment. It's much harder for them to, um, actually, you know, find, um, uh, the same wellbeing that the rest of us can find. So there's by focusing on different, um, uh, different demographics on different groups, you can show that you can put this whole picture together to see that when you do have universal banks, that these individual groups will be helped in these ways. And I think that when people put the whole puzzle together, then it really makes a lot more sense.
Speaker 4
Well, I am really excited that my team was able to connect us. Uh, I'm grateful for the advising and guidance. She gave us as we developed this policy, it's going to be transformative for Portland. You know, people see us as a relatively prosperous city, but we have a lot of people struggling here. And I hope that piloting something here will help make us stronger and more resilient in the future because we know that inequality is a hidden tax on everything that you're trying to do, uh, from beginning to end and the better, uh, we grapple with that, the better off we'll be. So tell me this, if you were in my shoes, what would be one thing you would advise me to watch out for that could actually undermine our efforts in Portland and that we as a community should be thinking very carefully about as we look at this innovative pilot,
Speaker 5
I think in a really important thing to focus on is the storytelling, the storytelling aspect of this, um, because if you, and I suggest everyone do this, but for everyone who looks at the available data, uh, it already paints a very clear picture of, of why this is so important. That's what sold me on it. Uh, that's why I started pushing for it. And it just, all the evidence is there. It already makes sense. The, the experiments that are going on are these pilot programs that are going on and, you know, over or will be going on in over 20 cities around the country. Um, they're more about these stories and it's about finding specific stories that, that people can connect with. And so if you can find a story that a lot of people connect with that they can see themselves in that story and they can start to think basic income would transform my life in this way, too. If they can see themselves in the people, then that's how this really starts to, to move forward. So that's, uh, that's what I, the advice I'd recommend is focus on the storytelling and make sure that you've got some, you know, good storytellers and who can, you know, you can create great videos and, uh, you know, content that people can can see and appreciate and go like, aha, if you can get that aha moment, then, then you've won.
Speaker 4
Well, Scott, thank you so much for taking time out of your busy day to join us and talk with us about this issue. You're doing great work. I think it's amazing that you're advocating for this full time and I'm going to continue to follow you for other people. I follow him on Twitter. He's Scott Santens S a N T E N S on Twitter, and they can find your work and more about you there. Good luck. I hope.
Speaker 5
Thank you, sir. Good luck to you as well. Thank you.
Speaker 2
Hey,
Speaker 4
Thanks everybody stay engaged. They have beat it's our city, our future, our choice, our Portland.
Speaker 2
Thanks for listening to our Portland. If you'd like to help out the campaign, join our phone banking team@sarahtwentytwentydotcomslashvolunteerthatsarahtwentytwenty.com slash volunteer. This has been a production of friends of Sarah for Portland.