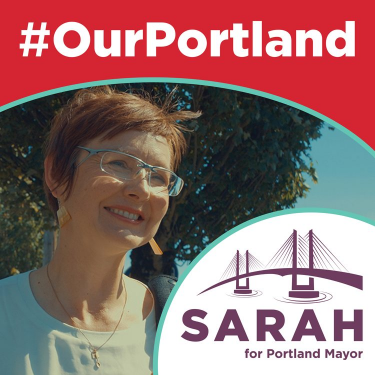 Helping Youth Lead w/ Libra Forde
About this Episode
August 17, 2020
Sarah is joined by Libra Forde, Chief Operating Officer at Self Enhancement, Inc., to discuss the courageous vision of today's youth, advocating for them, and letting young people lead.
Episode Links
Campaign Resources
Have a question for Sarah? Email it to [email protected].
Transcript
This transcript was generated automatically and has not been reviewed for accuracy by our transcription team yet. Please email

[email protected]

if you would like to help!
Speaker 1
Welcome to our Portland with Sarah I, Anna road made possible by contributors to friends of Sarah for Portland, Portlanders have everything we need to make radical progress today on emergencies like climate chaos, housing affordability, and staggering inequality. Each episode, we'll hear how Sarah plans to be the mayor to lead the city of Portland to a more equitable and sustainable future. And now here's Sarah.
Speaker 2
Welcome to another episode of the hour Portland podcast. My name is Sarah. [inaudible]. My pronouns are she and her and I am running to be Portland's next mayor in the November 3rd election. I think you're going to be captivated by my conversation today with Libra Ford, she is an impressive presence. I met her first at a youth led black lives matter, rally out in lense. She lives in Damascus, actually at the edge of our urban growth boundary. I talked about it as a regional conversation while we are spending some time together. She does important work as the chief operating officer itself enhancement inc, which is a Portland nonprofit that focuses on supporting underserved youth in local schools, through mentoring programs for their students, parents, and even helping students after they graduate high school education is her passion. She serves on the North Clackamas school board. She's lived in some very interesting places around the U S including Hawaii. She's a native of New York city, and you can find her on Instagram at, at B dot tall, probably because she's six foot five and a former lady basketball player. You're going to love that conversation. Thanks Libra for taking time to talk with me.
Speaker 2
There are three important asks that I have for you listening today that I want to get out of the way. These are things we need your help with. Now, if we're going to defeat the incumbent in November and bring about the progressive change that the people in our Portland are demanding and so desperately need as I'm hearing day in and day out for many Portlanders, this election is a matter of life or death. So first ask if you have not donated to my campaign since the primary, please pause this podcast. Go to Sarah 20 twenty.com/donate. That's Sarah with an H 20 twenty.com/donate and give what you can. If Portland is where you rest your head at night, the first $50 that you give to my campaign will be matched six to one from a public fund. And I know this can be confusing, but if you gave during the primary and haven't yet given in the general election, you can give again now, and that first $50 will be matched again, this cycle, all of those limits reset on May 20th.
Speaker 2
So please, what we need you to do is [email protected] slash donate, do not hesitate. And there's fun at the end, because after you contribute, you have the opportunity to fill out one of those cute endorsement cards, where you upload your photo, a short statement about why you're supporting my campaign. Some people have even been so creative as to put the photo of their favorite pet or plant. I'm not going to tell you what to do, but have fun with it. Um, stay engaged, shout your support for our, for our campaign, from the rooftops. And let's get the incumbent out of office. Now, my second ask, and this is almost more important than money. So if you cannot contribute to us right now, we understand times are tough. My kid and I are eating a lot more ramen than we should be for our health. And I know a lot of Portlanders are in the same boat, but we are campaigning in the midst of a pandemic and we will be for the foreseeable future.
Speaker 2
As you know, my campaign is always committed to basing our decisions, not on politics or pressure from the business community, but on the best available science. So we will be relying primarily this campaign season on phone banking to reach voters. We won't be knocking on doors, so we need you to start. Now. We need you to sign up for a phone banking session. One hour a week, two hours a week. It's not hard. The team gives you a quick training. You can do it for 15 minutes or even five minutes at a time in your free time. There's an autodialer so you can do it essentially hands-free but you need to sign up and check in with the teams that they can count on. You. Count your hours and count your phone calls. That's at Sarah 20 twenty.com/events. Please sign up, encourage your friends to sign up.
Speaker 2
You can throw a phone banking party and get everybody to pop a bottle of wine. And everyone uses the phones, uh, at the same time for an hour during the week, whatever you've got to do, we've got to make those phone calls. We've got to talk to voters directly, and we've got to get my name out there so that we can win in November. Now, I didn't have campaign talk. Let's talk about the news. As you've seen our destructive tyrannical idiotic dangerous narcissistic president has decided that he is going to undertake a full out assault on the U S States postal service. Um, and what we've seen is evidence of this import land. So test risky from Alabama week reported yesterday, August 13th, that, uh, yeah, the U S P is pulling blue boxes off the streets of Portland. Uh, they pulled four out of Portland and 27 out of Eugene this week.
Speaker 2
And they plan to remove even more from Portland, according to risky, she quotes a rep from the U S P S who says, the reason we're doing it is because of declining mail volume. Um, ever since the pandemic came along, people are mailing last. For some reason, I'd like to see the data, but whatever we know what Trump is up to, and he's doing it in plain sight, uh, it was interesting to see that, uh, it was a Twitter account at intersection nine one, one who I follow and who follows me, who posted, um, pictures of USBs removing the mailbox is important. And you can see it right on the truck. And that will Emma week article. Uh, thanks Steve for pointing that out. But you know, what we really need to think about is we are not going to be as disadvantaged as many other places because we already have ballot drop boxes and worst case scenario.
Speaker 2
If Trump took up all of the mailboxes in Portland, we could still go to our neighbors, get their ballots, get them to those drop boxes and make sure our votes are counted. But Oregon is used to voting from home. And we're used to putting, you know, our ballots that we fill out at the kitchen table into a special collection area. I've been dropping mine off at the library, actually during a COVID. But we know that our friends in other States are not as privileged as we are to have this luxurious voting option. And I do not say that lightly. I am so grateful for voting from home options, but we need to make sure that we're calling our, our representatives and our senators and applying pressure any way we can to protect the us postal service. It's not just about the vote. It's about people who need their checks.
Speaker 2
It's about people who need their prescriptions. People depend on the us postal service. It's important to me. I showed up at a rally in support of it last week. I want you all to join me in saying how no U S P S you can't go. All right. More bad news before I get to the good news. Let's see. Yeah. So one more piece of bad news. Jonathan Levison, Sergio almost, and Conrad Wilson did some really good reporting for OPB about a man seen in the area of Laurelhurst park who had allegedly crafted a homemade explosive, thrown it at protesters black lives matter. Protesters gathered there. They did the heavy lifting of verifying a lot of the accounts that they had seen circulating online. So they did do journalistic diligence to identify this guy as an ex Navy seal, the way they reported this on August 10th, which is four days from when I'm recording this podcast, which is again, four days prior to when you're probably listening to it for the first time, is that a man wearing dark clothes and carrying a military style helmet with a night vision goggles was videotaped near Laurel horse park.
Speaker 2
After a makeshift explosive device was lobbed at protestors. There multiple people say the man in the video appears to be a retired us Navy seal and former CIA contractor. Who's actually worked in Afghanistan and spoken out on social media against the nightly Portland demonstrations, even though no one was injured in the small explosions, the attack suggests a new, dangerous dynamic. According to these reporters for the past 70 plus days of protests, there has been a continuous fear that right wing demonstrators would become involved leading to violence. Now it appears that may have happened. Here's my issue with this. Our mayor went out in front of TV cameras, even as our city is in the national international spotlight to talk about black lives matter protesters, as people trying to murder city employees, which was a patently false claim, which he has never walked back. In the meantime, he has been completely silent on this recent terrorist attack. It's domestic terrorism, and this speaks volumes after trying to portray black lives matter, demonstrators as murderers, he's not willing to speak out against a paramilitary cause player who threw literal bombs and demonstrators in Laurel Hurst park,
Speaker 3
Come on.
Speaker 2
City desperately needs a real leader who understands that public safety means keeping an eye on militant, right? Wingers. I mean, we've been out there Portland. We know that these folks are dangerous. They have a long history of attacking demonstrators with their fists, with their trucks, and now homemade bombs, please. As we remember the anniversary of Charlottesville, we are so lucky that we're not morning, a Heather higher and our minced. This is the real domestic terrorism in the age of Trump, not the black lives matter movement, demanding justice for George Floyd as AIG bar. And Trump would have you understand it. These white nationalists come into our city with impunity and at every turn, our incumbent mayor has done too little to resist them. And his silence as I have long argued makes room for their violence. When I am your mayor, you have my word that I will have zero tolerance for these outside agitators, the true outside agitators coming into our city to wreak havoc. So discord and Harmer people.
Speaker 4
I'm going to leave it at that now. Good news.
Speaker 2
And this is news that is close to my heart when I read it. Um, it's not often that you feel pure joy, uh, because these days, sometimes the wins are few and far between, but the Portland mercury reported yesterday, I think it was Blair Stenbeck who broke the story that Portland state university will no longer have armed police officers on its campus starting this fall. Now I cannot begin to tell you how hard those of us who were at Portland state university, the last six or so years have been fighting to disarm PSU. There was a hashtag disarm PSU. You can search it and you can see there have been faculty. There have been staff union members, and more than anyone, the students of Portland state university who have been protesting the arming of our campus, public safety officers there. And then we know that the killing of Jason Washington was a flashpoint for our Portland state community, not just the people involved in that institution, but our neighbors and friends who said, please, your community has warned you again and again, that arming CPS O's would result in tragedy.
Speaker 2
And when it did the PSU leadership at the time, president, she not only did he not heat our call, but he wasted half a million dollars calling in an outside consulting firm to back up his decision to not disarm the CPSs. And so even following Sheree she's exit, the current PSU president was not Swift in his decision making, but better, late than never. I want to give a huge shout out to PSU president Steven, Percy, who has made the critically important decision to disarm campus police in a reflection of [inaudible] growing commitment to anti-racism and Blair Stenbeck quoted him as saying over the last few weeks and months, we've heard many discussions about protests and a call for policing to be new and innovative. So under the new plan, PSUs campus, public safety officers are going to still be sworn police officers, meaning that they do have the same authority of any cop in Oregon, including the ability to arrest people, but they won't carry guns.
Speaker 2
They will still carry quote unquote, less lethal weapons, such as tasers, but as we've long argued, PSU does not need an armed police force because we're just a few blocks from the Portland police Bureau precinct. And so as we've long argued, if there's a need for our response, which many of us know now is very rare, but should there be one we can call PPB and according to campus, public safety, chief Willie Halliburton, the only time PPB will intercede is if there's a call, that's more than they can handle as an unarmed CPSO staff. So, and he even admits that in his experience, those calls are rare. So congratulations to the community of Portland state university. Who's worked so tirelessly on this. I know so many of you who were intimately involved in this, I've tried to show up for you, um, at your rallies, at your marches at your events, because this was so important to me.
Speaker 2
And I do think this is a huge shift in our central city away from militarized policing toward more compassionate, more trauma informed responses to keeping people safe. So congratulations, it's a hard fought and long battle to get this policy changed, but you did it disarm PSU, and wow. It just shows that when we come together and organize, we can make real change. So congratulations on that. Now the tweet of the week, this is a real funny one from fellow native Syracuse in Dave Miller. He's at Dave Miller OPB, any posted late last night. Oh, I guess it was yesterday evening. You posted daddy. Our mayor's real question. Mark quotation marks my four year old. It's pretty funny. It's one of those tweets where there's just a huge list of people replying with their jokes about whether or not mayors are real. And from my perspective, you know, some mayors are more real than others. Unfortunately right now we're not benefiting from a particularly real mayor, but hopefully on November 4th, we'll have a more real mayor to look forward to. So good on you, Dave Miller OPB for that tweet, I think more than a few. Portlanders got it.
Speaker 5
Cool. I did that one.
Speaker 1
Show your support for Sarah by purchasing a t-shirt face mask or bumper [email protected] slash store. All items are sold at cost, but please consider adding a donation to your order.
Speaker 5
[inaudible]
Speaker 2
I have Humana and engaging, inspiring speaker to chat with us about her experiences, not just in Portland,
Speaker 6
Uh, but in a variety of cities around the U S and I love people who bring a diversity of perspectives as someone who's worked internationally, talking with other cities and done best practices, exchanges with so many us cities. I think hearing about people's experiences and putting their experiences in Portland in context is so important. Libra Ford is I met her. I actually didn't meet her before we went on this podcast. She was speaking at a youth led March in lengths that I intended probably six weeks ago now. And I was so inspired by her words about empowering our youth as the solution to so many of the problems that we're facing, that I hunted her down on LinkedIn and said, please, will you come and join us today and make sure that we can, um, have a conversation about your vision and your perspective on what's happening here in our city. She's the CEO over at SEI. And she can tell you a little bit about that, but I really want to talk about her passion, which is leadership and empowering our youth. When she comes to us from a background that's not particularly political. So she has some unique perspectives to share with us, their Libra. Thank you for coming to our podcast today. We're so happy to have you.
Speaker 7
Thank you for having me, Sarah witch, and I knew of you before. Um, that's, uh, like I said to you before, I was super excited that you had reached out to me.
Speaker 6
Well, so tell us, you know, you're, you've only been in Portland a few years. So what brought you to Portland?
Speaker 7
Well, education brought me to Portland. I lived in Hawaii with my family and I had a daughter at that time. It was in high school, it's selling, um, but Hawaii is not known for education. Uh, it's known for hospitality and we realized early that, um, we had to get her to a spot where she could have a chance of getting into college, a good college that she wanted to get into, um, without struggling getting across the ocean. So we decided to come to Oregon was one of the regions that I worked in from my company that I worked for. So it just was an easy fit
Speaker 6
And you're moving here. And then you end up in this space where you're now working to empower Portland youth. And what do you see as some of the biggest challenges in this current work that you're engaged in? What are some of the big opportunities for us in this moment in the work you're engaged in here?
Speaker 7
Yeah. So I've always been an advocate for youth, even in Hawaii. Um, I started a school there because children needed support there. Um, and then so every, every space I've gone to, I've been an advocate for youth because someone was an advocate for me. I tell people all the time I was a kid that, um, was, was headed on a special education track. And in the eighties and nineties, I was very different. It wasn't a lot of support. It was literally like a gaping hole that you would fall into that you couldn't get out of. And I had adults in my life who fought for me. And so coming to Oregon, it wasn't going to be any different from me and I have used. So, um, I believe that if we can support youth in a way that is, can conduce it to what they need, not what we want or what they need. Um, it creates a future for us that we all can be proud of.
Speaker 6
What does it mean to really let youth lead them? Cause we hear a lot of people doing that, right? We'll see our leaders, they stand beside the young people at the photo ops and they say, Oh, the children are the future. But when it comes right down to it, when we've seen time, and again is youth are tired of that. They want, they don't want to be ponds in your photo off to, they're tired of being misrepresented in terms of what they're interested in. And they actually want to be heard and they want to do work. So what do you see as the disconnect there and our inability to truly, I don't know if it's about trusting them or if it's about empowering them, but where's the disconnect between what people say they want and what's actually happening when it comes to engaging our young people.
Speaker 7
Yeah. Um, you thought visionaries, right? And they, they lead with their heart and we're in a nation that leads with their mind. And so it's very difficult for people that have a mindset view of the world to let heartset people young and old lead. And so it's messy, it's emotional, it's all the things that make people uncomfortable. And so the challenge is for adults is really checking themselves and stepping back and allowing it to be messy and allowing the heart to lead so that we can see some real vision. Um, youth don't have a lot of cloud in their lenses that we do as adults. We we've been damaged in different ways have gone through trauma. That then makes us hesitate to move forward. Youth are energetic, they're fearless, they're they feel emboldened to be different, to, uh, to use their vision as a way as a, as a guiding light. And a lot of times as adults, we get in the way of that. And so it's important for us to listen and not, um, critique immediately. I have a friend also says conversation before you actually judge someone, but listening in a conversation and not making judgment or trying to fix is really the key to letting them lead.
Speaker 6
It's such a hard thing for people who hold all the power to invest in that power and trust that the outcomes are going to be okay. Why don't we always trust the young people to lead? Do you see any examples of places where it's working really well in ours?
Speaker 7
Um, yeah. I think the what's happening in the streets right now is amazing. And for many people it's uncomfortable, right? Because there is unrest and they don't know what's happening. A lot of adult leaders that I talked to said, what's going on? What are we asking for? What is this? What is that not? And I constantly try to remind them, we speak as a situation as if the sixties and the civil rights movement wasn't, as these were useful leaders, useful people who wanted to see change, but it was a mindset so people could get in line with the quicker. It was about paper. It was about getting things written down, getting people to sign things. And so the structure was there, but a lot of times what we've done in, in kinda capturing history is we say, well, day one, we were upset. And day two, we created this paperwork in day three, the president signed it. That's just not true. We all know that movements are messy. And so right now, what I see is the same kind of thing. Energy is there. We're making moves, the youth are engaged. They want to see something and we should sit back and really just support them and trying to figure out how to get answers. But they're there, they're doing it. And I'm excited. I love watching them.
Speaker 6
Yeah. Chaos. Isn't everybody's natural habitat though. I mean, there are a lot of people for whom complexity, chaos, and what looks like potentially even the lack of control or attorney general bill BARR called it like complete terrorist anarchy, right? When, when they can't wrap their hands around controlling the situation and the youth in their energy, which is nearly boundless, their creativity, which you said is on circumscribed and their vision and their optimism is still intact. And like many elders who have become cynical over years of the work that the, they don't like that wildness of it. And they don't like that. That potentially makes their power a tenuous because those young people, they don't really care about those secret handshakes and what those folks are doing.
Speaker 7
Not at all. They could care less not to mention, um, in their visions. They are absolutely courageous. Um, and they're, they're willing to do things outside of the box to create hope and something different. Um, cause they, they see a need for something different and that's inspiring to me.
Speaker 6
So one of these questions came in off the Facebook. I think it's a good one. It says, how can we balance, um, protecting our young people? The upsurge is in the Penn Devin and meeting their psychosocial logical and mental health needs at this time. Like, I'm sure you're seeing a lot of young people, despite all of the good things happening, struggling in the midst of the crisis to like, what can we do to be supporting our youth right now?
Speaker 7
I think that there's, there's all levels of it, right? When you go to the protest, um, the youth are very aware of where we are and what's happening. Um, I have not been to any of the protests where they haven't been like in intentionally social distancing, they all wear a mask. They do all these things. They're very conscious of where we are and what's happening conscious of each other and space. Um, I think that then there is this traumatic part of what's happening right now, where there are a lot of youth and adults who are struggling. There's a traumatic mindset that, um, is, is really difficult to manage when you can't engage with the typical resources that may help you manage some of this, the stressors and the trauma that's coming from now. So I would say that you gotta find experts that work for you. You got to find circles that are safe for you. It is, it's definitely not a one size fit all. You got to find out how to get through it though and manage it in a way that's intentional and best for your world. Everybody's going to see it differently and everybody's going to do it differently. And the last thing is you can't judge people on how they choose to do it because everyone needs something very specific to them and judging that doesn't help them get through it. It actually is more harmful.
Speaker 6
Yeah, that's really good. I mean, it just really is about being empathetic and trying to put yourself in the position of people who may be struggling a little bit to make sure that they're, they're being fully resourced. You know, often we often try to say what people need, as opposed to just saying, what do you need? And then showing up when they give you that answer, not judging it. Um, one of the things I know I have a 20 year old daughter, um, and she benefits from most of the privileges that I have, although being in her age group, the looming climate crisis, I think adds another layer of burden on everyone who's young right now. But I know that access to education, access to employment are so challenging even in the quote unquote best in times for our young people. So what are we doing as adults? Well, or maybe where are we dropping the ball and keeping them like their lives with something to do or that they're self sustaining in their own lives. Are you seeing them struggle with this at all? Or what, what's your, what are you observing that they're, they're needing?
Speaker 7
Well, there's a spectrum, right? Of course, when you have people that have been disproportionately, um, under resourced, uh, this era, this time is definitely not helping them find resources, right? And then there's the other end of the spectrum where resources are accessible, but yet they can't get to those resources because of the time. And in that spectrum, what I find is we, we sometimes overthink what youth have, um, developed in their own mind as is a way to cope. And, and we also diminished the power of their communication and how they like to communicate. And we want to judge it as if it's too much screening time or they just text message. There's no human connection, which all of those things are absolutely true, but in their world they feel good about those things, right? And so diminishing those things in a way where we're, we're chastising them or not allowing them to find those spaces as valuable, um, can not be helpful many times.
Speaker 7
A lot of times we need to ask better questions of, well, why do you do that? And the answers might just shock adults in why kids choose approach communication in a way that they do not to say that there shouldn't be a spectrum of ways to handle things, but looking at them and what they are doing and see more of the opportunity and less of the, the negativity behind it. Maybe the first step for an adult to really hone in on what kids really need during this time. And then the kids that are under resource, of course, there's, there's organizations out there that are really working hard to make sure that they get the access and just supporting that is important. And allowing, making sure that those agencies are getting what they need as well as volunteering and supporting them and making sure we get the resources to those kids. And you ran for school board. Yeah.
Speaker 6
Did you end up winning your election?
Speaker 7
Yeah, I was appointed initially and then I ran for my current seat now. So I'm the chair of the North Clackamas school board this year.
Speaker 6
So what does it mean for you as a school board member to balance what we're talking about in terms of budget cuts, um, the needs of our youth in this time, public schools, like what are you seeing on that, on the front of the public schools from your perspective?
Speaker 7
Um, well, two things one when I speak about the decisions behind education right now, it's really a life or death decision. And a lot of times there's nuances in there that of course people want to talk about that are very specific in the specificity of those things are valuable. And, and I don't diminish any of the value behind that, but the, the overarching decision right now is a life or death decision and I'm going with life every single time. Um, and so that's, that's the primary goal in, in the school board. In my, see how I see it. The other side of this is the opportunity that we have been presented. I think that children have always been educated in one way in our, in our school system. And what we're seeing is that there might be other opportunities of educating students that may be very valuable, not for everybody, but what, as we unravel this, I, I hope that we can combine all of our resources that we've discovered and get to more children in a way that's effective for them not effective for our systems, but effective for each individual child. So I'm excited about that opportunity. There's a lot of work being done, but we're having a lot of discovery at the same time.
Speaker 6
Yeah, it's really interesting. I see in Portland public schools, there's been some tension between obviously the needs of the staff and the faculty and their need to maintain social distancing and take care of their families. So the worker's perspective, also the students in the health of their families. But then we see that the people who don't have access to these institutions when they fall between the cracks, it's become really clear that the divides that were here pre Colin are only amplified by COVID and that the, um, the, the solutions sometimes are not innovative and always meeting people where they're at. So I agree with you. This is a big opportunity for us to do better in many ways, if we can, those needs and hit them head on that's. Right. Yeah. Um, so education and valuing education as a pathway to not just opportunity, but Liberty is something that you and I share. I think we talked about that in our initial discussion. Um, where do you think we can be doing better
Speaker 7
And education specifically? Oh yeah. Um, man, I think a diversity of approaches the key for me. Uh, and I say this, I've been saying this for years. The school that I, that I helped start in Hawaii was a hybrid model. So now we're talking about hybrid models. We did this in 2007, specifically for military families because it was a different need for the military family that was going through a combat time. Um, and so diversity of approach is the key. The education system is the last monopoly of the world. And we have broken up monopolies with true intention because we see that it's just not helpful, but for some reason we haven't done that in education. So we have to diverse surprise approach. Every child needs to be approached from a very customized way. Like this is what I need to do. And it sounds complex. It sounds difficult, but it only sounds that way because we've never tried. But if we can really diversify the approach of education, I think we could be onto something in terms of including all and making sure that all children are actually moving forward in a way that works for them and their family.
Speaker 6
And I think as the Portland mayor, you know, a lot of times people ask me, how are you going to help schools? And I talked to him about the fact that there's six school districts in Portland, our budgets don't overlap. So I can take this defunding and demilitarization agenda with Portland police as seriously as anyone wants me to. And it still doesn't get me that money straight into schools. So what does it mean for us as residents in this city, in this region to really come together as community members and say, Hey, we're going to support our students. We're going to support their families. Even if I don't have kids in schools right now, does this mean that Portland parks and rec needs to step up? Does this mean that we're really bringing every tool to this problem so that these young people are supported through this time?
Speaker 6
Because ultimately these are our leaders. They're stepping into these leadership positions, whether they like it or not, because our time is going to be up pretty soon and we need them. So I appreciate that you're working on so many fronts. I want to ask you one last question before we go, cause it's a little outside the box, but you bring it back around for wellness to this. And to me, something that's so important has to do with how we don't talk about health and wellness as much around these parameters when we're talking about things like the police budget. I never get to say where's my public health analysis, right? Like, but talk a little bit about, I know you and I got to just riff on this briefly, but what does it mean to have a place that's well and where are people are healthy and why does that matter?
Speaker 7
Well, I mean, I started my wellness and basketball. Anyone that's met me, I'm 65 and so basketball was kinda thrown into my lap early. And then you immediately, you're attracted to this physicality of life. Right? And so, but then as I got older life happened, I had babies. And then the physicality changed for me. And, um, in all of the things that I've gone through in my life, the only thing that healed me was a physical approach. Um, and of course all the mental, all those things were together. But physically I had to do a lot of work from myself in order to move forward in my personal healing. So I've never let that go. And I believe that if we don't have a healthy self and it's very difficult to think healthy into approach systems in a healthy way, there is not disconnected. And, and of course, when having a healthy self also means healthy systems that support you doing that, which would be healthcare education, all these things that we talked about, they're all connected.
Speaker 7
And when I hear you talk about parks and rec and all these different systems that really work in isolation as if a human being does not work holistically with all these systems throughout the day, they work in isolation. And that's a mistake. Health is connected to everything. Everything we're talking about, education is a healthcare issue. If a kid doesn't have access to information, that's a healthcare issue. Cause without having access to information, then I don't know how to take care of myself. And so it always comes back to the body. It always comes back to healing. And how do you take care of yourself? So I'm a, I'm a huge advocate for that I teach spinning. And I'm all about you staying healthy physically so that you can do this mental work.
Speaker 6
Yeah, it's so critical. Uh, we had one, uh, admin social epidemiologist on who basically said all public policy is public health policy. A couple of times she said, you can't get around it. And she's taught me so much too, because if we start applying that to the budget,
Speaker 7
You
Speaker 6
We're going to have different outcomes. I am so grateful that I had a chance to talk with you and get your voice in front of our audience as modest as we are. I know there are a lot of Portlanders who are looking to voices just like yours, because they're so inspiring, but also so practical. Um, that really touched me about you. So I appreciate you taking time to come on. And if folks want to find you, I guess, uh, our producer will put your Instagram in the show notes and they can send you a little message of support and figure out how they can plug in to help with some of these things, especially our friends on the edge of the UGB, uh, in Clackamas. Uh, we'll be happy to engage with you there and we're glad to see such amazing regional leadership to Lee. Brett, thank you so much.
Speaker 7
Thank you, Sarah. Keep up the good work. Bye.
Speaker 6
That's it for this week. Thank you again to LIBOR Ford for joining us. Can't wait to talk to you again.
Speaker 7
Thanks for listening to our Portland. If you have a question for Sarah record, a voice memo on your phone and email it to our [email protected] or use the, our Portland hashtag and send us a message on social media. This has been a production of friends of Sarah for Portland, with matching funds from Portland's open and accountable elections.