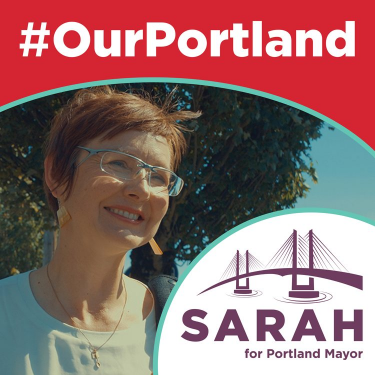 Campaign Progress Report: 2019
About this Episode
December 17, 2019
Sarah celebrates the last podcast of 2019 by looking back on the first six months of the campaign and discussing the work that remains between now and the May election.
Have a question for Sarah? Email it to [email protected].
Transcript
Announcer: Welcome to Our Portland with Sarah Iannarone, made possible by contributors to Friends of Sarah for Portland. Portlanders have everything we need to make radical progress today on emergencies like climate chaos, housing affordability and staggering inequality. Each episode we'll hear how Sarah plans to be the mayor to lead the city of Portland to a more equitable and sustainable future. And now, here's Sarah.
Sarah: Welcome to the Our Portland podcast. I'm Sarah Iannarone and I am running for mayor of Portland in the May, 2020 election. I use the pronouns she and her. This will be our last episode of 2019 so I'm going to spend it recapping a few of the highlights from the past six months of this campaign. Wow, has it really been that long? And let you know what we're looking forward to between now and May of 2020. I also want to make sure that you know, we have merch available for purchase online at sarah2020.com/store. You know all of your hard to shop for loved ones on team Sarah 2020 want one of those wide stickers that you can put on bumpers and other things. Right. There are spoke cards, stickers, and a special limited edition campaign poster designed by a local artist that I'm really excited about. That's on preorder right now, but we'll be releasing that pretty soon. Now, because we're a publicly financed campaign, we're selling all of these items at exactly what it costs us to make them, which means everything is between $1 and $2. So if you do order something, please consider adding a donation to our campaign, which will be matched 6-to-1 by the Open and Accountable Elections program. Alright, now onto some news stories of the week.
Sarah: A couple of good news stories this week. You know, we've heard a lot about what Street Roots is calling the proxy war against people experiencing homelessness, and I think we can all agree that, in addition to the inhumane conditions that our houseless neighbors experience, that the way that they're treated through public policy, the criminalization of the state of being impoverished and homeless, is a very undignified and trying experience. So I was happy to see two news reports this week that suggest at least a little bit of respite for those folks. The first one was in The Oregonian, written by Everton Bailey, and he lets us know that a lawsuit challenging a Portland policy that would have limited the frequency of food service provision, things like feeding our neighbors, free hot soup, and food, not bombs. That policy has been put on hold indefinitely.
Sarah: So Portland Parks and Rec. Was going to begin requiring groups to get permits as of October. But city officials say the parks bureau hasn't been enforcing that requirement and will not enforce the permit until the lawsuit that was filed in November is resolved. So there's a brief reprieve on that front. And in another win, the U.S. Supreme Court refused today, Monday, December 16th, 2019, to hear a case from Boise, Idaho challenging a lower court ruling that permits homeless people to sleep on sidewalks and in public parks if there's not enough shelter space to house them. The Supreme Court's decision not to hear the case, which came without comment or dissent, is a major win for activists who are working for more humane treatment of people experiencing houselessness in our streets. But it's going to be a challenge to city officials especially in West coast cities who are facing increasing numbers of homeless people. We're going to have to figure out what we do in the face of this. And I do have some ideas that I laid out with regard to community safety hubs, safe sleeping spaces in my Rethinking Public Safety plan, and you can find that on my website at sarah2020.com/publicsafety.
Sarah: Not that it's ever a good day to be someone experiencing homelessness, but today feels slightly less worse, at least from an advocacy perspective. And for that, I am grateful. Now we move on to one of my favorite parts of the podcast, the tweet of the week.
Sarah: So this week's Tweet of the Week comes from the Sunrise Movement PDX, they're @sunrisepdx, and this was on December 11th, 2019 and it said today we received a leaked press release from mayor Wheeler's office. We learned that on Friday he plans to announce climate commitments and thanked youth climate activists for "working with the city." To be clear, we were not a part of these discussions #NothingAboutUsWithoutUs. And it's a pretty good thread. So I'm going to take you through it in case you can't find it. Sunrise continues. The bullet points indicated as part of mayor Wheeler's climate proposals and accomplishments were already in motion and came from the hard work of many bureaus, committees and commissioners. The mayor cites that he's going to appoint the advisory committee for Portland Clean Energy Fund, which is mandated, talks about the restriction of expansion of fossil fuel infrastructure, which activists have been ceaselessly, relentlessly, tirelessly advocating for on every front, talks about creating stronger bike parking and requirements, from my friends and I and the bicycle advisory committee, you're welcome, and talks about expanding the number of buildings subject to the city's deconstruction policy, which if you've been talking to the people that I'm talking with, isn't really going all that well. Regardless, Sunrise continues, not one of these bullet points is on the level of action needed to properly address the climate crisis at the scale it requires. While we are cited as inspiration, if we'd actually had a seat at the table, we would have been clear: this is nowhere near enough. The mayor says he plans to restrict the expansion of fossil fuel infrastructure, but how? In June we held a sit in, in his office fighting the freeway expansion and last night we held a rally outside of the Oregon Department of Transportation. On Friday, Mayor Wheeler will announce these proposals flanked by executives from PGE and TriMet. This is not the climate leadership we want to see from our city.
Sarah: Many who are not on social media will get their news and read that the mayor is acting on climate and working with youth activists. We assume that was the point of not telling us about this beforehand, but we hope folks hear us and change the narrative. We would have loved to work with the city, but we were not invited to be a part of this discussion. And we believe these actions are nowhere near enough. This is an emergency and we need leadership that acts accordingly. I just want to say that I agree with the youth of Sunrise and I understand because I've been listening to youth climate activists from Sunrise and from other organizations since before I was running for mayor. And I do think it's very important for climate leaders to not lean into their tendencies of co-opting movements or power where it's existing, but rather to check that impulse and actually stand behind frontline communities, behind energetic social movements that are pushing for change and really become a force to empower people rather than to seize power from people.
Sarah: I think this is going to be really fun to recap the first six months of the campaign. It's hard to believe we've been at this since June, and for some of us who were in the preplanning stages even earlier, but circling around to Sunrise again, I wouldn't call this the first official campaign event, but probably the first official pregame campaign event was the Sunrise Green New Deal Town Hall, which had Senator Jeff Merkley, Congressman Earl Blumenauer, and a bunch of other folks putting themselves at 2040 into the future and talking about the Portland that they could see there. And I was so excited when I talked about the future that I see for Portland, which is an inclusive city where people can move around with freedom, with ample affordable housing, clean air to breathe, clean water to drink, and low carbon mobility, low carbon power, and just living a generally beautiful life because we had focused on our values of inclusivity and sustainability using the best that our community has to offer.
Sarah: And so that was a really fun event for me and a fun way for me to think about how we would be shaping the narrative for this campaign, which really was around community based solutions to our most pressing problems. And the feedback was phenomenal. I was so excited. So you can imagine that by the time July came and we released our video, which kicked off this campaign, the one I affectionately call "Ted, your time is up," the response to our campaign has been overwhelming. People were so excited to think about the opportunity to take back City Hall from the establishment, to think about what it might mean to put in a transformative leader who has values with regard to urban planning, thinking about community planning, thinking about the role of sustainability in our prosperous future, and even thinking about things like the managed decline of fossil fuel infrastructure even as we reduce income inequality.
Sarah: So that was so fun when we released that video. In July also we hosted our kickoff party at Mt. Scott Park, which is near and dear to me. Mt. Scott is where my kid had all her birthday parties, it's where I walk my dog, it's where my neighbors and I gather for any celebration. So the fact that we could have a kickoff party there, right in my neighborhood, made me happy, and a lot of people turned out for that and we had some really great speakers there. I think you can find that video on our Facebook page actually, which is sarahforpdx on Facebook.
Sarah: As the dog days of summer ramped up, so did the white nationalists, and as they announced they were ready to descend on Portland, our team decided that we needed to have a response in the streets, not just in an official press release. And so what we did was we met with experts in anti fascism, in community defense against hatred and bigotry, and we came up with the #TampOutHate campaign. Some people might wonder why we thought a menstrual product drive was a good response to the Proud Boys coming to town. But really what it came down to was the recognition that so much of what we're seeing right now is driven by toxic masculinity. And the thread connecting the violence in our streets largely is a matter of that. And so what we wanted to do was bring attention to that and also let people know that we supported people who bleed and make sure that those resources got to folks who are experiencing homelessness in our community.
Sarah: So we delivered those to a few shelters around town, including the Salvation Army and transition projects. That was a highlight for me of August. On another front, in August our campaign uncovered that the incumbent, Mayor Wheeler, had received in the course of his campaigns $600,000 from his family members toward his political career. I can tell you a lot of people on my campaign were joking around how much different things would be if I had $600,000 to contribute to the effort, but we're happy to be working with the contributions that we have. And again, we're very grateful for the people who supported our campaign, but still that was a pretty astounding number. And in fact, August was a great month for us in the Sarah for Portland Mayoral Campaign because we announced that we qualified much earlier than we had predicted for the public financing program.
Sarah: The Open and Accountable Elections program is so instrumental to the success of this campaign. We've built the campaign around it. We understand that the 6-to-1 match that we're getting for the first $50 from every Portlander is what's going to tip the balance from people who are able to get $600,000 from their family members to run for office and make it possible for just ordinary people to lead with the experience that we know our city needs. But more importantly, we made history. We were the first mayoral candidate officially certified under the OAE program, and that was something that we were really proud of. We worked really hard and it wouldn't have been possible without all of the people who stepped up in July and August to make sure that they would be a part of that first 500 people who were supporting this campaign.
Sarah: And so thank you to everyone who was part of that first cohort of 500 donors who made that qualification possible. Because of that strong showing, by the time September came around, we were there in full force at the labor day picnic. We had plenty of volunteers on hand in Sarah shirts cheering us on, even as we made our first climb onto the stage, at one of the more critical political events of the year. In September, we also showed up at the climate strike in support of youth, and that was a great day for us. I was able to be in that crowd alongside those youth, just talking with them, talking with their family members, with their teachers, with their allies and elders about what mattered to them, knowing that even if I weren't running for mayor, that's where I would be anyway was striking with them. And so it felt really good to occupy the position of leading mayoral candidate alongside the people in that climate strike. In September, we also collected our 100 signatures and filed to run, locally. So we submitted our paperwork in city hall. We had some youth there again with us who we got some beautiful photos with. And that was a great day all around collecting those signatures, filing to run, and then standing alongside the youth with the climate strike in September.
Sarah: In October, I traveled to Europe on a seven city best-practices trips with civic leaders from Portland. We went to London, Sheffield, Liverpool, Manchester, Glasgow, Edinburgh. And then I went on to Copenhagen. And what I explored there were climate action strategies, economic development, active transportation, and transit investments, and just really good thinking about what it means to make good places that are sustainable, that are inclusive, that are working for people. And in some cases what's not working. But that was a great experience and I was very grateful to have it while I was there. Some big things happened on the campaign. I'm so grateful to my team that runs so strong. We released our Green New Deal policy, our climate justice, thinking around a better future for Portland, which incorporated ideas that I gained by working with cities from around the world for over a decade now.
Sarah: And thinking about how all of the best that other cities have to offer us along with the things that we know we're doing well here, we can just keep doing more of them. And maybe some of the things that aren't working, we shouldn't be doing. And then what are the transformative ideas that we can be adopting and implementing even as we make the just transition to a post carbon future. I also thought about, you know, when it really comes right down to it, it's the health and wellbeing of our workers that matters. So I stood alongside that Burgerville Workers Union as they picketed. Also in October, Gordon's Sondland hit the news, and as soon as our team saw that, we demanded that our opponent, the incumbent, Mayor Wheeler, return the $15,500 that he had received from Gordon Sondland, that he give it back. Anyone implicated in a national/international scandal isn't who we want shaping outcomes in local politics.
Sarah: I got some pushback from that initially. Don't you think you should wait until you find out whether or not someone's done anything bad? And our response was, isn't the implication enough? Do we really want to be engaging with folks like this? Even as we're trying to make a city government that's more effective, more accountable, more transparent? Eventually, a month later to the day to be exact, our request was born out and Mayor Wheeler actually returned, I can't really say, returned because he didn't give someone the money back, but he bestowed Sondlands money on a variety of nonprofit community organizations of his choosing and thus divested of the Sondland largess.
Sarah: So that brings us into November. One of my favorite parts of November is an episode I'm calling Strippergate, in which the Wheeler administration decided that they would not be subjecting themselves to not only the contribution caps that 87.4% of Portland voters had approved in the November 2018 election that would mandate a $500 maximum per person, per candidate, per election contribution cap. Not only would he be allowing $5,000 contributions to his campaigns from individuals and $10,000 contributions from corporations and PACs, but he also said that he would not be accepting them from arms manufacturers, the fossil fuel industry, and the adult entertainment industry. And because we had been working as a team on our Rethinking Public Safety plan and talking directly with people in that industry, that was quite scandalous. Because if you know Portland like I know Portland, you know that the adult entertainment industry is pretty big here, and that was quite the slap in the face for our Portlanders, my neighbors, your neighbors who work in the industry. And so we made light of it a little bit, right? We asked every stripper in Portland if they wanted to give our campaign $8.74. But really what that said was, we see you, we hear you. We don't think you're the same as arms manufacturers or the fossil fuel industry, but also that you're recognized as workers and people who merit being kept safe here in our city and getting fair working treatment and other protections afforded to workers.
Sarah: So right after that because we'd already been working on that, obviously, the Rethinking Public Safety policy dropped from our campaign and that was a big one. When the Portland Mercury covered that they said it was a very sweeping plan and we agree. It's one of the more progressive plans that you're going to see in the municipal campaign, this election cycle, I think in the United States. But what it really is, I think beyond being transformative and very progressive is a critical rethinking, not just of how public safety is done, but how we pay for it. A lot of times we hear talk about the fact that there's not enough money this, or there's not enough staffing that, and what we're really saying is really, shouldn't we be spending our money differently and staffing things differently in order to make sure we're keeping the most vulnerable people in our community safe. So we were really proud of that plan and I want to give my team a big shout out for the work they did, not only on that one, but on the Green New Deal as well. We've got some top notch policy folks who are contributing to these ideas and pulling it all together and to the people who sat with us and advised us and talked about their ideas that they were working on with their community organizations really made that the policy what it is not, me personally.
Sarah: So another benchmark for November and December where the community conversations that we already hosted. We hosted one in November with Mark Lakeman and we talked about the role of the commons, access to public space, the civic fabric, which as you can tell from conversations about maybe making it very difficult for people to help other people by providing food in parks for instance, or possibly camping in public space. And that's an essential conversation we need to be having right now. And we just recently wrapped up a community conversation at The Riveter with Ciara Pressler of Pregame in which we talked about keeping Portland affordable for small business owners, entrepreneurs, solopreneurs, freelancers, and innovators, artists, creatives, people who maybe don't fit into traditional corporate culture or institutional bureaucracy, but who make this city what it is and make sure that they have the housing that they need, that they have access to transportation, and that they also are afforded protection as workers with rights.
Sarah: Which brings us to December and the debate challenge. Our team took a bold move and tried to force the incumbent's hand so that he would actually leave the mayor's office and start campaigning on the trail with the rest of us in a way that is equitable and inclusive. We requested standards for participation, for people in those debates, but didn't define them. We left that up to establish community partners hosting the events to set the terms of who would be included and who wouldn't. We think it's important that the mayor actually be engaged as the incumbent and not just benefit from incumbency, but be held to account for not only the promises that he made in the last election cycle, but the claims and policies that he's proposing for the future. So we're excited that they've taken up our challenge. And I think that we're looking forward to seeing Mayor Wheeler on the debate stage and throughout the last six months I've worked really hard to show up for my community in ways that you requested of me.
Sarah: It's been amazing the amount of support that we've had from every part of this community. Geography, interest group, political affiliation, organization, weighing in, helping us craft policy, showing up to volunteer, sending in your contributions, posting about us on social media, you made it possible for me to testify at City Council to relegalize affordable multifamily housing. I got to go to City Council to talk about neighborhood associations and the things that we need to be bearing in mind as we work toward a more flexible, more inclusive, more dynamic governance processes. I testified at TriMet on behalf of the Up With Riders campaign and making sure that we're having a robust conversation about fareless transit and so many other things. And so thank you. Thank you. Thank you to each and every one of you who showed up, weighed in, retweeted, re-posted, called your friends and family hosted a house party. We couldn't have done this last six months without you.
Sarah: If you thought all this was big. Just wait until 2020 drops. The campaign is really ramping up. I can hardly believe every day how many new people come on board expressing an interest in being a part of it or sharing their ideas for a policy proposal… We're going to be hosting canvasing events citywide, so we need you to go to sarah2020.com/volunteer. When you go to that page, there are going to be some, you can check a box to host a house party or a coffee. It's really quite effortless. You send an invite to your network. Our team does most of the organization and then we just have a great conversation with you and your friends or neighbors about the issues that matter to them most. We've been having them from the West Hills to East Portland, from St. John's.
Sarah: It's been amazing. You can sign up to put up a lawn sign. If you sign up today, you won't get it right away. There's a time limit in which you're only supposed to put them in the ground a few months before the election, and we're not quite in that window yet, but I promise that as soon as we're technically allowed to put them up, you'll have one and you can put it in your yard, especially if you live on a busy street, all the better. Meantime, you can put up a poster or one of those wide stickers I talked about AKA bumper stickers, but not really, but you can put one of those really wide stickers on whatever vehicle or laptop or another smooth surface of your choosing. I know that I'm preaching to the choir here if you're already listening to this podcast, but it's going to take a multitude of us to unseat the establishment in the mayor's office right now.
Sarah: And so I'm really encouraging you to sign up, get involved, and help us build this movement that we need to get someone with some transformative ideas and a solid base of community support to make them happen.
Sarah: And one final thought. And this one comes from the heart. I've talked a lot about tactical optimism this year in which I express the idea that every morning we need to get up with a sense of joy, with a sense of optimism, with a sense of can-do-it-ness and just really put our whole heart and our whole energy and our whole spirit into the work that we have ahead. It's not going to be easy. I know it's going to be challenging. Not all of us have the same resources, the same privileges, the same abilities to put to this. But each one of us has something that we can bring to the work ahead.
Sarah: And I see that not only as a practical operating principle, but as a moral imperative. We're facing some very serious things coming at us, and the more that we can build community capacity, the more that we can support each other, the more that we can engage in meaningful relationships that are not transactional, but that are truly focused on recognizing the common humanity in each other, the stronger we're going to be as a place. And at the root of this for me is the practice of gratitude. Each day I try to get up and think about everything for which I'm grateful. It's the root of my joy. It's the base of what drives me day to day. And I just want to let you know that I'm grateful for you. I'm grateful for the opportunity to be in this position right now. I'm grateful for everything that you've given to bolster this campaign, and I'm grateful for that, for everything that you're continuing to give to make Portland a better place. And yes, I mean you. I'm not sure who you are or where you're listening to this through your earbuds, or maybe in your kitchen as you cook, or maybe in your car as you're commuting. But I want you to know that yes, I am grateful for you and everything that you bring to our city. So that's it for this week. Happy, darkest of nights to you and yours. I hope that you find warmth where you can, and I'll see you in 2020.
Announcer: Thanks for listening to Our Portland. If you have a question for Sarah, record a voice memo on your phone and email it to [email protected] Or use the #OurPortland hashtag and send us a message on social media. If you appreciate a campaign with straight talk on issues that matter, consider signing up to be a monthly supporter of $5, $10, or even $35 between now and election day in May, 2020. Find out more at sarah2020.com. You can also show your support for the campaign by visiting our merch store at sarah2020.com/store. And don't forget to join us on Monday, January 13th at Portland Central Church of the Nazarene for Sarah's next community conversation about the role of faith based organizations in addressing our most pressing issues. Find out more at sarah2020.com This has been a production of Friends of Sarah for Portland.