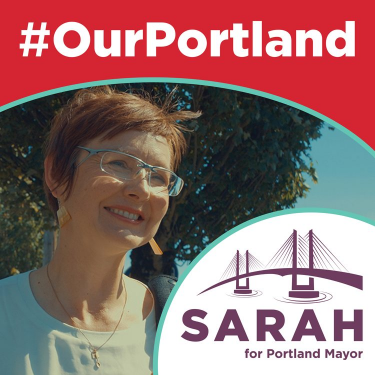 Housing for All
About this Episode
January 8, 2020
Sarah unveils her new plan for addressing Portland's ongoing housing emergency: Housing for All.
Have a question for Sarah? Email it to [email protected].
Transcript
Announcer: [00:00] Welcome to our Portland with Sarah Iannarone. Made possible by contributors to Friends of Sarah for Portland. Portlanders have everything we need to make radical progress today on emergencies like climate chaos, housing affordability, and staggering inequality. Each episode we'll hear how Sarah plans to be the mayor to lead the City of Portland to a more equitable and sustainable future. And now here's Sarah.
Sarah: [00:33] Welcome back to the Our Portland podcast. This is our first episode of 2020! I'm Sarah Iannarone and I'm running for Portland Mayor in this year's May primary election. I use the pronouns she and her. On this episode — and I apologize for the sniffles. It's that time of year. Go get your flu shots. Everybody just got to do it — I'm very excited to be announcing my new Housing for All policy. You can find that at sarah2020.com/housing. But before we get to that, I'll touch on a few of the big news stories that broke over the past few days, and of course, our tweet of the week.
Sarah: [01:11] It's been awhile, a little over three weeks, since we taped the last podcast. I don't know about you, but I'm still trying to wrap my head around coming back to reality in the new year and a lot is going on already, but we need to amend a few things. The last episode we did was a year end recap from 2019 and usually it's a pretty quiet time between Christmas and New Year's, but a lot actually happened in Portland as we wrapped up 2019 and headed into 2020. So I think that before we can embark on 2020 with enthusiasm, we need to wrap up some unfinished business, namely the departure of two pretty significant people in Portland politics.
Sarah: [01:56] The first departure that we need to talk about here is the passing of City Commissioner Nick Fish. Portlanders are really reeling from the loss. It came rather unexpectedly for many people, it seems, because it came just two days after he wrote a rather thorough and heartfelt letter to the people of Portland talking about his successes during his time in office, both with the Portland Housing Bureau, the Water Bureau and the Bureau of Environmental Services, and ultimately the Parks Bureau. And in that there were some gems. He wrote that letter and shared it with Portlanders on New Year's Eve and then passed away just two days later on Thursday, January 2nd of 2020. So many of us who weren't close to him or his family were possibly caught off guard by the pace of that, and I know that Portlanders from across the city and across sectors, whether they were in local politics or nonprofits or community organizations and even local media were all sharing their warm memories and a fondness for Nick Fish. I thought I would read for you a paragraph from the letter that he wrote to Portlanders because I do think that he gave us a bit of a gift before leaving us if only that he left us with this caveat and he said this:
Sarah: [03:37] I have always believed that government can be society's greatest force for good and that together we can do amazing things. As a member of the council, I have insisted that the whole can be greater than the sum of its parts. And I have focused on partnership, collaboration, and shared success across the country. The last decade has seen a stark decline in civility. Portland has not been immune to the national weakening of civil discourse. And as we grapple with the future of our country and our planet, we are becoming a big city with our own growing pains. We can rise to this occasion and embrace inclusivity, sustainability, and shared prosperity for all. We must unite around these values and make them real through collective effort. City Council can do its part by fostering diverse rather than divergent priorities. It is our obligation to find the common ground in order to advance the common good. I have seen the power of partnership and I trust our community leaders to see that the people of Portland deserve our best." From myself and from my team here at campaign Sarah 2020, we want to thank Nick Fish for giving the people of Portland his best.
Sarah: [04:57] And now for departure, not so solemn. Portland Police Chief, Danielle Outlaw decided to leave our city to become the Police Chief of Philadelphia. It's the fourth largest city in the US with the fourth largest police force in the US. It's quite the level up for chief Outlaw. Some folks were pretty happy about that. They hadn't been thrilled with her, treatment, especially of the protests. Others were disappointed and still others I think were just shocked and surprised. Not the least of which I am guessing is Portland Mayor Ted Wheeler, who she told on Friday she was leaving and by Monday morning was holding a big press conference, getting sworn in as the police chief of Philadelphia. So Ted Wheeler appointed, pretty swiftly, in something that I called in the media, a snap decision, the Deputy Chief of Police, Jami Resch, a 20 year veteran of the Portland Police Bureau, who according to his team is someone that he sees as a consistent presence there to help guide the bureau through a time when we're going through contract negotiations and thinking through a lot of critical policy for policing in Portland's future.
Sarah: [06:22] So it's interesting. You know, when the first process was underway, the communities with which I aligned myself generally were calling for a very thorough public process in the hiring of Portland's next police chief. I don't necessarily think that Mayor Wheeler delivered on that promise. He did hold some meetings behind closed doors with community leaders with regard to who should be the next police chief, but that wasn't a particularly transparent process. So it came as a bit of a shock to hear that he had appointed someone in the relative blink of an eye in this case. I guess time will tell how this will play out. It's sometimes difficult to navigate the inconsistencies and how these things come down to us, the public. But nevertheless, I wish Danielle Outlaw great success in Philadelphia. It's a wonderful town. I hope she gets some cannolis from Isgrow and I hope she's able to deal with some of the problems in her department there, perhaps with help from above and help from her community in ways that we didn't get to see those results that we needed here in Portland.
Sarah: [07:41] And even though it's been three weeks since our last podcast, our update from the campaign trail will be short. The team has been hunkered down celebrating the winter holidays with their families, I hope, and we've been working really hard on our housing policy, which I'm going to talk with you about in a minute, but we are back hitting the ground running. So we just launched into the 2020 season in 2020 and house parties are in full swing. Again, for those of you who aren't deeply familiar with politics and the fundraising process, house parties are a way where people gather their friends together to talk about policies, to meet the candidate, and really to have a one-on-one opportunity to interrogate, get to know and really explore shared ideas for the future. We have dozens of house parties on the books coming up, but our team is pretty creative and we can always find room for more. If you think you would like to gather some of your friends together, maybe your family members, maybe your mom's group or your book club or your colleagues, let us know. sarah2020.com/volunteer. Because of public financing, we don't hold our house parties in wine caves. We actually hold them in basements and backyards and play rooms and kitchens and folks don't have to contribute any money at all if they don't want to. And there's no house party minimum where people have to think about writing a $2,500 or $5,000 check. Even $5 or $5 a month is more than adequate to get us through this race. So if that's something you think you'd be interested in exploring, reach out, let us know and we'll be happy to help make that happen.
Sarah: [09:27] Also, this week I made a point of stopping by the No War On Iran rally that was hosted by the Portland DSA, Portland Jobs for Justice, and other social advocacy groups interested in keeping Portland's legacy of anti war protest alive. It's so important as I consider becoming the mayor of a city with such a deep legacy for radical activism against war. The Halpern Landscape Conservancy on which I serve, and Keller Fountain. When you think about the role of these public spaces, you know, in the Vietnam War era, cities weren't investing in parks and green spaces in their urban centers. Urban centers were places where anti war protests in the civil rights movement made downtown urban areas, high conflict zones, and yet Portland invested in civic spaces. And we built things like Pioneer Courthouse Square, Keller Fountain, precisely for the purpose of having a, you know, this healthy civil society in this place where we could come together to hash out our shared ideas for the future.
Sarah: [10:37] And one of those that across our history has been unequivocal for Portlanders is being against this war machine, the military industrial complex. And even in my Rethinking Public Safety policy, thinking about how we can demilitarize even our local police so that we are not a part, as a municipality, with our tax dollars, a part of this war machine. It's important. I know a lot of Portlanders are very concerned. They're very worried. And all I can say to you is this, we have a lot of things coming our way that we don't know how we're going to deal with it. So much uncertainty on every front, whether it's climate chaos, inequality, the rise of white nationalism, these things are going to keep coming at us. And what we need to do is just maintain this operating principle that we are better together, that we come together in community, that we stand strong against oppression in any form, to protect the most vulnerable people. And in this case, we do not want our tax dollars as a society, as a nation are going to support this unjust war and the war crimes of this very unjust leader at the helm of our nation right now. So no war on Iran.
Sarah: [12:04] And before we get too deep into the Housing for All policy, which is going to be a bit in depth because I'm going to walk you through it point by point, I wanted to make sure that we didn't miss my favorite part of the podcast, which is the Tweet of the Week. KATU news reported another tragedy the day after Christmas. Someone cut down the lone tree on Mill Ends Park, the world's smallest park, which is located on a median on Naito Parkway. They reported that all that remains on the 452 square inch patch of dirt is a stump. Portland public defender, Christopher O'Connor, took this very seriously in what I'm calling our Tweet of the Week, calling out whoever cut down this tree with the following, "This tiny lumberjack son of a beech better leaf town," and the puns just rolled in from there. Thanks for making light of a very serious situation, Chris, the people of Portland really appreciate that from you. But hope Springs eternal here in Portland. By New Year's Eve, Portlanders had responded with their requisite DIY vigor according to Elise Herron of the Willamette Week, they erected a guerrilla Mill Ends Park 2, complete with a sword in stone. One person on Twitter commented, Mill Ends Park 2 is boring. So my neighbor Nicole Green suggested Mill Ends Park 2: Electric Boogaloo. I don't know, Portland, but even when things get me down, you always make me happy in the end. And in that spirit of creativity and can-do-it-ness, we're going to talk about Portland's housing crisis.
Sarah: [14:07] If you've been paying attention to this race from the beginning, one of the things you've probably noticed about us is the amount of work that we put into developing policy proposals for Portlanders. This is not accidental. This is baked into our campaign strategy in so far as we believe that the people of Portland need a viable alternative to the status quo, being upset that the current leadership isn't doing enough isn't what's going to get people motivated, isn't what's going to get people activated, isn't what's going to build a social movement for our sustainable future. So what we need to do is take these very abstract ideas, whether it's the green transition, which we've worked through in our Green New Deal for Portland, or rethinking of public safety, which you can also find on our website. One of the biggest issues of this race is Portland's housing crisis.
Sarah: [14:58] And so we have worked since we've been together on this campaign, on our strategy for dealing with Portland's housing state of emergency. We talked to dozens of experts from across sectors who are all working on this problem, asked them what's working from the city and what's not, what should we do be doing more of what should we be doing nothing of, and what do we really need to rethink in terms of how we approach this problem? Because in a city with such wealth, we must ensure every Portlander their fundamental right to a safe, accessible, secure home. And so we have called our housing plan for Portland Housing for All. In it I start off by talking about the fact that Portland has a housing problem. For too long we've allowed a market logic to outweigh public interest in promoting diversity, equity, and opportunity in our city.
Sarah: [16:01] I've said it pretty bluntly. We've had our head in the sand about what housing is affordable to whom, and this has left us with a shortage of the housing that people actually need. And this isn't just bad from a moral or a human rights perspective. The cost of taxpayers of laissez-faire neoliberalism are staggering. We are spending record amounts responding to homelessness and we haven't made a dent in the problem and what this suggests to me is that we're going to need to come together as a city to combat the gentrification, the exclusionary zoning, the segregation, the disinvestment, and the rampant speculation that harms Portlanders. Now it's not all bad. We are making some progress. In 2016 Portland voters organized ourselves. We knocked on doors, we showed up at the ballot box and we agreed to tax ourselves just shy of $260 million. And with that money, we were supposed to build or buy 1,300 units of deeply affordable housing, and that housing was supposed to be prioritized for seniors, veterans and people with disabilities.
Sarah: [17:11] Here's what I can tell you. Despite some gains, I don't see us making the progress that our leaders are promising us that they're making. Project timelines appear to be sluggish. Only a fraction of the promised units are actually move in ready and our most vulnerable people are still being left behind, according to a report from the Portland auditor. I attribute this to a lack of effective bureau oversight. I see our current mayor spending city resources trying to convince the public that we're doing a really good job when in actuality as a city, we are barely keeping up and we all know the in a crisis, whether it's climate change, inequality, housing shortages, barely keeping up is failing. We are treading water at a time when we should be learning to swim. So many Portlanders are rent burdened and insecure. Even a few hundred new units is virtually nothing. When we need thousands and thousands and thousands, over 23,000 at the very minimum new affordable units to come online in our city.
Sarah: [18:24] At our current rate of production, it would take us decades to catch up to the amount of housing that we need. So I'm calling BS on this Portland. The status quo is unsustainable and Portlanders deserve better. Now I know from my time in this city that better means a more collaborative, a more community based approach to problem solving. Here's the thing, the feds have left the building on us in so many ways and so yes, we must continue pushing for increased state and federal investments. I'm very optimistic that housing has moved to the fore in national and state elections in 2020. My disposition is to keep expectations low about what we're going to get from outside of Portland. And that really what we need to focus on as Portlanders is how we get creative and activate our communities so that we can ensure successful outcomes for our people here regardless of what's going on outside our city.
Sarah: [19:23] Now, most of you know that in 2015, Portland City Council passed a housing state of emergency that allowed us to waive zoning codes and convert city owned buildings into shelters while also expediting the building of new permanent supportive housing. Now this was supposed to make it easier for us to work closely with the county and with the state so that we can maybe get around state building codes. But what I'm hearing and what I'm witnessing is that people are being moved into permanent housing that they can't afford only to end up on the streets again. And so we need to think differently about how we're going to address this. We need, first of all, a shared burden model, which means that every neighborhood across the city is doing their fair share with regard to providing those community safety hubs that I outlined in my Rethinking Public Safety plan, making sure that we have emergency shelters in every neighborhood to protect people while they're experiencing homelessness.
Sarah: [20:19] We need to make sure that there are neighborhood based resources available for housing stabilization and we even need aftercare so that people who are exiting homelessness, exiting the shelter system, can actually succeed when they get into permanent housing. Now Portland's current shortage of housing that the average wage earner can afford is certainly more symptom than cause. So many Portlanders today are rent burdened. Families are struggling to pay for food, transportation, healthcare, and childcare on top of their rent or mortgage. One of the most important things that we can do is make sure that people don't tip into homelessness when they can't make ends meet. It's going to take us rethinking our priorities as a community to focus on making sure that Portland households have increased incomes, that we're reducing racial and economic segregation and that we're ending rampid speculation that offers no benefit to Portlanders.
Sarah: [21:23] And on a slightly different note, I want to point out that if we're going to solve our climate crisis, we must solve our housing crisis. It's been a half century since Portland created our regional government and implemented a smart growth strategy to mitigate sprawl, but our efforts to reduce greenhouse gas emissions have been stymied by rising housing costs and the suburbanization of poverty that is pushing low income Portlanders, not just to our city's fringe, but to the region's fringe. So we're actually losing low-income Portlanders because they can no longer afford to to stay in our city. And what does this mean? We need people living close in Portland. We need people living close in close to transit. We need to make it easier for people to live near where they work with access to affordable, reliable public transportation. And for that to happen, we need to make it legal for ample affordable housing to be built in and near our job and education centers and transit hubs.
Sarah: [22:30] We need a range of housing from one edge of this city to another. And ultimately what it's going to take for us to get there is more unity and less fear. There's a term I use a lot NIMBY, which says, not in my backyard, right? You can do this, you can help homeless people over there. You can build affordable housing over there. I think it's a really great idea, but not here. And if we don't start tackling that, if we don't start thinking about how certain groups of people with vested interest in the status quo are bound to object to a policy proposal, no matter how clearly we make the case that there's a common good or a public benefit associated with it, these folks, their opposition's going to derail, delay, and increase project costs exponentially while reinforcing systems of oppression. So I think it's going to be important for us to come together as a community to ensure we're building the housing we need by making sure that we're rethinking and refining our civic engagement processes by making sure that we're holding all of our community partners accountable to our primary goals of affordability, equity, and combating climate change.
Sarah: [23:47] And we really have to double down on making sure that we are building the housing that we need in every single neighborhood across the city for working families, for students, for renters, for people of color, for elders, for disabled people at risk of being displaced. I'm going to say it every day. I'm never going to stop banging this drum between now and May 19th, 2020 (which is election day), but we have everything we need to begin solving our most pressing problems today, but we have to harness our resources and organize our communities into a formidable force for change despite the scale of the challenges that we face. I think that we coming together can accomplish a lot very quickly and that with some bold leadership, with some pretty strong planning chops, we can create the change that Portland desperately needs.
Sarah: [24:38] So most people do five-point plans. I didn't. I did a six point plan and I'm not going to go through every point of the plan in depth, but I did want to give you a sense of the framework of how we are thinking about how we need to approach this. So the very first thing that we need to do is come up with a strategy. Now when I think about this, this seems like urban planning 101. Like, we have a housing state of emergency declared. So of course we have a strategic plan for dealing with it. Nope, we do not. I looked and I looked and I looked and I could not find a concerted strategic plan for ending Portland's housing state of emergency. This is simply unacceptable. It's basic. We need to understand how much housing we have, how much we need and at what range on the income spectrum, to meet the needs of Portlanders.
Sarah: [25:48] So what I've come up with to help us deal with this, I'm proposing a progressive task force for housing all Portlanders. It'll be a multi-stakeholder cross sector, cross bureau task force that we convene to look at just these things. And what we're going to do is inventory housing. We're going to evaluate existing and explore new revenue streams and we're going to come up with in this first year of my administration, a coordinated plan to close Portland's housing gap by 2025 through a combination of good governance, political courage, and fiscal clarity. Now there are three things that this task force is going to be responsible for. One, how we plan. So we just finished a huge comprehensive plan update at the city. We've got a world-class planning bureau. It surprises me that this slipped past them, but what we need to understand is that we have to come up with something in the short term. 2035 planning is great, but we need to think about something between now and 2025 that's going to help us get people so they're not sleeping on the concrete, on cardboard boxes or under blue tarps, but under roof. So we need to think about a community led strategic planning process that implements a lot of the community led thinking that's going to help us engage and empower the people on the front lines of this problem.
Sarah: [27:20] And then we need to look at governance. So we need to not just look at how we're going to think about this, but how we're going to partner to work on this. And I know there are a lot of people all over the city who are doing 100% and then some on this problem, but what we need is better communication and coordination among the city bureaus, the private sector, especially as feeling really left out of the conversation and our community based partners, which had been slogging it out all along. And we need to really focus on the agencies that present prevent displacement and make sure that we're connecting our residents to affordable and supportive housing through the strategy.
Sarah: [27:59] And finally, the third task that this group will be charged with is looking at revenue. Now Portland is one of the wealthiest cities in the nation. I think last year we were the 10th richest city, right? So what does it mean for us to say we don't have enough money for housing everybody? What it says to me is that we're actually not looking in the right places for the money. There is plenty of money out there, but we're not tapping into it. There's already a significant amount of money on the table flowing into our city from various pipelines. But the monies that we're already getting aren't Being strategically coordinated and they're not being leveraged for better outcomes.
Sarah: [28:52] So the second main point in my housing for all plan is a focus on renters' rights. Now, renters' rights are both consumer protections and our last line of defense against homelessness. Just under half of Portland households are actually rental households. And as our economy expands, people at the lowest end of the economic spectrum are facing rising rents. But guess what? Their wages are not going up. And so those are the folks who are being pushed out to east county and then their commute times get longer and we don't meet our climate action goals and people who aren't making rent end up homeless. So what are the most important things that we can do to prevent and avoid homelessness in the first place is make sure that our renters are secure and protected.
Sarah: [29:44] Now, we have made a couple of good things happen. You know, mayor Ted Wheeler ran on a renter bill of rights, something that I said in the last campaign, I felt he largely co-opted from progressives, and a lot of my charges that he's co-opted, progressivism have been born out. So I don't need to sit here and throw out receipts, but some good things have come out of that and one of them is the Portland Housing Bureau's Rental Service Office and also the Rental Services Commission. But those aren't funded to the extent that they need to be and they're nowhere near as robust as they need to be. So we need to make sure that we're doing as much as we can to protect our renters. I want to make sure that tenant bill of rights is adhered to, that it's thoroughly funded, that it's longitudinally protected. We need to make sure that the rental registration platform that the city is looking at is open, effective, accountable and funded.
Sarah: [30:39] We need to think about tenants rights to organize and making sure that project by project, building by building, or landlord by landlord, people who are renting can organize to protect themselves and actually negotiate better terms for themselves. We just saw that happen out at Milepost Five thanks to Portland Tenants United who organized a community there who pushed back and actually had their demands met. So big shout out to PTU on that. So we need to think about evictions. Evictions are very costly. They fuel other expensive problems tipping people into homelessness, keeping kids from school, exacerbating poverty for people, and so we need to actively track and reduce the number of evictions that are happening, even in our public and subsidized housing which is going on at rates that I don't think people are aware of. The mandatory renter relocation assistance policy affected, affectionately known as RELO, that was led by Commissioner Eudaly and tenants' rights advocacy groups was a good start, but we can do more. I also think it's important that we provide low income people the right to counsel in housing disputes.
Sarah: [31:46] And finally we need to create a rental subsidy reserve fund, which will help folks who are struggling to make their rent have access to help and keeping this rent subsidy within reach for eligible families without long wait list is going to help us save money in the longterm because keeping people housed is much, much, much, much, much, much, much cheaper than dealing with people once they're homeless. And the health impacts, and the psychological impacts, and the financial impacts that accrue with each passing day that people are outside of a home. So yes, a huge focus on renters.
Sarah: [32:26] The next plank, if you will, and my housing policy has to do with age friendly cities. Now this is a term that gets batted around a lot. Oregon is age friendly state, ostensibly, from the world health organization. But what does it really mean to be an age friendly city? What does it mean to be an inclusive city? And from my perspective, when I looked around at who was struggling most in our housing market, that was students, it's seniors, it's people with disabilities. It's multigenerational households and these households that don't fit the standard definition for whatever reason. I mean when you just look at the data, we estimated that there are 3,000 homeless students in Portland alone and that's just in high school and college. Every year, 9,000 people in Multnomah County are reaching retirement age and half of those have no savings. Two out of three people experiencing homelessness have a disabling condition. Just in that list that I just read you, demand is clearly outstripping supply when it comes to subsidized housing for these vulnerable populations.
Sarah: [33:33] So what are we going to do to work and to ensure that we're making housing for these folks possible? We proposed a few really interesting things. A senior home-share program, which can help us match older home providers with people who need a place to live, giving priority to local students. Think about that. The cross-generational interaction alone will be such value to our community, but also the housing security, the mutual interdependence, the helping sense that we need to perpetuate as we're working on some of these issues is exactly what we're talking about here. We need to preserve naturally occurring retirement communities. Some of these places, the population is aging, and so what does it mean for us to keep people in placed with the people that they've aged alongside. Maybe they need more senior services there or maybe there's an existing senior center where we can be building more affordable housing dedicated to seniors or intergenerational living.
Sarah: [34:30] Wherever these opportunities exist, we need to seize them and capitalize on them. We need to think about making sure that we're having a greater sense of coordination for our folks with disabilities so that they are getting their housing needs met. A big one is the re-legalization of single room occupancy units, which, you know, once upon a time downtown Portland had a lot of these. In the 70's and over time, capital investment, urban revitalization, has displaced these. The Joyce Hotel is a good example of where they had become rundown, and people who are investing in tonier neighborhoods like the Pearl District weren't too happy about having an SRO nearby. But there's a whole new generation of SROs coming online. Kevin Cavenaugh, what he's doing on Gladstone Street, with regard to smaller dormitory scale units alongside regular market rate units on top of mixed use, is a really great example of the kind of new and innovative ways we can think about bringing SROs into neighborhoods across the city.
Sarah: [35:36] And ultimately it's going to be really important for us to rethink what even is a household who constitutes a household, who gets to live together. Because right now the rules that we have on the books make it hard for people to cohabitate and we need to make it easier for people to cohabitate. So that's something that we've got in there.
Sarah: [35:54] So the fourth plank in my housing plan is that we need to fill our missing middle housing gap. Some of my listeners may be intimately familiar with this concept, but what it means is that a lot of the housing units in our city are single family homes. Over half of them in Portland, that's about 155,000 houses are single family houses in Portland. The next most common housing size, a little over 50,000 are big complexes that have 20 units or more. And so that means we either have single family houses or apartment complexes. The smallest portion that we have are what we're calling the missing middle. Exactly. Because they're missing, right? We don't have enough of them. And what I understand through my research in this is that the more we can have two, three, four housing units on a lot as opposed to a single family home, we can build density in neighborhoods. We can then more equitably distribute the land, the resources and the services that we need across our population. Low population density increases the costs of providing public safety, of transit, of schools, and it makes it hard for us to meet our climate action goals. So what we need to think about is the fact that a significant amount of Portland is currently zoned to make it illegal to build duplexes, triplexes, fourplexes townhouses, courtyard apartments, ADUs, single story units, multi-generational housing all across the city. And we need to make that legal. If you've been to really great cities, they're not comprised of single family standalone homes. No one goes to Paris to walk through single family neighborhoods. They're walking through streets that have two and three and four story buildings that have a range of household scales and sizes. Even inside there you would hardly knew. There's an event coming up that I want you to put on your calendar. If this is something that interests you. The city council will be hearing about the residential infill project on January 15th at 2:00 PM and the folks who are working on that are organizing to make sure that this type of housing is legal and I've been working alongside these people. I'm trying to make sure that this can happen and so we're going to need your support. But even after I'm in office, if this is legalized we're going to have to go further, making sure that the people who are building these are supported, especially if they're low income homeowners.
Sarah: [38:28] And then we want to make sure that the things that we do build maintain permanently affordable for renters and we want to make sure that the design, feasibility, all of these things are baked in so it makes it cheaper, easier, faster for people to build this kind of fair housing in their neighborhoods. On the same tip. The fifth point in my plan is about inclusivity. For us to be an inclusive, sustainable city, we need to think about anti-displacement on the front end. We need to think about anti-racism, anti speculation and climate action ahead of profits in our land use decision making from now on. For too long our overwhelmingly single family neighborhoods have inhibited, in my estimation, our city's vibrancy and climate action goals. It's clear to me that if we're going to thrive and prosper, we need to promote socioeconomic diversity in every neighborhood of our city, even as we work to maintain the unique characteristics that keep the various neighborhoods appealing, special, and healthy.
Sarah: [39:30] So what do we need to do? Anti-displacement needs to be a priority. We need to put it at the top of our policy agenda. We think too often about this at the end of our policy processes as opposed to at the beginning of them, we need to think more carefully about anti-displacement and we need to make it a policy priority rather than an afterthought. While we're making good progress re-legalizing a range of affordable housing options, a lot of the best anti-displacement aspects of these policies, which was of course driven by frontline community organizations, was considered too late in the process. We shouldn't be amending our urban policies to avoid displacement. It should be baked in at the top of the agenda from the beginning in all public policy discussions and infrastructure investments, and a lot of how we're going to do this will be handled by that task force, because thinking about anti-displacement is going to be a priority for them. We need to get real with the fact that exclusionary zoning is racist. I'm just going to say it one more time and put a period after it because it's true. Exclusionary zoning is racist and there are a lot of neighborhoods in this city who are going to be angry with me for saying that, but I'm not going to back down on this. We have built our city in ways that make it nearly impossible for low income and people of color to make progress residing in those places. And if we as Portlanders are committed to inclusivity and sustainability, then we need to organize, educate and direct our resources to dismantling systems of oppression. We can not allow the status quo to continue. And so what that means is that when people come to me with things that maybe aren't explicitly exclusionary, but that somehow end up discriminating or excluding anyway, I'm going to oppose those and I'm gonna tell the city bureaus to oppose those. And I'm actually going to bring the legal power of the city to bear in opposing exclusionary zoning, full stop. It's not going to be negotiable.
Sarah: [41:38] When you think about how we're going to redevelop a lot of things that are going on in the city, we need to make sure that the community is leading. So I've come up with some really great ideas along the lines of Minneapolis green zones programs. So how we can take some of the tools that we learned how to use with tax increment financing and urban renewal areas and places where they're not needed and reapply them in some places where they might be more needed and one big place where they are desperately needed is along our orphan highways. So 82nd Avenue comes to mind because I live adjacent to it. But what does it mean that if we improve 82nd Avenue and put more housing there and more walkable amenities and even more trees, can we make sure that the people who already live there are displaced?
Sarah: [42:18] Can we make sure that the new housing that's built there is affordable? This is why we need community led development as opposed to profit led development in these corridors. I think community land trusts are going to be a big part of this. I think we need to keep exploring and implementing right of first refusal policies and right to return policies to see if they're working. Can they be more robust, do we need to revise or amend them? And then I think we need to think about the opportunity zones. You know, if there's a Ritz Carlton hotel being built where those are supposed to be tax breaks that are going to stimulate low income neighborhoods. Meanwhile, 30 small businesses are being displaced. Portland's mayor is not doing right by picking up a big golden shovel and celebrating that. We need to fight back against inequitable policies of every kind out of Washington, and this is one of them. And ultimately — this is going to be popular with a lot of my listeners — we need a moratorium on development of self storage facilities along our corridors in town centers. No brainer.
Sarah: [43:18] And finally, this one goes out to the PDX shoepistas, but good parking policy is good housing policy is good climate policy. Parking is expensive. Do you want to build homes for humans or for cars? It's pretty basic. But yeah, if you look deep into my policy you can find out more about that. There's also a lot of good information online.
Sarah: [43:38] And finally, the last point in my housing plan — and I apologize for going through this quickly, you can find out more at sarah2020.com/housing and the plan is there ing all of its glory — is that we need to really tap in to Portland's innovative spirit. So we have a world-class green building, city building, planning and urban design industry here. It's a sector, it's part of our export strategy. And we are rich with talent. We're rich with innovation, we're rich with technology. And so through better cross bureau and cross sector partnerships, we need to more rapidly deploy appropriate technologies, innovative design, emerging land use models that can help us lower the cost of construction and build new housing and climate smart communities faster. All while we're meeting the needs of our city's changing demographics. So what I've suggested we do is create urban development innovation groups, which I'm calling UDIGs, that we can focus on project orientation to bring the various actors together in teams to make things things possible. A lot of times people complain about the silos of mediocrity across Portland city bureaus. And what I want to do is find out what do we need to accomplish and who do we need to bring together to accomplish those things.
Sarah: [45:00] So some of the things that I've included in here are rethinking the city code, inventorying available buildable land, making sure that we're not sacrificing tree canopy even as we build affordable housing, reducing the costs of red tape in our development, looking at modular housing, all of the innovative cutting edge things that we can use to transform sites in our urban core, close to active transportation infrastructure and high capacity transit. Things that will help us meet the immediate need for temporary housing, especially for survivors of domestic violence who are trapped, especially, in abusive relationships because they don't have enough money to make rent elsewhere. LGBTQ youth and other highly vulnerable community members, emergency shelters like Right 2 Dream Too, safe parking plans for people who are sleeping in their cars and RVs, and even transitional housing like self-governed tiny house villages. We need to not leave any good idea off the table.
Sarah: [46:06] I could go on all day. Housing's a big problem. It's complex, but we've brought a lot of bright people together to think about this. I'm looking forward to this getting even better with your feedback and input and so we encourage you to weigh in. We'll commit the next podcast to making sure that we engage with your questions. You can mail them to [email protected] or post them to social media using the hashtag #OurPortland. And since this is an audio medium, if you can send those as a voice memo, it will be great. You'll get your voice on the podcast. Thanks so much for listening and thanks so much for supporting me for mayor in 2020.
Announcer: [46:44] Thanks for listening to Our Portland. If you appreciate a campaign with straight talk on issues that matter, consider signing up to be a monthly supporter of $5, $10, or even $35 between now and election day in May, 2020. Find out more at sarah2020.com. And join Sarah next week for a community conversation with local faith leaders about how government can engage faith groups in creative partnerships for problem solving the challenges we face. That's Monday evening, January 13th from 6:30-8:30 at Portland Central Nazarene Church located just off I-205 on Southeast pal. RSVP at Sarah 20 twenty.com/january 13 ASL interpretation and childcare will be provided. This has been a production of friends of Sarah for Portland.