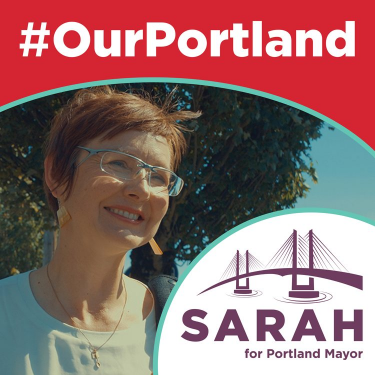 A Compassionate Response to Homelessness w/ Elliott Young
About this Episode
May 18, 2020
Sarah joined professor Elliott Young / @elliottyoungpdx on Twitter to discuss the value of listening to people experiencing homelessness when developing a compassionate response to our ongoing housing crisis.
Find your nearest ballot drop box at sarah2020.com/dropboxes.
Here's how you can help get Sarah elected Portland's next mayor on May 19th:
Have a question for Sarah? Email it to [email protected].
Transcript
This transcript was generated automatically and has not been reviewed for accuracy by our transcription team yet. Please email

[email protected]

if you would like to help!
Speaker 1
Welcome to our Portland with Sarah [inaudible] made possible by contributors to friends of Sarah for Portland. Portlanders have everything we need to make radical progress today on emergencies like climate chaos, housing affordability, and staggering inequality. Each episode we'll hear how Sarah plans to be the mayor to lead the city of Portland to a more equitable and sustainable future. And now here's Sarah.
Speaker 2
Hi, Portland. Sarah Anna. Ruined for Portland mayor here. My pronouns are she, her, hers today. An interesting conversation with Elliott young professor at Lewis and Clark. He and I have been working together on issues around compassionate policy for people experiencing homelessness in Portland, some criminal justice and police reforms. He serves on [inaudible], which is a community oversight body of the Portland police Bureau. And we kind of dived into that area of focus in my policy framework. You can find out more about [email protected] slash public safety. Remember, election day is right around the corner. You can't submit your ballot after Tuesday. Uh, May 19th, 2020 at 8:00 PM. It's already too late to mail it. So whatever you do, go to the mountain. Noma County elections website. Look for the drop box closest to you and take a nice stroll or bike ride to drop it off. But whatever you do, make sure you vote. This is an important election and a great opportunity to get a progressive elected mayor Portland one that you don't want to miss. Enjoy our conversation.
Speaker 3
Welcome everyone out there on Twitter and Facebook to a live stream broadcast. Um, of me, Elliot young with Sarah on her own, who as all of you know is running for mayor of Portland and is definitely my pick, um, for the best person to fill that role. So thank you Sarah for um, taking the time to speak with me and whoever else is out there on the interwebs. Thanks for being here with me this afternoon. It's nice to see your face. I miss everyone and miss connecting with you in real life and the world. Yes, one day that will happen again. We will be able to do, sit in meetings together or hopefully barbecue. Um, so, uh, many of you know that Sarah and I were involved in a campaign a couple of years ago called the compassionate response to homelessness in Portland. And as part of that effort, Sarah and I and a wide range of community leaders, Joanne Hardesty, Teressa Rayford, uh, the eighth people from the ACLU, um, came, uh, came up with a platform and a petition that was delivered to city council and to the mayor. Uh, and one of the things I appreciated about working with Sarah is her ability to work across, um, across a wide range of, of people, um, in the of the political spectrum and to keep her eyes sort of on the prize of the goal for a compassionate response to home homelessness. Um, so Sarah had it, how did you, um, do you feel like we had any success with that campaign?
Speaker 2
Looking at the street response now? Um, I feel like that was the precursor to what we're looking at in terms of rethinking a more compassionate response on the policing side. I think there's still work to be done though with regard to the urgency, uh, the intensity. And just the diversity of tactics that we're doing for compassionate responses to homelessness, it really becomes a parent. Especially I know that you and I, we're working closely with people experiencing homelessness even on that or people who had recently been homeless and transitioned out of it and listening to their voices as you're shaping the policy seems so fundamental. When we were engaged at that level, letting them lead on what was going to work for them, it just seems so common sense. And so part of what I don't get is the disconnect inside city hall right now in terms of why is there such a disconnect between policy solutions that apply directly and meaningfully in the lives of people who are experiencing a certain situation in our city. I, I don't know that we've been able to bridge that effectively.
Speaker 3
Yeah. And I too feel like a lot of the things we were, or some of the things we were proposing, like an unarmed, um, response to people in crisis are things that the city council has tentatively made headway with. But as we know now that's sort of on hiatus. So, um, it's been kind of frustrating to see how slow, even though there's a good idea there, how slow it is to even roll it out with a two person pilot project. Um, and the crisis as we know is, is ongoing. It's urgent, it kind of needs to be responded to today. It's not something that we could think about for the next 10 years and then get, get on to dealing with. So, which brings me to the question about what as mayor you would do, um, to, uh, on the question of sweeps and on the question of homeless camps which have been erected all over the city.
Speaker 2
Yeah. And this is a great example. I think if you had someone with my mindset, those emergency dollars were coming in. You and I were lamenting this slightly on Twitter. The fact that street response is after completely atrophied right now and I don't even know if it's going to be going forward in the current context. It seems to me like they've paused street response for the coven crisis when I think it's the exact response we need to things like the situation in old town Chinatown right now where we're seeing intense need, um, intense deprivation. I've been volunteering down at Glen Shea house and even my brief forays into an out of old town. It really is a de facto refugee camp for people who have no other place to go in the COBIT crisis. And so why are we not spending even emergency monies to build out these things at this time?
Speaker 2
Right? And so that's just one example of how in the very short term we should be addressing this. Another thing, I sometimes get flack for saying that I want a moratorium on sweeps, but we see when the CDC weighs in at the onset of the covert crisis that we need to stop sweeps of people experiencing homelessness. As a public health measure, you and I have been talking with people who have told us all along there's a public health impact to this policing policy. This is not keeping people safe. And so my answer to that is not that I'm pro people camping outside. It's not that I'm pro, um, criminal activity. What I'm against is human rights abuses and wasting public dollars on things that do nothing. My campaign director and I would watch day after day and the central East side, people being slept from one end of our block to the other end of the R block to the other end of our block and the text dollars going behind that that saw absolutely nothing.
Speaker 2
So when I talk about a moratorium on sweets, what I'm saying is this is in line with all of our policies that are about anti-displacement. We're not going to be displacing people when they're in a camp. If they have nowhere to go, we're not going to be displacing people from rental housing if they have no other option. And in fact right now with the mortgage, a moratorium and eviction moratorium, we're going to have to say, Hey, if you're defaulting on your loans, we're not going to support these foreclosures either. Because in the middle of a housing crisis, we cannot be having more people tipped out. Of some certain stability and to instability. It's insanity. And so what I really proposed is again, following the guidelines and recommendations of people experiencing homelessness in terms of a more robust support of the village model for emergency shelter and transitional housing.
Speaker 2
You know, we see the fights that we have to engage in, in neighborhoods around these multimillion dollar shelters where I see a lot more capacity potentially partner with churches and nonprofits and other places around the city who could be hosting those and we could be subsidizing them as opposed to making that expensive. Um, and then working a lot in the community safety have model because as we're going to watch the financial hardships coming our way due to coven, they're going to be both housed and housed. People housed in unhoused Portlanders who need intense supports to make it through this crisis. This is not going away in the short term. And so everything from food, childcare, think about our workers who can't return because schools are closed and community centers are closed and there's no childcare, um, healthcare, mental health, wellness, the things that people we've been watching and allowing our unhoused population to go through alone, those factors that are making life harder for them are now going to start affecting house Portlanders as well, which may start to shape our response I think as Portlanders.
Speaker 3
So you mentioned sort of subsidizing some of these efforts, which brings us to the question that any mayor has to face about, um, how you finance all of these, um, how, how you set a budget and project priorities and how you finance these efforts. So how have you thought about, um, uh, funding for efforts to address precisely the problems you're talking about?
Speaker 2
Well, this really gets us into that vaccine. Portland police Bureau budget, doesn't it? I honestly, I mean, not that we don't need to be looking at progressive revenue, right? Not that we don't need to be taxing the richest people among us. Not that, not that trillionaires as a moral imperative should not even get to exist on this planet. But when we even look at how we're using our existing finances, um, the police budget, there's like at least $15 in there, this budget cycle that care, not cops identified as straight up wasteful SROP students, people working in schools have said, we want our students feeling safe, whether they're inside or outside PPS buildings. So what is the point of SROs? We want all Portland police keeping our youth safe in the streets. Um, the gun violence reduction taskforce, which we know is racially profiling people in Portland in terms of keeping people safe, um, thinking about even the millions of dollars in police overtime that go into protests, right?
Speaker 2
Protests which have, in my experience, and I think in many Portlanders experience may Portland a more welcome place for white nationalism and the rise of the outright as opposed to making it a less welcoming place because they turn their backs on the anti-fascist protesters and make the people like the proud boys and Patriot para feel quite comfortable in Portland. And I actually don't want to spend money on that either. So I'd really like to reallocate that money to things that keep Portlanders more generally safe. Right down to traffic. When you think about it, when we are talking about the fact that 51 people died important streets last year in traffic violence, there's a lot that we need to be doing in terms of safety infrastructure because I'm walking while black, shouldn't it be a death sentence and crossing a street in East Portland shouldn't be a death sentence either. Like we need to put our money where our values and our policy are saying that we already are.
Speaker 3
So how, how are you going to do that in terms of reallocating these resources? I guess the union contract is being negotiated right now with the police. Um, whoever comes in as mayor will come in with that contract already in place. Um, what abilities do would you have as mayor and commissioner of police to reign in police spending and reallocate those resources?
Speaker 2
I think the police overtime is a very good example, right? I mean we look at the millions of dollars that have gone into that. I saw an astounding number. I think it was 2018 or 2019 where we had 250,000 hours of police overtime. It's bananas and that is something we need to work around. Um, we need to think carefully about our budgets. I think the budget is one place where we work around that police union contract in terms of, Oh, funding for anti-biased training, funding for deescalation training, funding versus funding for combat, bettering or funding for purchasing of militarized policing equipment. I think another one is this protest and sending out these, these police are just out there standing around at protests making overtime for what, what we know from experience is oftentimes when the police shows up is when it escalates. So why don't you just stay back where you are. We don't have to have this SWAT team response to these protests. And in fact also allowing that is turning our city into an ideological battlefield, which is exactly what the outright lawns and I'm more convivial, um, more educated society where we are actually working in spending our public dollars on keeping the people who think fascism is bad, safe, um, should not be radical public policy in 2020 in my estimation.
Speaker 3
So we have a question out there from this mass. Um, will you continue to keep Portland weird?
Speaker 2
Look at me. I can guarantee
Speaker 3
that Portland will be much weirder with uh, Sarah as mayor.
Speaker 2
Yes. Lord says yes, very weird. Let's actually unpack that and not mock it Elliot, because I've been talking with a lot of artists and creatives lately and when you talk about the key Portland weird marketing that really is about indie business, it's about makers and creatives. It's about can they afford to live here? You can't be weird if you're on a three gig hustle and you're still struggling to make rent. How are you going to make art? How are you going to do your stickers? How are you going to organize your leisure bike or start a club or start up a business or make your Etsy shop with your, you know, Vesper, scooter club patches or whatever it is that keeps Portland weird or your food market or whatever. If you can't afford to live here without having to work three jobs and with time on your hands, your children are being watched or you know, you've got community support. How can anybody be weird? Weird is a luxury, right?
Speaker 3
Yeah. And one thing I've been surprised about is Portland. Like you go around and talk to your friends and neighbors and Portland is an incredibly progressive place. But then when you get to city council and you see the policies that are coming out of our local government, it's like a different city. It's not reflecting the progressive values of the city. So it seems like a change needs to be made so that the weirdness, the progressive values of the people that live in this city are represented in city hall. And so I think that's what hopefully you will do. One thing about the, um, overtime that you mentioned, um, is the auditor's report noted that at the same time as the Portland police constantly is saying they need more, um, more officers. The Portland police are renting out cops to private corporations like Apple to work in those, um, in, in private stores doing policing and their full uniform, um, in Portland police uniforms. So they're taking police off of their, their jobs and that's creating the situation where they need to have overtime for, um, for other police. So there are lots of ways in which, um, you know, having mercenary police in, in Portland is a problem, but it's also creating X taxpayer expense at the other end.
Speaker 2
Yeah, we've, I've talked about that in my rethinking public safety plan and anybody who's interested in these criminal justice reform should really go check it out. It's as Sarah 20, twenty.com. Public safety. I was just on a call with Mike Schmidt last night who was running for district attorney two on a progressive platform will be really nice to have someone in charge on the policing side. Um, who's a progressive and if he gets elected someone on, um, the legal side in terms of making sure that the policies between that, uh, district attorney's office in the city of Portland police at least in a policy, uh, respect are aligned. That will be a great leap forward for Portlanders. I believe ending that secondary employment is really important too. There's just so many ways where the police union has dragged the people of Portland along through their contract negotiations like no other public employees union does in large part setting city policy through their union contract. Those are worker agreements, right? If you want to talk about in your union contract, that discipline guide and how we dismiss racist police officers or police officers who are engaged in, you know, uh, lethal use of force, excessive use of force and things like that. We can talk about that cause that's about the police per se. But setting city policy through the police union contract, it really irks me. No other, um, employees on our payroll actually get to have that amount of sway over how things are done in our city.
Speaker 3
Right. So there's a question from James off saying hi James. Um, what are the main things piece that is recommending for the next police commissioner for those of you don't know? PISA is the, I don't even know what the hell that acronym is. Poor Portland community engaged. We thing it's this group that was set up as a result of the DOJ settlement, um, because the previous group fell apart. Um, and so this group is supposed to be a liaison between the community and the Portland police and the city, um, to address questions of disproportionate policing to address the targeting of, um, people with mental illness to address, um, lots of issues that have come up with, with police, unconstitutional policing in the city. Um, so what are the main things, piece that as a board has not recommended anything from the next police commissioner? Um, so I don't, I wouldn't want to speak for the entire, um, piece of board.
Speaker 3
But one thing that we are going to be digging into in our next board meeting coming up at the end of the month is the data that the Portland police Bureau publishes on the forest. And then in the next month at, at stops data, what happens when the police, either traffic police or non traffic police stop people and what the data shows the Portland police Bureau, our data shows is incredibly disproportionate policing of communities of color, of the house, lists of the mentally ill. This is their own data, um, compared to the presence of those groups in general population. So what would, what would you do as mayor to, um, to address what is a longstanding problem of disproportionate policing of these marginalized groups?
Speaker 2
I think you nailed it when you talked about using the data, right? We have to be able to align, um, our values, our goals, why the real information about what's happening and then make sure that the budget matches that. Um, we need to make sure that we're decriminalizing, um, victim victimless crimes. We need to make sure that punishments obviously meet the crimes. We need to make sure that we, for things like the 2017, about half of the people who were, um, arrested by city of Portland police were, uh, identified as experiencing homelessness, um, at that moment. So the criminalization of poverty is something that we have to look at very closely. And I think another thing we need to talk about that we don't really talk about too much in Portland is who actually is experiencing violent crime in our city, right? And solve for the acts and put the resources behind the X that we're trying to solve for.
Speaker 2
I talked about this on the transportation for a lot. We say we're trying to reduce greenhouse gas emissions and we're say we're trying to reduce traffic deaths, but then when you look at where we're putting the money, it doesn't go to reduce traffic deaths and it's not really going to reduce greenhouse gas emissions and it's going to maintain some status quo that has a certain set of interests and have demanded that that be maintained. Um, on the policing side too, when we talk about, I see a lot of people who are experiencing homelessness actually being the victims of crime. And we put a lot of, we love people together in terms of people who are homeless, commit crime. Well, people who are committing crimes are committing them against people experiencing homelessness. We know that women and LGBTQ youth who are experiencing homelessness are the victims of sexual assaults, sometimes daily, sometimes multiple times daily.
Speaker 2
Right? This is not something that you hear us talking about in our city when we have to talk about solving crime, right? What about uh, intimate partner violence and domestic violence? We know that women in Multnomah County are suffering beneath the siege of violence. That's real violent behavior, violent crime. And it's not something that gets talked about in municipal policing at all. Right? So are we even aligning? Is this a, is this a house of cards? In many ways, what we're basing our police expenditures on perceived threat versus the real threat. And can we align the data there? It's something that we're going to have to talk about as a community. And this is one place where it may seem unrelated, but the good government reforms that I have proposed that include me being in an honest election where I'm not taking huge contributions from special interest groups. Uh, me running a publicly financed campaign where I'm representing probably the biggest contingent of donors in a city election in Portland history. Um, me talking about things like participatory budgeting and transparency and accountability and data and coordinated data are all going to be the basis of our reforms, not just on policing but housing. Um, you know, green jobs. How we're going to make progress is by really making sure that our government is working efficiently, effectively and being representative to the people and not the special interests.
Speaker 3
So you mean that because I gave you $50 in the campaign. If a homeless person is outside my front door, I can't just call you up and get you to enact an ordinance to move them along.
Speaker 2
Well, I'm actually hoping that because you gave me that $50, you're show up when I need you, when we're actually trying to put a moratorium on sweeps permanently and then helped me get some information to your neighborhood association so we can have everybody buying into how volunteer for one where you live. I mean, that's what I'm hoping we can build through that. And I see that feedback. Um, just through this campaign of people I never gave to a candidate before or I don't usually vote and now I'm excited to vote for you or I haven't volunteered on a political campaign before, but I'm volunteering on this one. Portlanders getting engaged in shaping their future in a meaningful way. People have felt disconnected from that for so long. You and I are engaged and we have power and privilege and education and institutional supports that make it easy for us to engage. But there's tens of thousands of Portlanders who don't have that same capacity. And so making sure that engaging in the process from the elections to policymaking to decision making about budgets to innovation in terms of what do we need to just get rid of altogether just because there's too much urgency with the crises we face to maintain broken systems. It's a waste. It's a tax on the people and it's going to destroy us for the future. I mean we're, we're fighting for our children's lives here.
Speaker 3
Yeah. So I want to turn to, um, one of the things that um, Ted Wheeler did, which was to Pat the past while the city council really did, was pass a sanctuary resolution in the city that supposedly protects immigrants. And as we know, the protections are very limited because once someone is arrested, ends up in jail, their fingerprints and all their information goes to ice. What do you propose doing as mayor to help strengthen our sanctuary city and protect immigrants?
Speaker 2
You know, our incumbent loves to do a good chest pump with regard to progressive policy. I mean, we saw it when he did a photo op in pioneer courthouse square, bringing a bunch of people behind him. On a Friday and say, Hey is not welcome here. And then that Saturday when the white nationalist comes into town, it's actually people like me and you know other community organizers who are there saying, I know he said you can't come but we're actually going to make it so you can't come. You have to put your power behind your words. And I haven't really seen consistency in that. And it's also about assuming risk and being risk averse. Like commissioner you daily took a very bold Punit position when she talked about revoking the ice permit for their building down in South waterfront. Well, we've got an incumbent who's willing to get sued for police brutality when an antifascist protests or gets a flash bang grenade to the head, but won't risk getting sued for getting ice out of town like I, which one would you rather get sued for?
Speaker 2
If you're saying you're a sanctuary city, right. I would rather have the antifascist on my side telling the proud boys to take a hike, telling the Patriot for her to take a hike and telling ice to take a hike while they're at it because they're all the same. It's a plague on our society, the rise of authoritarian nationalism. And we actually as Portlanders need to come together and put our resources behind eradicating it and modeling that for if not other us cities, cities around the world. Cause this is a global academic epidemic. It's not just happening in the U S so I think getting us, making sure no cooperation with the joint terrorism task force, which I think our incumbent has equivocated on. Um, making sure that we're not partnering through our procurement or our city dollars in institutions or organizations or companies that commit human rights abuses.
Speaker 2
Um, and just really making sure that the public is educated. I did that tamp out hate protest on August 7th because I had sat down with my team with it, with people who were scholars, who were practitioners, who were legal advocates, who were community activists to find out why are these people coming to Portland, why do they want to harass and abuse Portlanders and really toxic masculinity was at the base of it. So we said, Hey, we'll hand out some free tampons and see if we can get people help that way. Well, this has been great and if folks have any more questions or concerns, they can email [email protected]ytwenty.com public safety and make sure you vote. Election day is Tuesday, May 19th. It's too late to mail your ballot. Uh, so drop it off at one of the official drop boxes that you can find around town. You can find the list of where those are at the Multnomah County elections website. And thanks for tuning in. Bye bye everybody. This has been a production of friends of Sarah for Portland.