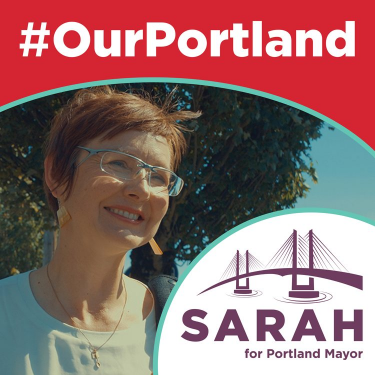 Pushing for a Green New Deal w/ Suzie Kassouf
About this Episode
May 17, 2020
Sarah joined educator and climate activist Suzie Kassouf / @rememberingforgetting on Instagram Live to discuss pushing for a Green New Deal in Portland.
Find your nearest ballot drop box at sarah2020.com/dropboxes.
Here's how you can help get Sarah elected Portland's next mayor on May 19th:
Have a question for Sarah? Email it to [email protected].
Transcript
This transcript was generated automatically and has not been reviewed for accuracy by our transcription team yet. Please email

[email protected]

if you would like to help!
Speaker 1
Welcome to our Portland with Sarah Ayana. Roan made possible by contributors to friends of Sarah for Portland. Portlanders have everything we need to make radical progress today on emergencies like climate chaos, housing affordability, and staggering inequality. Each episode we'll hear how Sarah plans to be the mayor to lead the city of Portland to a more equitable and sustainable future and now here's Sarah.
Speaker 2
Hi Portland. Sarah [inaudible] here. My pronouns are she, her, hers, and I'm running for Portland mayor. Election day, May 19th whatever you do, vote it is too late to mail your ballot. You have to drop it off at one of the drop box sites, official mountain, Noma County Dropbox site, so please do not hesitate to check those out. You can find a list of [email protected] slash drop box that said, we're still having it. Great conversations leading up to the election cycle. This one was Susie Kassouf. She's an educator. She's an activist. She's an all around wonderful human being. She's a member of sunrise PDX. She's been working on the managed decline of the fossil fuel infrastructure here in our city along with a myriad other environmental issues. We met a long time ago when we were working on things in the streets together. So this is a great Saturday morning chat. We had over our coffee thinking about what's working, what's not in Portland, some of the history of our environmentalism and maybe how we've been resting on our laurels for a little while and just some tidbits of tactical optimism there to brighten up your day. I hope you enjoy our conversation.
Speaker 2
Hi. Hi. Good morning. How are you? Oh, I'm good. It's nice to see you. Nice to see you too. I apologize if I'm slightly crooked. I moved so I'm not too cricket here. Please. Sometimes my, uh, can I have the camera? We've made it look professional on the outside, but we've got a shop lamp clip to the vacuum cleaner over here. We've got our old Ikea lamp on top of the milk crate on this side and this is a binder clip with an old like camera tripod wrapped around a old carpet slipped. Everything's held together. It's called the COBIT. Get it done right. You get it done. DIY stuff. How are you this morning? I'm great. I was just telling my many followers that I slept for like 11 hours last night. Oh wow. Nice. I really needed it. So do you have a sleep hangover? Sometimes if I sleep that long, I get a little bit of a sleeping over. Actually don't cause I've just been so under slept for the last, I mean probably much less than you, but so I'm, I'm glad I just caught caught up. Nice. Nice. Okay. How are your students? How's it going at Lincoln distance learning?
Speaker 3
I miss them. Yeah, it's hard. I was going to tell, I was going to tell a story about you coming to Lincoln, but yeah, I miss them. I just was learning the worst, but it's okay. Like my, the class that you visited, we're doing this really sweet special project right now about kind of, it's based on this framework by Joanna Macy and it's just about like how do we change ourselves so that we're like strong enough to face the crises that lie ahead. So working with grief and gratitude, it's very fun and beautiful. Nice. Let's get, let's get going. I want to say, so before we jump in, I just called it, kind of tell everyone the first time I met you. Okay. So the first time I met Sarah, Sarah was, um, well sunrise PDX was hosting a pedal Palooza ride. So we were like riding bikes all around the city and we were like stopping at different spots and getting some education. And so Sarah gave us some awesome education about how, you know, Portland really used to be a green city. Can you tell us for a second about the Tom McCall waterfront park used to be a highway.
Speaker 2
Yeah. And so this was something that we talked a little bit about because we were talking about dismantling fossil fuel infrastructure, not as a new framework, but as something that Portlanders have been thinking about for decades now. And in fact, we went a little bit into the history of our creation of the regional government Metro and how we created a whole new government to constraints sprawl because we knew that protecting precious farm enforced land was going to be so important for our sustainable future and that as we would grow, that we would grow with urban density so that we could protect that a beautiful resource land. And also think about things like clean air and clean water by having human settlement patterns in cities that were, um, more efficient from an energy perspective. And as you look at that, uh, 50 years ago now, half a century, it's hard to believe the storytelling that we tell around that continues to resonate while the future stories that we're making dope quite keep up with that reputation.
Speaker 2
And so things like the uh, Harbor drive, which used to run along the river on the West side, it was actually a bunch of people who were interested in sustainable cities who started picnicking along the, um, you know, the grass in the medians and saying, what if this were a place where people could gather and enjoy access to our river as opposed to moving automobiles through our river, through our city. And so much of what we built in Portland, whether it's 84 or I five on the East side, was all about this mindset where Portland's downtown would be really about people coming, driving their cars from the suburbs to come to work and then leaving as quickly as they could at the end of the night. And Portlanders knew that that wasn't something that we wanted for our future. We wanted a vibrant downtown. We wanted walkable neighborhoods connected by transit, want to treat us streets, not highways through our city. And so there were a lot of rebellion in this period in the seventies and eighties to retrofit our city away from motor dumb. And frankly, I'm not sure what happened to take us so far off track. I'm not sure if it's a, the forces of neoliberalism nation that had put, pulled us in that direction direction, the lack of campaign finance. Right. So a lot of things have kind of in between us
Speaker 3
quick, Sarah, for, for folks who don't know, like Neil liberal is kind of this idea. It's sort of like, you could almost say like neoconservative it's this idea that your economic policies are still very pro corporate and that's, I would say like a real problem in Portland. Would you agree Sarah?
Speaker 2
Yeah. And I'll even go further because when you look at this agenda and especially if you have any of your students tuning in, I would encourage them to read. Um, there's a great book by Jamie Peck called the origins of neoliberal reason, but it's really this notion that we should have small government, small government, which serves corporations and not the public interest. It's about, uh, more public private partnerships. So instead of the government actually providing things like housing directly, we offset those two partners either in the public or private sector. It's really the decline of the public realm and why we have government to protect people. And when we do that, government wins. And so there's a reason why this has been a decades long effort, I think. But it really has eroded how governments relate to their people and their, their population. I don't know if it's a bit of arrogance, resting on laurels that we thought we were so great and you just think you get to, Oh, the book is Jamie packets, the origins of neoliberal reason.
Speaker 2
Uh, he's a critical geographer. I think he's at UBC. He works out of Vancouver, BC. But, um, I think it may be some of the way that we elect our politicians, right? That we don't see a lot of activists like me becoming mayor. This is a really exciting opportunity to have someone who's been on the front lines of housing advocacy and transportation advocacy and climate justice and even things like, uh, policing and homelessness that we can, um, really have a chance to have someone with our shared values and our focus on really the most vulnerable people in our city with access to those level levels of IQ. I always get stumble on that levers of power that the city of Portland mayor would hold. So yet we talked a little bit about that and we talked about how things like the Zenith fossil fuel terminal, which I hope you want to maybe debrief with me a little bit there. We had a minor win this week. Uh, how we need to be more aggressive on this front, right?
Speaker 3
So just to, for those who maybe don't know, Zenith is like, it's kind of like this like villain name right there. This like kind of like an energy startup that basically bought like a terminal here in Portland and they're expanding it. So they're like doubling their ability to bring through into Portland these, um, like people call them bomb trains because they're so explosive cause they're carrying Alberta tar sands crude oil. And so this is probably like the most violent form of fossil fuels. You have to just do like such extractive mining and in order to, or not mining it like an extractive process to get these fossil fuels. And then in order to get them like onto the train, they have to liquefy them. So they mix them with all these highly explosive, toxic chemical and then they bring them through our city. So not only is this a super, incredibly dangerous thing coming for our city, but also right, it's maintaining the system of fossil fuels. So if we are able to block Zenith, we're able to block the transport through our city and through the entire Pacific Northwest really block the transport out of the West coast. It's no longer profitable to extract these fossil fuels. And so we're in the slight strategic place where we can actually be like crumbled the fossil fuel industry in this, in this very enormous way. And so that's just background for our listeners.
Speaker 2
Well, thank you teacher. They said that you're doing all the heavy lifting for me, which is nice. Um, but isn't this an important part of it though? The civic education that we're going to need to do, not just about Portland's history of environmentalism, the history of white supremacy here, the history of the West coast and westward expansion and colonialism here. And thinking about we can't undo the past, but as we make a new future, what lessons do we need to take forward? So something like a green new deal where we're focused on making investments in infrastructure so that we're creating opportunities for people who've long been robbed of opportunity, uh, through systems of oppression and making sure that we're not really defaulting into that mindset of austerity. We've already seen it in this first round of budgeting out of the Portland mayor's office where it's like cuts, cuts, cuts, and I said, there's stimulus money flowing.
Speaker 2
Why are we cutting and balancing the city budget on the backs of workers? And especially, you know, it's not getting cut is the police budget as usual. And so this thinking about someone who has access to not just the bully pulpit of setting the vision and the tone for the city, which an E bike riding environmentalist will just be a nice, I think, model leadership model. Um, someone who has compassion for unfortunate people and doesn't criminalize them, I think will be refreshing. But someone who can look at that budget and say, here's where we can make strategic investments out of fear, but out of optimism, not out of retrenchment, but out of a looking forward to a future that we know is possible if we all come together to make it happen. But if you don't have Portlanders who are educated that it's possible. If you don't have Portlanders empowered to make it so then we are not going to ever achieve it. And so this is our moral mandate, but it's our
Speaker 3
only practical pathway out of this mess too. Yeah. Well that's okay. You know, my friend Damon actually was wondering, like, you already kind of answered this, how you're going to reject us dirty politics, but they specifically want to know what is the most important pieces of the city's budget that you will defend. Um, if we continue to see very low city revenue and what will you do to increase city revenue?
Speaker 2
No, that the feds are already looking to help cities with 250,000 residents and more in terms of municipal bond acquisition. And so I think for us bonding to actually do infrastructure projects would be a great pathway to prosperity. Municipal broadband is a low hanging fruit that I'd like to see us get into that we're not into stopping things like the expansion of fossil fuel infrastructure through our central city I five and making sure that we're directing resources to things that will actually help congestion is going to be very important. Um, so looking at the transportation budget, even as transit, I'm thinking that transit use is going to wane. And so I really want to hold the line and making sure that as we begin to open up that we're not seeing people revert to private automobiles for transportation, but that we're creating safe options for them and even incentivizing transit use.
Speaker 2
So I would definitely, the fact that we've got, I think like 4 million for transit police and the city budget. Like I don't want to swear right now cause this is going to be a good day. But how low on that? Like w this is not what we should be doing. Um, same with the, when we're talking about gun violence, I don't want the gun violence reduction team, um, funded when we know about the racial profiling that, uh, that they undertake. I would rather see that money spent in, uh, services for families and communities and even job opportunities. We know that black youth in Portland suffer the highest unemployment rate of any demographic in our city. So, uh, uh, youth employment programs are gonna be very important, uh, things on housing and homelessness. Again, I'm not going to defend the millions of dollars that we spent sweeping the homeless through the criminalization of the act of being impoverished when we should be spending money on community safety hubs that can be co located with other community infrastructure that needs shoring up.
Speaker 2
We're looking at faltering parks budgets right now where they're saying, we don't have enough money for parks. We don't have enough money for parks. Well, how can we always have enough money for police and we never have enough money for parks? This is where it's about setting priorities in that budget and saying, if someone has to get cut because we know that violent crime is not even on the rise, and this is not about me being anti-police. I could not run for municipal office and say that I'm going to fully dismantle police. I don't know that that's a practical option in 2020 but I do think the demilitarization, the decriminalization of nonviolent crimes, focusing on actually solving for violence, who is experiencing violence disproportionately important. They're women and it's intimate partner and domestic violence, sexual assault. It never gets talked about. You don't hear about all, where's all the lamenting on coin six about looking at all these women and the violence they're experiencing?
Speaker 2
It's like, Oh, look at the poop in the streets of old town. Well, there are solutions for those. You look at the people who are perpetrating violence against vulnerable people and that is what you spend your policing dollars on and the rest of it you spend on public safety and hygiene and access to water and access to temporary shelter and access to land for intentional villages. And then what that does is it allows us to spend our precious housing dollars on permanent housing that can transform people's lives. We need to look at things like not evicting people from public housing. We're having have very high rates of eviction in public and publicly subsidized housing right now. That's something that the Portland city attorney could be helping us with, right? We're not looking at all of the, I personally think our current mayors, laissez Faire attitude, keeps the community capacity of our city locked up.
Speaker 2
Think about all the lawyers that you've worked with on sunrise who are advising you on fossil fuel infrastructure decline or think about all the people working in all of these fronts who have expertise that we're not tapping into. We say no to a lot of things because we're very risk averse and I think we need to be saying, I'm going to be risk averse about the future. I don't want fossil fuels that filthy product spilling into our river in case of an earthquake. We're going to double down on fighting that now as opposed to, I'm worried about a lawsuit in the short term like that. To me that thinking isn't even fiscally responsible, let alone morally responsible. This is what I love about you, Sarah. You're, you're like such an activist. We'd like an activist, an office, but then you're also like so knowledgeable about policy and it's just that this just like blows my mind.
Speaker 2
Maybe not mutually exclusive. I just pissed off because I know we can be doing better in some ways. I have a reluctant activist. I would rather be spending my time doing other things. Right? Sure. You're like, we have to do this because I want my kid to have a planet to a habit. Exactly. Okay. Then I'm curious, can you tell us about your, what, what your first hundred days are going to look like and specifically how are we going to transition into a green new deal for Portland? So there's a couple of things that I'm going to do on the very front end, and this is going to be unusual because I'm going to be coming in probably on the back end of the coven crisis and needing to lead on the coven recovery and response. And so here's what I'm going to do. In the first 100 days, one we need to launch the five-year action plan for ending our housing state of emergency.
Speaker 2
And that has three components. One of them is looking at supply and evaluating how much affordable housing for what level of the income spectrum we need where in this city. I know that we've recently done a comprehensive plan update, but I think we need to get more surgical with regard to targets. How much do we need and where we need to look at how our city Bureau's function relative to the provision of that supply. And then we need to look at a task force for revenue. So we need to look at how the city generates revenue and we need to take a progressive mindset to it. And that means how do we do property taxes? How do we do the arts tax and should we get rid of that regressive head tax? It's really a deep dive into where the city's money's coming from, especially with a focus on housing.
Speaker 2
So that's one aspect of the things that I'll launch. The other is we need to declare a climate or emergency and act with urgency. I think it's completely unacceptable that the mayor has put that off. Once again, I'm claiming coven and the needs of front line communities as the reason we don't have a climate emergency declaration when he had three and a half years prior to make that happen. We can't wait any longer and we need to allow the issuing of these declarations to help us shape our behavior. They can't just be empty declarations. Real resources need to go behind that. And that is where you get the mandate for the green new deal and that is how you start to shape the requests and the borrowing and the infrastructure investments that I believe that we need to do. Again to double down on some of these jobs that we can create.
Speaker 2
I'll use another example. We just are passing something in terms of creating more missing mental housing. There actually isn't a minority contracting or minority jobs clause there, but is there some way if we're increasing the supply of housing that we could actually be making investments in, um, making sure that those jobs are going to community members who need access to prosperity either because there are small firms starting up or they're hiring, um, a lot of people from underserved communities, historically underserved communities. And so the, I think it's about inflection points and how can we just get the ball rolling again. And I actually have a lot of faith in Portlanders that they're going to continue to push and push and push me harder. I'm going to be kind of like the locum. I'm going to be like the thing on the front of the locomotive that gets the bowls off the tracks. Right. And it's going to be the community that's powering us through this in terms of their expertise and good ideas. What does that call bull bars? I'm not sure what those are called, but there's that thing, you know,
Speaker 3
I've never heard of this, but I believe you when you say you're going to do this, well, you know locomotive, have you ever seen it? It's got that triangular piece of metal on the front. Nope. Someone, Oh, someone in
Speaker 2
comments will be able to explain it to us. It's like a, it's an in, what it does is if there's livestock on the tracks, it pushes them off the tracks so that they're, the train doesn't derail.
Speaker 3
Oh wow.
Speaker 2
And I think some trucks have them too. Anyway, out serve that function of trying to get hazards out of the way so that we can move forward as a city with full power of our people.
Speaker 3
Amazing. Someone's laughing at us. Yeah, I can talk to you about a fender on a bike. I don't have train terminology. I know a lot about Jane. Sarah, I want to know this question comes from my mentor and good friend Blair Hennessy who I love so much. What is, why, what would you say your why is, why are you doing this?
Speaker 2
My mom asks me this sometimes because she's known me since I was a little girl and I've always been this fighter for justice. Like when I saw unfairness, it was just never okay with me even when I was little, like I was that champion for the underdog. Um, because to me it just didn't seem like a good use of human power or potential to be bullying anyone or to be letting pandas go extinct or to, you know what I'm saying? Like it just seemed like why would we, when we have a more compassionate, um, choice and some folks have worried that my environmental ism is a little too anthropo centric, that I am more humanist even than a straight up environmentalist. And I would actually say that I would agree with them as a critique. I really think that if human beings are prospering and we have our needs met on this planet and that we're living in harmony with each other and our environment, then the natural species around us and the environment around us will flourish too. It's this drive for profit seeking. It's the dry for extraction of extraction of value from our human creativity and our labor and even robbing our lives of joy, um, at the expense of corporate profits that are there a material and a spacial and they don't move our humanity or our planet forward. It just, it's just stupid. I can't, I tolerate no fools foolish ideas.
Speaker 3
It's true and it's not good for anyone. It's not good for the those who dominate either. It doesn't serve them to be, I have been raised in this culture too. I know what it's like to be taught to dominate and there's like ways that I'm dominated by, like all these parts of my identity and there's all these places that I'm taught to dominate and one of them is to dominate the natural world. I remember having like a moment once where I was like cutting flowers something and it just, my attitude toward it was so like this is mine to have. And I realized that like, that's hurting me. Like when I have, instead of this idea of domination, I feel like I'm always protecting myself. I'm always scared. I'm always scared something's going to hurt me. Whereas if I switch that and I think, you know, everything deserves to live, everybody deserves to have their needs met, then I get to live in relationship with the world and it's better for me to, you know, so nobody wins in this way where we just hurt each other all the time. I think. I, I think so
Speaker 2
and, but let's break this down because I was having this conversation with the startup community last week. This isn't just some, Oh look at these two hippies they want to have, like I've heard it say like Pollyanna or kumbaya, you know, everybody get along. You'll hear that as a critique and I actually call bullshit on that because you know when you're looking at our economic systems that you know folks who want to economize things and put numbers to them and say, this is how we measure. What we've got going now is not sustainable from an economic perspective. It's not good business. It's not sustainable. It's not resilient. And so making sure that we have resilient systems is going to have create greater economic prosperity. Making sure that people have their basic needs met is going to save money, not investing in a [inaudible] police force that you know, shoots flash bang grenades to the heads of anti-fascist protesters is going to save us money in lawsuits and hundreds of hours of police overtime. So it's not like this is some pie in the sky thinking. These are practical, immediate concerns that can be addressed through good policy.
Speaker 3
Yeah, we have this great question here from my friend Shawn. I mean, I totally agree. Before we move on to the question, I just want to say I think it's so weird that like kumbaya has become this like derogatory term. Like, Oh, you want to be like peaceful. I stopped back to that. Like, no, we're seeing now what happens when you just focus on profit and you just focus on winning and you just focus on dominating and you literally kill yourself. You kill all the species on earth yourself. So no, I will not be like shamed into being away from being peaceful anymore. I'm going to talking back to this. Um, so my friendship, uh, Sean says, um, on that note, what relationships have you developed with indigenous communities to empower them to lead this effort, to restore that sustainable balance and real in a real implementable way?
Speaker 2
You know, I'll be honest with you, Sean, I don't have deep working relationships with especially Portland's indigenous communities because just by virtue of my geography and the realm that I've been working out over here in Southeast Portland mostly, but I do understand the importance of, um, centering them in this work and making sure that they're empowered to lead on this. So what I have proposed in the uh, plan that we've put out both the green new deal and the housing for all plan is a transformation of how the city bureaus are operating in relation to say organizations like Neha or even when you look at other communities that are organizing here and urban development issues like, um, a pano or living Collie that rather than the city of Portland, I'm reaching out to them and bringing them into the process that the city, especially in the planning and development bureaus, would be serving in a technical advisory capacity to resource those organizations to meet the needs as they stepped forward from their perspective.
Speaker 2
This could be functioning in a lot of fronts. I see where there's going to be deep transformation in coming years. The transformation of the orphan highways through our city is a very good example where people aren't talking about 82nd Avenue, Lombard barber, McGlaughlin, and the capacity that we would have there potentially for deep arm investments in public housing, deeply affordable housing and transportation infrastructure along with jobs and education centers. Now, if the city thinks of it one way, we're going to get rather fast IO responses if we allow frontline communities, um, to lead on those processes and actually shape those processes. It's my understanding that we will have better outcomes on that front. So my experience doing this work, um, is not deep. I don't know that there are many people that do have, um, at least in my race right now, um, better experience or better ideas for that and I would love your feedback on how we can even refine those further. If you take a look at those plans, don't hesitate to reach [email protected] and give us your feedback. I'm completely open to that and we'll
Speaker 3
incorporate it. You really are something I, I was going to mention the beginning that I've always really appreciated about you, Sarah. Like when we were on the river that day, you're very clear to point out that, you know, even when Portland was making this amazing like green progress, it was really for like the white people in Portland. And like at the same time that we were creating like parks downtown, we were, um, we were like forcing hundreds of black residents out of their homes to build the hospital or to build the freeway. Um, and so that equity piece has always been so important to you. And the other day I was riding my bike to my friend Sarah's house in East Portland and I, you know, I'm going from my house in Northeast closer in and I'm biking on my bike path and my bike roads the whole way and I'm safe and good. And then I get out the East Portland where many of our black and Brown residents live. And suddenly I'm in real danger riding my bike when the first thought I had as well, Sarah was on mayors. It's like, would it be the case? Because I just love that, that equity that you really think about and that you center in your near platform and yeah. Yeah.
Speaker 2
Well, and when you think about the fact that our, you know, especially Portland's black community has been displaced from North, Northeast Portland, largely through transportation infrastructure, very much longer lines of bike lanes and other things that come with them. You know, there's a reason those are called the white lines of gentrification. And so we need to think carefully, even about as we make investments in things that many people who are technocrats are calling for as investments in public safety or transportation, we need to make sure that, again, that anti-displacement piece is right up front because if we don't put anti-displacement upfront, the unintended consequences sometimes if some of those it decimates communities and it's very difficult to put things back together after they're destroyed in my experience.
Speaker 3
Absolutely. Sarah, can you explain for us just real quick how like the voting for mayor works? Something about like 40
Speaker 2
sure. And this is where we give the pitch, right? Because election date is Tuesday, May 19th. It's coming right up. And so most of you should have received your ballot right now if you're registered to vote, if you have not received your ballot, you can go to the Mount Noma County elections office or reach out to them via their website and request one. You'll probably have to go pick it up. You need to return a, I've done. Yep, of course you have to. You have to make sure that your ballot is returned no later than 8:00 PM on Tuesday to one of the official drop sites. Now this is a pretty interesting situation because from the Metro level on down in Portland, we have nonpartisan elections, which means that very often the fight is won or lost in the primary and not the general election. If one candidate gets 50% or more, 50% plus one vote, um, on Tuesday they go ahead to the November ballot by themselves unopposed.
Speaker 2
It's a they've, if they've essentially won, right? Because, so if we have to keep the incumbent below 50% plus one vote on Tuesday, now there are a couple of things you can do to make that happen. You can vote for me. You can make that a clear mandate that you want me to be the mayor and that you support my policies and ideas and you want to move them forward strongly and that will be very good for our movement and that'll be very good for what we're trying to do. Um, if you're not entirely sure about me or maybe you don't like me at all, just don't vote for the incumbent. Um, yeah, I think the most important thing is to keep mayor Wheeler below that threshold. You know, he kind of had a cakewalk in 2016 in terms of, uh, his establishment ties and his access to money that allowed him essentially to just kind of sweep into a position of power on a post.
Speaker 2
And now he doesn't have that. We have some forces at our back. Our campaign has been publicly financed. It's the first mayoral campaign to actually function this way under this city's new open and accountable elections program. And what that means is we're actually, um, on track to set a city record for the most number of donors in city elections, history, Alyssa, 3000 donors. Now compare that to mayor Wheeler. He only has about 350 donors. Wow, that's ridiculous. Well, but this is what we're laying bare is that for so long there's research that shows that in 2016, only about 400 people really decided who ended up being mayor because the bulk of the contributions in that race came just from 400 people. And now you look and 3000 people are backing this, um, candidacy. Another thing that is at our back now is something called honest elections, which was passed by 87.4% of Portland voters back in 2018 to cap campaign contribution, uh, at $500 per person per election cycle.
Speaker 2
And what that means is we just won in the Oregon Supreme court that said, yeah, that's constitutional. That's not, you know, an infringement on free speech. The PBA and the realtor's association. A lot of the people who write big checks to the incumbent are the ones who took that to court. They all lost. And now we have someone who can't raise money from those five and $10,000 checks like he's used to. So we're really taking the every tool at our disposal back and putting the power back in the hands of the people. So whatever you do, vote this Tuesday, vote for someone who will represent your values and put the power of Portland back in the hands of our people and not the corporate interests. And I'm very thankful to you for hosting me this morning. It's a pleasure to see you. I've missed,
Speaker 3
I miss you too. I'm so happy to see you all always. All the time. Thank you so much to my friends for being here in the chat with us. Sarah, we've one last question before you leave from salmonella Sunriser. Where do you get your glasses?
Speaker 2
Okay, so I will tell you my secret for all the cool glasses I get. I go to Dr. Armstrong at blink on Southeast 28th and Clinton and he has a brand, they're called parasite, which are from France. I think he's the only retailer in Portland who carries them, or at least he was at one time. So he always keeps me in wonderful spectacles, but support your small local business. You got to have your favorites and keep them afloat in this hard time. Please say hi to your students for me at in your environmental justice class. I'm so grateful for all you know. So many of them came and volunteered after that.
Speaker 3
Oh, I'm so glad. The best huge shot. I don't think I could like tell them to look at my Instagram, but like huge shout out to all my amazing students.
Speaker 2
Well, make sure you pass it, pass it back. Some of them came, not even just on environmental justice, but some were there for um, human rights and women's rights. Some were volunteering because of, uh, positions on decriminalization and sex work and things like that.
Speaker 3
Right. We know that like all struggles for justice are related. None of us need to be fighting there. We all have our power when we unite together, because the same forces that are hurting everyone are hurting everyone, so unite together into FIFA. Yay.
Speaker 2
All right. [inaudible] love you. This has been a production of friends of Sarah for Portland.