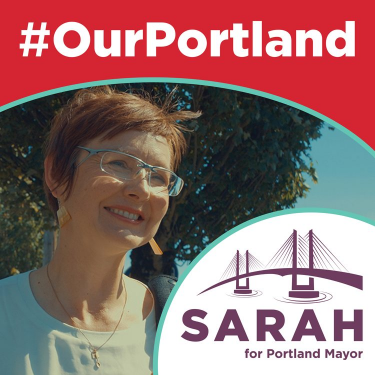 Winning Honest Elections
About this Episode
February 20, 2020
Sarah talks briefly about her Good Government for the People policy released earlier this month, gives an update on the state of local election campaign financing, and talks with campaign Field Director Russell Lum about grassroots organizing.
Have a question for Sarah? Email it to [email protected].
Transcript
Announcer (00:02): Welcome to Our Portland with Sarah Iannarone, made possible by contributors to Friends of Sarah for Portland. Portlanders have everything we need to make radical progress today on emergencies like climate chaos, housing affordability, and staggering inequality. Each episode we'll hear how Sarah plans to be the mayor to lead the city of Portland to a more equitable and sustainable future. And now, here's Sarah.
Sarah (00:32): Welcome to the Our Portland podcast. I'm Sarah Iannarone. My pronouns are she/her and I'm running to be the next Mayor of Portland. Our election is May 19th, 2020. The topic of this podcast is winning honest elections. There's been an awful lot of conversation in our city of late around campaign financing, not just for me, but for other candidates, and so today I'm going to talk just a little bit about my Good Government for the People policy released this month, give you a pretty solid update on the state of local election campaign financing and I'm going to interview our campaign field director Russell Lum. He's a fantastic individual. Our campaign is so lucky to have him. He's already changing the game out there in the streets. I don't know if you've seen all those beautiful strawberry colored lawn signs popping up on arterials, AKA busy streets. Forgive the jargon, and there's a huge kickoff event at our campaign headquarters too, if you're listening to this before Thursday, February 20th. If you're listening after you missed a big party. If you want to take a look at this, at the good government policy before we talk about it, you can find that at sarah2020.com/goodgov. That's G O O D G O V.
Sarah (01:54): In big news, in the event that you missed that campaign event on Thursday or are upset about it, you should probably visit sarah2020.com/events and sign up for notices about our events when they're posted. We do have opportunities for more lawn signs to be delivered. There will be some campaign events at our campaign headquarters on the 22nd and the 23rd of February. There are going to be several candidate forums that you can attend. So if you want to make sure you don't miss a thing, visit sarah2020.com/events and sign up for those updates.
Sarah (02:34): So a little bit of background for you who may not know, I am running as a publicly financed candidate this election cycle. What does that mean? Well, public campaign financing is an idea that, at least in Portland, goes back to 2005 when then commissioner Eric Sten with support from then mayor Tom Potter passed the Voter Owned Elections finance reform system. So this program allowed candidates for Portland City Council and Mayor to opt into public financing for campaigns by gathering between 1,000 and 1,500 contributions of $5 to receive between $150,000 and $200,000 in public financing from the City. During its five-year run, the Voter Owned Elections was in effect for three city election cycles. And during that time it was used successfully by a number of candidates and improperly by a few campaigns and consultants, which ultimately became its downfall. Commissioner Sten used it to win reelection in 2006.
Sarah (03:39): Now outgoing City Commissioner Amanda Fritz beat four other VOE candidates to win an open seat in 2008. Ultimately that program, because of the corruption and the fact that it was used improperly by a few candidates and consultants, it was repealed by a narrow margin, less than 1% of the vote in a 2010 ballot measure. Sometimes failure can be hard, but for those of us who try hard everyday and fail often, we know that failure can be a great learning opportunity, and where Portland failed on Voter Owned Elections, the Open and Accountable Elections program, OAE, has learned from the liabilities and limitations of the earlier program and in my opinion, worked hard to take those lessons and create an operable system with similar goals and principles, but with a different structure that's modeled after effective programs used across the country. Right now, there are 27 active programs in states, counties and cities across the country that provide public funds to candidates for political office.
Sarah (04:49): Some of the oldest programs have been in place for more than four decades. Other new systems are being proposed. These programs vary in basic design, in the scope of the offices they cover and the amount of funding they provide to candidates. There were some concerns this election cycle that the public financing program for Portland elections would not have enough funding in part due to the passing of City Commissioner Nick Fish and the fact that we need to host a special election. Now this special election is happening the same time as the regular election May 19th, 2020 but there's a whole host of additional candidates who will be on the ballot that we weren't expecting and who are able to qualify for the Open and Accountable Elections program and receive the public financing. We didn't have it in the budget and there's been pretty high demand, perhaps even exceeding what the public's brain can take in. I have a hard time tracking all of the people running for that seat from day to day. But it's been pretty interesting.
Sarah (05:57): So we have had word though from the Open and Accountable Elections program that our election, the regular election for May 19th, 2020, not the special election, but that includes the mayor's race, will be getting fully funded for this election cycle. What that means is that we will receive a six to one match rate throughout the campaign. For every dollar that we get from a Portland resident, we get $6 from that public fund. And that's true for the first $50 of every donation. OPB reported that Susan Mottet who oversees the Open and Accountable Elections program doesn't have any concerns about making sure that the regular election is fully funded.
Sarah (06:47): It's slightly different case for the people who are running for Commissioner Nick Fish's seat. Their match rate may end up up in the air. I hope that Portlanders step up and make sure that this Open and Accountable Elections program is fully funded. But for now, you can rest assured that if you give, that between the first $5 and $50 that you give to the Sarah 2020 for Portland Mayor campaign will be matched six to one from that public fund.
Sarah (07:19): I'm not the only person making news about public campaign financing. However, it came as a pretty big shock to most of us. And I apologize this is coming to you a little bit late. It happened right after we taped the last podcast I think, but a former House Majority Leader Jennifer Williamson abruptly ended her campaign for Secretary of State and that was a scoop that Rachel Monahan over at Willamette Week got. There were some concerns. It appears that Williamson had some improprieties around how she was using her campaign money to fund travel. It was a bit of a shock in my estimation that she decided to drop out of the race. She'd raised, uh, almost $220,000. She was considered by many to be the front runner. She was certainly a viable contender. And it's interesting. It's interesting. Secretary of State is an interesting position to run for on the face of it alone. And then when you add at least questions of impropriety, I can understand why that would be a challenge as a candidate. At the same time, you know, there are a lot of people who do a lot of questionable things in politics and get a free pass. So I hope that women running for office take their credibility and their legitimacy seriously and fight it out. I wish Jennifer good luck wherever she is and I hope women candidates in the future can make a good run of it despite challenges.
Sarah (09:07): So then there was KATU. This was a fun one and more news. We had Keaton Thomas over at the office from KATU news. He's got a new segment on there called Follow the Money. FTM. There's some jokes inside the campaign office, what FTM actually stands for, but I'm not going to say them online because the FCC might be listening to this podcast. I don't know. I probably could, but I'm not going to say them. Following the money. Keaton. Portland voters approved campaign donation limits, but some candidates are taking more. And the premise of that story was that there are a few seats that are up for reelection. And unlike the Open and Accountable Elections program, which is the publicly financed elections program, Honest Elections is another policy that 87.4% of Portlanders voted to approve, that said people running for local office can't accept campaign contributions over $500. Now the Open and Accountable Elections program has a separate rule where if you're participating as a publicly financed candidate, you actually can't take contributions above $250 and you can't take them from anyone by individual donors. But the honest elections program, which is a separate one, and there has been some confusion about that says if you're running for local office in the City of Portland, and this has also been passed by voters in Multnomah County, so that if you're running for local office in the city of Portland or Multnomah County, you cannot accept contributions over $500.
Sarah (10:52): Now these have been voted in by a big majority, 87.4% is almost unheard of when you think about elections. So these are being held up in the courts. You can imagine who wants to tie them up, right? The PBA, they're always there right when you need them. And so there are some folks running for office who have decided that these rules, even though 87.4% of Portlanders approved them, well, if the courts are going to take a look at them, then they really don't have to abide by them. And as you know, my opponent, the incumbent has many, I think almost $73,000 worth of contributions that exceed that amount. When they interviewed him on TV, he said his cap was at $2,500, which is actually false. That cap that he set was $5,000 for individuals and $10,000 for organizations. I understand that when you're talking about sums that big math can be hard I guess, but I would actually want my candidate to know, um, what their contribution cap was. I guess when you set your contribution cap at either 250 or 500 is a lot easier to remember than if you're setting your own rules and they're perfectly arbitrary based on your preferences and who your donor base is.
Sarah (12:13): But then it got a little funny because what the mayor said when Keaton interviewed him, and we'll try and put the link to this segment in the podcast notes for you because it's actually pretty funny to watch. My opponents are certainly making hay with this and when your opponents start talking about your campaign, that's probably a good thing. It doesn't mean they can beat me on the issues. They don't think they can beat me on leadership and they don't think they can beat me with priorities. While you can imagine the big belly laughs that came out of our campaign team because we have spent the last almost seven months crafting some of the most comprehensive community informed, um, evidence based best practices based policy packages, um, that you're going to see in a municipal election in the United States of America today. Quite literally we are crafting policy that is, to use some jargon, shovel-ready, where once we're elected on day one, we can just really get to work transforming the city with things that are rational, feasible, and truly progressive. So we'll make sure that you get a chance to put your eyes across that. But we got a good laugh around that here at the campaign office.
Sarah (13:37): In other news, there are some new advances on the public campaign financing program website that I hope you will check out, because this is one of the places where the types of policies that I'm talking about in my good government policy online, which again, you can find at sarah2020.com/goodgov. If we are going to engage the public in meaningful ways in the future, we want to make sure that we're using data and technology in meaningful ways for people in ways that empower them, don't oppress them, ways that preserve our freedom, don't restrict it, in ways that liberate us and don't constrain us, especially when it comes to what the market desires of our behavior.
Sarah (14:27): We want our engagement to be democratic. So the Open and Accountable Elections webpage makes all of the data from this public financing accessible. And so they have a new data tool that they launched recently where you can look at the campaign finance data from participating candidates and it's geographic so you can narrow the map by political race and candidate. You can look at insight about where Portlanders are or aren't making political contributions. The Portland Mercury took a look at that and they found that our campaign has by far the most numerous contributions. They quoted us there at 1,600 and some odd, but I think we're getting closer to 1,800 and rounding the bend on 2,000 at this point. So we are just humming right along in terms of trying to engage individual Portlanders one by one at the small donor level on some of this.
Sarah (15:33): And so you can map where those contributions are coming from. And also look at the work that we need to do about making our elections access even more equitable. Because a quick glance at the map confirms what you would have suspected that most of the people contributing to political campaigns here locally live closer into the city center as opposed to more um, outer reaching areas. The Crescent of disinvestment that I like to call it, that includes East Portland and there are some historically economically disadvantaged and politically underrepresented parts of our city that are persisting. And so I hope that as we continue to do our field outreach, which we're going to talk about a little later with our campaign's Field Director Russell Lum, that the proceeds of the Open and Accountable Elections program are going to help us level the playing field for more Portlanders.
Sarah (16:32): And finally, in electoral politics campaign financing news, we have a lawsuit underway. Honest Elections, Oregon, which is the group responsible for passing the limits of $500 in Multnomah County in City of Portland has filed an appeal. So they're challenging the city auditor's decision to not enforce campaign contribution limits and the appeal, which is the one that did the math on Wheeler's campaigns to find out that he's received over $73,000 in campaign contributions that violate the limits, says, hey, come on now. 87.4% of Portlanders supported these campaign contribution caps. So why is the city auditor not enforcing this? The complaint alleges that the campaign of Ted Wheeler for Mayor has to date received contributions from 23 individuals or entities that exceed the limits established by Portland measure 26-200 and he's received seven of those from just one person or one entity. They say maybe it's a corporation.
Sarah (17:48): The total of the contributions that he's, that he's taken exceeding the limits is 29, and seven of those are for $5,000 each. So I guess it's up to you to decide how you think he should be behaving. But from my perspective, if no court has enjoined, measured 26-200 and that policy's been in effect since September 1st, 2019, then I really think that the city auditor and I hope that the Multnomah County circuit court agrees, that they should uphold that ultimately if he's found to be out of compliance. If the law is upheld, then he's going to be subject to some pretty serious fines. The person who filed the campaign, Ron Buel, was quoted as saying he's mystified by the actions of Mayor Wheeler who's not above the law, and he's certainly not above the will of the people. The City of Portland attorney has filed briefs in court supporting the constitutionality and validity of measure 26-200. So we don't understand over here Honest Elections why he is choosing not to comply with voters' clear desire. Interesting stuff. It's one of the things about taking the road that the people have decided they prefer. You don't really have to spend a lot of time explaining why you're making choices. Just follow the rules and you're good to go. And that's what we're doing over here at the sarah2020.com campaign.
Announcer (19:25): Want to get involved in the campaign? Visit sarah2020.com/events to find out more about how you can help Sarah's people powered campaign. And don't forget to sign up for the volunteer newsletter at sarah2020.com/volunteer.
Sarah (19:42): Now our tweet of the week. So this week's tweet of the week is part tweet, part continuing of the news segment. It was also delivered by Willamette Week. They reported a 34 year old Nike executive jumped into the mayor's race and were not only not participating in the Open and Accountable Elections program, but that they would refuse to comply with the Honest Elections law. That person said that she would not limit campaign contributions this election cycle. One of the interviewers in there, there's a video online compilation that you can take a look at from that we can post a link to it. Um, one of the interviewers from Willamette Week said, so if Phil Knight writes you $100,000 check, would you take it? Her response? I would be honored to take it. Huh. And I thought mayor Wheeler was incorrigibly on this topic. Anyway, once again, thanks to all of you who've contributed to this campaign. Your contributions in between $5 and $250 are what we're really powering this on. And I couldn't be more appreciative of the fact that you have committed your hard earned money to making sure that grassroots people power finds its way into the mayor's office in Portland City Hall.
Sarah (21:08): All right. Enough dissing people who don't follow the rules. Let's talk a little bit about good government for people who want to create rules to help us achieve our goals. One of the things that we don't often talk about, especially someone like me who's rather iconoclastic and tends to flip the bird a lot of times to rules that she thinks are inhumane or unjust or unsustainable, is that if we are going to achieve our goals, we need to invest in a healthy grassroots democracy that's powered by community politics with rules that work for the people, right? We talk an awful lot about how we're going to find a Portland that works for everyone. But when you think about it, the rules are stacked against the people. Big money in politics is an existential threat to democracy. The watering down of things like organized labor has undermined the power of people to come together and craft rules that work for us.
Sarah (22:11): And so as mayor, what I'm trying to come at this from is that if we empower Portlanders to be change agents in their own lives and communities with direct access to the levers of power, then what we're going to see is that rather than a city that's working as it is right now for political insiders and wealthy donors and corporations like Uber and Lyft and Airbnb, that we can go back to understanding Portland as a place where the mayor's office can ensure that residents from all walks of life and every corner of the city, including the corners that get forgotten right now under the freeway overpasses, where we have people who are getting swept by police, out in East Portland where you have to own a car because TriMet just doesn't serve you. Like what does it mean for us to feel that our voices are heard and that our experiences and expertise are valued in building the future of Portland.
Sarah (23:19): We need honest and inclusive elections to be able to do that. And so what I've done is put together five points that I think will make it easier for us to have elections that represent the people of Portland. It sounds trite, but it's really the basis of what we're trying to do here, government for and by the people. So I've talked about this briefly in the Good Government podcast, but I want to go into it a little bit deeper here around the elections part of the Good Government policy. One of the things that I believe strongly is that immigrants, refugees and asylees strengthen every aspect of our city. And I want to make sure that our city ballot is open to all residents. There are a lot of people in our community who live work, pay taxes, raise their families, run successful businesses here who can't participate in our city's democratic systems.
Sarah (24:25): Now there is a federal law that prohibits non citizens from voting in federal elections, but as a city we can make our own decisions about who votes here. And in San Francisco, the school board allows non-citizen residents to participate in decision making in the district here. We're probably going to have to look to Salem to change that, but I think that we can use the full influence of Portland's mayor's office, our bully pulpit, if you will, to lobby to expand the vote to all community members. This is going to be so important for us moving forward. We are a sanctuary state. We are a sanctuary city and the people here who are not officially residents with a capital or who aren't officially citizens with a capital C need to have a voice in shaping our democracy. I'm also very interested in alternative voting methods. This winner take all, majority rule, is the most likely voting model to make the most people unhappy with the outcome.
Sarah (25:33): When you look at the federal level and you see the fighting that happens not just with the electoral college but the factions from the disappointment, the it's my candidate or none, thinking there are better ways and the local level is the perfect place to pilot, to model, to look at these things that are more intuitive and more representative in terms of how we cast a ballot. Oregon has been a leader on democratic innovation from vote by mail to automatic voter registration. Shout out to the formerly known as The Bus Project, Next Up, who's our next door neighbor here. But we have an opportunity now at the city level to demonstrate what a thriving, participatory and innovative voting model looks like. Some places are looking at star voting, some places are looking at rank choice voting. Portland should completely think about this and innovate on this front.
Sarah (26:30): Another thing that we can do is petition electronically. Paper clipboards are good, but they're not the end all be all. And our civic institutions are changing. Some segments of our city are more comfortable engaging on social media or a public discussion board than they are at a public meeting. And I think that our democracy should be accessible to those folks as well. And so there are some ways that we can look at here, tap into our knowledge base, tap into our innovators here and find ways to open democracy using technology, and allowing people to sign city petitions electronically would actually help grassroots community organizer to engage their constituencies in ballot initiatives, recalls and referenda.
Sarah (27:19): We've talked an awful lot about getting big money out of politics, so I won't belabor that point, but I do just want to leave you with this. Open and Accountable Elections program is going to be a game changer for the city. You're going to see it when this campaign gets through the May primary, whether that's outright or just forcing the runoff in November. We're not sure at this point. We're hoping for the former, but we'll be happy with the latter. And I'm honored to be the first candidate in history to qualify for Portland's new Open and Accountable small donor matching program. But it's really the voters of Portland who own this election and your public investment in our democracy has made it possible to run a grassroots campaign citywide against a millionaire incumbent who doesn't care quite frankly about elections, honesty or accountability or oversight. It's clear. And so what this is going to make it possible to do is change the political reality in terms of what voices and ideas have access to the power in City Hall.
Sarah (28:21): But as currently structured, the program is vulnerable to internal undermining. You can even look right now at the limitations placed on it as we have to run a special election and see that this is a fragile thing that needs tending and stewarding. And so if I am elected, I am going to lay the foundations for the program to be successful for future generations of Portlanders. We need to sustainably fund it and house it in a permanent independent office that insulates it from the daily politics of City Hall. And so there are a lot more things that are in that Good Government policy that I hope you'll check out. There are ways that we can think about making sure that we're more representing the people day to day in City Hall. Once the election is over, we can think about different ways of using technology and innovating 21st century solutions, whether that's municipal broadband or public banking or thinking about digital rights and sovereignty, transparency and accountability, reclaiming leadership and civic innovation and making sure that our people are connected and in community. But for the rest of this podcast, what I want to do is spend some time talking with Russell Lum who is the Field Director for the Sarah 2020 for Portland Mayor campaign, a veteran of the Bernie campaign in 2015-16 and Occupy Wall Street. And I think you're going to enjoy what he and I have to talk about.
Announcer (29:55): Sarah's conversation with Russell is next. But first, here's a reminder that Sarah 2020 stickers, spoke cards for your bike, and posters are available for purchase online at sarah2020.com/store. These items are sold at cost. So while you're there, please consider supporting the campaign by adding a donation to your purchase. That's sarah2020.com/store. Now here's Sarah's conversation with campaign Field Director, Russell Lum.
Sarah (30:27): Well, hi there Russell. It's exciting to have you on the Our Portland podcast. This is your first podcast as our field director for the campaign.
Russell (30:36): Yeah. What an unexpected pleasure. Glad to be here.
Sarah (30:40): Well, thanks for being here. One of the reasons we have you on, you know, the topic of this podcast today is about winning honest elections. And we've talked an awful lot already about public campaign financing. What does it mean to run a grassroots campaign powered by the people? How can we take something like a small donor approach, right? And use that to power us in ways that are different from say, the incumbent who's accepting large checks from private donors who may have different interests than a large swath of the people. So what I thought we would do is spend a few minutes unpacking what that looks like. So our listeners, most of whom are Sarah supporters, some of you out there may be Sarah curious, which we're excited that you're here and learning more about us. We hope you get involved with our campaign. You can learn more about us at sarah2020.com our policies are online there. But will you just tell us a little bit about yourself and your background and maybe why you're even interested in working in politics?
Russell (31:45): Sure. Well, before that, I want to jump in and agree with you that I'm very excited for how this campaign is being funded. And I do think that there would be something incongruous about saying we're participating in open and accountable elections. We're going to be powered by small dollar donations from individuals, but we're not going to do a direct voter contact strategy that's not also powered by ordinary Portlanders and by the masses essentially. Again, it would be incongruous to run on donations of $250 and less and then use it, turn it around and spend it on consultants to do paid door knocking, or to do advertising as our manner of reaching voters. So I'm on this team, with a lot of excitement, to see that no, it's volunteers knocking on doors by the thousands (some of whom are our donors, some of whom aren't) giving what they can, all amounting to just that right amount of people power to push you into office, to have a Sarah Iannarone mayoral administration.
Russell (32:54): So I'm, again, very excited about the synchronicity there. And there's no better way to do it. I'll try to answer your questions about myself. Well, I didn't know that I would be jumping back into candidate electoral work. It has been four years since I was doing any candidate electoral work, but I know how to and I love this stuff and try to share that infectiously because in my position, which is field director, it's motivating volunteers to be the army, that reaches enough members of the public that converts to enough support that produces a win number on election day.
Sarah (33:43): So how is that working at a candidate election different from maybe some of the recent campaigns you run? For the people who are listening, they may not be political insiders, so they may not understand that different campaigns operate differently.
Russell (33:56): Yeah, absolutely. Well, my background is bouncing around now among different types of senses of the word campaign. One of the most recent things that I did in Portland that was campaign minded is participate in the Portland Clean Energy Fund. When that grassroots effort and beautiful coalition was scrambling to try to hit the signature requirement to get on the November ballot. Of course once on the November ballot, we thought we'd be popular. We thought we would landslide into being able to pass PCEF on the backs of the votes of Portlanders, (in November) which happened, but before that, we had to get what we thought were something close to 50,000 signatures of Portlanders to qualify for the ballot. And we got twice as many as we had initially thought we needed to. So I had a role in training volunteers on how to get signatures, how to talk to members of the public about an issue.
Sarah (34:56): Wow, that's great. And very grateful for PCEF. Yeah. Yeah. So excited that there's a lot of connections that we've carried in Portland and that those are a lot of lives because that's such an important community benefit project that we're going to have helped in Portland. Yeah so, one of my recent campaign experiences was field (as it pertains to getting signatures for PCEF). And then on the other side I've done issue advocacy, which is also a campaign minded, but in a very different sense. Where you're trying to sway targets, trying to build people power that bottlenecks or that reaches a critical mass to get targets to do what you want them to do with their votes. I recently was the Executive Director of Oregon Fair Trade campaign. That's statewide work on trade policy from progressive perspective and in a coalition of labor and environmental interests. That entailed volunteer recruiting, volunteer managing, and talking to the public about things that matter just the same as this does. But it went toward what we could get members of Congress to do. So yeah, bouncing around layers of government, bouncing around different senses of the word campaign. And at the heart of it, being people powered and finding what the 99% need and want and can be empowered to do.
Sarah (36:37): So, one of the premises of this campaign is that we have everything we need to solve our biggest problems today, if we organize our communities that we will be a formidable force for change. When you think about the organizing that we're going to do on the Sarah 2020 campaign, what do you see as some of the greatest, maybe side effects, of the work that we're going to do to engage voters in the electoral process? Like how do we carry that forward into the community? Once we win. Which we're on the team that's going to be the winning team. So how do we do meaningful engagement with people now so that they stay with us in city hall or that they stay with us down the road for the changes that we need to see in the future, whether it's climate change or housing affordability. Do you think about that at all?
Russell (37:24): I certainly do. I'm, I'm glad for that question, coming from the mouth of the candidate, honestly, that's it. That's a great perspective to have that we don't just need people for a May vote or November vote. We need people motivated by the promises made on the campaign trail, so to speak, about our vision for Portland that's going to take their lift and their involvement, and community back and forth and community power all along the way from policy generation to passing it to implementation, and to doing it all over again to win something else for what people need. So yeah, that's right. And it would be false to try to summon a volunteer base, try to rouse a bunch of whole bunch of volunteers to try to win the mayor's office, and not want their help on day one when you take office, or on day 100 deeper into the term.
Sarah (38:27): Yeah, that's great. It's one of the things that keeps me going day to day is every time I show up the campaign office here and I see new faces, some young, some old from all parts of town and they're all here for different reasons, but they're all focused on the same goal. It's very empowering and inspiring. So speaking of inspiring, are there any organizers or movements that particularly speak to you either historically or presently that inform how you engage with organizing in the world?
Russell (39:00): I don't have names of human organizers. And part of it is just because we only get so much time to watch other people work and to admire their work. And I just look forward to admiring people's work later on from working with awesome collaborators in the future. I can't really, I can't really think of names. But I can say that I learned pretty irremovable understandings of the landscape of social movements and of how to organize from basically my first immersion into social movement work, which was Occupy Wall Street in New York City in 2011 and 2012. That's when I'd had no formal training in how to build power, no formal training in how to organize community and threw myself at Occupy Wall Street and ate it up and helped win some of the gains of that movement.
Speaker 4 (40:06): So I tell people, that's where I learned to organize. And then that I learned to organize all over again in very different ways when I entered candidate electoral politics for the first time when I worked for Bernie Sanders in 2015 and 2016. And I definitely acknowledge the linkage between collective action in the streets, between direct action minded campaign and movement politics, and what you have to do to win better folks in office, to enact your priorities. The linkage between Occupy Wall Street, (which is again, is like such a touchstone in my experience) and the Bernie campaign of 2015 and 2016 the same. It's really obvious. There's handfuls of people that I worked with in the Bernie campaign who came from Occupy. And the sense of movement is important across different settings and across maybe counter-intuitive senses of what a movement is and what it should look like.
Sarah (41:07): Isn't that fun though? I mean in so many ways, when you talk to people on the campaign or who are engaging with this one in particular because it is so forward looking and optimistic and spirit that we are in some ways called or maybe even dragged kicking and screaming. Because once you see the power of organizing and movement building and the transformative potential there in, it's hard take a different approach sometimes just because it is so powerful and we do see that it works. So engaging it becomes almost a mandate.
Russell (41:43): Yeah, that's right. I said it already, but I was so proud to be involved on the volunteer level on the ground level of the Portland Clean Energy Fund efforts. And one of my first questions after Portland Clean Energy Fund passed overwhelmingly by the voters was turning around to the coalition that did it and saying, so what's next? And I look forward to how that unfolds and how we both build new power and recycle the old power to just keep moving the line.
Sarah (42:16): What do you think Portlanders need to think about as we organize at this critical time, the just transition, right? We've been this green city leader for so long, but as we've seen, those benefits have accrued to a very thin swath of Portlanders. And the challenge for us as we move forward now is how do we create a sustainable city for all and not for them, but by all right? So what does it mean for movement building for our city? If we are rich with engaged residents, people who care about climate action, who care about a just transition. What do you see as the potential in that, for urban life and just for society in general?
Russell (43:04): Nothing could be more pressing than remaking our society to minimize the harm of climate change and adapt to the changing economics and environment due to climate change. That affects everyone. And doing it right and doing it in a way that rights historic wrongs is very exciting and what we all have to be putting our shoulders to the wheel on. I am fond of both 'just transition' in the way that the term is used sort of in it's vogue today. And also the phrase 'just transition' in the way that it was used in a prior politics. I mean, the way that I watched this word 'just transition' come about. It seems to me that the way people are using it today, it means people who move money and people who operate the economy and the way provisions come down to people and families who need them.
Russell (44:02): That is going to adapt to a changing climate. Will it adapt to a changing climate in a way that actually makes us equal, for once, actually produces equity results, for once? That's terribly exciting. And not to be forgotten is what just transition used to mean, which is that in a changing economy, individual workers who lose their jobs to force us beyond their control are individually made whole and given opportunities equal to or better than what they were facing. Let's get both right. Let's not forget broad goals nor individual workers in their lives and their families, as we do transformation instead of just let change come to us.
Sarah (44:51): Yeah. Well I think it's Walidah Imarisha who talks about what we're doing here is science fiction. We've never seen a just society. We've never seen a sustainable society. So we're working towards something that at this point only in our imagination and how we imagine that together I think is going to be critical. What in particular are you excited about working on this campaign at this time? And what's your call to action for folks who might be listening and how, if they're engaged by this line of thinking and coming together with their neighbors to craft this vision, where do you see them fitting in or how, how do you want to build this?
Russell (45:24): Yeah. Excellent. I come to this campaign motivated to at the end of the day have shown that we were unprecedented for a successful mayor's race in engaging the grassroots in producing numbers of volunteers and producing volunteer events and in mattering to people at their doors, in their communities, on their streets and in their organizations. I think we're going to again be unprecedented when we look back at how that was conducted. It entails finding pockets of Portland where we can rely on traditional support, and it entails finding pockets of Portland that didn't know they had a stake in this mayor's race, but will be moved to care for how their vote will land again in May and in November. Yeah. We will just dot this whole map of the city with places where the Sarah army is connecting with the public, is talking to them about the issues that matter to them and is putting them in a position to actually say, 'Hey, I won on May 19th' or 'I won in the November general'.
Russell (46:30): That's the idea. That's the vision and the way people can help is raise their hand to say, I want to be that person conversing with that member of the public that does the work. I want to be a that drop in the reservoir of our energy that outweighed our challenges as a city and obviously our competitors in the mayor's race. So people can sign up. They can go to sarah2020.com/events where just as we're going to dot the city of Portland with events where our volunteers are talking to the members of the public, we're going to dot our own campaign calendar with places to get involved and in different ways. Ways to reach voters that are both the tried and true traditional field organizing and ways to reach voters that are less tried, such as using apps that were generated to help Alexandria Ocasio Cortez win unprecedented race in the Bronx and Queens in New York city. We have that app too, essentially. And we will be reaching voters in innovative ways and want people's partnership to try out those tools and to engage in this excitement with us.
Sarah (47:39): So really what you're saying is there's something for everyone. If people can't come out and volunteer, they can give you money so that they can help you support the people who are coming out and volunteering. I know there are a lot of pizzas flowing through this office of late, so some contributions at sarah2020.com/donate are always helpful to power that movement. They power your shirts and your buttons and the flyers that you hang on the doors and even your hours to run the data and run those numbers. And some people can come out in public, they can volunteer to staff your events. You're always looking for volunteers to maybe do childcare. There's any pretty much anything someone can come up with that they work with. They can, we've got a space to plug them in.
Russell (48:20): That's right. And, again, doesn't it just circle back to making that comparison between how we're funded as a campaign and how we're going to be powered in basically the field operation that my perspective wins campaigns. They are parallel. It takes everybody in the little manner that they can give and in the little lane that is there best preference in how to give.
Sarah (48:41): And I'm excited too because when we win, then all of these folks are going to have a win under their belt and they're going to be unstoppable. They're not going to want to stop. They're going to see that when they show up. They can change outcomes. Thank you for coming on the podcast, Russell.
Russell (48:55): Yes, so glad to have been here.
Announcer (48:57): Thanks for listening to Our Portland. If you have a question for Sarah, record a voice memo on your phone and email it to [email protected] or use the #OurPortland hashtag and send us a message on social media. If you appreciate a campaign with straight talk on issues that matter, consider signing up to be a monthly supporter of $5, $10 or even $35 between now and election day in May 2020. Find out more at sarah2020.com. You can also show your support for the campaign by visiting our merch store at sarah2020.com/store. This has been a production of Friends of Sarah for Portland.