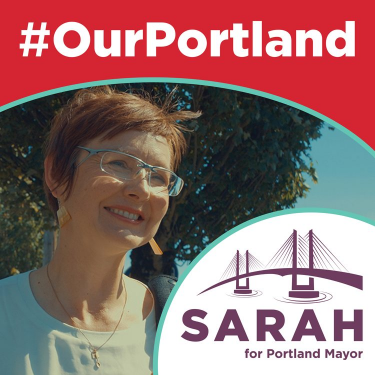 A Conversation with Climate Justice Students
About this Episode
March 3, 2020
Sarah gives a few updates from the campaign trail, covers some difficult but important news stories from that past few weeks, and interviews two high school climate justice students, Anika and Sriya, about their understanding of climate justice, their role in shaping a better future, how adults can help, and what they're planning for Earth Day 2020.
Tweet of the Week by @DrSomething
Upcoming events (see sarah2020.com/events)

Tonight (Tuesday): Clever Cycles Meet & Greet
Saturday evening: Pinball, Pints and Politics in St. Johns
Sunday evening: Sunrise PDX Climate Debate
Next Tuesday: Portland Mayoral Transportation Forum
Have a question for Sarah? Email it to [email protected].
Transcript
Announcer (00:02): Welcome to Our Portland with Sarah Iannarone made possible by contributors to Friends of Sarah for Portland. Portlanders have everything we need to make radical progress today on emergencies like climate chaos, housing affordability, and staggering inequality. Each episode we'll hear how Sarah plans to be the mayor to lead the city of Portland to a more equitable and sustainable future. And now, here's Sarah.
Sarah (00:32): Welcome to the Our Portland podcast. I'm Sarah Iannarone and I am running for mayor of Portland in the primary on May 19th, 2020. I use the pronouns she and her. Today I'm going to go through a few updates from the campaign, touch on some somber but important news that's come out in the past few weeks, I will share our tweet of the week and finally I am excited to be sharing a conversation I had with a couple of students from Lincoln High School's environmental justice class, Anika and Sriya over the weekend. They're going to talk to us about their understanding of climate justice, what they're learning in their class, their understanding of their role in shaping a better future and how adults can help and what they're planning for Earth Day 2020. So from there, let's get into it.
Sarah (01:18): I'm not sure how many of you were out there with us on the PSU park blocks, but we had a glorious afternoon, some unexpected sunshine when we were anticipating rain, hundreds of women, their loved ones, family members and allies rising together, harnessing the power of diversity in our communities, thinking of new social policy that we can enact to make sure that people are feeling represented, respected that we have access to safety and health and prosperity, equal rights really when you think about it, are long overdue for the women of our nation. So thank you to organizers for bringing that together. Thank you to everyone who showed up, especially with your amazing outfits and signs. I'm always buoyed when I see people protesting in the streets and their messaging sparks my imagination. I get a good laugh out of some of the sayings and I also feel inspired to keep showing up day after day in this sometimes challenging and discouraging work.
Sarah (02:20): So thank you very much to the women who organized that. We also had an amazing event here at our campaign headquarters last week we launched our field campaign. What a remarkable event. You'll remember in the last podcast I interviewed our new field director, Russel Lum. He's a fantastic individual and he is really bringing this field campaign to a head. We are so excited at the mobilization. Over a hundred of our core volunteers showed up to be a part of this launch. It is an amazing achievement that a campaign like ours had so many people turn out. T-shirts were had. There are many more here. If you want to contact our team, you can come by the office and grab one. Lawn signs were handed out and if you've noticed as you've been getting around town, they're popping up around the city like spring flowers. So we're excited by those rose colored signs and I couldn't be more excited about how we're planning to take back city hall for the people through this remarkable grassroots effort of mobilizing Portlanders to be a formidable force for change in our city's future.
Sarah (03:35): So thanks to Russell and all the rest of the team, Sarah 2020 who showed up to help execute that and a special thanks to everyone of you who showed up to be a part of that momentous occasion. We wouldn't be able to do this without you and we're very thankful for your presence that night. That said, if you missed it, poor you, but there are plenty of other opportunities to get involved. We have a page on our website, it's sarah2020.com/events and we have some really fun things coming up and some opportunities for you to get engaged and be a part of what we've got going on here. The first one we have coming up is today, if you're listening to this on Tuesday, we're hosting a get together, I guess you would call it an event. We call them house parties a lot, but it's not really a house when you're having a house party when you're having it in a business at Clever Cycles on Southeast Hawthorne Boulevard.
Sarah (04:29): And this is one important. It's the most well known and established bike shops. And I am so excited that they have decided to host a party for me. The owner has decided to go out on a limb. Her name is Eva Frazier and she says it can be risky for business owners to get directly involved in politics. But to quote her, I was having a conversation with another woman in the Portland bike scene and she said that we have this platform as business owners and it would be wasteful to not leverage that to make Portland a better place. And I want to thank Eva for that and I wanna thank Bike Portland for reporting on that because I agree we are looking, at a better future that is dependent on us getting as many people as possible to ride bicycles of all kinds, e-bikes bikes, cargo bikes, even scooters.
Sarah (05:20): So thanks Eva. I look forward to seeing you all at Clever Cycles. It's a fun, easy place to get to because it's right on the main bike route for the Hawthorne bridge, so we look forward to seeing you there. If you're not available tonight, you can also join us on Saturday in st John's at the Fixin' To 82 18 North Lombard street. We are having a meet and greet from six to 8:00 PM called pinball pints and politics. I'm going to be playing some pinball meeting North Portlanders who are interested in learning more about the campaign, asking questions, talking about policy and brainstorming ways to make sure that we are mobilizing the residents of North and Northeast Portland and St John's. That should be a pretty fun one. Then after that, there are a couple more events and again, these are, these are uh, with all the details on the website, but as the Oregonian had a nice big half page ad yesterday in the Sunday paper, the Sunrise Youth are co-hosting with 350PDX and x-ray FM, a climate debate for the mayoral candidates and I'm looking forward to participating in that.
Sarah (06:32): That will be Sunday, March 8th. And then there's also a debate on, Tuesday, March 10th. And that's a forum focused on transportation policies and priorities hosted by the Street Trust, a WTS, YPT and Bike Loud PDX. And that's going to be at the Clinton street theater at 25th and Southeast Clinton street in Southeast. Again, that's on a neighborhood Greenway. And the number 10 bus runs past there. So you should be able to leave the car at home.
Sarah (07:09): Now onto the news. It's not always easy to talk about things that are, as I said in the intro, somber. But there's also some catharsis with some of the decisions that we hear about, uh, being made in our society. I know many women in my circle were relieved to hear about the guilty verdict in the Harvey Weinstein case, which for many women, especially those of us who sat, biting our nails through the Kavanaugh hearing found a great sense of relief, I believe, if even if only temporarily in that long overdue, guilty verdict.
Sarah (07:54): So another trial that's been underway, since we taped the last podcast was that of the person who murdered two passengers on a TriMet max train, and critically injured. Another Jeremy Christian, I, struggled a lot with this trial. I was paying close attention when the Alt Right showed up in Montavilla. I was outraged when the Portland police and city of Portland chartered a TriMet bus to transport those people, including Jeremy Christian back to their cars after that rally, in which they were espousing hate. Jeremy Christian even there was acting recklessly and maliciously and I personally have attended dozens of protests in my time and never once gotten a free bus ride home regardless how tired my feet were. So I was very offended that we would be so accommodating to people who were so threatening to the health and well being of our most vulnerable Portlanders.
Sarah (09:10): Later we learned that, you know, he had a record of harassing and intimidating people of color in our community. And so we, I believe, as a community exhaled in relief when he was found guilty on all counts at his trial. I don't tend to be pro incarceration. I do think that there are far too many people incarcerated in the United States today. I do believe that our criminal justice system in some part may have contributed to his beliefs, demeanor, mental health and wellbeing. But at the same time, it was a relief to see the needs and fears of our community met through that guilty verdict. So many people who are incarcerated go without the benefit of the doubt of why they are in the mental health that they're in, what life conditions led them to their criminal behavior. So we have a long way to go toward restorative justice, but at the same time, for those of us whose hearts hurt every time, we still, pass through that Hollywood transit center on a max train, it came as a bit, a bittersweet justice for our community. On that front.
Sarah (10:36): I wanted to thank all of the people who showed up to testify, who bore witness to that lengthy trial and had to rehash those painful events, whether they are friends or loved ones of the deceased or abused or whether they were people who were reporting on it. I saw even our reporters in the field, for local media, struggling with the painfulness of that event. So I hope everyone is healing and I do hope that our society can recover. In the wake of this. Also on the front of policing, Maxine Bernstein of the Oregonian broke the story and has been hustling on uncovering West Linn police, arresting a black man from Portland and in what turned out to be a complete sham,. The lead detective relying heavily on a witness who nursed a grudge against the target and later admitted that his statements to police contained errors.
Sarah (11:31): And even the businessman who instigated the investigation conceded that the cast of characters police used to build their case was a sketchy lot. She has been working diligently on this. It's quite the scandal. I am impressed by her work there. But I am also not surprised that this is being uncovered. Many of us have been watching and claiming that there is implicit bias in policing, not just in Portland but in the Pacific Northwest for some time. We complain when we do attend things like street protests and it seems like the white nationalists or the Alt Right are given special privileges or benefits not accorded to people who may be protesting with a Black Lives Matter or Pop Mob against fascism. So to hear that, how this insidiousness weaves its way through the system is surprising and yet not. It's also an impressive piece of reporting insofar that's pretty labyrinthian what she's had to uncover there. So thanks to Maxine Bernstein for that work and I'm just waiting to see what happens next. There's an awful lot that's going to be coming out of that and I don't know that that's going to be wrapped up anytime soon. It seems like there's a lot in policing news. Well there's a lot of policing news to cover and I apologize for that. And yet it's not my fault so I'm just going to keep coming at you with this information knowing full well that one of the major things that I'm going to have to tackle as Portland's next mayor is what do we do about policing? I get asked about it a lot while I'm out campaigning and I would encourage you to take a look at my rethinking public safety plan, which you can find sarah2020.com along with all of my other policy proposals to date that explains what we should be doing in terms of policing, but until then there's some things going on that I think that we need to stay on top of.
Sarah (13:44): According to OPB, back in late January, the Portland police Bureau announced that the DOJ had found our police force to be in substantial compliance with the 2014 agreement intended to reform how the police responded to people with actual or perceived mental illness. The justice department reached the agreement with Portland place after the DOJ found officers exhibited a pattern of using excessive force on people experiencing mental illnesses. The settlement had laid out in detail the changes that the Bureau needed to make to its use of force procedures and according to police city attorney Tracy Reeve, who we'll talk about a little later in this podcast as well. The term substantial compliance is a way of saying that we've met the terms as a city laid out in that agreement. However, there's a little bit of wiggle room there and it's complicated and I don't want to go into it all here today, but what I want to say is that when it comes to whether or not we're actually in compliance, there are some community members as well as the presiding judge Simon, who disagree with the DOJ.
Sarah (14:52): His conclusion that we've made the necessary progress that we need to on the settlement agreement according to judge, judge Simon, who the Oregonian reported as saying, if we dot our I's and cross our T's, one would hope over time that there'd be an outcome that is better than this one. Community representatives including leaders of the Albina Ministerial Alliance and its coalition for justice and police reform and the mental health Alliance all said that they were dissatisfied with the city's new oversight committee. They told the judge that it seemed as if the compliance officer hired by the city to monitor the fixes and the justice department are more focused on whether or not the city has followed the mechanics of the settlement than really making sure that we're transforming policing so that Portlanders are truly safer. Sure, we can make sure that we check all the boxes on that settlement agreement, but their argument was that we've had the highest number of deaths by police use of force in 2019 as we've had in a decade.
Sarah (15:58): And so if we're truly in compliance, then we wouldn't be having that fatality rate with current policing procedures. And so this is a bit sticky. As we move into the future, what is it going to look like for Portlanders to truly have a policing that's more equitable and more humane? Is it even possible? We have to have some really hard conversations as a community moving forward about how we can ensure a policing practices in which bias isn't a factor in which someone's mental health status is not a factor in whether they live or die in which the community has true oversight of how policing is enacted. The accountability to which the police will held accountable to the public and even budgeting. What does it mean for us to rethink things like how much do we want to spend on combat training versus deescalation training?
Sarah (16:58): So there are a lot of things for us to think about and I think that this conflict in the DOJ settlement progress brings a lot of those challenging questions to the fore. Speaking of humanity in policing, the Portland Mercury, reported on February 27th, 2020 that a few city council candidates had gotten together to sign a letter denouncing arguments that were being made by Portland city attorneys and the wrongful death lawsuit brought by Quanice Hayes loved ones against the city of Portland. That included me, Loretta Smith who's running for city council, Carmen Rubio, who's running for city council and Sam Adams, who's also running for city council all for different seats. Basically what we said is this: It is complete you know what that the city of Portland attorney are blaming the family members, the mother and grandmother of someone shot by Portland police for the death of that person at the hands of Portland police.
Sarah (17:58): It's not the way you want to treat, I don't think, families who have lost a loved one to police use of force, use of force that I would call excessive. Hayes was a 17 year old. He was killed by a Portland police officer, Andrew Hurst after being cornered by a group of officers outside in Northeast Portland home at the time. He was a suspect in criminal behavior accusations that have not been contested by his family. However, officer Hurst fired an air 15 rifle hitting Hayes in the head and torso at that time, even though there was no proof that Hayes was carrying a firearm. So again, there are things that the mayor's office could have done leading up to this that I would do differently. We could have settled, we could have directed a different defense from the city attorney's office. Current electeds are not now able to comment on this apparently because it's a lawsuit that's underway, but there's a lot of leadership that went undone in the moments leading up to this incident.
Sarah (19:08): It wouldn't be a news update without a mention of the Coronavirus. This epidemic possibly pandemic has been sweeping news outlets for several weeks now since its emergence in China and it hit here on the U S West coast after the weekend was reported that there had been two deaths in Seattle and some positive tests here in Oregon, actually in the Portland region. But what I wanted to focus on, because I know that you're getting a lot of news around this issue from really all over international news right down to your local outlets is how we respond locally to crises that are global. Nigel Jaquiss for Willamette week reported that Portland public schools sent out a message to highlight that students from Asian backgrounds had been targeted and discriminated against at school. He reports that about 6.5% or just over 3,200 of the districts, nearly 50,000 students identify as Asian and the email did not say whether to discrimination toward Asian students came from classmates or elsewhere, but what they did say was this: Since the first days of the coronavirus we've heard about discriminatory behavior toward Asian students and we wanted to address this head on in our communications with the PPS community. He says PPS spokeswoman, Karen worsting. So PPS continued: we are aware of reports that some of our Asian students were targeted and discriminated against in connection to the Coronavirus. This is unacceptable and contrary to our values of racial equity and social justice. Fear of the outbreak has fueled xenophobic remarks and behaviors in the weeks since the first case of Coronavirus. It is important to distinguish medical precautions from racist and discriminatory behaviors. I just want to say that I know there's going to be a lot of fear. There may even be panic, but the most important thing that we can do is prepare and make sure that our most vulnerable community members are cared for.
Sarah (21:22): Also, let's not perpetuate racist, xenophobic sign of phobic attitudes. Make sure you take a moment to raise your awareness around the people in your community who may be on the receiving end of some of this. Reach out, create stronger relationships with them, but also support them with your money. I'm fortunate to live near the Jade district, so I eat and shop there all the time just in the course of my day. But if you haven't been there, uh, 82nd and division is the heart of it, but it runs along 82nd Avenue and there's a lot of parts in East Portland where you can find amazing food, groceries, small businesses all up and down that corridor and around the city. Also, old town Chinatown has some great offerings and you may even have some Asian owned businesses in your neighborhood. So make a point of countering hate and fear with inclusion.
Sarah (22:14): And now it's time for the tweet of the week. Your favorite part of the podcast. And mine, this week's tweet of the week is something that went straight to my crafty momma's little pea picking heart: Dr "War on Cars, Not Iran" Something, that's @DrSomething onTwitter posted this. I took some time to make some crafty political propaganda. I urge everyone in Portland to vote for Sarah in 2020 her campaign has been years in the making and she has bold, well thought out plans to make progressive leaps in climate action housing, public safety and more. But that is not the extent of what was included in that. So what Dr Something did was craft a hand stitch patch. That's a profile of my face with funky glasses, a short haircut, some cute earrings, and a Sarah for mayor in some impeccable perfectly spaced stitching.
Sarah (23:15): So for those of you who are felt applique fans who love some crafty arts and needlepoint, I encourage you to go check out this tweet, which we'll have link to in the program description.
Sarah (23:30): And with that, we're gonna move on to the next segment, which is our conversation with a few environmental activists from Lincoln High School. We're going to talk about their preparations for the 50th anniversary of Earth Day. Wow, it really does feel like I've been fighting this my whole life because I have, I'm not yet 50 so this has been going on my whole life, but this has been going on their whole life too. And they're going to talk with us a little bit about what they're learning in their class and how we can help them make sure that we are doing our best in terms of climate action and allowing youth to lead us on the issue.
Announcer (24:10): If you believe in Sarah's vision for Portland's future, show your support by placing a yard sign in front of your house or in your apartment window. Sign up now at sarah2020.com/yardsigns.
Sarah (24:26): Welcome back to the Our Portland podcast. Thanks for listening. We're so excited today to have some very special guests on this episode. They are students that I met when I went to Lincoln High School this fall and sat with their environmental justice class to talk about the release of the green new deal for our Portland, which you can find. If you haven't had a chance to take a look at it, please visit sarah2020.com/greennewdeal. If you haven't read it, you may want to pause now and go read it. There's also a podcast on that one too. You may want to listen to that one first, but if you have read it and thought about it, feel free to just keep following along with us here. But what I thought I would do is have them come into the offices today to talk just a little bit about where they're coming from, what's on their mind, what they expect from the next mayor of Portland and why? How they think they can be a part of it? How they see the role of youth shaping policymaking out of that mayor's office, but also city hall and local government more generally speaking, whether it's the Multnomah County or Metro. So we're going to have a really informal conversation and let's get started. Y'all know that I'm Sarah Iannarone and I'm running for Mayor of Portland. But tell folks who are listening who you are.
Sriya (25:42): Hi, my name is Sriya Chinnam. I am 18 years old and a senior at Lincoln High School.
Anika (25:49): Hi, I'm Anika. I also go to Lincoln High School and I'm a junior.
Sarah (25:53): So why did you decide to sign up for the environmental justice class?
Sriya (25:57): I signed up because in the past year there has been a lot of global climate strikes and I've been taking part in organizing them for the city of Portland. So I thought this would be a great class for me to expand my knowledge and get more skills surrounding organizing and learn more about what's specifically happening in our city.
Anika (26:20): I got involved because I was inspired by the work my fellow peers were doing at Lincoln High School and climate change is the crisis of my generation so I felt that I needed to participate in making it go away.
Sarah (26:35): So what are you learning that you didn't expect to learn in that class?
Anika (26:39): I learned a lot about how indigenous people are being so heavily impacted by climate change and we never see that in the media.
Sriya (26:48): Yeah, definitely. Same with me. I definitely didn't ever have a focus on indigenous peoples and specifically indigenous peoples in Portland itself. I think that was a big thing that I took away from this past year. Also learning about things like the red deal compared to the green new deal and different policies like that have definitely helped me expand my perspective and point of view. When I look at issues like climate injustice and stuff like that.
Sarah (27:17): Let's talk about climate justice for a moment because I know it's something that your generation is very well versed in. But folks of my generation, and especially the boomers, (I'm old, but I'm not quite a boomer. I may use an Android phone, whether it doesn't make me a boomer) so my generation, which is known as gen X and the boomers which came before me, the notion of climate justice is pretty foreign to them. How do you understand it? Do you want to explain it to them maybe, in case any of them are listening?
Sriya (27:43): Yeah. So climate justice is an approach that you would take to combat the climate crisis and it is different from environmental justice because environmental justice only focuses on kind of like the environment and how we deal with deforestation and burning fossil fuels and stuff like that and extracting coal and oil. Whereas climate justice is incorporating social justice and racial justice issues and having a broad lens to tackle something so big as the climate crisis and really taking into [account] Medicare for all and housing policies. All of that kind of fits under this umbrella of climate justice and using that as a solution.
Anika (28:30): Yeah. On September 20th when you probably saw in the media how students all across the United States and the globe were walking out. That was climate justice.
Sarah (28:42): So let's bring it down locally, because I am running for mayor of Portland in part because I think cities are one of the most sustainable human settlement forms. We can come together close to share resources and to conserve energy and to move around without having to take so many drive alone trips. It's a really efficient way for us to organize ourselves, especially when it helps us preserve precious farm and forest land and green belts and open spaces and maybe even help us make our rivers cleaner and our air cleaner. So I think a lot of climate action and climate justice initiatives can be realized locally, even though it's a global issue, which is why being a mayor would be important to me. But what do you see as the role of both your city, Portland and the mayor of that city in helping you achieve some of the things that you're interested in making happen?
Sriya (29:34): Yeah. I think that's definitely very true. And I agree with that because we do have to think globally but then act locally and especially with Portland, Oregon, I think that it's definitely more known for being a green city across the nation and I think we should be living up to that reputation and locally we should be tackling issues that we're seeing all across the world so that we can offer global leadership for people that can follow in our footsteps. And just our city, I know that Portland has the first school district in the nation that is going to be implementing climate change education from kindergarten through 12th grade in the next coming years, which wouldn't have been done if it wasn't for student activism and persistent student voices and working with the school board. So that's definitely very impressive. And to continue that work with like Zenith and definitely like plastic consumption and stuff like that.
Anika (30:40): Yeah. I want to see our mayor listening more to the youth and actually taking action. We do have climate education expanding in Oregon.
Sarah (30:51): So I have a 20 year old daughter and I think I'm listening to her, but she doesn't think I'm hearing her at all. Right. She'll be like, are you not listening? And my ears are open. But what does that, what does that really look like over time? So say so many of us come together and I get elected. What does listening to the youth look like day to day when it really comes down to changing outcomes for the people of Portland in ways that are just? What would that look like and how can you advise me or anybody else who's running for office and listening to this? What does it really mean to listen to the youth?
Sriya (31:23): I see how American listened to the youth is when, for example, on the last strike that students walked out of their schools. We came up with a list of demands for our mayor and our mayor didn't take any action on them. So something like that. If you truly want to listen to the youth, when we have demands take action on that.
Anika (31:47): Yeah, I completely agree. Because none of those demands were just developed to be like, "Oh my God, we should do these". They genuinely had real life impacts and taking action on those is definitely very important. Another thing that I would say our mayors should be listening to and like just the older generation would be to kind of like understand the fact that because this is such a global issue, individual action isn't enough. And I guess pushing that on the public isn't enough and it isn't going to have the same impacts as collective action and making this movement very grassroots and taking that and taking that grassroots movement and using those same techniques within the government and like legislatures and stuff like that. Just having like community building. I think that's definitely very important.
Sarah (32:40): Such a good segue because the premise of my campaign is that we have everything we need to start solving our problems today. And in part it's because I believe in the power of community and collective action. And a lot of times government fears that, like they see people coming together either to protest or to organize as a threat to maybe their power or their legitimacy. But I would think that someone who was in a position of power in Portland would want to see the people as an asset in doing some of this hard work, especially when we were fighting on big companies like Zenith, right? We're all sitting here for those of you who are regular listeners of the podcast and one of those trains is going by that we often referenced when we hear the whistle sound and we were counting the number of coal cars that were on this one and the crude oil cars. I mean it's simple things like how are we going to get the people in this city to take the movement building seriously, right? Because that's how we're going to combat, I think, a lot of these problems and I appreciate the work that the youth of Portland are doing on that front and I hope I can help you in that. What are some of the things that you're organizing for maybe tell our listeners like what have you been organizing around? What are some of your priorities for our city on the climate justice front?
Sriya (33:51): Yeah. So even though we've been organizing right now is earth week, it's coming up April 22nd is earth day and it's going to be celebrating the 50th anniversary of earth day when 20 million people in the United States alone flooded the streets and really changed what environmentalism looked like for the nation.
Anika (34:13): Yeah. We're trying to recreate that this earth day and locally in our school we're creating different art pieces and decorating the halls and creating workshops to educate our fellow peers on why we are striking, why we are having such a big movement on earth day. Yeah.
Sriya (34:32): And something that we have been focusing on and want to continue in the future is definitely centering frontline voices and bringing those in. And so for listeners that don't know what frontline is, frontline is the community that is going to be impacted the most by climate change but has contributed the least to it.
Sriya (34:57): So for example, it'd be indigenous peoples, people of color, Black and Brown communities, lower income communities and stuff like that.
Anika (35:05): We can see that right here in Portland where our communities of more diverse races (for example, we have more African American and Hispanic and indigenous people near the river) and at Roosevelt high school we see such a difference in the amount of people of color there. And they are the ones who are also right next to Zenith. They are impacting the consequences of a polluted river where people at Lincoln High School where it's a more white populated school, we don't see it as much.
Sarah (35:37): Yeah, and even so you have a freeway running right up against your school. And one of the things that drives me bananas is that when they did the redesign of your high school, the athletic fields going to be adjacent to that freeway, right? And so everyone running around trying to get the fresh air and cardio, you know, through aerobic activity is going to just be taking huge gulps of filthy air from dirty diesel and everything else if we can't get our act together. So yeah, I think it's important for us to be thinking about students in particular, their health too, right? And the ways that we can make all of your environments healthier. What do you think we can do in terms of empowering frontline communities at the city level? What are some interesting ideas you're exploring in your class of how other places that are making some big wins on this front are doing it? What should we learn?
Sriya (36:24): We're learning about allyship and what allyship really looks like. And something that I've taken away through my experience with working with frontline communities is working with them throughout the entire process and centering their voice without making them do all the work. It needs to be a collective teamwork type thing, but it needs to put their voices at the very beginning.
Anika (36:50): We learned this saying called "step up and step back" where we want to encourage people to step up and speak their voices, but also we need to step back and not drown out voices that must be heard.
Sarah (37:04): Yeah, it can be hard. So many voices are used to taking a lot of the bandwidth in a room and shifting those dynamics takes intentional effort. You have to really think about it. Have you participated in city council meetings or government hearings or have you showed up any places and spaces like that? How did it work for you?
Sriya (37:25): So I haven't really been at like places where it's been like a conversation. I've been to I guess forums where it's mainly been like city commissioners and I saw mayor Ted Wheeler there, where it was basically a room full of people and then everybody, all the city commissioners and mayor sitting at a table and writing notes the entire time without it actually being a conversation. And I, in that moment, I was one of the only young people in that entire room.
Sarah (37:54): Was that at the University of Portland?
Sriya (37:55): It was, yeah, it was the Zenith hearing. And I felt incredibly isolated. I was like, what is going on? Like I feel like all these people are speaking, but there's, when there's no response from our city commissioners, when people are speaking about things that are having real life impacts, it definitely feels like "what, what are you going to do?" do you actually care or are you just here for like media, are you just here to listen? Like what are you actually taking away from it? So I felt kind of isolated, but I haven't been to any forums that have really practiced civil political discourse.
Anika (38:29): Yeah, I haven't either.
Sarah (38:30): Oh my heart is breaking right now. I feel that way too and that disappoints me because I don't want you to get discouraged. I want you to show up and feel like your voices matter because I want you to show up. Right? And I don't think people come back if they feel like their voices don't matter. Like it would be really hard to get you to come back into a room like that. Because if you're feeling isolated and unheard, you might as well spend your time doing something else. Right? And so many people feel that way. I'm really convinced that we need to come together to craft even new ways of having these discussions so that we can educate people more because so many people aren't even working with the baseline understanding that your generation has. Like it's just, there's such an education gap and then the way that they understand authority and how we're supposed to interact and to whom we differ and to whom we give feedback.
Sarah (39:23): Right? Like what is the feedback? If we go to the hearing, does something change? How do we know? Was our time well spent? Was it a waste? What do those look like? So yeah, that's really great feedback as we go into, we have a charter review process coming up through which we'll think about our commission form of government, whether or not we elect district reps. I think it's a chance for us to think about things like participatory budgeting. Imagine if we had a greater say in how the city's money was being spent. Community planning processes potentially. And I'd like to throw this idea by you and get your feedback. Like one of the things I proposed is trying to get more city resources straight to communities so they can innovate their own climate solutions. And that's not even at the city level. That would be things like district energy for living Curry or maybe transportation and anti-displacement for places like the Jade district. Do you have any thoughts on how the city can get resources to communities better or what we might want to think about when we're trying to change the city systems?
Sriya (40:25): I think that it's very important for communities to be able to handle their own money and I guess innovate for what they specifically need because cities are so big and a city can't cater to absolutely every individual in a community. And it's definitely very difficult. But when it's more localized, it can be easier to develop those programs that everybody is going to need.
Anika (40:50): Yeah, I agree. But i've noticed that small organizations and communities can also be influenced by a lot of nonprofit organizations with good intentions and bad attention. So I think the money needs to be given directly to the communities, but giving money to people in communities that are knowledgeable on an issue instead of giving it to people who are influenced by these nonprofits.
Sarah (41:19): Yeah, almost like gatekeepers, right? How do we, how do we take down the gatekeeping function a little bit. And it's this notion that we think about in climate justice, which is who are the real experts in your community and who are the bearers of the knowledge, right? Who has that deep understanding of the people and the place so that they know where the resources will be most wisely spent. Often government doesn't trust people to be good decision makers because they think they know best, but obviously we know they don't. The freeway expansion of the Rose quarter is a perfect example, right? Where you have a government spending a ton of money and obviously people, thousands of people are telling them this is not the best idea, but they still think they're smarter than we are. I think that's what makes people frustrated sometimes.
Sarah (42:01): So any parting thoughts before we go about what you think Portlanders need to bear in mind? Not just in my election, but this election cycle or even what you're watching all the way up to the national level. Some things that are on your mind that you hope that either your peers or your elders are bearing in mind as they go to the ballot box.
Sriya (42:19): Yeah, I think that was a big question, but I think something that I've been urging to get out is that I've been hearing all these ideas of like a green new deal is radical, addressing climate change is radical. Racial justice is radical, just all these various things that are too radical. And I think that it's important for all of us to stop and think about why it's radical. Why is it radical? Why is it wrong? Why is it radical to give people equitable access to resources, equitable access to education, equitable access to having justice in their communities and not feeling isolated. As a woman of color, I feel like I'm feeling a million feelings at once and I think that it's really important for us to question why we're thinking something's radical or too big before we actually say it is.
Anika (43:20): Yeah, yeah. I want people to start to vote. If people vote and represent and represent their ideas, they're not just representing themselves, but they're also advocating for so much more. I want them to advocate for the indigenous population. I'm inspired by them. Honestly, I recently heard that there are only 5% of the world's population, yet they've advocated and protected 80% of the environment. And that's so inspiring and if they can do that, I know that the rest of the population can get out and vote and advocate for the environment as well.
Sarah (43:58): Wow. That's amazing. That's an amazing statistic too. What a powerful thing to carry with you. Well, I thank you very much for engaging. Thank you for organizing. I'm happy to show up at the events that you organize because I know that you're doing all the hard work. If the rest of us should really show up because showing up is the least we can do. Right. So please show up for their protests. Are you going to be in the streets on earth day?
Sriya (44:20): Yes.
Anika (44:21): Yes.
Sarah (44:21): And is there any place for people to find out more or will there be websites?
Sriya (44:25): There will be a websites coming soon, but I would say follow Sunrise PDX, follow Sunrise Movement, follow 350 PDX on Instagram, Facebook.
Sarah (44:35): Okay. Yeah. So follow your grassroots environmental justice organizations and climate justice organizations. Please show up in any way that you can. Please support you in your education funding. Right. And ensuring that we're getting good climate justice education into our schools cause it's, you're the next mayors. I'm just holding space until you get there and vote. Don't forget to vote. Last minute curve ball. Do you think we should lower the voting age to 16 in Oregon?
Sriya (45:02): Yes.
Anika (45:02): Yeah.
Sarah (45:03): All right, let's do it. Alright. Thank you so much for coming on the podcast.
Sriya (45:07): Thank you.
Sarah (45:08): Well that's it for this week's podcast. Big thanks to Anika and Sriya for taking time out of their weekend to come in and tape that interview with us. And thanks to all of you for listening. Please visit sarah2020.com/events to find a way to get involved and we'll be coming at you again with a new podcast in a couple of weeks.
Announcer (45:26): Thanks for listening to Our Portland. If you have a question for Sarah, record a voice memo on your phone and email it to [email protected] or use the #OurPortland hashtag and send us a message on social media. If you appreciate a campaign with straight talk on issues that matter, consider signing up to be a monthly supporter of $5, $10 or even $35 between now and election day in May, 2020. Find out more at sarah2020.com
Announcer (45:58): This has been a production of Friends of Sarah for Portland.