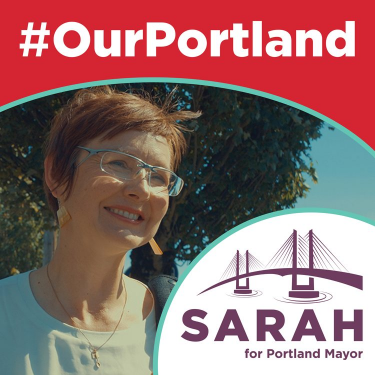 Passion and Issues w/ Michael Fuller
About this Episode
May 17, 2020
Sarah joined Michael Fuller / @UnderdogLawBlog on Twitter to discuss the role of the City Attorney and how Portlanders would benefit from leadership motivated by passion and issues rather than budgets and directives.
Find your nearest ballot drop box at sarah2020.com/dropboxes.
Here's how you can help get Sarah elected Portland's next mayor on May 19th:
Have a question for Sarah? Email it to [email protected].
Transcript
This transcript was generated automatically and has not been reviewed for accuracy by our transcription team yet. Please email

[email protected]

if you would like to help!
Speaker 1
Welcome to our Portland with Sarah Ayana Roan made possible by contributors to friends of Sarah for Portland. Portlanders have everything we need to make radical progress today on emergencies like climate chaos, housing affordability, and staggering inequality. Each episode we'll hear how Sarah plans to be the mayor to lead the city of Portland to a more equitable and sustainable future. And now here's Sarah.
Speaker 2
Hi, Portland. Sara, I Anna rune here. I'm running for Portland mayor. My pronouns are she, her. Ooh. Election day is right around the corner. Tuesday, May 19th I think you've already missed your last chance to safely mail in your ballot. So you're going to have to look for a Dropbox. You can go to the Mount Noma County elections website and find a location near you. This is a very important election. It's a given that we'll have the same incumbent through the end of 2020 but who do we want to be our mayor through the recovery and into the next phase of our prosperity starting on January 1st, 2021 I hope it's someone who thought of a green new deal in advance of coven. So when who's thinking about good government reform so that everybody's voice matters here and someone committed to avoiding displacement and making sure that Portland stays affordable for the future. This is a fun conversation we're about to get into with Michael Fuller of underdog law. He's a consumer protections advocate who works to make sure that some of Portlanders, most vulnerable residents have the full force of the law behind them. I hope you enjoy it. There's a lot of interesting stuff in here we don't usually get to in some of our other talks that focus a lot more on land use policy and things like that.
Speaker 3
Hi Maaco. Hey, how's it going?
Speaker 2
Great. Good to hang out with you this afternoon. It's Friday. TGF. Does that have any meaning during COBIT? I don't know.
Speaker 3
Every day is Friday, but uh, the weather's pretty good today.
Speaker 2
Yeah, there you go. There you go. Well, thanks for having me on your live stream. This is super exciting.
Speaker 3
Yeah, for sure.
Speaker 2
So tell folks why you would host me and who are you and what do you care about local politics or having a candidate like me get elected.
Speaker 3
So, um, I support you. Like I told you, I wrote it for you. Uh, I live in the city and I care about the residents and I think you're the best candidate for mayor about me. Um, I'm a consumer protection attorney, so I represent low income tenants. I represent student loan borrowers, um, inmates, people that have problems with debt collectors or credit reporting agencies, banks, and I'm also a consumer, um, protection adjunct professor at Lewis and Clark law school.
Speaker 2
Excellent. Excellent. Well, I'm hoping we can drill down into some of those issues. I think you probably have a few questions for me on that front.
Speaker 3
Yeah, for sure. And I'm curious to hear what you have to say about housing and whatever else is on your mind.
Speaker 2
Great, great. Let's do it. Um, so this notion of consumer protections, how do you see that fitting into something that a mayor would want to talk about? Like why, where do you think a mayor falls into that? And how should we have a conversation about maybe even the notion of our residents and the consumer protections that they benefit from? Is that a good starting point?
Speaker 3
Yeah, for sure. I think so. So currently the city attorney of Portland has a host of missions and responsibilities. One of them is not consumer financial protection and other cities do have that as one of their actions. Um, Los Angeles city attorney in particular has made that, um, something that he's really passionate about and also something that can bring back, uh, that players for businesses in this city that don't behave and that break the law. And so I would love to see Portland city attorney have a focus on consumer financial protection and the city can find, um, consumer advocates in the community that can work essentially on a contingency. So there's no risk to the taxpayer. And when, um, the city or a citizen finds a corporation acting badly, that attorney or that group of consumer advocates can go out and, uh, file litigation and recover compensation for the city for the harm that had experienced. I would love to see that.
Speaker 2
So this is something that you're raising for our viewers who might not be familiar as this. What does it mean for us to have these different progressive functions inside a city, County, or region? Or we're looking at a DA's race where we've got a progressive and we've seen progressive DA's races around the U S um, I've seen some articles in governing magazine around the rise of the progressive city auditor and what does it mean for us to have audits that are progressive? And we're seeing a little bit of that tension even in Portland's auditor in terms of the campaign finance reforms and some of the things with the hearing's office. And she's pushing back a little bit. So politicizing that slightly. How do you see a city attorney functioning in a progressive model under a mayor like me who's laid out this suite of reforms on the front of housing? Uh, the green new deal. So thinking about fossil fuel infrastructure and the managed decline of fossil fuel infrastructure, uh, public safety and policing, sanctuary cities, tenants rights, like what would a progressive city attorney look like and what should a mayor like maybe thinking about?
Speaker 3
I think you want less of a bureaucrat and more of an advocate and you see at the city and government level are bureaucrats, people that know how they equivalent to a managing partner at a large law firm when maybe you want a trial attorney at a civil rights firm. Um, somebody who, uh, motivated by passion and by issues and not just by, um, budgets and directives. So I think that would be key would be, I wouldn't say house being, but, um, going in and making sure that all the attorneys there are like minded, similar to the untouchable, you know, form a team of passionate advocates, not the highest paying position a lawyer can get a lot of, a lot of advocates would be taking a pay cut to do it, but find people who really care about the causes and who aren't going to make legal decisions just because they can.
Speaker 3
Um, for instance, not, you know, more interested in justice and winning. Uh, and I'm not at all saying you know, weakness, but you know, if someone, you know, for instance, we see this a lot with the department of justice, I don't know why they get to call themselves that because a lot of times they are across the table from me. And I'm representing, I represented a woman who died in prison of the flu two years ago, representing inmates who are being tortured. And the department of justice, even though they are called the justice department, is out there making horrible legal arguments just because they can. And so I think it would also have to come down from the top that you have to be willing to lose. And if the city or the government is, you know, causing harm to the taxpayers and the citizens, you have to be willing to pay fair compensation for that harm. And I think that will also create a change at the ground level when it's some of the hardest jobs you can have. Obviously the people that, um, protect our inmates, the people that, um, protect our streets. But if they know that they're not going to be protected by the city when they make bad decisions, uh, the bad decisions will decrease. Yeah, we've seen that.
Speaker 2
I think I'm thinking when you, just as you're talking, I'm thinking about quantities, his grandma and mom and the recent actions of the Portland city attorney in that conversation and how blaming those people who are essentially victims of our bad policing practices was just such a despicable action. If you ask me, you have two people who we claim to protect and care about as Portlanders. I just, that was a tough one for me to swallow.
Speaker 3
Absolutely. Yeah. It's something that's just gone on in law for hundreds of years before social media, you know, and before computers, lawyers hand typed out their arguments, they hand delivered them to the courthouse. Nobody's song there weren't available. You went and made your arguments and the judge made rulings, but it's a different world today. Now the public does have access to these arguments. The public can see, you know, what the, what the public's position is. And sometimes it's just horrible. And I've noticed that even in civilization, some of what I would consider the more progressive firms have stopped using some of these defenses that really just either blame the victim, like unclean hands or, um, contributed to my negligence, try to, um, you know, pass the buck to somebody else. And so I would hope that a progressive city attorney would do the same thing and throw out the old playbook. So
Speaker 2
what do you think in terms of, you said you represent, um, renters often. What are you seeing, um, in some of the things that are the biggest problems in our system locally and what do I need to do and what should I talk about in terms of my policies on renter protections, especially when you think about renter protections as consumer protections?
Speaker 3
Well, I mean, the first thing that comes to mind is the Stewart hotel next to Mary's club downtown. I've heard that several times in the last few months. I represent maybe a dozen to a half dozen, uh, folks who live there. And those conditions are just absolutely horrible. And so it might seem like a, an expense to the taxpayer, which would be hiring more city inspectors to go down there. If you use those inspectors to actually gather evidence and give it to a city attorney who is actually interested in enforcing those laws on the landlords. Not only would it improve the conditions, but it would more than pay for itself. And you know, these landlords, almost all of them, you know, they pay monthly premiums for insurance so that if there are compliance issues, those insurance companies cover their costs. But it's not going to be putting local landlords and businesses, um, out of business either.
Speaker 3
But it would be helping, uh, the, the, the residents who can't afford to help themselves, who can't, you know, we do those cases pro bono. There's only so much of that work that we can do and the legal aid can do. And it'll also bring money back into the city coffers and it'll, and like I said, it'll pay for itself. So that's one thing I think that could be done would be seek out, you know, don't just wait for periodic reviews. Don't just wait for tenant complaints, go out there and proactively find these dilapidated, um, slums and enforce the law and change the ordinances that are more strict than they are now. Whatever we have on the books now is not working.
Speaker 2
Yeah, it's pretty, I mean, and this is where you've seen the real shift and you and I were talking in the green room just briefly prior about what does it mean when we've allowed the drive for corporate profits and this, this trend of laissez Faire deregulation that we've watched for the last 40 years has really eroded how municipalities see their role as protector and advocate for the people in your city. Um, we talked briefly about being risk averse and one of the things that concerns me the most is how risk averse our city council has been in the short term on things like say, Quantis Hayes's, uh, lawsuit with his parents, with his mom and grand mom or the ice facility down in South waterfront or the fossil fuel infrastructure. Uh, where Zenith is and they're trying to expand the fossil fuel infrastructure. We're assuming all kinds of risk in the short term a lawsuit when someone gets a flash bang grenade to the head because they're anti-fascist protestor at a protest downtown versus thinking about the cost of billions and billions of dollars at fossil fuel infrastructure. Um, you know, falls in an earthquake and our rivers are polluted,
Speaker 3
right? No, absolutely. And I think some of that's also going to take a, it's going to take a mayor with the ability to go to our state lawmakers and say you need to, you know, certain certain issues that you just raised. There's preemption issues at the state level and precluded from taking action and not in all but in a lot. And so I think it's going to take a mayor with the leadership skills to go and petition and say, the city of Portland wants to do things differently and here's why. Give us the ability to do it. And that'll open up, um, the range of options that a city attorney has, uh, to affect change in their community.
Speaker 2
How do you see something like a housing state of emergency or a climate emergency declaration doing that? You know, when I ran in 2016 I actually had legal counsel make the argument on my behalf to support a rent freeze, not just as an act of the same rent freeze because the rent is going up or too damn high. But actually we had declared in 2015 that housing state of emergency, and that was a disaster. We're in a housing disaster, manmade. I mean, there are some creative arguments to be made that can be protecting Portlanders in this time and crisis. Am I wrong about that or should we be thinking differently?
Speaker 3
Nope, you're absolutely right. You know it, it takes, it takes a level of courage though, and a willingness to be told, no, you can't do that. But to change the law, you must challenge the law. And so it's going to take a creative initiatives and proposals at the city level. And not all of them may pass muster, but as long as you have a colorable legal claim, it's possible that the city could take on those types of, uh, initiatives. And maybe not all of them are successful, but it will also help show to the voters where our laws need improvement on a statewide level so that cities can, uh, protect their citizens.
Speaker 2
Yeah, we just got some blow back. I did an interview with the Oregonian yesterday where he said, I interviewed the mayor last week and he talked about how he thinks your lawsuit against the campaign finance caps is a little frivolous and a distraction. And I thought how abysmal is that when 87.4% of voters say they want campaign contribution limits, um, the law has been upheld by the Supreme court. You've decided it doesn't apply to you. And then when I Sue you, you call it a distraction. I thought, how can we trust you to care about everyday Portlanders when you don't even care about our voice or our concerns passed by 88% of vote. That's huge mandate in a city election
Speaker 3
that was outrageous and baseless. And it wouldn't surprise me if some sort of lawyer wrote that, a written response because it wasn't just you. As I understand it was also advocates and attorneys on our community. So you were one of many people who called the mayor out on, it's just blatant violations and just because a temporary restraining order wasn't successful, they rarely are. It's a very high standard. It has no impact on the merits of your underlying claim. And I think you have a meritorious case. I read the complaint, I know some of the lawyers involved and I think it was, you know, shame on the mayor or whoever put out that misleading statement that this was about politics. It's not about politics, it's about following the law that the vast majority of us passed. And then the law that was eventually upheld when it was challenged by, you know, the special interests.
Speaker 2
Yeah, I mean that's my thing. If you want to, if you want to stake your case on the PBA and the realtors association and those folks, taking that back to court as a, you know, freedom of speech infringement and then when you lose, act like that doesn't apply to you. To me, I thought, what's your point? These folks have been working on this for a decade to try and get this passed and they're going to fight for it. It's not about me. It's about the people of Portland and that's really what we need in a mayor I think is this is not about any single leader at this point. We need someone who's going to be brave and doing work based in clear values that we've outlined as a community, knowing that you're the person who's going to be out in front of the charge, but that you're bringing a huge contingent of Portlanders behind you and I think we've seen that on the tenant rights front. I think we've seen that in the sanctuary cities front. I think we've seen that on police reform, but we need stronger leadership out of city hall and some of this stuff.
Speaker 3
No, absolutely. And I think if anything's political, it's the mayor's decision to use those equal monies to fund a campaign that he knows is going to be over for the park and even rule that's political to me, a mayor who's openly and knowingly breaking the law because they know that the consequences worth it to them and that's how, yeah,
Speaker 2
maybe I can start my own limits. I think 5,000 sounds good. I think 5,000 sounds good, right?
Speaker 3
Yeah.
Speaker 2
I think every rate payer who is looking at their property taxes coming due is saying, I want to set my own tour. That sounds good. I'll do that.
Speaker 3
Yeah. By the time the court gets around to it, all stuff, all my property or otherwise. Yeah, not my problem.
Speaker 2
Ask me some questions that I haven't been able to kind of get to through this initial part of our talk. Anything on your mind I can answer for you and your followers.
Speaker 3
And I started talking about this a little bit earlier today, but I'd be curious to know just your thoughts on affordable housing in the city and then maybe second, um, any, any solutions, uh, for the homeless issue.
Speaker 2
Okay. And they're not unrelated, right? We understand that homelessness is a housing problem. Uh, it's a lack of housing problem and we also know that because of that it creates other cascading problems and there are intervening variables. And that's one reason why we've a very, I think innovative approach to how we're going to break this down on our website, Sarah 20 twenty.com. There are a lot of policies that are very fleshed out and they're built up over years of work that people in the community have been doing who were generous enough to inform the creation of those for our campaign. But they've been doing that work for a very long time. And what they've told me is that we really need to think about it from a few fronts. One is the public safety front. And when you look at that police budget and how we spend it and when you look at our public safety dollars, you and I were talking briefly about old town and volunteering at blend Shea house and what it's looking like down there now and what needs to be there.
Speaker 2
That's not what's happening in the city that maybe doesn't need to be happening. How can we use our precious public safety dollars more efficiently, effectively, and compassionately? One of the places that I've gotten blow back is on a moratorium on sweeps, which we know is the involuntary displacement of people who have no home, who are sleeping out of doors and basically trying to survive when they put things around them that are more than a cardboard box on the concrete. Now I'm not saying that I think urban camping is a great alternative. I don't think it's very good at all. Anybody who's talked to anyone sleeping outside, and it was said, it's horrible. But the difference between having a tent where you can store your things and not having a tent or having a lean to or a tiny house village is the difference between maybe being able to leave your things behind and go earn a living for a day and not being able to do that.
Speaker 2
Or having a pet or having a partner or whatever it takes to get you through the day. And so I want to make sure that we're not just displacing people, um, and abusing their human rights and their civil rights. Because I actually think it's an abuse. I've watched it happen from my campaign office where we see people being swept from one end of the block to the other, to the other using immense city resources and at great cost to those individuals. And what I'm saying is I want that money put into things like a transitional intentional villages and how can we make sure that people are getting their needs met through basics, hygiene, hand-washing, drinking water, the lack of public bathrooms. When people are complaining about feces in the street, that humans are pooping all over all the time. But those of us with privilege have a bathroom and those without are not.
Speaker 2
And I want us to say that's not the human problem. That's a civic infrastructure problem, that we don't have restaurants for people that they can use or even safe injection sites and the mental health care and the peer support that they need. So that's really one critical aspect is looking at those public safety dollars to keep people safe. The other part is the housing pipeline and how can we think carefully from the very vulnerable, the most vulnerable in our society? So those would be people who are on fixed incomes, people living with disabilities or seniors or students, tenants, right? And the fact that we, uh, people, especially elders who may own their homes but are, have a fixed income and property taxes are rising. Anybody who's in threat of displacement, what protections do we need in place for them? How can we fully fund the office of rent or services and make sure that those protections are robust?
Speaker 2
Because we know, and this is something I'd like your feedback on, is the number of evictions that are going on in publicly owned and publicly subsidized housing in Portland. When I learned that statistic, I thought that was quite incredible and I think if Portlanders knew that we were evicting people from public housing in the middle of a housing crisis, they would go bananas about that. So I would love your feedback on that. And thinking also about relief legalizing the creation of new forms of housing. I love to make racist zoning illegal for too long. We've allowed certain groups of people to say, Oh, this is my special place and we don't really want multifamily housing here. We don't want diversity, we don't want low income people here. Now those aren't the words that they use, but that's what's behind the words that they use. And so using all of the city land use power, because land use zoning is actually pretty legal quagmire when you get right down into it. We have to go to this, to Luba and to the state when we're looking at some of these things. So that's my approach to it is looking at it across the spectrum of safety, of accessibility, of protections for people who are renting and making sure that every single person who has a safe space gets to keep it and occupy it with what they need to survive. Um, and I'll pause there and see if you have any followups for me.
Speaker 3
Um, to address your point on, um, eviction from public housing. That's one of the things we do along with legal aid is defend people in public housing from evictions. And what we're sadly seeing is that the organizations that are publicly funded to provide this housing, they don't actually manage the housing themselves, managing the housing upkeep, but collection of rent and eviction. And sometimes there is good reason to evict dangerous people from public housing. Obviously what we're seeing is the nonprofits don't forward, others hire out for the lowest bidder, um, the contract to manage these properties and then they have very little oversight. And so you've got companies that get paid a fee, like say, um, the yards apartments down on, um, NATO, you know, it's $70,000 a year. That income property management gets paid to basically be the manager from home forward. And so what kind of incentives does that create for a corporation?
Speaker 3
When you get paid a flat fee and then you're supposed to, uh, you know, incur expenses, may, you know, providing security services, uh, and then then including, um, evictions. And so what we're seeing is a complete lack of services or the cheapest service as possible. And then retaliatory evictions, even under the new forklift or the new, um, eviction moratorium, we're seeing like a landlords at, um, the steward hotel next to Mary's. Now they're threatening to do an adjustment and they still want, Jackman isn't an eviction and it's not. And so, you know, they're using the creative loopholes in the law, um, which is normally fine between two sophisticated legal parties. But when you're, you know, bullying a tenant with, with no rent money, let alone any money for an attorney, it's just patently unfair. And so again, I think we need a mayor with the leadership skills to go to the state and say, this is the problem we have in our community. A lot of other communities don't even have, you know, these types of housing projects. We need the ability of the city level to give additional protections to our renters. So that's one thing I think is we'd have to loosen up the state law so that the cities can actually, um, do what's right for their community
Speaker 2
and maybe even push them a little using the housing save emergency. Just say that it's gotta be a moratorium on those while we're in the state of emergency and then we'll revisit this on the other side. I think some of the same things with design review, even that hold up some of the affordable housing provision, we could say, yeah, we'll talk to you about this when the state of emergency is lifted. But right now we're in triaged. Um, we're saving lives here.
Speaker 3
Homeowners too. You know, I don't, I don't particularly sympathetic to homeowners just cause that's not my thing. I'm more of a tenant protection. But, um, I can certainly understand being a homeowner saying I'm not getting my rent, but yet the bank is still expecting me to pay. I mean I think we need a holistic approach that doesn't just benefit special interests and wall street
Speaker 2
is that the thing though? I mean who does the mayor of Portland fight for? And when you have someone with financier's background like Wheeler, I do think that he has some sympathies and he said this on multiple fronts, like this good people on both sides as if being temperate to people who have no Goodwill toward Portland is somehow a moral, ethical imperative. Right. I don't think wall street has a Goodwill toward Portlanders. I don't think amazon.com necessarily has Goodwill toward Portlanders. I don't necessarily think that a real estate speculators, multinational real estate speculators have Goodwill toward Portlanders and I don't think the outright really has Goodwill toward Portlanders. So why on earth do we have to entertain the conversation at these people? Have any Goodwill toward Portlanders at all? And why wouldn't you base policy on corporations don't get to scrape value off our communities.
Speaker 2
They don't get to take away profits based on our good placemaking and the good investments we've made in air quality and environmental protections and cleaning up our river and planting trees and funding parks. That's why everyone wants to invest in Portland, not, there's not anything unique to this demographic, to this geography without the people of Portland making it beautiful and then we don't, they don't expect that we're going to have community benefits outlined here. They don't expect that you're going to have to pay, for instance, take to run your trucks on our streets or that you're going to have to actually make sure that the people of Portland are taken care of while you're profiting from us municipal broadbands. In other words, imagine for us to actually be able to provide that service for Portlanders directly as a utility as opposed to having the Comcast of the world get those checks every month from Portlanders. It's just, to me it seems common sense.
Speaker 3
Yeah. Wouldn't that be great? And that's another reason I'm supporting you is you're not taking special interest money. When you spend your time with special interest people and you take special interest money. It's not surprising that you think that they're good people. I wouldn't know because I don't spend my time taking money from special interest people with people that are hedge fund managers and real estate speculators. I spend my time with tenants and working class people and I expect, uh, you do too. And that's probably, um, Y you know, you have the position that you do. And so I say why the mayor, uh, has made those statements, but I can only expect because that's just the world and the loyalties that the world that he's in, in the loyalties that he has.
Speaker 2
Yeah. And it's not really even a personality thing. Right. When you look at the fact that we're on track to break city records with the most number of donors in this small donor campaign, in addition to the campaign contribution limits, someone asked me in an interview yesterday about, you know, how has that changed? How do you campaign? And it makes you a better leader because when you have to listen to the diversity of people who are coming at you. I listened to financeers, I listened to small landlords, I listened to realtors, but I also listened to renters. And I also listened to people who are on fixed incomes trying to make their property taxes and wondering why am I paying 60% 16% APR and a late fee for my property taxes in the middle of a pandemic? I have to choose between foreclosure and my property taxes being on time. I mean, it's about the diversity of our ecosystem and everybody's experience making us stronger. So it's strength. It's not a weakness when you have a people's mayor and progressivism I think is making a comeback, but I think it's going to take some effort and we haven't seen a lot of movement at the federal level. But here in Portland, I do think the city, we can move the needle and if we can't, who can? We're supposed to be this progressive stronghold.
Speaker 3
Yeah. Well we'll see. I'm optimistic.
Speaker 2
I am too. I'm really excited about it. You know, and before we leave, I'll just leave folks with this. For the last 10 years, my job at Portland state was hosting visiting leaders from around the world who wanted to come and study how important it gets things right? And I'll tell you everything that they want to know has nothing to do with the financier class. It has nothing to do with investment banking. It has everything to do with small family businesses, food cards, restaurants, parks, active transportation and community. It's how do you connect people, how do you engage them in good placemaking? How do you make sure people are cared for right down to our farmer's markets. And how do you make sure people are healthy? Food to eat and clean water to and clean air to breathe. And if we focus on those things, I actually think that we are going to regain a global leadership position. Not because our economy is booming, but because when you make a good place for Portlanders, then that is attractive to people from around the world. And they're going to want to visit here. They're going to want to live here, and they're going to know that this is a place that's authentic and has deep integrity and a deep commitment to sustainability. That's true and not this foam aggressive veneer that we've been skating on.
Speaker 3
Oh, absolutely. And that's why I'm voting for you and I wish you all the best.
Speaker 2
Thanks for hosting me. It was a wonderful conversation and good luck with your work and stay safe and healthy there where you are in your part of town.
Speaker 3
Yeah, you too. Take care. Bye bye. Hi, this has been a production of friends of Sarah for Portland.