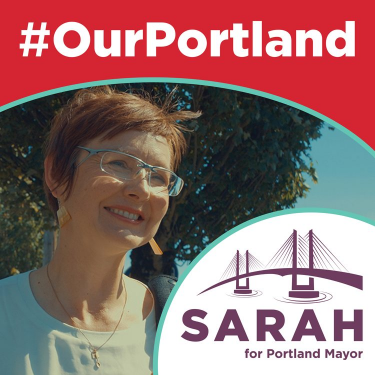 Talk Less, Walk More w/ Ian Karmel
About this Episode
May 17, 2020
Sarah joined comedian Ian Karmel / @iankarmel on Instagram Live to discuss keeping Portland affordable and leadership that does less talking, more walking.
Find your nearest ballot drop box at sarah2020.com/dropboxes.
Here's how you can help get Sarah elected Portland's next mayor on May 19th:
Have a question for Sarah? Email it to [email protected].
Transcript
This transcript was generated automatically and has not been reviewed for accuracy by our transcription team yet. Please email

[email protected]

if you would like to help!
Speaker 1
Welcome to our Portland with Sarah Ayana Roan made possible by contributors to friends of Sarah for Portland. Portlanders have everything we need to make radical progress today on emergencies like climate chaos, housing affordability, and staggering inequality. Each episode we'll hear how Sarah plans to be the mayor to lead the city of Portland to a more equitable and sustainable future. And now here's Sarah.
Speaker 2
Hi everybody. Sarah. I Anna ruin for Portland mayor here. My pronouns are she, her, hers and election day is right around the corner. You've already missed your chance to mail your ballot, but you can still drop it off between now and 8:00 PM on Tuesday, May 19th please make sure you vote, connect with your friends and family members via text or phone and remind them to vote and you need to vote for anybody. But the incumbent, it's a really important election. We've got a lot coming up in terms of covert recovery and how we're going to make Portland sustainable in the face of threats coming our way, like earthquakes and climate change. So we need someone who's got the practical experience and the right set of policies and ideas to get us through these hard times. Now for the exciting part of this, I had a wonderful conversation with someone of whom I'm a big fan, Ian Carmel. He sheltered in place down in Los Angeles right now where he resides, but he grew up here and he's got some really interesting insights in terms of making sure that Portland stays affordable and accessible for artists and creatives. So if you want to hear me, fan girl, really hard, listen to this episode. Uh, you'll have a fun time. There's a lot of jokes going down. None of them are from me. Take it away.
Speaker 3
Hello. Hello. I'm going, uh, I'm going live right now to talk to Portland mayoral candidate, Sarah and around me. Hello.
Speaker 2
Thanks for hosting me today. Ian. I'm so happy to talk with you. How are you doing down there? Sheltered in place.
Speaker 3
I'm, I'm, I'm doing as well as I can. I'm sheltering in place. I'm eating, I'm eating very boring. The first couple of weeks of shelter in place. I went crazy on getting food delivered and was just like every, I was just, I would like have a full meal from din Tai Fung for lunch and then like dinner would be like a bunch of tacos or whatever. So now I'm getting meals a little bit that just, I'm eating.
Speaker 2
Ooh, that looks so healthy and fresh. You can take the boy out of Oregon I guess.
Speaker 3
And hopefully you can also take the cholesterol out of the boy at some point. That's what we're shooting for.
Speaker 2
Well, I want to thank you for keeping up the good work with AFE, you know, after politicking all week. It pretty intense. So I looked forward to some Friday afternoon downtime in my garden. I kind of like this little old lady laughing at myself out loud. My neighbors must think I'm a,
Speaker 3
yeah, it's crazy to me that you listen to all fantasy ever. They were a bunch of morons. But uh, it's very touching to me that sometimes smart people listen as well.
Speaker 2
All very smart. It's the, you hide the intellectual isn't very well. So it's not to offend people, I suppose. I hear insight. Intellectual wisdom is a thing.
Speaker 3
I think it is. I make it, uh, absolutely a thing. It's a thing for me and that I am, uh, not that intellectual, but like I, uh, it took me like seven years to graduate from college and I tell people that's because I took one year off to go study with the Groundlings in Los Angeles, but that means it still took six years. So anyway, the reason I'm here, uh, is, is we're going to talk to Sarah about it. I mean, you're running for the mayor of Portland, my absolute favorite place in the entire world and I may be, uh, I've been gone from Portland for like five or six years now and I would never tell anyone who to vote for it. Uh, because I mean, like that's a decision you have to make on your own. And hopefully people are educating themselves as to who they should vote for and for what reasons.
Speaker 3
But I truly believe in you as the next mayor of Portland. I hope you are the next mayor appointment. And my reason for that is I think for like a long time Portland that it would be, but then that's my, we'll get to my first question, which involves me with him. But, uh, the reason I think you would make an excellent mayor is because I think for a long time in Portland and in surrounding areas, we've often coasted on sort of a liberal reputation that we have, you know, and, and we certainly, I don't let me culturally very liberal, um, what I think we have sort of coasted on our reputation and it's been a lot of like talking and not a lot of walking. And I think that you, I mean just from like this thing that you speak and reading your platforms and everything, you have an actual like progressive and an actual liberal platform to sort of take Portland from, you know, cause like in the nineties it was enough to be like, I believe two gay people shouldn't be allowed to get married.
Speaker 3
And if you said that, that was like, Oh, you're a, you're a fairly pretty, you're a very progressive person and that's fine. But like I think there's a lot of people who have conservative policies and then, but like culturally or liberal and that's to me it's not liberal and like your policies are actually liberal actually progressive actually things that I think are going to be able to help take Portland to the place that needs to be is the rest of the country is, is stratifying more and more an economic inequality is getting worse and worse. I think like you have actual plans for how to help Portland
Speaker 2
avoid those issues and sort of counteract those issues. And that's why I'm a big believer in you. Well thank you for that endorsement. It means a lot. And I mean, you know, being down in LA, Portland enjoys an outsized reputation, not just in the U S but around the world. We're an influencer. And with that, as RuPaul would say, with great power comes great responsibility. So what we need to do is actually live up to our reputation. You can't just pick the low hanging fruit and call it good. And for me it's really about we can do better to, you know, you're from here. We felt the capacity. So when you're sleeping on talent, that's just a waste. And I think that sustainability means not wasting things, whether that's money or talent or community power or whatever it is. We just have to do better.
Speaker 2
I think that's, I think that's an excellent point. There are people there who would like a ready and willing to help. It's just we need to get the stuff out of the waste so they actually can, right? Yeah, exactly. And mobilize that power. I mean, you're a comic, so you know what it means to feed off an audience and how when you're working and you're refining your craft and you're really trying to make that critique land with everyday people, no matter where they're coming from, to meet you halfway, you have to play with them out in that field. It's not you in isolation connecting with them. And so that's a lot of things. What politics can be too, is this notion that when you're engaging Portlanders where they're at and thinking about how can I connect with you and really engage you in this work and in this process, I think they're going to be psyched to be a part of it.
Speaker 2
We've seen so many people in the United States just completely check out, and I don't want that. I want people to be excited about it. Yeah. And no sleep till Beaverton. I'm going to get a little distracted. So my first question actually, which is, if as Manafort land, would you be willing to pass legislation that punishes any journalist who refers to me as being from Beaverton rather than Portland? You know, I have to stand up for first amendment rights. I think that free speech is important, but I do not appreciate false news. What do they call it? Fake news. He says no fake news. So anybody putting out there that you're not from Portland is fake news. Thank you very much. We're taking the phrase back. Take the phrase back. Take the phrase back. But you know, the other thing, I actually just encouraged my, uh, one of my BFFs, uh, to move to Beaverton because I actually think that the city of Portland is just one part of the support and equation, right? Like we're at the center of our region, but the fact that she works at Portland state university and can hop on light rail and have a nice beautiful downtown and Beaverton would, their farmer's market is amazing. Library, little walkable place. I said, girl, go get yourself a condo in Beaverton waiting for affordability to catch up here in Portland.
Speaker 2
It's very diverse now. Be with him as well as kids quite a bit from when I was
Speaker 3
from when I grew up there. It's like, it's really a wonderful place, ironically for the first time and you know, so, um, so I I love with the funny questions. I did want to ask. So like as a committee, I am a comedian and I came up in Portland since I was like, you know, I moved there when I think when I was 19 years old and then was there from 19 to 26, 27. And while I was there, it was, you know, I was struggling economically of course it was a very hand to mouth sort of thing. I have like a mountain of student loan for my seven years in college as format and I was trying to make it as a comedian and I feel so grateful that like, I mean I split a two bedroom apartment with two other people, but the price of that apartment was like $700 and this was not super long ago and this was like, you know, we were on 21st and Ash street or 22nd and Ash, it was like close to the end. It was like improper Portland. And um, one thing you've talked about is like advocating for renter's rights and attendance, bill of rights. And I think those are like, that's like very pretty language that you hear that and you're like, Oh, that's nice. I would like to have a bill of rights for me. But like could you get into that? Could you break down exactly what that would mean for, for people who rent in Portland?
Speaker 2
Yeah, sure. And it's actually an ecosystem when it comes to affordability, right? Because I love, yeah, that spot is definitely 1800 right now. And I've talked with so many artists and creatives who are getting priced out of Portland, and this is one thing that if our policymakers don't understand that they don't understand the economic, uh, basis of Portland's prosperity because our artists and creatives and makers are what make us here. No one wants to come to Portland because of some Marriott hotel downtown. They want to visit food carts and go to the clubs and eat the beautiful food and see trees and go to the coast. It's not like if we take these things for granted, Portland is going to stay awesome. Portland will be horrible and soulless. So that's just the first thing that affordability is not some giveaway because, Oh, these poor renters, aren't they under it, right?
Speaker 2
No, we need people to be able to afford to live here so we can prosper. So that's just a mindset that I think people need to adopt. Second, we look at this from the PR perspective, at least in my campaign is tenant protections are consumer rights. You know, you can't just have the wild West when it comes to a sellers market. When we have a housing and humanitarian crisis on Portland streets and every person who tips into homelessness from a lack of protections is actually much more expensive for us to care for while they're unhoused, it's much more costly to get them back into housing. And it's really hard for us to make sure that they're even say keeping a job because they've lost access to housing. And so looking at that in terms of what kind of things can we put in place for renter subsidies coming up short one month shouldn't be the reason that you lose your housing.
Speaker 2
Um, so can we figure out revenue streams for that? Making sure things like security deposits. Last time I was renting in East Portland, I ended up paying like over two months of what rent would have cost, just insecurity, deposit, pet deposit, cleaning fee, like all upfront. And if I hadn't had that in the bank, I wouldn't have been even been able to rent cause who can come up with two months of rent plus one month of rent hard. Even affluent people can barely come up with that. Melissa, Uber rich. So these are the kinds of things that just as a basic common sense and beyond that there's so much capacity here in Portland for creative creativity and innovation in terms of the types of housing we're providing and what that looks like on the street level. I just, I just think we're sleeping on a lot of capacity in terms of keeping people housed here. Portland.
Speaker 3
Well one of the things you talk about is that sort of middle range housing. You've got like the single occupancy homes, which a lot of people live in. And then it was for a long time, like sort of the bedrock of housing in Portland when it was a much smaller city. And then you have things you know that are like big stacks of apartments. So you talk about that mid-range housing. Could you talk about that a little bit more for the people?
Speaker 2
Yeah. And you're taking me down my wonky path now. So pull me out of it if I get too far even about that. You know, we created a whole new government in Metro to help us establish an urban growth boundary so that we could grow up and not encroach with our city building into precious farm and forest land. And that's one reason why we have such amazing microbrews and wine and farmer's market and everything's so beautiful here. But what we didn't think about was the fact that if you're just going to concentrate multifamily housing on a few streets, Powell Boulevard, division McGlaughlin, well that's leaving an awful lot of the city untapped in terms of housing potential. And a lot of people really liked it that way because when they heard about multifamily housing, Oh, they thought poor people, right? And when you start talking poor people, well then we're talking all sorts of craziness, right?
Speaker 2
And while they might actually be diverse and come from different backgrounds from us and enjoy a different culture than we enjoy, right? And so, um, we don't want that. And so there's been this kind of white enclave preciousness to, to the preservation of Portland single family neighborhoods that doesn't get talked about a lot. And what we're trying to do is dismantle that system in which certain places are very exclusive and other places are inclusive and make sure that all of Portland is inclusive and make sure that we're not um, squandering precious land inside our city. We're actually land but locked by all the other cities here or the Columbia river to the North in Washington state. So we need to use our land very efficiently here. And if we have a bunch of sprawling single family homes, I have like three people living in them or even fewer because household side is shrinking. That's not a good way to meet our climate action goals. And it's not a good way to meet our equity.
Speaker 3
Yeah, absolutely. That would be build up was your build up plus it looks cool I think anyway, like big tall buildings
Speaker 2
and they don't have to be that tall is the thing like the reason that we have some tall is because there's so many really small ones. But think about those neighborhoods you love lads edition. There's all kinds of cottage clusters in 80 ewes and granny flats. I mean people love living in those and think of the cool um, housing modes to when you were housed with a bunch of roommates. You know, there are some places where the household side precludes families, intergenerational families living together because they exceed the legal household size. Even it seems bananas cause they live leaving grandma off the list. Right. They're leaving grandma off the list because they just don't come from backgrounds where intergenerational is a thing.
Speaker 3
Well that's, I think that's like an excellent way to start to address the houseless disease issue that we have in, in Portland. One thing. So like I know that's like a really good, uh, that's a good way to address that. That could take time. You know, like I think I was reading on your website that like at the right we're developing places, low income or shelters like that. It's going to take decades to address the issue we have now, which doesn't even take into account the growth of that population potentially. But there are in the meantime, there are people like like uh, who own businesses in downtown Portland and, and stuff like that who like, I mean, my own father was like attacked by a man, like a houseless person who probably had mental issues like outside of his office downtown. I have other friends who had like, you know, people desiccate like in front of their, you know, buildings or put syringes in there. Often these people don't have out elsewhere to deprecate or to get rid of syringes. So for those people who are saying like, okay, it's all well and good that we're doing something for these houseless people, but what are we doing for the people who own businesses who were affected by it, what would you say to them?
Speaker 2
Well, I'd say a couple things. One, the solution is the same because making sure that those folks who are experiencing homelessness are experiencing mental illness or suffering from addiction, have a place to poop or have a place to dispose of their needles should be a basic human right, right. That's not just for the people who are experiencing homelessness. That's for that business owner too. And we need to start having that conversation in Portland. This is on all of us and it's one reason why I've actually separated a lot of my solutions to this problem across two platforms. One is definitely the housing for all strategy, which people can find at Sarah 20 twenty.com/housing but the other one is part of the rethinking public safety. And that's like looking at what do we need to keep all Portlanders safe. We're throwing millions in police overtime against these stupid white nationalists who come into throw riots with militarized police gear and all this bullshit when really what we should be doing is public bathrooms, right?
Speaker 2
Safe injection sites, hygiene station so that people have access to water and showers and laundry facilities and then making sure that they can self-organize in church parking lots. Um, in nonprofit parking lots in smaller villages where moms who have, uh, children and you know, are escaping domestic or intimate partner violence or veterans or people with a certain substance abuse background that they can self organize and get the peer support and the mental health support. And the transitional support they need while we're trying to get them into permanent housing. There have been barriers to that and I don't understand the resistance, why that's not a shared effort in Portland across, say, the business owners, the homeless advocates and the public sector and private sector. I don't really get it. I don't, I don't
Speaker 3
get it either. I think people are looking for these like perfect solutions and on the way to those perfect solutions or ignoring like these good things that like collectively Voltron together to become a solution, but they just want some like, you know what I mean? Like one, I don't know, pie in the sky solution to all of it where it's like all of a sudden this won't be an issue, which is crazy to me. So thank you for saying that. Um, yeah, I uh, Oh yes. Like we've talked about a couple of serious things and I just want to ask like kind of a fun question, who we've had some amazing and some colorful mayors in the history of the city of Portland. Uh, who of all those mayors has been your favorite?
Speaker 2
I've only lived here since 1998 I unlike you, I was not born here, so I am fake news. Um, but um, that's so funny to Portland. You've only lived there for 20 years. So people are like, she's not from here, from here, she doesn't go loss. She wasn't here when she wasn't here in Portland was edgy. Um, I have to say, you know, just because of like brash chutzpah, dark, short haired bad-ass is Vira cats for various reasons. Right. But then at the same time, you know, she was kind of a political insider and she had been in the state legislature and she'd been doing those things. So when you kind of get this populist, uh, Renegade business owner vibe, you have to look at bud Clark, you know, with the trench coat open to the art and the bicycles. And so maybe if bud Clark and Vera Katz had hooked up and had a baby, that's what I would be. The thing maybe is that, is that how we get to put that together in terms of favorite mayors?
Speaker 3
That's perfect. As long as you open up a bar at some point that serves really, really good Rubens.
Speaker 2
Yeah, he does. He does make a good Reuben down there, doesn't he?
Speaker 3
That is a fantastic room and you get a red beer with a Ruben that was like, uh, that's one of the best things. You can consume it all. Portland. Oh yeah. Yeah. I think, I mean, I don't have a ton of other questions. I guess. Um, one thing for me is, is like as we're, I mean Portland is going through this like, uh, I mean the world is going through the coronavirus pandemic and um, like as far as the tourist destination, which Portland has become more and more throughout the years. Somebody was asking this in the, in the comments, like, as, as mayor, how would you help Portland like bounce back? I mean, we're going to need like restaurants to open back brewery stuff that's like been closed down. I mean, you've only had like a few weeks to think about this has just happened, but like what are your preliminary thoughts on that?
Speaker 2
You know, I've been thinking about it even prior to COBIT and in part it's because I've been watching stuff. Like we had a Ritz Carlton go in downtown in an opportunity zone, filled with tax breaks, broke ground on that, 30 food carts, displaced, no succession plan, no negotiations with that Marriott corporation about, Hey, how about a commercial kitchen or some kind of storefront for these people or whatever it would be. There was no plan. It was just displaced them. Global capital comes in, boom, and no one ever came to Portland for Ritz Carlton ever. And no one's ever gonna. And if you don't get that, you shouldn't be mayor first of all. But here's the point. If you don't fight for what makes you special, you're not going to be special. You're going to lose your brand, you're going to lose your people, you're going to lose your authenticity.
Speaker 2
No one's going to want to come here anyway. So the basis of tourism is making Portland good for Portlanders. It's the only reason people have ever come here so that they can walk into a neighborhood, go to that brew pub, see a bunch of people with their dogs acting however they act in that neighborhood and feel like they're a part of that vibe. That is what I hear from visitors from around the world. I've been working with them for a decade now and they come here to learn how to create that back home. Huge. People who are building millions of dollars of rail in Korea and Japan are thinking about how can we create good healthy neighborhoods so people want to live close to transit now? I think some important things. I would love to see more pushback from the mayor in terms of all the businesses that are suffering right now.
Speaker 2
Stay put. No one has the answers and we maybe don't even have the money to bridge this for you right now, but please don't give up the ship yet. You need to hold it down and someone there saying like, we're going to figure this out. We're going to figure this out. The business that I founded back in 2006 closed last week due to coven. That's like our neighborhood brunch joint. That's where everyone walks. It's empty out. Where do people going to go when we opened back up? Subway. Come on. So thinking about the fact that again, it's about the artists and creatives, the small businesses that make this place special, you got to fight for them. I look at the public right away and I see a lot of real estate tied up in the streets and I think about the fact that being outside in the fresh air would be a great way for us as we're socially distanced, it's coming back together.
Speaker 2
So I think some of the cities that are putting like sidewalk cafes and really taking up the public right away is going to be useful. Um, mobilizing, even in arts and culture, I've been trying to think about what would it mean if we had socially distance movies in the park, for instance. And those were cosponsored by things like say Clinton street theater, that obviously they can't have a lot of places in there inside, but they're a cultural amenity that we want to be here on the other side of the crisis. I would love to see the city partnering with some of our precious businesses like that, that are legacy businesses, Hollywood theater. Another one
Speaker 3
too bad that I started comedy at the Clinton and then finishes Hollywood's what does two very important places to me. I love it.
Speaker 2
We don't want to lose them. I mean, even if we lose them, they don't come back. Right?
Speaker 3
Yeah. It's hard. Those are labors of love that somebody puts their entire life into
Speaker 2
their entire life.
Speaker 3
And if there's, you know, it's like I don't have another life to build up another one of these feeders and put like, yeah, they're, they're amazing. They're still like types and stalagmites. They take a lot of little stuff over a lot of time to become that important and big. Um, well listen, Sarah, I came into this, you know, thinking I liked you and I and supported you and, and come out of it knowing that for sure. I think you are. Uh, I just think you're the right person for Portland and I hope the people who tune into this, uh, have heard some compelling things. Uh, is there anything else you'd like to, you'd like to say to the people watching before we go?
Speaker 2
I would, Ian and thank you so much for having me. Thanks for all the joy that you bring into the world, especially, uh, you know, laughter is the best medicine and if folks do want to get involved between now and election day, we have a little bit of time left. It's too late to mail your ballot, so you have to drop it off at one of the drop boxes and you can find the location at the Mount, Noma County elections website. And also if you want to sign up for an hour or two, a phone banking to help us get out the vote. We can't knock doors right now because we're all sheltered in place. But you can go to Sarah 20 twenty.com/volunteer mean you can get a loan sign. I saw someone asking, I'll deliver that by bicycle myself. Oh, that's what I know. One thing I want to tell you, when you get back and you're out in the streets and James Corden, I want to see you singing songs on e-bikes. He by karaoke is my one request for the sustainable future. I know it will come later to LA than it will be in Portland, but if you guys ever come up to Portland, we'll have to do e-bike karaoke for you,
Speaker 3
not sent to the regular amount of exercise that riding a bike involves. We're into.
Speaker 2
All right, so thanks again for hosting me. Portlanders get involved. Listen to AFE if you need to take the stress off from Covin cause it really is a wonderful respite from the crisis and take good care of you and yours. Okay. Thank you so much. I hope to see you in Portland when I'm allowed to go to Portland again. All right. Bye. Bye. Bye. This has been a production of friends of Sarah for Portland.