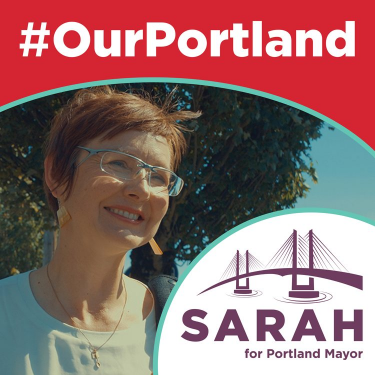 Racism & Public Health w/ Leslie Gregory & Alexis Dinno
About this Episode
July 27, 2020
Sarah talks with Leslie Gregory, Founder and Executive Director of Right To Health. Right To Health is a local non-profit working to have racism declared a public health crisis.
Sarah then talks to Alexis Dinno, Associate Professor at OHSU-PSU School of Public Health about how all policy is health policy.
Episode Links
Campaign Resources
Further Reading
Have a question for Sarah? Email it to [email protected].
Transcript
This transcript was generated automatically and has not been reviewed for accuracy by our transcription team yet. Please email

[email protected]

if you would like to help!
Speaker 1
Welcome to our Portland with Sarah. [inaudible] made possible by contributors to friends of Sarah for Portland, Portlanders have everything we need to make radical progress today on emergencies like climate chaos, housing affordability, and staggering inequality. Each episode, we'll hear how Sarah plans to be the mayor to lead the city of Portland to a more equitable and sustainable future. And now here's Sarah.
Speaker 2
Hello everyone. And welcome to the hour Portland podcast. My name is Sarah [inaudible]. I'll be on your ballot in November against the incumbent. November 3rd is election day. My pronouns are she her serves. This is such a great episode. We're going to be talking about public health. This is something that is very important. It's on everyone's minds right now because of the COVID pandemic, but really everything is public health. And there are multiple pandemics in which we're operating. We've got COVID, but we've got racism. And that racism, the white supremacy is a public health crisis for all Americans and all policy is health policy. So this is going to be a great episode. Uh, I've had two conversations over the past few days. In fact, the first with Leslie Gregory, who I actually ran into down in front of the justice center last week, she was holding a bumper sticker that said racism is a public health crisis.
Speaker 2
I walked up to her and I said, would you talk to me about this? This is something that's so important to me. Um, who are you and what are you doing here? And why are you holding this bumper sticker at this protest? She explained who she was. She talked about her organization, and I just knew we had to have her on the podcast so that you could hear from your, from her mouth directly. Um, why racism meets the criteria as a threat to public health. She's going to talk about it a little bit more during the episode, but she does have a petition. I think it's got about 15,000 signatories at this point. Um, it's on move on.org petitions, racism meets criteria, but you can also look for racism, um, meets criteria for threat to public health. And we'll definitely put any relevant links from this show and to the show notes.
Speaker 2
And the second conversation from my friend, very good neighbor and really smart professor of public health, Alexis Deno, dr. Denault wrote a letter to the editor in the American journal of public health. Back in 2013, asking do riot police serve public health. This was in the wake of the sweeps of occupy camps during the occupy movement. We are seeing a lot of similar things on the ground here in the wake of George Floyd's murder and how the protests are unfolding on our streets. And so I wanted to talk to her because I know she brings a very rich understanding of public health, but she also brings a very critical lens to the crises that we're seeing the economic crisis, the housing and homelessness crises, the crises of racism, and, uh, the crisis of neoliberalism and lack of accountability and governance in our trend, what we're seeing now, uh, toward authoritarianism and even fascism on the streets of America. This is such a critical conversation in tying the racism to these other issues is so critical. So I hope you'll stick with us this whole episode. It's going to be rich and informative and thanks for sticking with us here in the, our Portland podcast.
Speaker 3
[inaudible]
Speaker 2
But before we get to those conversations, I'd like to go through a few campaign updates and let you know what's been happening, not just on my campaign, uh, but on the ground in Portland. And I know you're overwhelmed, so I'm not gonna go too deeply into protest coverage. I realized that we're on every TV channel in the U S and probably many around the world. I've had calls from Amsterdam and Brazil and Kenya asking me how we're doing. Are you okay? So I know all eyes are on us, but back to the mundane, relatively speaking, our, our campaign is going like gangbusters, new volunteer, signing up. We have a backlog of lawn sign deliveries. We can't get them out fast enough, but that doesn't mean you shouldn't keep ordering them. Our masks are in they're amazingly comfortable, double ply t-shirt material. I wear one myself.
Speaker 2
It is very comfortable and breathable for the heat. So if you, and it says across the front wearing is carrying and they're in a variety of colors. You know, we're not selling these at a profit because I'm a publicly financed candidate. So you can go and [email protected] slash store. If you want to get involved in the campaign, one of the most meaningful ways you can help, especially in the covert era is by signing up to make phone calls. Now, listen, it's 2020. None of us like talking on the phone, I don't know how many times I've seen a voicemail come in and thought, why did you not text me? However, when we cannot knock on doors and talk to people face to face talking to people we don't know yet on the phone is critical in terms of engagement. And we have a top notch field team standing by to get you trained and comfortable in making these calls.
Speaker 2
And I've been spending hours each day talking to voters, myself, and each conversation. I learned something. I connect with someone who's in my city and caring about my city. And ultimately I end up on the better side of these for what I learned from the folks I'm talking with even one hour a week is enough. So please sign up to [email protected] slash volunteer, and you can get into our network and you can even go straight to sign up for phone bank [email protected] slash events. Another update from the campaign. We invited people who've been long time supporters, donors, um, endorsers of this campaign to a crowded zoom event. Last week that we called the state of our Portland. Now we have watched as our city has flailed in the absence of leadership from the incumbent. And so what I tried to lay out was my assessment of what's going on, how we can respond better and what a future under leadership that is connected to this city in touch with our communities and well versed in how we can transform public policy for better outcomes is key that is now been released to the general public.
Speaker 2
Uh, you can find it at Sarah 20 twenty.com/state, uh, for people who are Spanish speaking, we have it translated into Spanish. And also there are Spanish subtitles on the video. It is a rollicking good time toward the end there. Uh, when comedian Ian Karmel joined us, we heard from Bob and sing of the Oregon justice resource center has been doing so much with regard to the federal occupation of our city. We heard from Tazi Chestnut, who's working on youth educating police, and really why getting youth engaged are so important, not just in this current moment, but for things like climate change, housing justice, economic justice, in addition to the racial justice movement that we're seeing right now, and then a great ally of ours supporter and all around climate and equity champion in Salem, a state representative carne power, uh, gave a rousing call for the leadership of Portland and what that means, not just for the people of Portland, but for all of the residents of Oregon to have leadership that has integrity.
Speaker 2
That has clarity that has vision and is grounded in communities. As we work forward, crafting a future that is going to be equitable, inclusive, and truly sustainable for not just our generation and the next generation, but successive generations. And she's a pregnant lady. So you should listen to her because we need to listen to the moms. So speaking of the moms, I think that brings us pretty close to the tweet of the week. So this week's tweet of the week comes from Sarah Zhang. She's a lawyer by training journalists by vocation, and you can see her work in the New York times frequently. So here's what she had to say earlier this week after mayor Ted Wheeler came out to get teargassed in solidarity extensively with the people in the streets, protesting police brutality, she tweeted the mayor, came out, got tear gassed by feds as a photo op then left, and then his own police declared a riot.
Speaker 2
LOL, no, this got a lot of coverage. And I wasn't that excited about seeing Ted Wheeler come into the protest to deescalate because as my campaign issued in a statement that's about as welcome in that context. As if Donald Trump had marched in to Portland as the police commissioner, Ted Wheeler is uniquely positioned to tell his police to stand down. And as mayor, he's uniquely positioned to set budget priorities that meet the demands of the people protesting in the streets, but he has done neither. And because of that, this is why people go out night after night. And so I made, you know, sometimes I I'm a little too sarcastic and people think I'm being serious, but I said, is he going to get evicted to solve homelessness, to going out and getting gassed by the feds does not change the fact that not only have Portlanders then getting gassed by Portland police for 50 days and more prior to that, but that he has never actually decried the police violence.
Speaker 2
So Ted Wheeler goes on national television and essentially lying to America about Portland. Oh, we don't agree that this is the type of response. This is an indiscriminate violence against crowds when he's responsible for the very same tactics and the same rhetoric that Trump has been using. Now, I've been out there. I don't always grab the moment for a photo op uh, sometimes I see you and sometimes I don't, but I'm out there because I'm a mom and the moms are out there and we are out there because those are our people behind us. And we know that it doesn't matter whether someone has busted a piece of plywood or even busted a window that there's no reason why we should be tear gassing the public in the middle of a pandemic, especially. And certainly not from a businessman who's flouted campaign laws who continues to fail to address the violence that his police perpetrate against our people.
Speaker 2
You can't come and stand for 20 minutes and then say, you're a people's champion when you don't actually solve the problems about which they're protesting. So I hope for those of you who are new to this, and this may be your first podcast, you check out my [email protected]. There's a lot of stuff there. And we were thinking about this before the current uprising, and it only continues to get richer through this. But even as last week, while Ted Wheeler was doing the national circuit, Don lemon and Anderson Cooper, whoever it was, he was talking to here in Portland, the conversation was much different. And fortunately there were some national outlets who really did want to get the other side of Ted Wheeler story, uh, that we resist police violence here, because we all know it's BS. Uh, the Portland police have been acting aggressively towards black lives matter protesters from day one on this.
Speaker 2
And that has not changed because of anything Ted Wheeler has done or said. So look for something coming out in the wall street journal, that'll probably be on the cover of it. Uh, it's going to be an in depth look of, uh, the situation here in Portland. You can see that I talked with Maura Barrett of NBC. She's at a M a U R a B a R R E T T. NBC is her Twitter handle. And what we talked about there was that the response to demonstrations about police brutality should never be police brutality. Um, our campaign director Gregory McCalvi was on that on behalf of another organization with which he works, but really it was trying to set the record straight that you cannot go out on national TV and to cry Trump's behavior while you're doing the same thing right here in Portland.
Speaker 2
So I was grateful when Steve Dean columnists for the Oregonian, uh, just came out this morning. You'll probably see it in print. Uh, on Sunday he said, he quoted me as saying, if you're going to decry the violence of Trump's feds and say, they're not welcome here. You need to decry the violence in your own law enforcement, the mayor isn't willing to do that. And he won't have the public trust until he does. And the other thing that I think Dean got right, was giving Wheeler credit for going out there. But noting that he got there far too late, and this is consistently the problem that Wheeler shows up after the fact dragged, kicking and screaming when he's lost all public trust. And then he's up to his neck in quicksand and people are messaging me on Twitter saying, Sarah, how would you fix this?
Speaker 2
And at a certain point, you have to say, how many Wheeler's messes are we going to have to clean up as Portlanders shouldn't we elect someone who's got the, who's got the community support. Who's got a good understanding of public policy and how the city works, not just on policing and equity, but housing and climate justice and transportation, and all the various systems that interface right where I live our lives in the streets. So it's just time to get rid of them. He's attacks on us. He doesn't get things right. And when he gets them wrong, it costs us so much money. One other thing I want to point out Nick Budnick, who usually writes for the Tribune. I'm glad to see him out in another platform doing what he does best. I think he's a great journalist. He has a report. He called rough justice.
Speaker 2
Portland police and protestors are locked in a vicious cycle. How did we get here? And he talked about what this is looking like and who is perpetrating the violence. And he talked with Greg, our campaign director, who says that this doesn't just go back to the murder of George Floyd. It doesn't just go back to the murder of Quantis Hayes. It doesn't go back just to the murder of Kendra James. It goes back to the length and arc of Oregon's history of racism and excessive use of force and how the Portland police have been deployed in upholding systems of white supremacy here. And that ultimately the lack of leadership and mishandling of this whole situation, pour fuel on the fire. And don't deescalate. Each protest ends up being a protest about the previous night's escalation and had those escalations not been allowed to occur night after night, we have not had a situation in which Donald Trump was looking to Portland as a staging era area says, Greg, so Wheeler defense, his behavior, of course, he says, we can handle better than they can. What's going on our streets. Uh, Trump's people are making it worse and we'll all admit the tear gas from the feds is hurts more than the tear gas from PPB. I can't tell much of a difference sometimes of who's coming across what L red speaker and who's lobbying what guests at home
Speaker 3
And why
Speaker 1
Show your support for Sarah by purchasing a t-shirt face mask or bumper [email protected] slash store. All items are sold at cost, but please consider adding a donation to your order.
Speaker 3
[inaudible]
Speaker 2
This is going to be such an interesting discussion. We are so fortunate today to have Leslie Gregory. She's the founder and director of right to health. When she's going to talk to us about what that is. Leslie is a certified physician assistant Navy veteran, and mom of two, her pronouns. Are she her hers? She's a long time. Portlander in social justice activist focused on healing, those
Speaker 4
Affected by everyday racism. And Leslie believes in the importance of taking a dynamic approach to teaching racial justice through health practices. Thanks for being on here today. Leslie, we're happy to have you. Thanks so much. I ran into you at a protest. I think it was just about a week ago. And you still had your scrubs on, I think, and you were in an ACL. Ooh, were you a legal observer there? Or you had a vest on a blue vest with a peace team, a peace team vest and a bumper sticker that said racism is a public health issue or crisis. What does, what's the exact bumper sticker crisis? And I came up to you and I said, I, this, this is exactly how we need to talk about this. And in the intervening time between that protest, and now you were willing to come on this, uh, conversation, this livestream podcast, and talk with us about that. So can we start there? Why would you be at a black lives matter protest, especially these are the protests at the justice center. So this is sometimes where things get a little hairier. Why would you be willing to go there and talk about racism as public health and the public health crisis in this time?
Speaker 5
Well, I think for several different reasons, number one, um, I'm an aging hippie and I really, really focus on nonviolence. Uh, so we know that dr. King said that, you know, violence is the voice of the voiceless. So if we're talking about health justice, then where else would I be? Okay. Because that's what we're asking for is just health equity, health, justice. Um, so I think that's number one, number two, like I said, I'm a really, I come from the nonviolent change movement as a child. And so, uh, it really spoke to me as well when I learned that there was a nonviolent security force in the area. And so the Portland peace team is an amazing opportunity to walk the talk of nonviolence. And so I think that's, you know, another big, big piece, uh, also, and in light of having lost John Lewis, I really feel like I needed as our aging civil rights workers leave us.
Speaker 5
You know, sometimes you just need to be with people. And so, you know, these are some of the things that motivate myself. I'm sure I'm not alone other people to just seek out community. And I know that the James Lawson Institute for instance, is another nonviolent change group that I've been involved in. And I just, I just feel like we need to be elevating several different facets of the disco ball of racism. That's the way that's the analogy I like to use because it's so Omni faceted. And so I think that's another way we need to be looking at nonviolent change. We need to look at health equity. We need to look at the dominant paradigm and how it can be so exclusive of those voices that need to be heard, particularly when it comes to health equity.
Speaker 4
And let's talk about this, cause that's really what we're talking about is racism as a public health crisis. It's not a sentence that you hear a lot in the United States of America, but you know, working in healthcare, the disparities and how great they are and the life impacts those have every single day you're dealing with this. Why do you think we have been so reticent to engage with this as a society? Um, do you want to talk about it coming at it from this public health angle is really what I'm trying to get at with you today?
Speaker 5
Yeah, and I think one of the reasons is that we've got some false narratives out there and just like other public health risks. Once CDC acknowledges it as the nation's primary care provider, as the nation's, uh, ultimate sort of authority around, uh, health, they have a unique, uh, authority to dispel some of these false narratives. And I think that's one of the reasons why there's needs to be that first step. So if we look at previous, um, crises, for instance, I think HIV is a great example before that narrative was changed before CDC took it on as an active issue, we had a huge false narrative, right? It's about gay people. Uh, it's about promiscuity and bad behavior. And you know, this, this sort of misperception, once we began to look at it more from an institutional standpoint, we had more clinical terms like risk assessment exposure, you know, and this sort of thing. These are the sorts of, uh, public health language options that change that stigma attached, you know, the whole, the whole shebang, or if you look at it like we did before with lung cancer, okay, there was this huge misperception about lung cancer, but once we dialed it back and started talking about exposure, we realized smoking is the underlying issue that we need to address. And so once we did that, we got a campaign against smoking
Speaker 4
Lung cancer deaths have dropped, you know, amazing.
Speaker 5
So these are some of the things that we know that public health campaigns have been able to do a great deal more than, yeah.
Speaker 4
Oh gee, isn't it. Awful. Lung cancer is a problem. And I'm looking here at your petition in which we will put in the podcast notes in which we can maybe drop into the comments, but the title of it is racism meets criteria for threat to public health. And what you're asking for here, you have nearly 15,000 signatures. When you ask, we want the CDC and the NIH to admit that racism is the true public health target, impacting outcomes for all Americans cure the infection and not just the fever. And this is something that's so critical. Every single person in our country needs to treat racism as all of our problems, the same way that we treat, right. Breast cancer, lung cancer, HIV as all of our problems. Exactly. This is such an important, um, policy framework for, so someone like me, who's running for public office at a city level. When we're talking about that, we don't have discussions in city hall about public health.
Speaker 5
No, exactly. And, but you do also have that mandate to start talking about budget. Right. Okay. And so that is exactly the piece that I think that disco ball really comes into focus. When you start thinking about the fact that
Speaker 4
Only is racism affecting
Speaker 5
Three facet of that disco ball. Right. But we know the facet having to do with finance directly relates to health. And that's about it. I mean, we're not asking you as a politician to come into the exam room. And when we think about the fact that for instance, several years ago, or I think you'd probably two years ago, um, Multnomah County declared it an issue, you know, racism is a public health issue, which, you know, that's backpedaling, it's a crisis. It meets the criteria. We're not going to call HIV and issue. You know, that was a crisis. It was taken,
Speaker 4
It was costing money. It was doing the things that we know, you know, this
Speaker 5
One of the criteria. Right? And so when I went to a, again, a commissioner and I said, look, I need you to tell Multnomah County that the health department to call it what it is, it's a crisis. And that commissioner said, Oh, well you need a resolution. What you need is a resolution. And I thought, you know, see here, we are asking me to step outside of my wheelhouse to do that job. And I'm like, I resolution, I practice medicine. I'm coming to you.
Speaker 4
Yeah. So
Speaker 5
These are the ways that we see dominant culture.
Speaker 4
There is able to bait and switch able to divert and
Speaker 5
Correct. And I think, you know, in the current administration, we're seeing levels of, we're seeing multiple examples of that. And what it really does is tell at risk communities that you don't matter. That as long as we can shuffle one piece of paper from one side of the desk to the other, make it look like we're doing our jobs, we're going to be a lot more comfortable. And, you know, and it really, this is one of the things that motivated the black lives matter movement because it feels like we don't. And
Speaker 4
Sure, if you had your hands on, if you can get your hands on the city of Portland budget, what would you, what would you want to see a lot more money spent on to address that racism crisis?
Speaker 5
I think a couple of different things would, would come up. At least for me, we need to drive the funding into preventative measures, specifically targeting the proportion of healthcare dollars that this population is costing. So it needs to be,
Speaker 4
Be proportional, needs to be
Speaker 5
Appropriate. Um, I think the other piece that would be great in terms of funding, uh, we have specific, for instance, my nonprofit that are targeting these at risk populations. Um, and so I think a big part of the budget could go to that. The other thing I think we need to look at though, is, you know, what's right. We have so many incredibly wealthy individuals in this area who have disproportionately benefited from the status quo. And so I don't think that it would be inappropriate to go to those entities and say, this is, you know, the disproportionate benefit you've had can be shared into the disproportionate risk population. So let's start driving some of these huge profits back into the communities impacted by them. Um, so I think that's another part of what I would look at, but I have to say, I'm not a budget person. I'm, you know, I'm in the trenches.
Speaker 4
Yeah. I hear you. And uh, so your website is right to health U s.org. And that's right with the number two health U s.org. And again, we will post that and people can learn a lot more about your issue here. And I wanted to talk about something else that you're involved in, which is race talks, PDX, um, community capacity. When you think about our ability to be resilient in the face of crisis, you and I were talking before we came online about how hard it is for people who are social or from nondominant cultures or from, uh, technologically less, uh, comfortable communities to even connect with the services and the care that they need right now. Um, education is a huge part of capacity building. Talk to us about race talks, PDX, and what we're accomplishing on that front in terms of the goals
Speaker 5
For that and your involvement in why that's important to you. Uh, so Donna maxi is a brilliant woman teacher, a leader mentor in our communities, and she will be holding another online, unfortunately forum, uh, by race talks this evening. So if you want to go to race talks, pdx.org, that's another place where people who are not specifically impacted can go to learn how to communicate, how to close the empathy gap, uh, which is something Harvard is using to basically sort of dial a little deeper into why racism has become such a difficult conversation to have, which goes back to your previous question. Why is it so hard? Well, uh, Harvard med school, uh, public health, uh, school of public health has deemed it, the empathy gap, which is where this idea is that you just can't quite image yourself. You're unable to really imagine yourself as anybody other than who you are.
Speaker 5
This makes it very difficult for people to understand. What, what do you mean racism is a public health threat. I feel fine. Well, imagine what it might feel like to walk down the streets as in a Brown skin, right? Isn't that the only thing that really identifies you from far enough away to threaten the health of someone else is this, you know, very apparent skin color, right? Uh, and personally I'm beginning to think that color ism is a better word for than racism. Because again, we've got to make these something else that CDC could be very effective in would be to change the verbiage around how we discuss this difference. There is one race on this planet. So when you use words like racism, you are really reinforcing a misnomer. That again, is going to make this whole sort of, Oh, the brain hears these words and feeds back in, according in accordance.
Speaker 5
And it's like, you know what, no, there's one race. There is one race. There is no biologic correlate to skin color the way we use it, the way we do there's one race called homo sapiens. And so I think, you know, these are the kinds of, sort of self-talk inappropriate self-talk that we use. Um, so I just kind of wanted to put that in there cause that's very important, but race cars is a great way for all people to learn, to communicate with each other. And it used to be held on Tuesdays at the McMenamins. And that was such a wonderful place. Cause people said it's circular tables, able to reach out exchange cards. You know, there was a drawing, you win a free coffee with somebody that doesn't look like you. Um, people were able to collaborate, sit around and share food, which is another amazing.
Speaker 4
These are the things
Speaker 5
Bind, right? These are the things that lower barriers, whereas the whole online thing, it kind of feels like it increases barriers a little bit to some people.
Speaker 4
Oh, it certainly does. Yeah. I'm just going to give folks how they can find that again. If you're watching, if you're watching this on the 23rd of July, you can go to race talks, pdx.com, and that's going to be at 7:00 PM tonight. It's called protecting your mental health and the times of COVID and racial upliftment with dr. Shay Lott, I'm assistant professor at OSU. So that's going to be amazing. Thanks for putting that on everyone's radar. We appreciate all the work that you do. Um, I appreciated running into you at that protest. You have lifted me and getting to talk to you this week has been a highlight. I want to know how Portlanders can support you and your work. So what can we do? Um, as you said, I'm not the budget person, I'm the healthcare provider. So what can we make it easier for you to do the work that you're doing in the world and keep you supported? Right.
Speaker 5
I appreciate that very much. There are simple ways that won't cost people anything, but please, you know, think about funders that, you know, uh, there's a lot of privilege in Portland. So if you know anybody who's wealthy, who's, you know, that would be great. Cause we are a five Oh one C three. It is a good write off, et cetera. That's one thing. Number two, if you are a, if everybody's on lockdown now and having to order, so if you go to Amazon, instead of doing Amazon, you can go to Amazon smile and that is their charitable arm. So if you go to Amazon smile and purchase, instead of just on the regular site, but go to, I think it's smiled at Amazon or something like that. And you can find it quite easily. If you sign up for that, then when you make purchases, particularly those revolving purchases, right?
Speaker 5
The ones that you do every month to come out and choose right. To help inc comma, inc. Then everything you buy just a tiny little bit, we'll go to right to health. And that doesn't cost you anything. And again, Amazon has a lot of privilege, a lot of profits. That's another way of certainly you're everybody's on lockdown now. So you can sign the petition, which [email protected] and it's right. You can just take a look, racism as a public health. Uh, you can go there and you can sign it and then share it out to all these other platforms. And people are just going to be sitting on their butt going, Oh my God, how terrible is all that? You can do something and right on the petition, you can say, what does this mean to you? I'm signing because, um, and I think other people who come to the site will then be encouraged to say, wow, you know, maybe people do care about this. Maybe people do care about me. Um, and that's another action step that connects us
Speaker 4
To see there are people who care. So that's another way
Speaker 5
That you can do that again. We are a five Oh one C three. So if you want to set up a revolving donation a little bit every month, a little bit, these are the things that can also go a long way to helping to sustain the protocol that I'm putting through. And again, that's another thing I wanted to just briefly mention. We are not just a fundraising and awareness, building a nonprofit. I actually have a protocol to address racism, uh, the etiology, the underlying aspect, where we can go out and actually study
Speaker 4
The effect of racism, not just health,
Speaker 5
Not just the sort of superficial stuff. That sounds a little safer, a little easier for public health to address, but the actual impact of racism itself on the body of all Americans, not just people of color, you know, not just those who have guilt around it. Um, right. And so what we're trying to do is raise funding for that. And it involves, you know, quite a bit of, uh, background work infrastructure, that kind of things that CDC should be doing if they would do their job. And so, because they're the institution, they don't have to raise money. We fund them, don't we, that's not true. That's not true of nonprofits. So we need funding. We need sustained revolving funding. We need kind of, of privilege that CDC has and refuses to yield to communities of color.
Speaker 4
I am grateful to you and your work. I hope some people watching today and who are listening on the podcast, a look at your website, we will provide all of those links to viewers and to listeners, there'll be in the podcast notes so they can follow up with you and make sure that you get resourced, um, as best they're able to help. And thank you for your good work. This conversation is such an important one. This is just the beginning. I think for many people in Portland, for them to begin to understand how, how we change, how we talk about these things, influences how we'll think about them, how we'll respond through policy and ultimately how we allocate our resources toward keeping Portlanders healthy. Because if we can address racism effectively, all of Portland will be a healthier place,
Speaker 5
Right? And the United States, I just want to say, that's another thing that's important right now. Portland is under the microscope, right? We've got federal troops here. We've got policy being made. We've got a law. What I'm saying is as one of the last bastions of white supremacy, and we need to be very clear about that. Portland is in a unique position to show, not just talk about, but show what health equity means coming from, you know, sort of the bottom of the, you know, the, the more tough area and being able to say, if we can do this here,
Speaker 4
You can do this there because racism as a public health threat has different expressions in different parts of the country, different, you know, you know, it's like the virus. And I think that's an excellent point. I thank you so much for raising that because it's absolutely true. We can be an example, not just a sort of laughing stock, you know, I kind of hate to say it, but right now all eyes are on us. Let's rise, let's show, let's exemplify the things that we purport to believe. And then when people look at us and they say, wow, Portland really tackled racism head on and they're prospering because of it. And look at saving them money and their people have better lives. And I actually think it's something to which we should aspire directly and not as a side effect, but go straight at it and just really put everything behind it. So thank you so much for your work. Thanks for educating me and our listeners and viewers, and we wish you the best stay healthy. And we do hope you stay connected during COVID. I know it's hard, but here's some, here's some good community hugs to you from afar. Okay. Back at ya. Thank you so much, Sarah. Alright, take care. Bye bye. You too. Bye bye.
Speaker 1
If you're looking for ways to get involved with the campaign, sign up to volunteer@sarahtwentytwentydotcomslashvolunteerorreserveyourspotforaphonebankingtrainingsessionatsarahtwentytwenty.com slash events.
Speaker 4
And today I am so excited to have who might be my favorite neighbor, and I have a lot of a really amazing neighbors. So this is an exceptional accomplishment, but also I say this a lot because people call me a smarty pants. And this is by far the smartest person. I know Alexis dyno, dr. Dinos and associate professor at the OSU PSU school of public health and directs the PhD in community health. There, she has taught me so much about why we need to be centering public health in our thinking about cities, in our thinking about public policy and as a tool in terms of how we are going to solve some of the most pressing problems of our day. So this is going to be a fun conversation, but it's also going to have some serious implications in terms of how we need to change our thinking to address the current situation.
Speaker 4
Dr. Denault good morning. Good morning. So I remember, I think I may be one of the first people to meet you before you moved to Portland. That's right. You showed up at my job interview and, uh, along with a few other people whose names I recall were part of a very warm welcome as I transitioned from California and the San Francisco Bay area, former Dean of the college of urban and public affairs, Larry Wallach was there the time that was in very insightful, higher on his part. I thought because you were bringing such a radical perspective to such a basic, um, situations in the urban environment. Then when did you come to Portland? I don't remember what year you got here. I started in the fall of 2009. Wow. And I would have to say, I am in good company. I feel at the, uh, uh, both in, in terms of my colleagues of the former school of community health, uh, and the college of urban and public affairs, which has now transitioned to be part of the early Gesu PSU school of public health. Yeah. That's some amazing work they've done there in the intervening decade. Um, and hiring faculty like you, I think was a big part of that. Uh, I'm really proud to have watched that over the years with, from more traditional frameworks of thinking to some of the more progressive and, uh, you know, just really community and community oriented work that they've been doing. Not that they haven't always thinking any oriented, but making sure that we're really moving forward, uh, bangs Berg, is that your Dean at the that's right?
Speaker 4
Yeah. People talk so warmly about him. So you're lucky to have leadership like that, um, where you are, well, what brought us to this conversation apart from how come your tomatoes are always better than mine.
Speaker 6
I feel like a garden
Speaker 4
Next to you because your plants are so robust. Uh, was this op ed that you wrote back in 23, it was a letter to the editor in the American journal of public health asking do riot police serve public health. And you were writing this in the wake of occupy wall street. And talk to us about why you thought we needed to bring a public health lens to these protests. I'm just going to use that word writ large protests at that point, I'll start there privately. So, uh, I wrote that letter to the editor at about the one year Mark after occupy wall street began. And what I had really landed with me aside from the important framing of the 99% sort of course, the 99.9 and the 99.99%. Uh, the was that the mayors in cities with really egregious crackdown policies against the occupiers, uh, mayor Adams, then mayor Adams here at Portland, Oregon mayor Kwan of Oakland, California, mayor Bloomberg of New York city. We're invoking rhetoric of public health and safety in the need to shoot protestors and the needs of the kettle protesters in the need to, uh, uh, uh, tear gas, uh, folks, uh, steal their belongings,
Speaker 7
Disrupt their libraries, destroy their food service provision infrastructure. And if you, anyone who spent time, uh, in the, in the occupy camps or in similar protest camps, uh, since then knows that the people who, who really take a hand in organizing these events are they're building infrastructure. They have got some serious skills in creating community resilience, feeding people, meeting your needs, providing them, uh, uh, some basic medical care, you know, by a street medics, um, uh, and providing internet connectivity, providing resources, really bringing some life to, uh, to the protests, not simply showing up with signs and standing around with a bunch of isolated units, but creating community, uh, and the police response was as it so often is with violence. Um, it was, uh, I mean, riot police are rioting. Police is not a very fine distinction between those, those two things. Um, and as a public health professional, I thought, who the hell are these mayors to you serve the prerogatives of public health, which is to protect the health and safety of the people not to send them to the hospital with skull fractures, not to scale down and dispossess them.
Speaker 4
So now here we are. Um, so many years later, and we're looking out at the streets of Portland, we're looking out at the community aid organizations out there, feeding people, helping people who are experiencing homelessness, helping protesters street, medics I'm being teargassed, being shot with less lethal munitions extensively. Um, and again, they talk about public safety. Why do you think that policing needs to be considered through a public health policy lens?
Speaker 7
Yeah, it's like great question. And I should have even addressed that in what I just talked about, um, policing as a public health problem as a public health issue, uh, had been addressed a decade ago, uh, had been addressed a little bit by the scholars by the public health scholars, but not a lot, however, over the intervening decade, especially with the growth of the movement for black lives, uh, and leaving aside the 20, 20 visibility and presence, which has also had, uh, uh, I think brought a great deal of attention, uh, nationally and at a lot of levels. Um, there were things like, uh, police violence, databases and more discussion amongst public health professionals that we should be teaching, uh, police and other forms of state violence, specifically as public health problems. Uh, for example, uh, California's history, uh, uh, forced and coerced sterilization of, uh, female incarcerated persons, um, as another example of a public health issue, uh, in state parlance, uh, but we've been slowed awake as a profession.
Speaker 7
And so, uh, I think what we have to understand is that health comes from somewhere, right? The world is the way it is. Um, our mortality rates are our COVID rates are, uh, rates of trauma are rates of, of being second and being well are the way they are not by Fiat, not by, you know, just because that's just the way it is, but because they got to be that way and they got to be that way because of the way we're making our society and the weight we've been making a part of our society that's characterized by police is by policies from the municipal level, all the way up to Supreme court rulings, that privilege, uh, individuals who, who work in the police and the police as an institution with, uh, uh, in unity, more or less to ride over, uh, the rights and the health of people, um, of the populace of the people. And that has led to, as we've all seen an increasing militarization, it's led to, uh, an epidemic of police violence, uh, and especially directed against communities of color and against poor communities. And so, yeah, public health and policing, these things need to be, uh, the former needs to be looking at the latter.
Speaker 4
It seems so common sense, right? That we would look at this, but when you talk about public safety and I released that rethinking public safety plan, community wellness and health outcomes, and just even who's being killed, and who's not in Portland, and this is not factor into our police budget at this point. Um, I talk a lot about traffic deaths. You know, we lost our neighbor, Lou, uh, last July to traffic violence and, um, that death doesn't factor into accountings of expenditures, right. Through a public health lens barely through vision zero. And so what are we thinking about even what we're measuring, what we're counting, um, when we're putting public dollars behind solutions, right?
Speaker 7
Yeah. I haven't, I have to confess, I haven't read your, your, your platform yet. Uh, uh, so, so that's one work I need to get on. Um, but I would like to see personally, a reprioritization of, uh, municipal dollars that are currently, you know, going into, into policing and into things like, um, settlements, you know, settling out of court payments to people who've been wronged by the police, which is, uh, a large amount of money. Um, just, just that portion in and of itself. But I would like to see us, you know, reprioritizing away from sweeping, uh, houseless individuals off the street and off of encampments and into services. For example,
Speaker 4
It's a huge part of it
Speaker 7
Taking a punitive approach and a policing approach is I'm not going to make for a healthier society. The way say investment in housing first would say the way investing in sort of a neighborhood oriented orientation towards, uh, food services and care services, mental health services, um, providing those opportunities for folks who are the most vulnerable in our city to, uh, get the help that they need and the encouragement they need, uh, to, to get along and to have the best quality of life they can.
Speaker 4
That's really at the crux of what we're trying to accomplish. I mean, there's, for those of you who are watching today, live with us right now, please keep an eye on what's happening out in st John's and John Barnes landing. They were posted with a 24 hour sweep sodas. We've got about 70 to 75 people residing there. They have a food service, they have sanitation services, they have created a community to survive COVID and were absolutely playing with fire in terms of sweeping people in the middle of a pandemic. And right before we went on, I said, we're doing all this in the middle of [inaudible]. And you said to pandemics, what did you mean when you talk about that a little bit?
Speaker 7
I can talk about more, but, uh, we've certainly got the reality of COVID, which we are, uh, all unprepared for and which our country's commitment to neoliberal capitalism has certainly, uh, you know, produced the worst country in the world, the hardest country in the world in terms of number of cases in terms of deaths. Um, but the, uh, the other pandemic is, you know, a half millennium, old pandemic of colonization and genocide and slavery and racism, white supremacy, in fact, definitely. Um, and the, the current movement, the current protest movement, uh, around us, the work has never stopped. The resistance has never stopped, um, but, uh, is really bringing to light the harms that we do against all of us, but especially against people of color, especially against our black community. And, uh, that is that's hard. That is a painful reality that, uh, that is unlike police violence, much better documented.
Speaker 7
Um, we, we see in the numbers, the increases in maternal mortality, amongst black versus white, we see the increases in heart disease related mortality among blacks versus white. We see the increased, uh, uh, uh, vulnerability in terms of experiences of poverty across the life course and black versus white. And that's intergenerational, right? It's not, it's not just that someone won the lottery and got born black or got born white, but it's that, that creates that comes from familial histories and community histories and national histories, um, uh, systematically privileging white folks at every conceivable moment of economic, social, and political opportunity over folks of color over the Indians and indigenous folks and over, uh, black folks, especially. So we're at this, this moment where we've got the masks and we've got stay at home and we've got, uh, a squandered opportunity to try and get to the place where we flattened the curve and brought it back down and get to test trace, uh, and isolate our quarantine. But we've also got, there's a yearning that we're all feeling to end systematic, institutionalized racism and to end, uh, colonization decolonize our society and that neither, you know, neither work trumps the other. Uh, and in fact, they, they intersect, you know, the policy, for example, here's a great example of how they intersect, um, the crisis care management guidelines, the crisis care guidelines that say, how do we prioritize? How do we rash it? And how do we triage?
Speaker 8
Yeah.
Speaker 7
Uh, our responses to folks who come in with severe COVID sometimes in our hospitals are predicated on treating the people who are healthiest. Well, who are the people who are healthiest? Well, that's likely to be the white and the Aflac. So effectively those kinds of policies are racist policies, right? Because they demand that the black and the Brown and
Speaker 4
The poor simply suck it up and die more, right. Be treated. I mean, we hear that from the president right now, implicitly, if not explicitly, and it's not just COVID right. We saw that in the border situation. When I was talking, I think it was with a KGW. They said, why are you calling? Why are you calling them secret police? Don't you understand that this is the government, they have paperwork. I said, no, they don't. We are actually putting all of the lack of accountability on to black and Brown people in this country. And our government is not being held accountable for outcomes and not being held accountable for data and not being held accountable for expenditures that really kill people when it comes right down to it. Well, there is a whole death cultish narrative among, I mean, some of them are very, uh, explicit.
Speaker 4
Uh, the, uh, the governor of Texas is said some really Lieutenant governor of Texas, he explicitly said, people should just be willing to die for, for the business. You know, I'd be happy to die. Like it's very, yeah. You know, I kinda evokes in my mind, a notion of people gathered around the table at midnight, wearing red robes with a sacrificial bagger it's gross and scary. Yeah. Well, and you know, I think that what we need to do is give people better options, right? Folks are desperate much of what we're seeing in the streets right now, I think is a, is an amplification of what was happening with the first occupy. But now there's a greater intersexual perspective and understanding of the critical role of racism in all of this in white supremacy. And I really appreciate something that you've said to me and tried to hammer home.
Speaker 4
And I also appreciate you continuing to educate me because we need leaders who are continually learning and trying to refocus and reorient the discourse around all public policy, as public health policy. And before we go, and I'm going to say it one more time, cause this is how you do it to me, Sarah public policy is public health policy. What do you mean when you tell me that? What are you trying to say? Yeah. So we are so invested in this individualistic or, you know, kind of lens in this country that frequently you say health policy and people go straight to insurance. And how can my doctor treat me? And that's important stuff. Certainly that's a kind of health policy, but immigration policy has health policy, um, laws that give police three days after shooting someone to, uh, uh, sift through evidence of repair before being charged or investigated that's health policy, right? Um, uh, street sweeps of folks who do not have houses during an infectious disease, haven't done. It was public health policy.
Speaker 7
All of our policies are creating the society that we live in the dead and to bring it back to that point that I made at the beginning of this discussion, the, the health that our population has is a result of the choices that we make about how we are structuring our society. So education, policy, health, policy, loan, policy, bank, policy, health policy, it's all health policy, and then what you want. And so what does that mean for us when, when, when we're thinking about, well, what should we, what should we be writing to put on a ballot? Or how should we be advocating to our, uh, to our representatives or, uh, or whatevers wherever we are making policy and not even just in government, but in institutions and workplaces and labor ordinance, labor organizations, um, when we are making our decisions, what can we say about how this is going to affect health? That's what all policies health policy means. It means that we have to be thinking about the health and wellbeing of people in all of our different, well, I appreciate you for teaching me that I appreciate your advice on how I can make my tomatoes grow faster and bigger. I appreciate you being a fantastic neighbor and educator. We are lucky to have you. Portland is lucky to have you, and I'm lucky to have you in my neighborhood. And thank you so much. That's it for this week. Please join us@sarahtwentytwenty.com and I'll see you next week.
Speaker 1
Thanks for listening to our Portland. If you have a question for Sarah record, a voice memo on your phone and email it to our [email protected] or use the, our Portland hashtag and send us a message on social media. If you appreciate a campaign with straight talk on issues that matter, consider signing up to be a monthly supporter, find out more at [inaudible] dot com. This has been a production of friends of Sarah for Portland, with matching funds from Portland's open
Speaker 7
Elections.