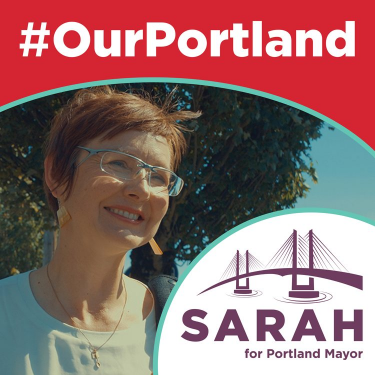 From Food Insecurity to Food Sovereignty w/ Eddie Hill
About this Episode
August 3, 2020
Sarah speaks with Edward Hill, Co-Director of Black Food Sovereignty Coalition, about the current state of Portland's food systems.
Episode Links
Campaign Resources
Have a question for Sarah? Email it to [email protected].
Transcript
This transcript was generated automatically and has not been reviewed for accuracy by our transcription team yet. Please email

[email protected]

if you would like to help!
Speaker 1
Welcome to our Portland with Sarah. [inaudible] made possible by contributors to friends of Sarah for Portland, Portlanders have everything we need to make radical progress today on emergencies like climate chaos, housing affordability, and staggering inequality. Each episode, we'll hear how Sarah plans to be the mayor to lead the city of Portland to a more equitable and sustainable future. And now here's Sarah.
Speaker 2
Welcome to the hour Portland podcast. My name is Sarah. [inaudible] my pronouns. Are she her and I am running for Portland mayor in the November 3rd election.
Speaker 2
In this episode, I cover a quick couple of news items and updates. I'll give you the tweet of the week, and then we're going to hear from Eddie Hill. He's an amazing community educator land use planning expert, and has a lot of thoughts of what we can do to move Portland from food insecurity to food sovereignty. So I found something that I really liked, which is outlet called reasons to be cheerful. And what they posted this week was an article on how Portland makes local food work for everyone. And they talk about the red on salmon, which was, uh, instigated if you will, uh, by people in that inter industry and supported by eco trust. But I hope you'll take a look at that. We'll put the, um, the link in the show notes. Not only am I excited to see people talking about food sovereignty as critical infrastructure, um, the food insecurity that Portlanders are looking at in the face of COVID as an emergency situation, but I really like us talking about our community led solutions to our greatest problems as something to be cheerful about it.
Speaker 2
So I'm going to go back and keep looking at that reasons to be cheerful website pretty frequently, just so I can stay upbeat and optimistic, uh, that tactical optimism. We're always talking about here at Sarah 2020, so that we can keep our eyes on the prize in terms of we really do have this Portland. So for those of you, who've been down at the protests the last a month under what Trump's occupation, if you will, of that block, certainly not of our city. And certainly our city is not under siege. You can be downtown just about any time, day of night, outside of that small few square block area where the courthouse is and be perfectly fine. Despite the narratives that the mainstream media at the national and international level would have you consider. However, there are some things that I think are going under reported, and one of them are the environment, environmental and public health impacts of this gas.
Speaker 2
Um, we've got planned Parenthood out here doing surveys to watch for disruption of menstrual cycles. And I'm glad to see, um, some of our state and national lawmakers coming together to talk about the environmental impacts of all of these chemical weapons that Trump has been deploying. And before him, um, Ted Wheeler with the Portland police, but the Portland Bureau of environmental services, according to Willamette week is going to investigate the federal rinsing of tear gas into storm drains. And other lawmakers have called on us EPA to investigate. So this just came out yesterday that after video surfaced to federal agents, hosing contaminants off the Marco Hatfield, federal courthouse, uh, BES said the discharging technique is not permissible. And that the city agency is currently investing. You're not allowed to hose contaminants into the street and into storm drains. Um, there's no permit for this. They tweeted out because that kind of discharge is not permissible.
Speaker 2
And we do not expect to know what's actually going on as they continue the investigation. However, you can't be putting chemical weapons into the storm dreams. It flows into our sewer system and the runoff goes into our river. And so I'm so glad that I'm one of my favorite state representatives, car and power, uh, worked with our Congressman Earl Blumenauer to call on the USCPA in Oregon DEQ to investigate which chemical agents are being used on protesters and how that impacts human health, wildlife aquatic, life, and local air and water quality gases have been deployed on peaceful protesters with little or no prior notice resulting in exposure to unknown chemical agents, Blumenauer empower power wrote, and we are extremely concerned about the potential environmental and public health impacts of these gas discharges. I share this concern and I'm grateful for representatives like them in Salem and in DC advocating on our behalf because when it comes right down to it, racism is a public health crisis.
Speaker 2
As we talked about last podcast, but these militarized responses, uh, to community, uh, led protests in the streets is also, um, a threat to human health and environmental health. I'm recording this on Friday. So maybe by the time you listen to this more will have come out. Uh, this is obviously the beginning of the conversation, even as we are negotiating right now, the draw down of those federal troops in Portland, uh, it looks like Kate Brown came in to clean up Ted Wheeler's mess. I'm not sure I'm trying to keep a close eye on what's happening in that transition time. Um, sometimes it feels like we're swapping out one force for another, uh, yesterday I missed Ted Wheeler's press conference because I was busy watching John Lewis's funeral. Uh, most of us were busy watching important event, uh, witnessing a former president Obama comport himself with grace dignity and respect that.
Speaker 2
So many of us miss from the highest leader in our nation. Uh, but meanwhile, Portland mayor, Ted Wheeler thought it was a good time to host a press conference, I guess. And he said with admiration, according to the Oregonian politics, Twitter account, that Portland police Bureau had only deployed tear gas on protesters twice during July mayor Willa was proud of that fact, I guess gassing us two times in July is an accomplishment under this administration, uh, that was after there was a restraining order against gassing. So hip hip, hooray, I guess he also said that the use of sound cannons and multiple indiscriminate uses of tear gas by Portland police on his watch should quote, never have happened on quote and says he takes personal responsibility and is sorry. I just don't think people want to hear, oops. I did it again from our elected officials.
Speaker 2
They really don't. They're tired of it. I sit through meetings with individuals, with civic leaders, for community groups, listening sessions, and what I hear time, and again, is that people in Portland are sick of the failure to lead the empty words and the broken promises. I sat with a group of women last night who are working on missing and murdered indigenous women and girls issues, the sorrow, the disappointment, the lack of hope and trust in our leaders was heartbreaking. And at the same time, I know we can do be doing better because these militarized police responses that we're sending out to every single social problem that we're facing, drug addiction and abuse send the police domestic and intimate partner violence, send the police people unhappy about police brutality, sending the police to brutalize them. We have to come up with a different response, who will people call when they don't feel safe?
Speaker 2
Who will they trust to answer that call? This is a conversation that we're going to need to have as Portlanders. And I am so grateful for commissioner Joanne. Hardesty leading on a historic vote this week out of city council to actually put a citizen oversight initiative onto the ballot in November. I guess it's on an initiative because it was referred to the ballot, but there's a measure on the ballot this November to actually start raining in Portland police. And so I hope you'll take a look at that, check out what they're asking for and get behind that ballot measure. But that brings us, I think, to the tweet of the week, there was some news this week reported by Willamette week that Ted Wheeler broke city elections law. Again, um, I'm not going to go too deeply into this. It looks like the city elections office is fine.
Speaker 2
Ted Wheeler's campaign $2,000 and he's failed to include required disclosures about contributors and accepted again, and continues to accept contributions in excess of the cap passed by 87.4%. Uh, Portland voters called honest elections, which means you can't take campaign contributions in excess of $500. I'm just going to say this was passed a while back. And my team decided from day one that adhering to campaign finance law and not accepting large contributions was going to be our practice for the duration. This law has been in effect the entire campaign we've always adhered to it. We've always thought that even while it was tied up in the course of 87.4% of Portlanders voted for it, it's clearly demonstrated that a majority of the people support that, but Ted Wheeler, he doesn't seem to care. Not only did he roll the dice that he, his side would win in court and they lost, but they continue to fail to actually do the campaign finance reporting that they need to do.
Speaker 2
And so there are people who are watchdogs, who actually keep an eye on people's campaign finance reporting. I think it's one of the most important things we do in our local elections, frankly, is scour or a star, which I call, you know, which I look at in the Oregon secretary of state website, pretty frequently to see who's taking money from home and when, and what comes with that money. But Wheeler's campaign manager didn't see it that way. And their team called the examination of Wheeler's donor's borderline harassment. I quote you and I'm kidding you, not borderline harassment and that the mayor's being held to an unfair standard. And I quote the fact that there is neither, I'm sorry, I have to laugh. I can't help, but laugh at this. I'll try to be serious. I quote the fact that there is neither a grace period or safe Harbor allowed under a new complex set of rules that require significant time and expertise is without precedent in our city.
Speaker 2
I guess. I don't know. It made me laugh a little bit there because really I managed thousands of donations of VMI campaign. My team is a very professional, um, they're adept and they just make this a priority and make it happen. And that leads us to our tweet of the week. Taylor Rose emoji, unicorn emoji at 10 T PDX tweeted this about that we'll ever week report. It's so funny to me that when men are held accountable, they consider it harassment. I am with you Taylor, and I'm just going to leave it at that. If you think being held to account for breaking the law is harassment. You might be living under different sets of rules than the rest of us. That said, if you want a mayor who thinks that campaign finance regulation and open it and accountable elections and government transparency and not being, uh, beholden to special interests should be the cornerstone of how local elections and local government works.
Speaker 2
You might want to shoot me a few bucks. We're asking people to give us $6 because that's how many times we've, we've at least caught a Wheeler breaking those campaign finance laws. So go to Sarah 20 twenty.com/donate, throw six bucks our way, if you've got it, sign it for $6 a month recurring between now and November. That would be August, September, October. It's $18 between now and election day. So if you can afford it $6 one time or $6 recurring would certainly help us as we head into that warm summer month of August. So we can get the news about our campaign and all the good things we're trying to do out to the public.
Speaker 1
Show your support for Sarah by purchasing a tee shirt, face mask or bumper [email protected] slash store. All items are sold at cost, but please consider adding a donation to your orders.
Speaker 2
We are so blessed today to have Edward Eddy Hill here. He's co-director of the black food sovereignty coalition. He's going to talk with us today. Good morning, Eddie morning, Sarah, how are you? I'm good. Now this is a conversation. That'll set you on your heels. Cause you've got two people who like to think a and talk a lot.
Speaker 3
Edward, Hill's an innovator. He's a driver of work. He works in so many aspects of sustainable placemaking sustainable community building. He's a polymath really when it comes to food, justice, food systems, BiPAP food economies for black and Brown people in the Pacific Northwest. He's got a background in farming. He's got a background in planning. He's worked in cities around the world, helping them understand how they can do better. And so we're very happy to have him here with us this morning, Eddie, how are you?
Speaker 4
I'm good, Sarah. Thank you so much for having me this morning.
Speaker 3
So you're, you're working on this project, that black food sovereignty coalition. And I want to talk about that, but I want to let folks know that you and I go back prior to this moment, in terms of that period of time, when Portland was still perceived, I think largely as the sustainability leader, you and I were both working in this field of making sure that, you know, people around the world had a good sense of what best practices were coming out of Portland and where we needed to be in that. And I found a picture of you from Williams Avenue back in 2015, um, with Bordeaux, we had hosted the region of Bordeaux. That's a very important, uh, wine region in France and it's critical to their economy. So maintenance of that land in that agriculture was critical, but they knew that they needed to engage the community in that. So you came and talked with them and I'm gonna read you a quote, cause you probably don't remember it. You said context is everything, nothing you see here is accidental, but most often it's poor people and bureaucrats are who are left to clean up the mess that the market leaves behind said that you said that you're so smart.
Speaker 4
Wow. That was it. That was a very cogent and aware moment. Wow. That's good to know. And that's 2015.
Speaker 3
That was 2015 and I think we've met prior. Yeah,
Speaker 4
Yeah, yeah. That was, um, I remember, um, some of the projects that were, were, were, were triggering at that time and the conversations and, um, actually cat Gugan. Our was still here with the right route. Staff was just kinda curving up. Um, yeah, that was, that was important. Then we, and then Japan, right? Didn't we do a tour with Japan,
Speaker 3
We've done so many, we've done Japan. You stopped in on that project for public spaces when we were over at, um, on DECA them, that was a high level delegation. Those were all leaders. We've, we've interfaced multiple times. But I think, you know, looking back at where we were even, you know, five years ago, if not 10, um, where do you see Portland still leading? If anywhere?
Speaker 4
I think I think Portland is leading in, um, and I'm not, you know, this is, this is a, I'll try to find a way to make this serious. I think Portland right now is leading in a demonstration of, of what losing or, or, um, fumbling, uh, I've considered the last couple of years fumbling and for Portland and, uh, the work I did with eco districts and, uh, Rob Bennett and that team and watching that program fumble and, uh, and the fumbling has occurred, um, is sort of the best, not best practices, but best examples of, of what not to do with all of your assets and all of your brain trust and all of your community, uh, capacity to help turn and shift, uh, uh, leading with innovation and, and the, the foreseen out of cat Gugan hour and the right to route being taken up as a, uh, as a beacon of a planning document that, that, that, that, that if implemented a few years ago, could have helped to, to, uh, curve off some of the losses.
Speaker 4
I think the last 36 months in the black and Brown communities in, in Portland and the inability for, uh, for, for municipal staff, uh, folks who were driving, you know, cause when I first came to Portland in 2013 and had been working with people with the food food policy, um, uh, the Multnomah food policy council, uh, disbanded in 2012, 2013, 2014, a lot of the downtown projects kind of stalled out. And the, the, the equity roadmapping work began to sort of stall and, you know, stop that they, Hey, if we hire more people of color, if we engage more contractors, then everything's okay. And that was the least, you know, that was the, you know, those are the last things that really make an impact in terms of equity work. So I think a potentially a potential, uh, positive flourishing of, of ideas and innovation at the intersections of equity and urban planning and spatial equity and restorative justice was missed from 2017 to, to, to now where now it's, um, I mean, in some ways, forcibly and wonderfully, we have nature and, and, and, uh, biology, uh, forcing us to come back to these, these topics like the food policy console and a regional food system, a localized food system, or ensuring that, uh, different types of housing, not just affordable housing and, and, um, and you know, and market rate, you know, the, the 60% median, uh, workforce housing, for some reason that word went away in 20 or 20, 2011.
Speaker 4
So that I think there's this, this, we rested on our laurels. We rested on this, on the bike lanes, we rested on transit and we've got buses and we've got the equity roadmap, and then people forgot to start walking, walking down the roadmap. Um, and then it became, became desegregated. You know, a lot of the black led programs fragment or already fragmented continue to be fragmented. You had, you know, bear day on the North side, sort of like neighborhood ism, you know, Kelly was doing in Kelly's work, Northeast was doing something. And North was, is doing st. John's, you know, sort of fractured versus versus coming together. And, and, and, um, you know, we went more libertarian than we did liberal for, you know, and, um, I was a little concerned, I've been concerned, uh, having had contacts or I have deep context in city government, and, you know, both nonprofit NGO work here and coming into this, you know, coming into this crisis, we have now, uh, from the earthquake planning to, you know, city planning for disaster on down to, you know, basic communication between between community based organizations seems to have not, um, not been our forte.
Speaker 4
So here we are now, you know, now we have to address those things. And I think, uh, there's a forcing function that's occurring where now we can come back to these things because people are hungry, national food system's broken. And if we happen to have something else happened, Oh, you know, like one of the other things we were waiting for, uh, to occur naturally in this region, I think, um, we're realizing now that a lot of our systems and a lot of the ways that we thought that we could lean on systems and community, uh, community resources are not actually in place. So I see a wonderful opportunity to pivot, but again, it needs a will, you know, just like businesses here. Um, if you don't want to pivot, if you're a restaurant and you don't want to pivot to take out because you're too fufu or you can't see it, which happens, you know, like it, then you just, you're not going to make it versus restaurants that are
Speaker 5
Like, Hey, serve food to them,
Speaker 4
Homeless in the morning and train a couple of people and then clean the place out. And then in the evening we can do takeout, specialty dinners for 150 people. And I'll only make that many and keep half my staff on, you know, there's, there's a way to innovate all situations that I think, uh, if, if we truly are a sustainability, uh, a city of sustainability and resilience, then
Speaker 5
Right now, we're not
Speaker 4
Demonstrating that in a way that, that, that benefits those most at risk and most, um, um, in the path of, of, of those things, damaging them even further focusing on, again, you know, one of the positive things about Multnomah County about our region is we have a lot of data about equity and who's not being taken care of. And it's, it's very easy. At least it was for me and a few other people to look at that data and say that bi-pod communities now are the communities that are going to be most impacted. Now, we also have the houses community, and, you know, uh, you know, a black trans community who are houseless. We have people who are stacked on that, you know, in terms of additionals, but in terms of County data and city data, the economic responses are the economic conditions, the housing conditions, the nutrition and health conditions of black and indigenous populations, primarily native Americans of tribes or urban Indians who have moved from other locations to come to Portland and African Americans and Africans now because African Americans in second and third generation phase are African Americans.
Speaker 4
There are no longer immigrants and refugees. Their children are being impacted by the same types of psychological, physical, nutritional, and educational and systemic problems that African American children are being impacted. So we have a new population we've doubling the population or increasing the population of African Americans because we have new second, third generation, let's take, remove that term. They are now African Americans or Africans in America, or where now them and they are now out, or that demographic has grown. So the BiPAP community focus for now similar to women's rights or civil rights, right. You know, the African American or black community, civil rights movement, all of those things spread for everyone. Uh, bike lanes did not, did not equally just like a pano, you know, the dealt with those issues. And now we're shifting the climate change. But I think being innovative means we'd have to take risks. And for some reason, we're not taking the types of risks that that will benefit and impact most positively. Those that have continued to be left out and negatively impacted.
Speaker 3
So let's talk about that a little bit further though, because you always dropped so much wisdom in answering a single question.
Speaker 4
Oh my goodness. Yes.
Speaker 3
There's never any small talk with us. We always go right to it. But here's the thing. I mean, innovation is key in that community resilience at the core and the fast pivot. I like to call it the art of the fast pivot in some ways, but that's only possible when you're strong, right? It's only possible when you're resilient. It's only possible when you're equipped. And what we're seeing is that some of this is about innovation, but what you're doing with food right now, and food sovereignty and land sovereignty is as old as it gets. Right. It's so essential. And you and I are both land use people at the core because we look at these human systems and we see them overlaid on this land. And we talk about place and connections to place as being such a key driver in how we engage communities. So tell me about, you know, what are you thinking in terms of the black food sovereignty coalition, why that, why now, and how can we intensify or investments in what we know works to address some of the problems that you, that you illustrated and highlighted in your first answer?
Speaker 4
So, um, you know, with, um, with the black food Saturday coalition, it's, it's, it's a, uh, it was not a, you know, um, it was a 15 year strategic plan and a regional district, and I've been onboarding, uh, me working with folks in Seattle Tacoma, um, uh, African American growers, black growers, uh, African, um, refugees and immigrants, people. This is, you know, from five, six years ago, and now folks, uh, have kids and farms, things like that. I've, I've found I've continued to look at. And I think part of that innovation and innovative thinking is thinking, going and thinking in places just like at university of Washington in 2007, when they were talking about food systems, you know, and they were like food systems, urban planning, APA, wasn't even interested in it and they didn't take that on. And so, you know, 2010, 2012 as an official thing.
Speaker 4
So there's this, this, this, uh, headedness that for some reason I've been giving, you know, the ability to do with other folks who have that skill like yourself to look ahead of the current situation, look ahead of the problem and say, if that problem is solved, what solves what's the next problem? So if we have a transit line or a yellow line going all the way up to the North end, then what's the, what's the next problem in terms of development in between the stations? Right? So I took the similar and some of those tours we took, you know, we did the downtown South waterfront back before. This was what, 2008, 2007. And, you know, before they, and the city of Seattle coming down here and then people from Portland going up. So the shared information has showed me in terms of food systems work for the last decade is that, um, there, aren't very strong ag, you know, in terms of that, that urban growth boundary, there's very little activity.
Speaker 4
And, and, uh, especially here in Oregon, um, and there's very little will and King County, if you look at Multnomah King County, Seattle versus Portland, or, and Portland in terms of addressing these food system issues, and I took that information and condensed it into what do I know in the event, or what do we know in the event of things not working, what's going to be most important in terms of getting food to people and nutrition, because you can, and without people being fed, I mean, it's, it's a hunger strike, right? So it's either a revolution or it's a hunger strike. So people needed to be fed is a key thing. The civil rights movement was the most famous people, the civil, civil rights movement, where the farmers that fed and the people in the chefs and the cooks and the people who fed the civil rights movement that nobody knows names about.
Speaker 4
There's never like, Hey, here's the farmer who delivered the food to Selma before they did the, you know, the, the March on the bridge with John Lewis. So this for me, I like that. I like that kind of George Plimpton behind the scenes, investigative journalist turned practitioner, right? So how about we try to get black people and African immigrants together? How about we create a, in the Northwest specifically, cause we're not in the South, create a block of people that want to do that work and economically can benefit from it. Cause access to, to being a housing developer and access to being a farm creator are radically different income streams and cash capital on the deck. There's a already a strong white led, uh, gardening training programs around the region for immigrants and refugees and low income people. So instead of trying to recreate that wheel level up and build a system from where black people stop being gardeners and want to be farmers and before they get to market.
Speaker 4
So our strategy has been getting folks to market, not just as farmers, but as food producers, food makers of, um, import export. Uh, anything that has to do is soil remediation, soil rebuilding. I've always thought that indigenous people, native Americans and black folks are the folks who can be enlisted in, in, in the, you know, American sense of the word, but also deployed with funding, radical amounts of funding to be that WPA model that goes out and begins. The, the stabilization of these, of these urban bat grant have the green ring of food around it. Our County currently does not. And Metro does not have a tri County agriculture plan that is ludicrous in the face of this. I'm talking to staff members there and people at the highest level of management, not leadership, but the decision makers haven't gotten this yet, but there's no agriculture land management program. Formerly here. There's a bunch of good old boys that have been able to lease County land or Metro land to grow whatever crops they wish, but there's no coordinated structure. There's no food office in the, in the city, uh, to, to coordinate this work. There's no, there's no food policy console because it was disbanded. So
Speaker 3
There's not even an emergency plan right now. I mean, I've been, I've been cooking at blend Shea house and trying to volunteer at the shelters. And they have a guy who doesn't even have enough cold storage. So we're not even coordinating, uh, we're not even coordinating supply chains and things like that. Regionally
Speaker 4
The restaurants, there are companies that have shut down that have these, these facilities that they're waiting for. You know, I talked to them a month ago and they were like, Hey, covert will be over in three weeks. It'll be over in a month and we'll be okay and be back to normal. And now, you know, I have neighbors that everybody's, that's, that's done. This is the next, this is 2020. This is what 2020 is. And if the vaccine starts to work, if, if, if, if, if, if it doesn't turn us into zombies, if all of these things don't occur, then we still have a curve and a change in our lives and our system that regionalize and localize this food. So infrastructure, something, you just mentioned that food infrastructure and knowing how much free available, not free, but paid for and in the market, resources are available is something like you said, we don't have a resource map yet.
Speaker 4
And we are, we are out right now, identifying companies and, and calling and getting calls and want it to be that magnet because we knew something was going to occur. So when it turns on people start, well, who's the, you know, who's the black farming people that are doing this or who, the folks that are taking food boxes. So now that we've gotten out of the initial USDA dump of food and shifting of the commodity crops into the community, now we're starting to look at, we started to see meat, uh, uh, um, cows and chicken and fish come in. That's being redirected from all of the restaurants and all of the restaurant, all of the food locations that are being shut down. There's this plethora of 50,000 pounds of, of sablefish is being shipped here. And I just contacted, I just met the guy. He wants to get it out to community. I'm like, I can't store 50,000 pounds of Sable fish, right. This minute
Speaker 3
Though, Portlanders eat that much in here.
Speaker 4
Um, you know, same thing, you know, people are, you know, like a million pounds of potatoes came in, right? And I'm like, I can't do anything with a million. I can't store a million pounds of potatoes right now. So we don't have the County or the, the city foods, food infrastructure to, to dump the food that we need for a year. We don't have enough. We don't have a co-packing facility in the city. We don't have a food processing center that people can access, uh, affordably. So again, we've come to the point where it's not housing, it's not transit it's. We took care of those. It's not biking. It's not electric vehicles. It's meals, it's access to food is healthcare. It's identifying where people are in terms of, you know, it's on the street with that, with the homeless camps that are, and the, the blocks of houses now, tent, tent homes and the new tents. And this is a permanent condition that I feel very, very, very strongly that organizations like ours, as we're building it, to work both for the people, for the economy and for the planet. And for spirit. Now you got quadruple bottom line. Finally, they added spirit and culture. Thank you for adding the last thing. That's the first thing in our community, right? So we start with spirit and culture. And the last thing that dominant culture puts into their economic planning and spirits and culture. So,
Speaker 3
Well, it's hard to commodify that Eddie, so we wouldn't want to give you credit for it.
Speaker 4
No, no. Don't give me credit.
Speaker 3
Yeah. Yeah. You see what I'm saying? Like, I don't think if we can't measure it in terms of economic value off the top of our heads, our society doesn't really have much care for it. They don't, we don't, we don't invest in it. It's the same with mental health and a lot of other things. So, Hey, before we sign off, I want to hear, you know, we're looking at potentially a 40% increase in homelessness due to COVID related unemployment. We're looking at hunger, I'm looking at the poverty crisis as Portland's next mayor thinking, you know, what am I going to do? So talk to me about two things before we sign off, what does the city need to do for this movement? And that can be WPA level. Cause we do have access to money and what should we be doing? And then to what can people who are watching today or listening on the podcast do to help you and your project specifically?
Speaker 4
Okay. Um, the city, um, I having watched and, and, and, you know, like you mentioned at the beginning, we've seen some folks from all over the world come to town and, and, and we've got to talk. We we've gotten the time, the opportunity to talk to those folks from Japan, the South Africa, I mean, and gone to those places and watch their systems. What I think the city, you know, like the punch list on the city for this, for this challenge specifically, is to get people fed right? Uh, a local food initiative that ties with Metro and does a tri County regional, not a food console, like a food, you know, it's no discussion anymore. We know what's broken, we know instant food assessment. What, how many refrigeration, you know, how much refrigeration do we have? How many kitchens do we have? Who's kitchens are dormant and dark at night.
Speaker 4
And how do we get those, those, those, uh, those, those places active, not 24, seven, but double the activity of food, prep, food storage, and start to have a, a tactical, um, a tactical office that helps coordinate and map, uh, available agriculture lands, available food production areas, available community organizations that are ready to this is a green workforce systems is ready to put dollars on this. In terms of green workforce, we have a, uh, green loop that doesn't have any agriculture in it. We have, uh, a green, a green boundary. We have an urban growth boundary that doesn't have an, uh, ag and food systems management where we have just like concrete right, or gravel or salt, any other, I think food is, is a, is a, uh, food systems are a critical infrastructure, just like sewers, electricity, water, and high speed internet. So that's that important.
Speaker 4
And there's a way to, to not only monetize it for community, but there's a few community food system ownership and a benefit that can come and be distributed, just like, just like we have overages with like electricity. If we had a solar grid we could sell energy back to, and, you know, back to the PGE or whoever else, you know. So having this district food system, like a district energy profile, I think is critical. Um, so an office of food and farms in the city and the mayor's office, and then coordinating with other, uh, offices and, and municipal offices that will be forced to buy that innovative, fantastic approach to just like climate change, create those offices and, and gather with you to make this thing happen.
Speaker 3
Is that a more, does that, do you think that's more of a planning process or do you throw that right in emergency management and risk?
Speaker 4
I think that's a, both. And I think a lot of our work now planners is both an, it, it is both planning and action. It is tactical urbanism edits at its most perfect. You know, when I think of tactical urbanism, it's like this, it's like we got a problem. We're in the red parking lot. We set up a temporary food hub. We've got a market going on Mondays with asthma and, you know, come through market every other Monday running to the end of the year, using that indoor outdoor space at the red that was sitting dormant because no longer okay. And they've been to parties. So those kinds of those kinds of opportunities to, to, to, to leverage and step up and meet with Randy Miller and Olympic provisions and eco trust and find a way to not diversify their work, but find, help them find their way about how to stabilize our work and make our work resistant to the shocks and stressors and, and start to take root.
Speaker 4
So I think in the food economy is one of the best ways that black and indigenous people can take from root and have, have longevity in this state in terms of a, of an industry, agriculture, food systems, regenerative, agriculture, soil, building, animal, husbandry, food, production, food, making black food sovereignty coalition the best way to help us, uh, black food, northwest.org. Uh, we're on Instagram at black food Northwest. And we are identifying those farmers if there are black and indigenous farmers that want help reach out to us folks who are ready to scale up on food products, we're working with the red and with Aqua and Oregon state university's, uh, food community, food systems program. I, uh, Shantay, uh, Johnson with mud bone grown she's on the state agriculture advisory, uh, commission I'm on the OCSS, an Oregon, uh, like farm to school and in Oregon, uh, small farms and community food systems. So again, we're doing political work, but a lot of our work is immediately going into those rooms and saying, we have consciousness of immediacy that need to happen. Compost needs to be shipped over there. This farm, these farmers need a refrigerator. These folks need a tractor. Let's move this over here. You know, so, and I'm sorry. One more thing is we have a lot of businesses and also that are,
Speaker 3
As this economy collapses more and we're going to have these empty lands. There has to be a more robust. And I, when I was at Peabody in 2013, they were working on this and haven't finished it yet. Alternative uses for rights of way food based environmental restoration plan for putting trees, cleaning, you know, making it green everywhere, not just in certain communities or on bike lanes, but there's a re there's a resilience and, and, and, uh, shocks and stressors plan that we need that is much more robust than a disaster management plan. Cause we were doing disaster management and I thought we had a report if there's an earthquake and I'm not quite sure why the book wasn't opened up and you just change, copy and paste, or, you know, like replaced earthquake with COVID and then we could have fixed everything. But I don't think that book was really a real book.
Speaker 3
So yeah, maybe it was just a book jacket, Eddie. I don't know if I were writing the book, we're writing the book, we're writing the book and that is the beautiful thing about Portlanders. We never stop. We stay optimistic and we stay in the fight. And I know that Portland is happy to have you. We are so grateful for your continued work and we're so grateful for your thoughtfulness to because your leadership on these issues of having to force us time and again, back to where we need to keep our eyes on the prize, as opposed to looking off here is so critical. So thank you. Thanks for taking time out of your morning to be with us. If folks want to follow up, I'm going to give you that one more time. It's black food nw.org, and you can follow up, get more information donate if you can do whatever you can to support these organizations, because they actually have all the knowledge and wisdom and capacity that we need, but we just need to make sure it's fully funded to do that work on behalf of our community. So thank you, Eddie. We appreciate your everybody.
Speaker 1
Thanks for listening to our Portland. If you have a question for Sarah record, a voice memo on your phone and email it to our [email protected] or use the, our Portland hashtag and send us a message on social media.
Speaker 3
This has been a production of friends of Sarah for Portland, with matching funds from Portland's open and accountable elections.