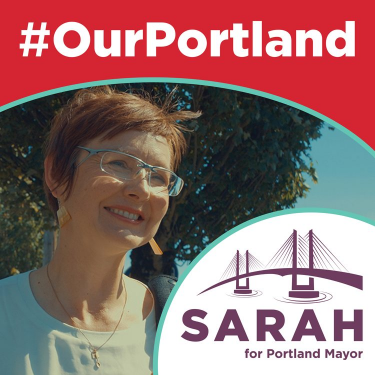 Municipal Support for Small Business w/ Rick Turoczy
About this Episode
May 16, 2020
Sarah joined Rick Turoczy of PIE to discuss how the City of Portland can best support our startup and small business communities.
Find your nearest ballot drop box at sarah2020.com/dropboxes.
Here's how you can help get Sarah elected Portland's next mayor on May 19th:
Have a question for Sarah? Email it to [email protected].
Transcript
This transcript was generated automatically and has not been reviewed for accuracy by our transcription team yet. Please email

[email protected]

if you would like to help!
Speaker 1
[inaudible].
Speaker 2
Welcome to our Portland with Sarah Ayana Roan made possible by contributors to friends of Sarah for Portland. Portlanders have everything we need to make radical progress today on emergencies like climate chaos, housing affordability, and staggering inequality. Each episode we'll hear how Sarah plans to be the mayor to lead the city of Portland to a more equitable and sustainable future. And now here's Sarah.
Speaker 3
Hi there. Portland. Sara, I, Anna, rune here. I'm running for Portland mayor. My pronouns are she and her election day is right around the corner. Tuesday, May 19th can you believe it's already here? You've already missed your chance to mail your ballot, so you're going to have to drop it off at one of the official drop sites. You can find out where they are at the Multnomah County elections website. I don't know what to say other than vote. Even if you're not voting for me, which you should be, just vote and please don't vote for the incumbent. Portland deserves so much better. Want a good reason why? Listen to this conversation I had earlier with Rick to Rosie from pie. It's a deep dive into some of the questions that our small business and entrepreneurial ecosystem has a that his work is really focused on that pipeline, um, on that community and making sure that it's robust and a good part of Portland's economic development strategy, creating pathways to opportunity for lots of people who have been left out of the conversation for a very long time. I hope you enjoy it. Thanks for tuning it.
Speaker 1
[inaudible]
Speaker 4
hi, and welcome to another pie. Crowdcast. I'm Rick Terosa, co founder and general manager of PI and I'll be your host today. Today we're very pleased to have as a guest, Sarah Anna Roane who is a candidate for Portland mayor. Welcome Sarah. Hi Rick. Thanks for having me. And thanks for saying my name right. Of course I am. I'm pretty touchy about that last name thing. Um, for folks who haven't been here and before joining us for the first time, welcome to Crowdcast a few tips for how to use it. There's chat over on the side. If you want to talk to other people who are here or or submit questions or links in there, that's totally fine. But the best way to get your questions answered is to look at the bottom of your screen and you'll see a button that says ask a question.
Speaker 4
There's a highlighted number seven next to it right now. So if you go down there, hit that button, you'll be able to get your question into the queue. And the beauty of asking your question that way is then other participants can jump in there and upvote the questions that they like as well so that we can focus on topics that are most important to the people in attendance. If you can't stay the whole time or have to leave, this is all being recorded. It will be available right at this same link. So if you have to jump out, feel free to jump right back and get the information you need. So with no further ado, uh, Sarah, why don't you introduce yourself to folks, provide some, some insights on your platform and tell us a little more about you.
Speaker 3
Well, thanks for having me and thanks everyone for tuning in. I know you're all trying to be productive working remotely. Many of you and many of you may be without working from that. I share sincere concerns about how we're going to get through this, but I do have some thoughts and just to let you know who I am and maybe why Rick would know me is my name is Sarah, I Anna Ronan. I am running for Portland mayor in part because my job the last 10 years has been hosting, visiting delegations of leaders from around the world who've come to study things just like Portland startup ecosystem. So they've come here because they've heard that we have a creative economy, that we haven't an innovation hub, that we have a sustainable city and that maybe we even do some things right in terms of civic engagement and I hope that I've been able to share with them some things in terms of how we can make the prosperity that some Portlanders are experiencing accrue to every Portland.
Speaker 3
Now, my background is before I was in city planning and urban development was a small restaurant owner. So I was an entrepreneur. I opened a business in Portland in 2006. Uh, that business actually went out of business this week as reported by the Oregonian due to coast. Sorry. Um, so some of that, uh, experience I had shared that pain. I wasn't actively involved anymore, but, um, my ex husband and that was how he made his living and my daughter and her, um, money there. And so many of our neighbors enjoyed that space. But also I've been, uh, quite involved in local politics on the advocacy side. So working on the comprehensive plan update and figuring out how are we going to create housing so that we can accommodate all of the population growth here. How can we transform transportation systems, for instance, in energy systems so that we can reach our goals of carbon neutrality?
Speaker 3
How can we look at things like traffic, violence and police accountability in terms of public safety that actually keeps Portlander safe and doesn't, uh, disproportionately endanger so many Portlanders. And also thinking about things like even the strategic plan uptake to what was once called the Portland development commission. And the rethinking of that to prosper Portland and why having equity at the heart of our urban development processes isn't just a equity initiative worth talking about, but the basis of our sustainable prosperity for the future. So that's what I'm bringing to this race. What we've done to date is build this grassroots powerhouse because we're the only candidate using this new, uh, publicly financed elections program, which means that we've been able to sidestep establishment channels that generally drive political discussions in Portland and are on track to set a record in the city for the most donors ever in an election cycle by going straight to the people and helping their voices be amplified in this discussion. And that's why I'm so thankful for you having me here today, Rick, because the kinds of conversations that you and I have had over the years are exactly the kinds of conversations that I've been having out in the streets, which are very Frank warts and all what's working and what's not and how can we do more of what's working and get rid of what's not working as quickly as possible.
Speaker 4
That's awesome. Um, thank you for that context. That's super helpful. And, uh, just in terms of full disclosure, want folks to be aware that PI is partially funded by a grant from prosper Portland? So just because there was that mention, I wanted to make sure folks were aware of that. Uh, Sarah, I think one of the things we as entrepreneurs and startups are always dealing with is iteration, right? So you do something, once you learn from it, you iterate, you do something better the next time. Maybe talk to us about what's changed between the last campaign and this campaign. How are you doing things differently, not only because of the pandemic situation, but what did you learn the last time around? That's improved your, your campaign this time.
Speaker 3
Thanks for asking that question. Not a lot of people ask me that and I love talking about it because civic learning and learning is such an important part of how we have to be, um, activating in the future, right? We are headed into such dynamic and chaotic times that if we don't make space for failure and if we don't make space for learning from failure and if we don't make space for adaptation and even on the fly, um, innovation, I don't know that these big institutions like government, like higher education, um, even like things like how we fund our infrastructure are going to be able to keep up with the times. And so really being reflective about how we learn and what we're learning is such an important part of how I come to the problems of urban policy. One of the things that really was a big sticker for us in 2016 was the lack of prior elective experience that I brought to the table.
Speaker 3
They saw that as a liability. Now, what we're seeing is not having been elected before, um, isn't always a predicate for being elected the first time. Um, learning to tackle the more high profile you get, the more people who are hating on you and how to not internalize negative feedback and own that. But really to stay focused on your mission, vision and values. I know that sounds a little hokey, but if you keep your eyes on the prize, then the feedback that you get that's negative doesn't hurt you. But the positive feedback that you get, you're able to internalize and transform it to power you forward. And then just this notion that again, the publicly financed campaign when I in the last election was forced to fundraise from these traditional channels where you have to get five and $10,000 checks. I wasn't saying the types of things that please, people who write that size of check, like the kind of conversations I have about climate action and equity, they upset a lot of Apple carts that people who have vested interest in those things upright don't really want to write big checks for it.
Speaker 3
So being able to go straight to the people which we thought was going to be hard work has been the most rewarding work because that has made me a better Kennedy. And so it's this notion that when you tap into the power of community, not as a burden, but as an asset in the basis of your success, your smarter, your stronger, and the things that you're trying to do have wider impact because it's not just about you. It's about the multiplier effect of what we're able to accomplish in community. And I know that you and I are both community beasts when it comes to the deploying that hour, but every time you get positive reinforcement for that, you're just, it's the most powerful force. I can't think of another word.
Speaker 4
I agree. Um, you are running for a position in perhaps the weirdest political environment any of us have experienced in our lifetime. How has this changed what you and your team are doing? And maybe just as importantly, are there some positive aspects to this situation that you're encountering?
Speaker 3
So, and I'm looking a little bit at the comments on the side and I'll try to weave those answers in in terms of innovation education and who's getting educated in the impacts. We focused from day one on the fact that Portland is facing a few challenges and I outlined them in three ways. One, climate change, right? We know that we have to shore up our people to adapt to and mitigate climate impacts to the lack of affordability here. Displacement is a huge factor here, whether you're talking commercial space, um, rents, housing prices, even the cost of living. If the average working Portlander can't stay here, then we lose their power and we lose their capacity in our society. And when you have a society powered only by elites with elite interests, we know that that's feeble. It's not a strong community. Diversity is what makes a community strong.
Speaker 3
So the third one being what are we going to do to grapple with Portland's legacy of white supremacy and the other inequality that basically, um, you know, makes it impossible for us to realize truly sustainable outcomes. And so we framed all of the policies around that from the get go. So the first one that we released was a green jobs plan. Thinking about rather than retreating into a mindset of austerity, we should be making investments in our sustainable future and making sure that these are jobs, pipelines and pathways to opportunity for minority business owners. Uh, smart people who are generally left out of the equation. Thinking about universal pre-K and caregiving that has gone unpaid for so often and how we can get people into paying jobs through things that we truly value. Education, right? Public safety, not as a militarization but as the things that actually keep Portland are safe.
Speaker 3
We've talked about housing and we've talked about good government and what a healthy democracy means and even what does it mean for us to make investments in alternative transportation modes. And so even when covert hit, the fact that we were already focused on shoring up Portland for our most vulnerable, making sure that people's needs, basic human needs were being met, making sure that we were challenging certain global capital forces that would have us go one direction and making sure that the power of how we were going to grow was driven from within those held strong through covert and actually informed our response, which has been community-based response to coven, which, you know, from day one as you've been trying to build a community around small businesses, advocating for them, the fact that we're able to organize in our spaces to connect with people is so important.
Speaker 3
So going multimedia and making sure that that's inclusive. So we're trying to have ASL interpretation and captions and we put things into podcasts and we go live streams. We go into many different formats. Uh, we did good neighbor cards. So we know that we're having to campaign and we're actually mandated to spend our money on campaigning. But can we put those resources into things that are helping neighbors connect? Um, even things like setting up water stations, um, and just branding them with the campaign so that we can get a few bangs with a single buck. So it's just that mindset, that community oriented mindset I think will carry you through any crisis and that's why I believe in it because it's going to hold us through [inaudible] and the things that are coming after Colin because this is really the beginning of the chaos that we're going to be experiencing, not the end.
Speaker 4
Yep. Yeah, I agree. And I think, uh, you know, being so community driven as you are, um, I know one of the things I experienced was the, um, just kind of you, you immediately understood what the impact of this pandemic was going to be, at least at a very tactical way. Whereas I felt like some folks who maybe aren't as community oriented, we're kind of grappling with trying to figure out what to do immediately. I mean, I think one good example is, uh, Mitch Doherty, my cofounder at built Oregon was immediately like, we need to survey everybody and get exactly a baseline of what's going on. And did that within, you know, hours of, um, of stuff kind of shutting down. And so what, what from your perspective, where we are now, you know, you and I talked about it in the green room, we've kind of, you know, gotten use to the whatever this is, this new abnormal as I refer to it. Um, what should entrepreneurs and small businesses be concentrating on as, as part of this election cycle? Where would you encourage them to focus?
Speaker 3
For me, it's a couple of things we have. I think about it in terms of, uh, spheres of influence. Right? And where does the city of Portland have the most impact? Portland is a hap is a very collaborative place. There's nothing really like better than convening a process, right? But sometimes I think that obviously skates clarity around who's doing what to what ends and where a particular set of investments is going to try to accomplish certain sets of outcomes. So I think that notion of staying in our lane and knowing what, as a municipality we should be focusing on, it's going to be very important that it's not something that I hear from our leadership really at any level. Often. For instance, we're the County and we're going to focus on this part of it where the city, we're going to focus on this part of it.
Speaker 3
We're Metro. Where's our regional government right now? And what are they doing in terms of our economy is regional, our housing supply is regional. I know that they're facing cuts, but really hearing clarity from all of the levels of government right up to the state about who's doing what, why and on what objective criteria are we talking about. Another thing that I haven't really seen is clarity of communication. So when I released you and I were talking about the fact that we sheltered in place quite early. I got my first coated briefing, I think on March 9th, uh, from a virologist and then consulted with an epidemiologist. And I knew that this shelter in place was coming. By March 12th. We had released the community action response to coven that the number one thing it had was coordinated communications. And we know that in the siloed bureaucracy of Portland, it can be very hard to navigate even when you have high levels of institutional knowledge like you and I do, right from having, you've got a prosper Portland grant for instance.
Speaker 3
So you know how challenging that can be. Imagine for the lay person who hasn't had to interact much with city of Portland before, how do you navigate the timelines, the expectations, what has that communication looked like? I found it challenging to navigate and I haven't seen someone step into the leadership role and say, I, we on the back end understand transportation issues or from Peabody. And we understand economic development comes from prosper Portland and civic engagement comes from civic life, but maybe the public doesn't need to know that those silos exist and let's have a unified front in our communication about here's what's going on in the city of Portland with regards to COBIT. So I think it's that notion of clarity of purpose, clarity of communication, and then focusing on your goals. I mean I start to choke up when I think about the library cafe closing and the fact that we opened in 2006 and it's so beloved, right?
Speaker 3
Because we, I mean, I don't mean to make light of it, but we created that place cause there wasn't somewhere in walking distance where our neighbors could go and have something that felt like our place had value. But besides the public infrastructure, and so to have that close and not not seem like it mattered to anyone in the city, that was hard for me. So where was the conversation at the city level of hold the Fort? We're coming, we don't have the answers yet, but let's come together and really try to problem solve some of this because they feel like the solutions have been very abstract largely. And even if the city doesn't have money for us, tell us that you're not going to let us get evicted. Tell us what you're going to do for us when the eviction moratorium ends. Because when you have so much uncertainty, people don't expect you to have answers, right.
Speaker 3
What they expect you to do is they want to be able to trust that you will wait for them even when a path forward is not clear. And I don't like it when they say, Oh, we're helping. And like, you know, only a few million of dollars have been disbursed and a few hundred businesses have been helped when we know there are thousands and thousands hurting. I would rather have them saying, we know we're making a drop in the bucket. We don't have the resources, but here are our priorities and fighting. We're going to fight against displacement of local businesses that can't pay rent and that are fearing we're going to fight for businesses to make sure that your workers are cared for, even when you can't make payroll because we know you're not getting those PPP loans that you applied for and we're gonna fight for your people so that they're not losing their housing even when you can't pay them to take the pressure off. Even the employers in this critical time, cause I know they don't want to have staff half employed or marginally employed or uncertain employed. So they're putting, they're laying them off so they can get unemployment benefits. So for me it's about, you know, that clarity and communication and then a focus of clear priorities so that the people of Portland know where the city stands on the issue.
Speaker 4
Okay. Thank you. Um, that's a great answer. And as luck would have had, we just answered the first question in the queue so that we're, we're being efficient, aren't ready, I'm nothing if not efficient. Next question is, do you think the school systems should recover in a traditional manner of operations? Should they move to more distance learning, accurate accreditation model or something else entirely? And should this happen by fall or should this be a longer term conversation?
Speaker 3
Well, let's talk about this a little bit because we have a range of education. My daughter's in the other room right now doing distance learning from Portland state and she'll probably be doing distance learning at that same kitchen table in the fall from university of Oregon. Meanwhile, you know, I'm talking with PPS school board and teachers in my network who are looking at the K-12 education system. And even PCC educators, educators and people working in apprenticeship and trade programs at places like work systems. And we know that education from pre-K through higher ed has been upended. We also know that access to internet has been a huge barrier. So even in my green jobs planning back in October, I was proposing municipal broadband as a public infrastructure investment to make sure not only on the education side, which I knew would be important for PPS families and you know, college families and college students, but think about employers right now having to have their workforce work from home and the barriers to good communication that the lack of accessible, affordable, universal broadband has had on Portland.
Speaker 3
So there's a big one right there again, as a municipality and what can we invest in? I think municipal broadband would be a big one. Now when it comes to the school district, you know the mayor doesn't have a lot of say in how that goes. But what the teachers have told me, especially is that the biggest disruption by far, and this was pre coven and it will be there after coven is instability and housing because when the students are moving even from school to school and makes it impossible to track progress, it makes it impossible to keep track of how families are doing. And in fact the disruption on the psyches of the students makes increased behavioral concerns in the classrooms. So our teachers are even able to administer curriculum because they're so preoccupied managing what they're calling classroom disruption. So I think when we're talking about schooling in the future, we have to think about meeting our family's basic human needs for housing and food first.
Speaker 3
They are struggling and the financial hardships are not ending anytime soon. So making sure people are not displaced has to be a focus for the Portland mayor to making sure that people have access to the supports that they need for things like mental health care and mental health support across the spectrum of providers. We're also going to have to think about as we are forcing workers to go back to work by reopening the economy. Many of them especially who are mothers and caregivers are going to struggle finding childcare in the coven world order. So what does that mean? pre-K? Like if we can make investments and things like that. I'm even thinking right now about the parks and the fact that the parks are close for the summer and what a respite that gives for parents who are used to having care in the summertime.
Speaker 3
Well for me I think we should be actually doing distance things in the parks as opposed to laying on park staff. Let's have the kids out doing fun things in the parks socially distance because they are adaptive. Children will adapt. So we need to, and I love that you said system thinking is for children. And here's another thing. I have youth on my campaign. So my gun safety policy adviser is 13 years old. She's been working in Salem on safety storage policy. I know that she knows more than I do on that. Same with some of my, um, you know, have youth climate advisers and things like that. So making sure that we have youth involved in these discussions is actually the most important thing cause they'll tell us what's working and what's not.
Speaker 4
Yeah. Yeah. I love that. We, uh, have us have a similar take at PI. Like sometimes we'll bring in mentors who are, who are kids or teenagers and people will be like, well why do you have them as mentors? And we're like, well, they're the customers. Like they're the ones who are gonna understand the needs better than any of us. So, um, I love that you're doing that as well. Uh, next question. What would you do in your first 100 days as mayor to support small businesses?
Speaker 3
Yeah, and I'm sorry I didn't get elected in 2016 or this would already be in place today, but we need a single point of contact for small business and entrepreneurship in Portland. And that person has a very important job. And I have actually proposed that it not be in prosper Portland from day one just because I think we need to look above prosper Portland's activities to the entire ecosystem of who's doing what in toad. And that person's job in that first 90 days will be to map out, right? You and I know how important asset mapping is and when you're looking at a network, who's doing what there, what inputs are going into the system and what's working, what's not really evaluating who's doing what there. So our strategic partnerships, our strategic investments, the programs that not just we're doing inside the city but say OEM and all of the players in that ecosystem who's doing what, where then we need to make sure that that person has the capacity to streamline SBA support that's coming into the city and make sure it's getting out there as quickly as possible.
Speaker 3
So it's really a technical support capacity and setting up the infrastructure in our city so that you have a single point of contact. And I do want to give Steven Green a thankful heads up for advising me on some of this in terms of what does it mean for us to deep bureaucratize the small business assistance and make it more business mindset. Because a small business startup isn't necessarily a policy work like me who wants to get into all that. They want answers, they want them quickly, they weren't clear direction and they want a map to follow. And so making sure that person's setting that up. And then also what we need is someone to look at the data. So setting up the data systems so that we can be evaluating, because we talked so much about equity important, but when it comes to measuring what you measure, the entrepreneurship is are, yeah, there you go.
Speaker 3
Rec. That's your new title. And the new age, what you measure is what you're going to get. And so if we don't have robust program evaluation and measurement in place, we can set up all the programs we want. We can mean progress all day long, but we have to make progress. And how do you know? You don't know unless you're measuring the right things. And so setting up those information systems would be that person's job. And I actually do want it to be one person because when you have one person, you have accountability. Yep. Yep. That's where I think, and that's where I think I love that you're all are pitching. Most of the new org structure's going to look like in there. You can go for it. I'll let you do it. But that's the thing. Let's get this going in a real entrepreneurial way. And not just like there's some parts of, you know, business thinking that have infiltrated, um, government sometimes to the negative in terms of efficiencies and breaking even mindset. Well, if we're going to take some of those, maybe we should take some of the things that are gonna make us a little bit leaner, more effective machine too.
Speaker 4
Yep. Well, and there were, there was a time in, you know, Portland when the city government was a lot more entrepreneurial and, uh, was thinking about things like open data and, and engagement with private industry to further, um, government. And, and for whatever reason that that, um, hasn't been as much of a priority in recent years, but it would be great. I think that, I think the, I could say from my perspective, the startup community is ready and willing to engage. The small business community is ready and willing to engage. We just need somebody on the other side of the table to kind of be there to support it. So I really appreciate that.
Speaker 3
Yeah. And I even want to, I'll add this because I do want to throw your focus in the direction of my good government plan. Not everybody always wants to get that wonky, but that's where that open data, that's exactly what I'm talking about. I hate city seeing your community stirring to go and not being able to unleash you. Like I want you to go. And so thinking about all the open platform data systems, even civic engagement and how we're sitting on so much capacity that's not unleashed right now. It makes my brain hurt.
Speaker 4
Yeah. Well, we're ready. We'll get moving on that stuff. Um, next question. Uh, what new things have you learned how to do during this crisis that you hope to carry over when things returned to normal? For example, uh, commuting less
Speaker 3
well, I was already a car-free Portlander and got around by e-bike. So it has reinforced, again, my notion that we shouldn't be expanding fossil fuel infrastructure, but that we should really be making investments in things like municipal broadband so that people can, a lot of people can commute. I think it's about making sure that our employers are incentivized to have flexible working conditions for their workers. Right. Um, we need to make sure that there are a lot of attractive options to getting in your automobile for a trip. Even things like, as we're looking to update the city's freight plan right now, a lot of larger companies like the Amazons of the world don't really have a vested interest in us necessarily meeting our climate action goals. But I know Portlanders have a lot of vested interest in doing that. And so why aren't we thinking more things like, you know, um, what's going on with like beeline development and urban delivery hubs and things and innovating around logistics and things like that.
Speaker 3
I would love to see us hold the line on our climate action goals. Even while we're looking at new mobility patterns, thinking about use of the right of way and how much space we've given over to certain activities if we weren't using it for that. It's not just about people riding bikes, it's about housing, it's about parks and green space. Where are we gathering? Think about if we need to have dining outside or activities outside that could actually end up being really cool in the future when we come back together. Cause more spaces will be activated in positive ways. And even, you know, while some people don't like the distance campaigning with joke that who knew that we were setting up a multimedia organization when we were building our campaign. I have a, I have an engineer and a producer and you know, Oh, I see Josh Brown who makes videos for the campaign.
Speaker 3
Like we have set up a multimedia powerhouse. But you know what, we've heard people who've left out, been left out of the political process, people with disabilities who haven't been able to maybe knock doors, can now engage elders. We have connected so much with elders in terms of reaching out into them and talking to them on the phone, our field teams doing a community building while we're there. So staying focused on the things that we love about Portland, which is connection and access and really freedom to, to maximize opportunity. I think we can do it if we stay focused on the,
Speaker 4
yeah. And one of the things that's come up time and time again in these conversations is just how interesting it is that um, the, the bar has been significantly lowered for production values, right? So if this were, if this were the old normal, you would have been spending a lot of your time in TV studios and well-dressed sets with cameras zooming around and, and now we're all on zoom calls and webinars. So like it's, it's a great, uh, it's a great opportunity for people to engage without feeling the pressure to live up to a certain standard because everybody is doing everything from home right now from political candidates to late night hosts to, to whoever. So it's a really interesting time in terms of communications. So I'm glad you've been embracing that.
Speaker 3
Also, compassion and empathy. You think about how lost those are in local government and how us giving each other the benefit of the doubt is a good skill. Yup.
Speaker 4
Well, you agree, uh, you touched it a little, but I, I'd like to just kind of dive deeper into this, uh, with this question. How will you prepare Portland to be ready to support businesses for the next economic or health crisis? So this is going to happen again. How do we prepare?
Speaker 3
Yeah. Uh, that's why that green jobs plan and community resilience should be the focus of our public investments moving forward. It was my plan before coven hit because I was already looking at this context. We're not just talking about public health disruption. We're talking about a sustained period in the wake of climate change and global warming of economic and political instability for this foreseeable future. This is everything from a global markets. We're seeing it in the fossil fuel industry right now, but the volatility in the markets, but also the rise of authoritarianism and how crisis capitalism is really going to undermine healthy democracies around the world. We're seeing it in the United States where we thought our democracy was, you know, locked up tight and it's not. It's a vulnerable and so all of the policies that I propose [inaudible], that's why he keeps saying they're more important now than ever.
Speaker 3
It's about that regional closed loop economy. It's about making sure that our people are prepared and connected and that is going to make us not immune to disaster, but will be being more resilient means that we bounce back first and it means that community is our first responder and that we're not having to dump billions of dollars into recovery every time because we've put those billions of dollars into shoring us up for resiliency and good jobs come with that. And those can be local jobs and those local jobs can benefit, um, local firms. Right now we see, uh, the Amazon founder poised to become the world's first trillionaire. Why are the benefits of the shift in consumer purchasing habits accruing to a single individual like that? In a place like Portland, we should have local options where every single opportunity for us to invest locally is accruing to local entrepreneurs. And if we as local government can insent that, stimulate it, or even do joint ventures and matching funds so that we can get those dollars flowing into the right hands, I think that's going to be critical for the foreseeable future.
Speaker 4
Yup. Yup. Totally agree. Um, I, you know, I've experienced this with you firsthand. Um, you know, you and I are both very familiar and, and me through kind of my, just my lived experience, like being out within the community, being with the people rather than expecting folks to, to come to you or find you. This next question, would you be willing to invest $250,000 or allocate $250,000 to a listening campaign to learn what communities need? If so, what would be the next kind of actionable next steps in that room?
Speaker 3
So I don't know where that $250,000 number comes from. If there's somebody who has a proposal on the table already, I would love to see it.
Speaker 4
I think I may just be arbitrary but like X amount of,
Speaker 3
yeah. So what I actually have proposed are two things very similar to that already. One is on day one trying to convene a climate resiliency summit that would be both intergenerational and multicultural so that we could center the voices that are going to be most effected by disruption in the future. And now we understand that that's not just climate disruption, but that resiliency will help us on those fronts. The other one was the strategic plan for housing, which is actually thinking about, um, shifting on its head, how we do city planning and urban development here so that it's not the planning Bureau going into communities really and telling them, here, can we get your input about this so that we can make these plans happen. But it's really saying, hi, we're here. You're an existing community. We're going to bring the power of the city, our technocratic capacity, our technical expertise, our measurement tools, potentially better communication tools if we can get them built and then deploy them on behalf of say a organizations like living Cali, Oh, you're interested in implementing community energy.
Speaker 3
How can we help? Or the Jade district, we here, would you like to see certain types of redevelopment or commercial real estate here? Then let us help you in wealth. Rethink the zoning for you, not you have to come and meet us where we're at. So it's about more, I love the idea of the listening session, but it's really taking that whole power of the city bureaus that we have and, and tilting the process on their head so that it's not just about reaching out into communities and saying, here's what's going down, but engaging the communities to lead on the policies that they want to see in their places. Cool. Thanks. I guess I've got to post to that idea, but I think we can go beyond it a little bit and make it a little bit more institutionalized for the longterm.
Speaker 4
Got it. Um, and we've got time for maybe one or two more. Uh, many young people have left the city because they cannot find jobs or housing. What would you propose to do for the young people of Portland who want to continue to live in the community they grew up in?
Speaker 3
So in the short, short term, I actually think, uh, things like, uh, Tyrone pool has done with no app fee. We should be replicating that for every problem where we're investing in a local entrepreneur, a programmer designer to solve a problem or to help us solve a problem. And one of the things that we proposed in our housing for all plan is when you look at our housing supply, there's not a lot of empty housing, relatively speaking, when you look at how you need certain levels of vacancy so people can move through housing. But we have an awful lot of empty bedrooms. And so what would it mean for us to pair students potentially we see one of our fastest growing, uh, populations of people experiencing housing insecurity or homelessness would be students. And then another people, another group of people who probably shouldn't be housing insecure but who are elders who own their homes but are challenged to pay, uh, rising property taxes.
Speaker 3
So wouldn't it be nice to have an app where students and elders could be paired, especially while someone was going to school to, uh, help them do rentals where there was maybe some kind of subsidy or assistance and think about the intergenerational capacity that we build for us. And the compassion and understanding that that would build across generations. So that's just one example of the innovative, I even have created innovation groups to help us just really hit the ground running on all these fronts from day one. So that's a short term solution, but in the longterm we need to think about a couple of things. One is access to opportunities and good wage jobs. Is that contingent on a college education? I don't know. Third green jobs training plan. We can be partnering with workforce training partners and even community colleges to get people into technical capacity.
Speaker 3
Even think about things like municipal broadband installation and maintenance, right? It's a good example of where if we were investing in that locally, instead of relying on the Comcasts of the world, we could be deciding that youth could be getting into those jobs. Maybe they would be able to have the franchises for the maintenance. It's exactly like that kind of thing. Same thing of housing. We passed residential info to create more housing. Well, minority contracting requirements in there and things like that where we could make sure that people who haven't had access to prosperity that comes from real estate boobs and developments actually are getting good paying jobs and getting into pipelines of prosperity on that front. Same with tech as you know, from pie pipelines to opportunity is key to getting younger people into opportunity. Um, and we do that a lot through partnerships. I don't think that the innovation quadrant down at South waterfront has been a bad idea, but what would that mean to be, say in these Portland and to have a lot more to do with other things like media industry or digital, right? Digital publishing and all the things that we know Portland is good at in addition to healthcare R and D where we could replicate that successful model from the South waterfront, but maybe in a gateway innovation district partnering with PPS and things like that.
Speaker 4
Yeah, I love that idea. Um, so just want to be aware of your time. Uh, this is, we're gonna stop with the audience questions. We didn't get to everything. But if you, um, have time in the future to come back and review them, you can definitely, they'll, they'll be up. Um, so you can see them. And this is kind of the time and the, in the event where we kind of turn the tables and say, you know, a from voting, what can we as a community be doing to support you and, and your, um, your efforts right now. Okay.
Speaker 3
So I'll give you one thing that my team doesn't care that much about, which is tactical optimism. But I think that you need to maintain tactical optimism. And this is my philosophy for a while, which says we have to stay hopeful about the future because it is our only moral route and it's our only practical route if we check out no where so, and so those of us, especially with privilege, um, and prosperity leeches, stay engaged. And that means doing good self care. And it means making sure that you're connecting with people and like you do, you do the work on the front end to keep people connected to each other. So thank you for that. Stay connected and stay at beat between now and elective day. Election day. Yes. Thank you. Aggressively Homebrew looks good too. Between now and election day. Um, a good portion of the ballots have already been returned, but we need folks to do a couple of things.
Speaker 3
Today's the last day you can mail your ballot, so if you haven't mailed your ballot by the end of the day, you have to fill it out and then drop it off at one of the drop box locations and you can find those on the Noma County elections website. And then the other thing you can do is help us get out the vote. Usually we're knocking on 20 or 30,000 doors. Instead of doing that, we've been having to phone bank and digitally mobilize. I call it my mobile mob out there just to dialing, dialing, dialing. But if you could sign up, even for an hour of dialing, it's pretty effortless. They give you a login, the number pops up on your screen. You read from a script and remind people to turn their ballots. That would be super helpful for us. So you can go to Sarah 20 twenty.com/volunteer, spread the word from your friends, uh, to, to vote for a progressive, small business minded mayor. And I hope that on the other side of election day, we have something to be hopeful about for Portland's future in terms of the kind of leadership we'd like to see.
Speaker 4
Awesome. Thank you so much, Sarah. It's always a pleasure to spend time with you and we really appreciate you carving out time during this busy period. Um, hang in there, stay strong and uh, we will talk to everybody later. Alright.
Speaker 3
It's been a joy in having a good day. Everybody was great to see all your comments in the side. You make me happy here. And on Twitter too.
Speaker 4
This has been a production of friends of Sarah for Portland.