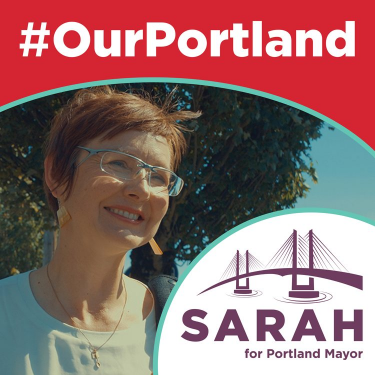 Do. Do More. Do Better. w/ Stephen Green
About this Episode
August 10, 2020
Sarah speaks with Stephen Green about his new initiative, Do. Do More. Do Better. centering the community, and making a commitment to being uncomfortable.
Campaign Resources
Have a question for Sarah? Email it to [email protected].
Transcript
This transcript was generated automatically and has not been reviewed for accuracy by our transcription team yet. Please email

[email protected]

if you would like to help!
Speaker 1
Welcome to our Portland with Sarah Anna, [inaudible] made possible by contributors to friends of Sarah for Portland, Portlanders have everything we need to make radical progress today on emergencies like climate chaos, housing affordability, and staggering inequality. Each episode, we'll hear how Sarah plans to be the mayor to lead the city of Portland to a more equitable and sustainable future. And now here's Sarah.
Speaker 2
Hello everyone. And welcome to the hour Portland podcast. My name is Sarah. [inaudible] my pronouns. Are she her hers? We're bringing you a short podcast today with my good friend, an economic advisor, Stephen Green, Stephen Green is part of a group of entrepreneur advocates who have released a framework to help employees hold their companies accountable to the recent black lives matter movement and other DEI diversity equity and inclusion commitments. Steven. And I've talked for quite some time now about how do we not only commit to or pledge to enact change, but create real accountability for how this change comes about. So the do website, we'll put the link in the podcast notes, but we had a conversation with Steven about his movement to do, do more, do better, and what they're trying to accomplish in this moment, we talk a little bit about some city efforts that have failed, and we really start to peel back the layers of the onion, at least on economic development efforts in Portland, in terms of where are we succeeding? Where are we falling behind and how do we need to shape our thinking and shift our institutions if we want to affect real change. So without further ado, thank you for listening. And I hope you enjoy this conversation.
Speaker 2
Well, this is an exciting day for me. Any day I get to wear my pitch. Black t-shirt is a good day. Steven Green is here with us today and I'm so excited to have him on the podcast. He's someone I've learned so much from about Portland, uh, especially when it comes to how we build the relationships that sustain us as a community and sustain us as an economy. Stephen describes himself as a Latino economists speaker and recovering banker venture capitalist. He's the director of operations at pencil Academy. Spreadsheets are my super power since Steven and sneakers are my kryptonite. Stephen's an economist, a small business advocate founder of the event pitching black organizer of the do, do more, do better movement that we are going to talk a little about today. Well, good morning, Steven.
Speaker 3
Good morning, Sarah. Always nice to see you.
Speaker 2
So you launched this project last week. You won Barraza Rosie, Mitch Doherty. You're going to provide a starting point for individuals who want to enact change within their organizations, but may not see a path to doing so. Why did you think this was necessary? What do you, what are you working on?
Speaker 3
Yeah, so I think that the moments of the last four months I'm in particularly I've given some clarity to the work that's needed, but particularly, um, since, uh, Brianna Taylor and George Floyd, those events, um, I've had a lot of amazing conversations, um, with, with allies, accomplices, friends, acquaintances, people I've never met before. Uh, and I think everyone, um, particularly white Americans have been kind of shocked shipped to their core of what, what do I do? I feel uncomfortable. I feel there's something going on here. Um, and I think that the, the Genesis of do more is really, you know, how do we start those conversations and really reap those conversations and also taking actions, um, that, that really centered the experiences, um, of, of black folks. And so, uh, when you redo more, um, the reason why it's, it's, it's really a movement is it's all really rooted in action.
Speaker 3
Um, and I think it's really important that folks understand that little, little pieces, little steps, those things really, really matter as long as they're done, uh, around centering the experiences of other folks. And so that the movement is kind of a, uh, uh, uh, a rock into the water to create some swells, um, create some really great conversations. And, you know, in just the first four days that it's been out there, um, we had folks from over 200 companies sign up to do it, and it's been amazing to hear the responses and also get questions and feedback on it. Um, at the end of the day, it's, you know, we've tried a number of, of, of bottom up top down approaches. Um, and this approach is, is definitely bottom up, but what does it look like to empower employees at organizations and firms, um, to really start, you know, not only, uh, holding their companies accountable, but also being able to have a rubric to use, uh, to, to engage in and talk about, you know, what the work is, um, for them and where they're at right now.
Speaker 2
So you and I had a little back and forth on Twitter, cause I first saw this and I said, Hey, everybody signed this pledge and you said, Sarah, it's not a pledge. It's not a pledge. And it makes me think about, uh, the tech, which in some ways are you and I have had multiple conversations over years now, it feels like about, uh, things like the tech pledge and why it's important that this isn't a pledge. And maybe tell us for those who don't know, what is the tech pledge and why would we maybe find that unsuccessful as a mechanism for achieving equity and inclusion in our economy here in Portland?
Speaker 3
Yeah, so, um, the tech pledge is an effort that the city and a number of folks kind of brought together back in 2015 to start looking at, um, really having conversations around diversity, equity and inclusion. Um, and, and what I think is definitely working about it. It brought in a group of people together to have conversations around DEI. One means, um, that otherwise probably wouldn't have happened. Um, but, but as I mentioned earlier, um, I really come from a standpoint of, I want my work to be centered around impact and the experiences of, of, of people, um, that I want to see be impacted. And then, so I think from my perspective of why it hasn't worked is when you look at the metrics particularly around, um, black employees, um, they went backwards, um, after years of, of doing the work and the commitment. And so from my standpoint, I feel like, especially in the moment that we're in, um, you know, Portland is always a very progressive, nice place.
Speaker 3
Um, people know they need to have a black lives matter sign, um, but they don't have, they've not, they've never really, until this point gotten to a point of saying, I need to do things that show black lives actually matter. Um, and I think that's a pivot that's happening now. Um, whether it be the tech pledge conversations that are happening right now, or other efforts, I think people finally kind of, uh, understand that, um, my intentions and my comfort, um, shouldn't be the things that are centered in this work, um, and that if we're really gonna make change, um, one of the things that startup founders talk about so often is you gotta be comfortable being uncomfortable. Um, and we get that when we talk about growing a business. Um, but when it comes to, um, race, um, gender, uh, identities, um, those are the things that apparently only get better if we don't talk about them and we remain, um, comfortable.
Speaker 3
Uh, and so this is an effort to, to really, um, center those experiences of other folks and do the work that way, and really be able to open up more voices, um, from the bottom up, uh, to keep people uncomfortable. Cause I think that's, you know, it took us 400 years to get where we're at with, uh, the system of oppression, um, around, you know, black Americans. I don't, I don't think we're going to get out of it being comfortable and nice to another, um, over the next few quarters. So this is a real commitment to being uncomfortable, um, to, to, to really evoke change
Speaker 2
And this discomfort. And I don't even want to say leaning into it, but just owning it, maybe I know you have some strong thoughts on what you think the city of Portland should be doing. And some of the major institutions that make up our political landscape, if you will, but what you know, in shorthand, cause we could probably go on all day, like what are the top five things that the next mayor of Portland needs to be thinking about? So that this whole, um, we're not a pledge, this is a movement we're gonna get this uncomfortable and stay uncomfortable. Like what kind of uncomfortable space does the next mayor and city council in Portland need to occupy in this work? Do you think from your perspective?
Speaker 3
Yeah, I help all of our leaders, you know, public sector, not public sector. They, they really understand the, the immense importance of relationships, um, and communication and you know, the ideas of, um, the old playbooks of, of having gatekeepers and keeping people at Bay, um, isn't going to work moving, moving forward. And, and so, you know, I would hope that before our leaders do, you know, transactions or, or press releases or press events, um, they, they would go and really ask themselves the hard questions about, you know, am I cultivating relationships in community authentically? Um, and I am I centering it around the things that people in the community want or am I centering and about the things that I want and that I'm comfortable with. Um, and, and how do you do that ongoing, right? This is, you know, cultivating these relationships is, is about remaining curious.
Speaker 3
Um, I've always said that, you know, outreach is a, is a dirty word. Um, it's something you do to someone, a relationship is something you do with someone. Um, and so from a high level, I think it's about reframing, um, how we look at who our stakeholders are, um, how we engage with them, um, how we break bread with them. Um, and ultimately, you know, how, how are we leveraging our own privilege, um, to ensure a better tomorrow for the folks that we want to see impact? I think, you know, um, me being a lover of demography and data, um, you know, oftentimes you'll hear people say a rising tide lifts all boats. Um, when you look at the data that that's actually not true at all, um, over the, the, the biggest economic boom in Oregon's history, um, every community saw a raise from 2000 to 2017 when it came to income except one community in Oregon and that's, you know, Blackwater going.
Speaker 3
Uh, and so, you know, you can't sit back and say, well, everyone was doing, you know, these people were doing good, so everyone's doing good. That's just not the case. We have to be able to call out the things, come to question and have difficult discussions around. Alright, why, why does this group seem to be left behind? Why is this neighborhood not picking up on the prosperity that's happening on throughout our shittier, our state? Um, and that, that, that only can start with, with having tough conversations and leaning into those things. And I think we know from our, our personal relationships that, you know, when times are tough, that's when people really come together, right? Like it's, it's easy to, to be married or have a boyfriend or girlfriend when, when, when times are good. Um, but when times are tough, that that's where you really cement relationships and, and are your authentic self.
Speaker 2
You talked a little bit about data and being a walk there. And I do want to talk a little bit about metrics because when it comes right down to it, what you measure is what you'll get and what aren't we measuring that we need to be measuring so that we know that we're actually in this work. And what are the consequences when you decide to measure something and you don't achieve it?
Speaker 3
Um, you know, a friend of mine, Stephanie Ghostin recently introduced me to, um, something called the liberatory consciousness, and it's a framework created by dr. Barbara Love. Um, and she looks at the fact that we all are trying to function in a system of racism. You, myself, we're all functioning inside of that. And in order to make change happen inside of that racist system, um, we have to be able to do it, um, from the standpoint of three, three places. Uh, the first one is awareness. Uh, the second one is analysis. Uh, the third one is action. And the fourth one is accountability. Uh, and you have to be able to do all four of those in order to really evoke change. You know, one of the things that I think is missing is when it comes to issues around race, when it comes to issues around houselessness, oftentimes, you know, people, you know, are abrupt around their awareness and they want to need your response go into action, but there's not a lot of analysis that's done.
Speaker 3
And when it comes to accountability, um, I think we've kind of gotten to a point where people call that that cancel culture or calling out as opposed to no, if you put something out there into the public realm saying I'm doing X, Y, and Z, and you do that publicly and do a press release, I think it's completely fair game for someone to go and say, Hey, you know, last month you said X, Y, and Z helped me understand how, what you did this month connects with that. And how do we have a conversation about that? Um, because, you know, I believe we're all trying to, to, to build trust with the communities that we engage in. And, uh, I believe in a thing called the trust bucket. And, and you're either putting things into the trust bucket or you're taking things out. Um, and the actions that you take, the words that we use, um, all play into that. Um, and so, you know, yes, the, the work is, is, is long and reach and it arch, the arch of it is, is, is generational. Um, but there's opportunities in every moment in every day and every week and every month, um, to, to really make deposits into the trust bucket.
Speaker 2
Yeah. Deposits in that trust bucket. Well, there was someone who was trust bucket was overdrawn with you last week. And I saw some interesting conversations underway with regard to the Portland business Alliance, um, and their claims to be, uh, focused on, uh, DEI outcomes and proving those at the meanwhile announcing a new executive board that didn't have any black Portlanders on it. And there were some really heated discussion across a lot of platforms for a couple of weeks now, in terms of what does this really mean for Portland? I mean, these are the power brokers, right? These are the influencers, these are the shapers in many way, not necessarily culture shapers, but commerce, shapers, uh, you know, they show up and they serve on boards and, and they're in the right rooms. And they sh rub elbows when we're not under shelter in place with the right people. So what's that all about what needs to, what, what's the kind of conversation if it were happening, ideally, how would these conversations unfold?
Speaker 3
Yeah, so, you know, I think, you know, for me, um, I saw a press release in June and then another press release in July, and I didn't necessarily connect up. And in this moment that I thought we were in, um, and I have some, some, some great friends that are on the PBA board and doing amazing work. Um, and so I, I put that out into the, into the social media world for a conversation. Um, and a lot of people had a lot of comments about it. I think for me, um, I think I'm reading the tea leaves right in that it's okay to say black people and it's, and it's okay to talk authentically about the relationships we do or don't have in the black community, whether it be, you know, myself, um, you know, organizations like builds Oregon that I'm on, or even the Portland business Alliance.
Speaker 3
And I think we are doing our, our, all of ourselves justice by having those conversations and doing them publicly and looking at where those opportunities to cultivate, um, trust and make deposits in the trust bucket. And also be able to talk about, you know, is my action here, uh, a withdrawal from the trust bucket, uh, when it comes to the community. And so, you know, I I've had a chance to not only see the social media conversation that was happening there, but also talk to a number of, of board members, uh, from PBA. And, you know, I believe they're super authentic in their work. Um, but also, you know, accountability matters, uh, analysis matters. Um, action matters and being really, really urgent about that. You know, me like, I'm somebody that's always thinking about, you know, what am I doing this week, um, to cultivate trust in the communities that I, I help to support.
Speaker 3
Um, and I feel a sense of urgency around that. And I think one of the ways that sense of urgency, um, you know, manifest itself is, is asking other people about why aren't they, that seemingly that urgent. Um, and I know this stuff takes time. Um, but you know, I'm going to continue to, to, to, to have conversations, whether it be, you know, the PBAs of the world or whoever, uh, when it comes to the, the, the communities that I, I really feel are, are, are underestimated and untapped. Um, when it comes to getting support from all different types of leadership,
Speaker 2
I think it comes down a lot to, um, it doesn't matter where I go to meet you, right? If I go out to Woodlawn, if I go to dead stock to catch up with you, everyone says, Hey, Steven, right? It's like, you're the mayor three or four different neighborhoods. At least I don't even know how you do that. But in some way, there's a reason that that monitor comes up. Someone's the mayor of such and such, right? Because being the mayor of such and such doesn't mean that you have all the power to affect change is more that, you know, who knows, who knows what everybody's doing, and who's doing the good stuff, and maybe who's not doing some of the not so good, you know, who's doing some of the not so good stuff. And how do you try to mitigate the harm and risk and amplify the benefits that accrue to people?
Speaker 2
And I see you doing that in your community so much. So I think that's probably why people appreciate you and gave you that nickname was by virtue of just the intense amount of work you do all over the city, building those relationships and investing in those relationships so that when it comes right down to it, you have, uh, the credibility to call for accountability from some of these organizations and institutions when they don't step up, because you've put in that work too. And that's not always accounted for, I don't think when people are looking at how are we going to learn and grow it's through, um, it's through showing up time. And again, that you've been able to accomplish this important in some ways. So I want to thank you for that for most, but also ask you, like, what lessons do you have perhaps for younger generations or people who are new to this work from your longevity here and your staying power in your ability to have such a reach and depth in our community.
Speaker 3
Um, you know, I'm a, I'm a firm believer in done beats perfect. Um, you know, working with entrepreneurs for the last 20 years, I've come to understand a couple truths. And one of those truth is, is, you know, putting something out there, hanging out a shingle, you know, putting out your website, um, is, is, is 90% of what's what other people won't do aren't willing to do when it comes to putting something out there and putting an idea out to the public. And so, you know, I think that that urgency of, of just being able to show up even it's in perfectly, um, I think that's one of the reasons why, you know, I, I, I tend to be always in community and engage in that, um, because I got people's back and I'm immensely curious, and I like to learn on the fly and, and, and, uh, argue with people, um, to change my point and better understand their point.
Speaker 3
Um, but you know, it's definitely something that I learned from my folks. Um, you know, growing up here, Portland is my favorite city. I'll be, I'll be buried here. You know, I love traveling a ton, but, um, the more I travel, the more I love Portland, I know the more, I love the 0.3 degrees of separation that there seems to be particularly in the, in the business world here. Um, but, but in growing up here, you know, I remember, uh, in the eighties, uh, there were some climbers that went missing on Mount hood and I'm the youngest of five boys. And it was always fighting for time with my, with my dad. And, uh, when those climbers went missing, um, uh, a couple of teachers from my school were actually part of the group that was missing. And my, my dad came home and he packed his, uh, his, his duffel bag.
Speaker 3
And then he was getting ready to go out the door. And I was like, well, where are you going? I thought we were going to, we're going to hang out. And he said, those climbers are missing. I'm not hood. I'm going to go up there and look for that. And I was, I was crushed. I mean, I was, I was 11 and all I could think about was myself, of course. Um, and my dad in that moment said, you know, in order for people to be found, someone's has to be looking for them. Right. And so the only way, you know, they're gonna find it safely out, out of there. It's most likely as if, is it me and a bunch of other people are looking. And I, and I think of the community work that I do in really that statement, like I'm out there looking for people, cause I know they exist cause I know they need to be found.
Speaker 3
Um, and I think so often when, when it comes to work around diversity in tech or, or, you know, um, black businesses, it comes from the standpoint of people don't assume they exist or go it's okay. Just to know Steven or Ian or whatever, versus a more than 4,000 black businesses that we have in Portland. And so that, that, that constant, um, light is inside of me of, of, of really looking for folks and hearing their story and hearing what took them to where they are today. And you know, why the heck would they want to, you know, run for, run for mayor or, um, but there's, there's a story to that. There's a, there's a journey. And then when you hear that, it's like, Oh, of course Cher's running for mayor because I understand her journey. Um, and you know, I like to have those, those intersections along the way and be able to support people and sometimes supporting, people's writing a check sometimes supporting people, just saying like, you can do it, like you're perfectly made to do this and I'm, I want to support you. Um,
Speaker 2
Before we get off our stream today, how can people support you in this moment? I've got my pitch black shirt on for those who don't, um, who can't see at home. Uh, if you're listening to this on audio podcasts, folks, I apologize, but I know you got so many projects in the hopper, what, uh, what can they do to make sure that these are successful and that you're successful?
Speaker 3
Yeah. Um, you know, go to www dot. I will do more.org, um, to learn more about what do do more do better is, and see if it resonates with you. Um, it's, it's seemed to resonate with, with, you know, almost 400 people, um, in just the first few days from companies all over the region and even all over the country. Um, and then second, uh, you know, working on a virtual pitch-black, um, I really think now is a time to lean in, on stories even more. And then talk about the amazing folks that are in our midst that have been, uh, changing things up since COBIT, um, and there's so many amazing stories. And so I'm really excited about that going to be working with Juan Barraza, the founder of pitch Latino and in doing a, a co effort to, to highlight black and Latin next, uh, founders, um, from around the country. And so, uh, be on the lookout on my social media for more information about that, but, um, yeah, go check out. Um, do, do more, do better at www dot. I will do more than that.
Speaker 2
And you want important, like you want heavy hitters on here. You want people who are, who are company owners, who are, who are CEOs. You want to bring big, big boats along on this.
Speaker 3
That would be nice. Um, but, but I also think that the work oftentimes happens, um, at the people at the, you know, on the first floor and the people that aren't in the penthouse or the C suite, um, cause they're the ones that are having conversations with, with customers and also the C suite folks. Um, I, I think for folks in the C suite, they have a lot of other concerns that they have to navigate in, in looking at doing this work. And oftentimes I think that the best person to deliver how to do this work, um, at a company is, is the employees that are underneath them because they have a lot more context than someone like myself would from the outside. And so, you know, my hope is that, um, people reading about the commitment and signing on are the folks that are the everyday employees, the middle managers, the people that see the issues and the opportunity, um, around DEI up close and personal, because I think oftentimes the leadership team is a little bit more removed. Um, but it's those folks that are on the ground, working in the warehouse where they're, they're having a conversation at the, you know, the water cooler about men. We could just tap into this community or, you know, we never, she folks from this neighbor know, apply for jobs where we're at. Um, I think those are the folks that are best positioned to help
Speaker 2
The leadership team navigate how to do it. And I think the website that we put together gives that a great starting point and a rubric for how folks can start taking action to cultivating some more authentic relationships and trust, particularly with the black community. That's awesome. Well, I'm glad there's space for everybody. And I told you, I had a surprise for you. So are you ready? I'm going to, I'm going to send this to you in the mail. This is perfectly coordinated to go with your pitch black outfit, whenever you wear that one and you don't always have to have it out, but we got, we got custom masks made to say, wearing is caring. We're going to send you this one right now. I'll drop it in the mail. And I'll drop a couple in for the, uh, for the rest of the family too, since we're all stuck at home and you can wear them inside or outside, depending on if you want to be a walking billboard or not. But thank you so much for everything you do in the community. And thank you for the amount of time you spend educating and uplifting me in particular. I learned so much from you every time I talk and it makes me a better Portland or on the other side of the conversation. So thanks so much for all you invest in me and our community. I appreciate it. Thank you sir, for your time. I hope you have a wonderful day. All right, take care, everybody have a great day. Bye bye.
Speaker 1
Thanks for listening to our Portland. If you have a question for Sarah record, a voice memo on your phone and email it to our [email protected] or use the, our Portland hashtag and send us a message on social media.
Speaker 2
This has been
Speaker 1
Action of friends of Sarah for Portland, with matching funds from Portland's
Speaker 2
Elections.